Gluten-Free Strawberry Cream Pie
Published on May 04, 2019
by
Kristina Stosek
Prep Time:

20 minutes
Cook Time:

20 minutes
Serves:

9-inch pie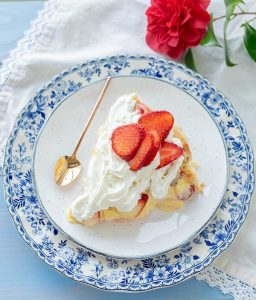 ​This post may contain affiliate links, please see our
privacy policy
for details
This Gluten-Free Strawberry Cream Pie has an almond cookie-like crust, light vanilla custard, and sweet fresh strawberries. This pie is anything but humble and yet so easy and simple to make. The strawberries are nestled in the creamy custard and remain uncooked, keeping them fresh, juicy, and sweet.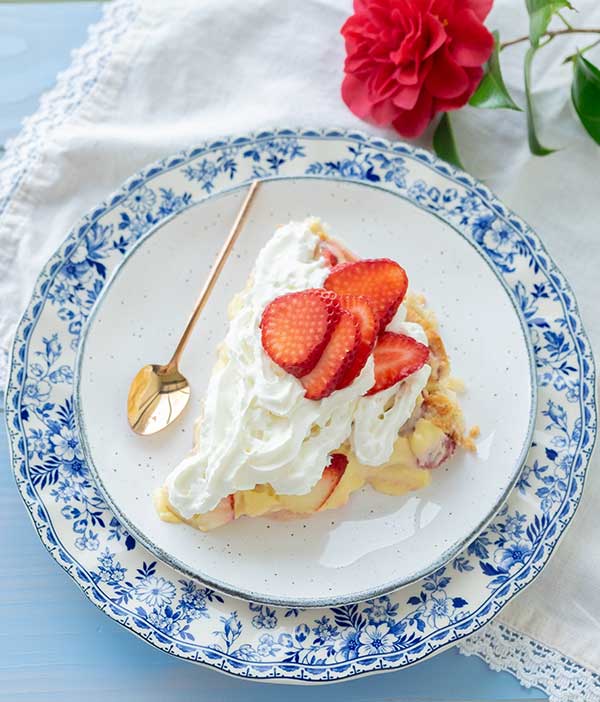 There is something about vanilla cream custard combined with strawberries. Cream and strawberries are meant to be together. Add the tender crust, and this pie is a winner.
easy gluten-free almond pie crust
If you have a food processor, you will need only three minutes of prep time – sounds too easy? It is, all the ingredients for the pie crust are placed into a food processor bowl, and you pulse until the desired texture is acquired.
The mixture is easily pressed into the pie dish, which is then placed in a freezer for a few minutes. The pie crust is baked once it has chilled. Now you are ready to fill the strawberry cream pie with vanilla custard layered with fresh strawberries.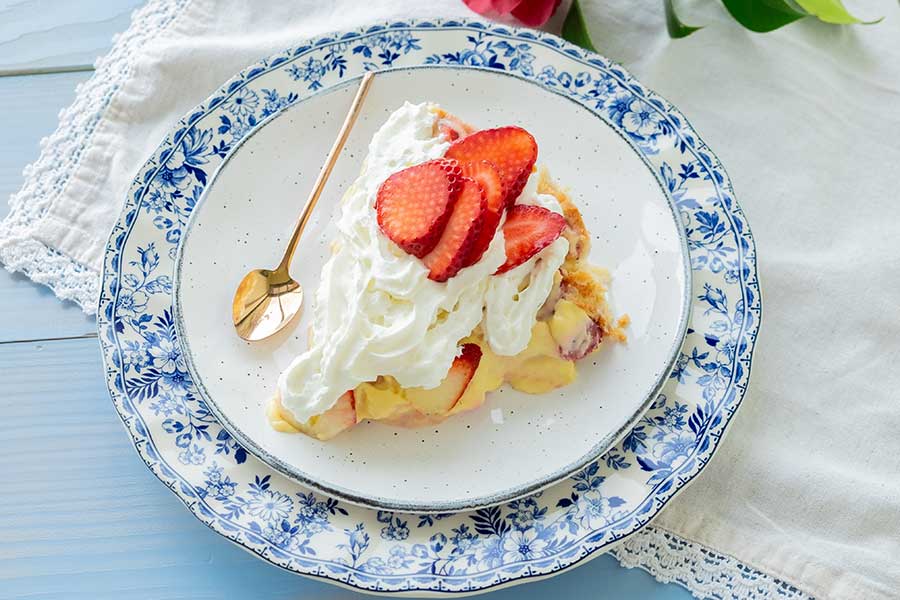 Allow time for chilling the dessert
Once the pie is assembled, you must place it in the refrigerator for a minimum of six hours. However, it has the best consistency if you refrigerate it overnight.
To serve top the pie with whipped cream and extra fresh strawberries. I have served the pie without the whipped cream, and it was just as delicious. By adding a whipped cream topping, the gluten-free pie becomes extraordinary.
Serving suggestions for gluten free strawberry cream pie
If it were up to me, I would serve it for breakfast, brunch, dinner and a snack… ha ha. But this pie is always a big hit for special occasions like Mother's Day brunch, special birthdays or after dinner as a delectable dessert.
I would also like to share with you two of my most popular pie recipes → The Gluten-Free Tripple Berry Pie and the Gluten-Free Apple Pie Without a Crust.
Let's Connect!
Be sure to FOLLOW US on FACEBOOK and PINTEREST.
Many thanks!
Kristina xx
Gluten-Free Strawberry Cream Pie
Published on May 04, 2019
by
Kristina Stosek
Instructions
1.

2.

For the crust; using a food processor, combine almond flour, brown rice flour, sweet sorghum flour, and coconut sugar. Add butter and pulse until blended, the butter should be about the size of small peas. Add ice water one tablespoon at a time and pulse until the mixture is moist and should stick together if you pinch it. I used 3 tablespoons

3.

Press the mixture into a 9-inch pie dish including along the sides and place in the freezer for 10 minutes. After 10 minutes, bake for 15 - 18 minutes until the edges start to brown

4.

For the custard cream; While the crust is baking, using a large non-stick saucepan, whisk together milk, coconut sugar and tapioca until smooth. Cook while stirring over medium-high heat until thickened

5.

In a small bowl mix eggs and vanilla. Stir about a half a cup of hot custard into the eggs and return the egg mixture back to the saucepan. Bring to a gentle boil and cook for 1 minute while stirring. Remove from the heat and stir in butter until melted. Set aside to cool for 15 minutes

6.

Spread half of the custard into the crust. Arrange strawberry slices starting from the middle over the custard. Save some strawberry slices for garnish. Pour remaining custard over the strawberries. Refrigerate for 8 hours or overnight

7.

Just before serving, spread the pie with whipped cream and garnish with fresh strawberries
Leave a Comment
Kristina
you are right, but it does remove topical pesticides
washing fruits and veges does NOT remove pesticides. It would be good to refrain from recommendations that are misleading. 98% of the pesticides used today are systemic - meaning they are dispersed WITHIN the plant and cannot be removed.