Gluten-Free Triple Berry Pie
Published on Dec 23, 2019
by
Kristina Stosek
Prep Time:

15 minutes
Cook Time:

40 minutes
Serves:

9-inch pie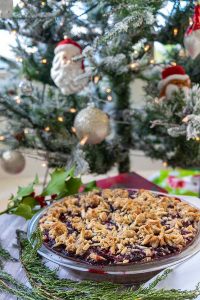 ​This post may contain affiliate links, please see our
privacy policy
for details
I don't know where to start because this Gluten-Free Triple Berry Pie is exceptionally delicious. The multi berry pie is made with an almond buckwheat crust, filled with berries of your choice and the topping is an almond crumble. Doesn't this sound yummy? You may think that this pie is a lot of work, but trust me, it is super simple. First, you place all the crust ingredients in a food processor and pulse a few times. Then you press the dough into a pie dish, so no rolling or complicated stuff. The filling is probably the most effortless pie filling ever! If you are using fresh berries, mix everything and bring it to boil. Then, pour the berry mixture into the pie crust. For the topping, it's easy. Place ingredients in a food processor and pulse a few times. Then crumble over the filling. Now all you do is bake and cool. Honestly, it took me 15 minutes to prepare the entire pie for baking.
Why is this triple berry pie so special?
I am so excited to tell you about all the goodies in this gluten-free triple berry pie. For the crust, I used only three flours, almond, rice, and buckwheat. The almond flour kept the crust buttery, and the healthy buckwheat added a hint of nutty flavour, so good. All I had to add is a little butter and two tablespoons of a sweetener. The filling can be made with any berry you like. You can even add cherries to the filling. I used frozen berries because this time of the year, the berries aren't fresh enough for me, and they are costly. Because berries tend to be tart, I added a sweetener, for flavour some vanilla and fresh lemon juice. To give the filling a rich buttery flavour, I added a little butter. Now for the topping, some almond flour, a little sweetener, butter and the best part – slivered almonds. So, this is why this pie is so special and out of this world delicious. I could even add, the pie is on the healthier side because of all the berries and almonds. Enjoy!
Love pies? Check out these popular gluten-free pie recipes
Gluten-Free Triple Berry Pie
Published on Dec 23, 2019
by
Kristina Stosek
Instructions
1.

For the crust; Add flours, salt, sweetener, and butter into a food processor. Pulse a few times until blended, and the butter is about the size of small peas. Add ice water one tablespoon at a time until the dough is moist and should stick together if you pinch it. I used three tablespoons. Press dough into a 9-inch deep pie dish including along the sides. Refrigerate until ready to use

2.

For the filling; If using frozen fruit, using a large saucepan add berries, lemon juice and vanilla and heat the berries over medium-low heat until no longer frozen. Gently stirring occasionally. When using fresh berries, you don't have to heat the berries.

3.

Whisk together tapioca/arrowroot with water and gently stir into the berries. Heat over medium heat until they start to bubble, gently stirring occasionally. Remove from the heat and stir in butter until melted. Set aside to cool for 15 minutes, then pour berry mixture into the pie dish

4.

For the topping; add almond flour, sugar and butter into a food processor and pulse until crumbly. Add almonds and pulse a couple of times to mix into the mixture partially.

5.

Using your hands evenly crumble the topping over the filling. Place pie on a baking tray and bake in a preheated oven at 350 F for 40 minutes. After about 25 minutes, place a piece of foil over the topping to stop it from getting too brown.

6.

Cool the pie for a minimum of 6 hours, allowing it to set. You can now serve the pie or refrigerate it overnight and serve it the next day