Gluten Free Very Best Tiramisu Recipe
Published on Mar 24, 2015
by
Kristina Stosek
Prep Time:

30 minutes
Cook Time:

minutes
Serves:

10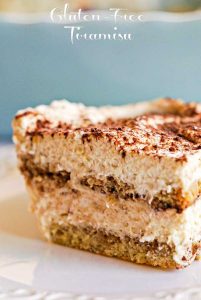 ​This post may contain affiliate links, please see our
privacy policy
for details
Gluten free Tiramisu Dessert features a blend of coffee, coffee liqueur, mascarpone cream, and cocoa, all wrapped in lightly sweetened creamy layers and gluten free lady fingers, then chilled to perfection. Italian dessert that's rich, creamy, and simply perfect in every way.
Very Best Gluten Free Tiramisu Recipe!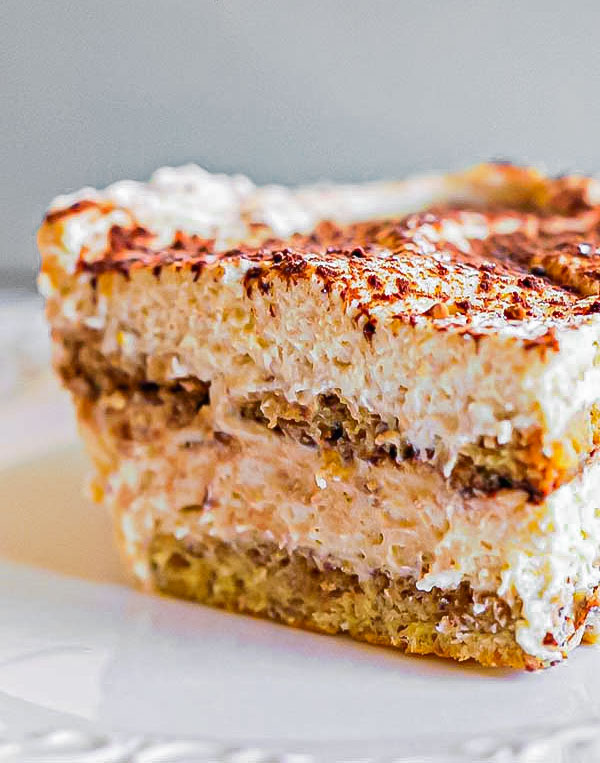 gluten free tiramisu made from scratch
This gluten free tiramisu recipe is made entirely from scratch. This is why I have included a recipe for gluten free lady fingers. They are not that hard to make. They just take a little time.
However, if you want to keep this Italian dessert recipe simple, you can buy ready-made gluten free lady fingers here.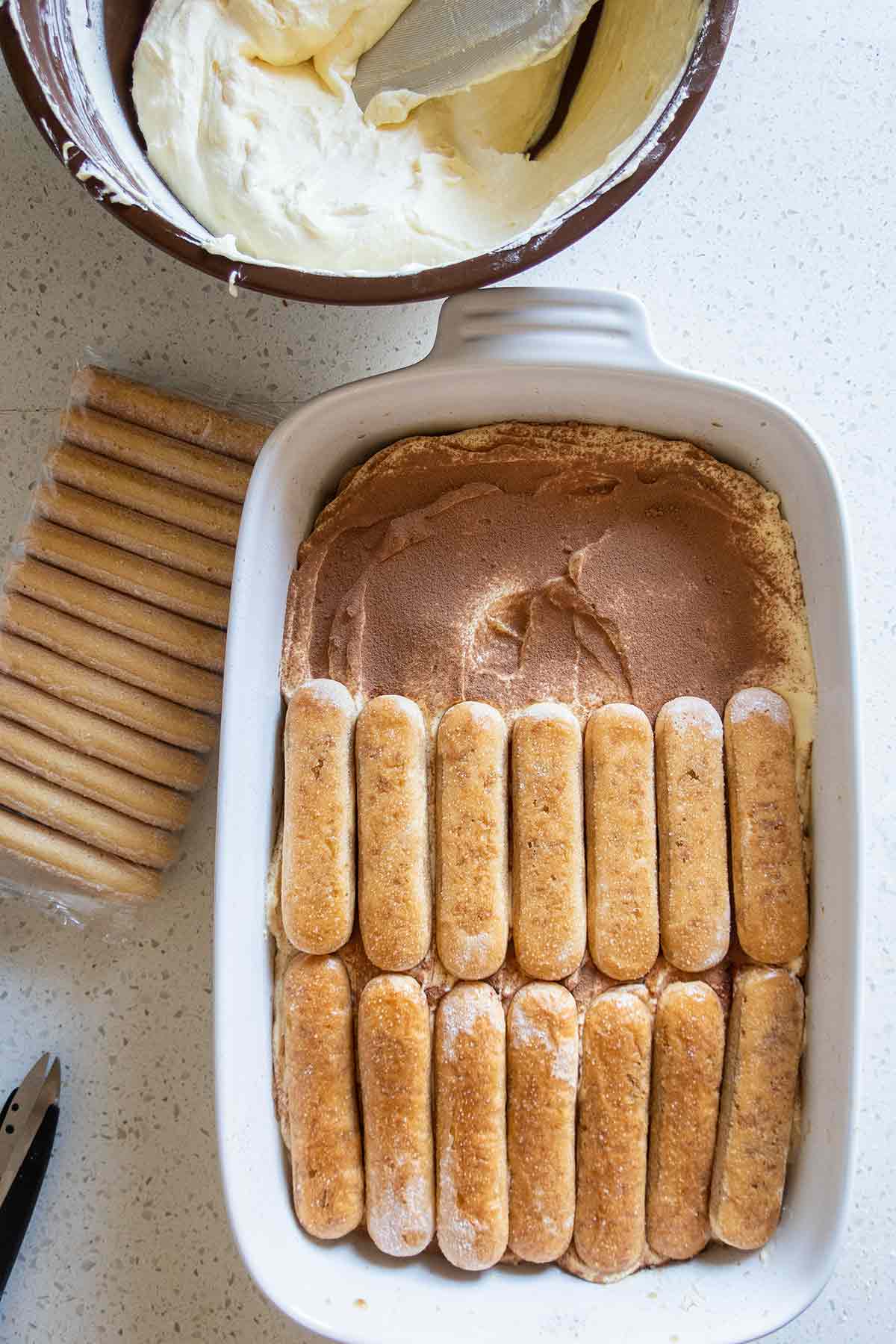 Gluten free tiramisu recipe key points
Gluten free tiramisu is all about layers of lightly sweetened rich cream made with mascarpone cheese and ladyfingers.
The ladyfingers are brushed with a mixture of espresso coffee and coffee liquor, and they are the signature flavours in this delicious dessert.
For added chocolate flavour, the cream is generously dusted with cocoa powder.
The rich cream is made using egg yolks, which are briefly cooked in a double boiler with sugar. Then, the eggs are whipped until the sugar has dissolved.
Once the egg mixture has cooled, add the mascarpone cheese and whipped cream. Pretty straight forward, but it does take a little hands-on time.
Once the tiramisu is layered in a beautiful serving dish and dusted with cocoa powder, the dessert is chilled.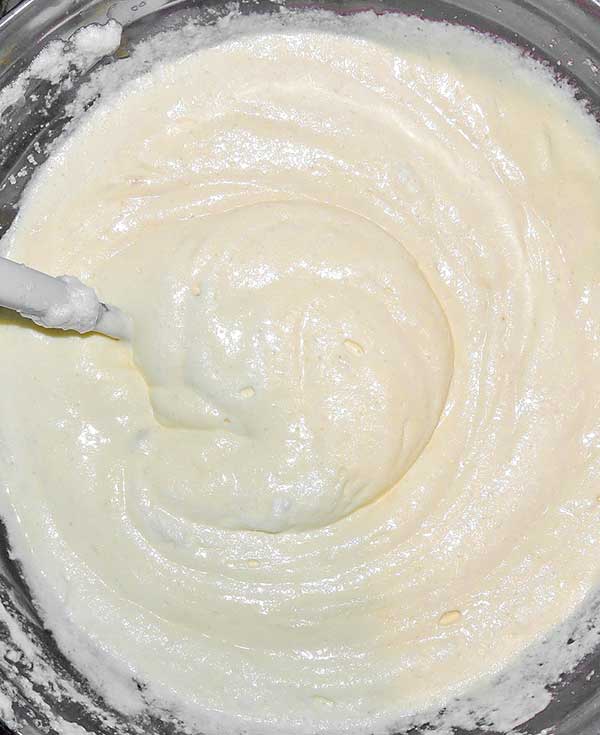 What is mascarpone cheese?
Mascarpone cheese is popular in Italian recipes. This cheese is is soft and made of cream, and used in savoury and sweet dishes.
The cream is thickened by acidic substances such as lemon juice, citric acid or tartaric acid. Mascarpone tastes almost like cream cheese, except it is softer, has milder flavor, and is creamier.
tiramisu is a no-bake Italian dessert
What I love about this dessert is that you don't have to bake it. And this Italian dessert recipe is fail-proof. You can make this impressive cake if you know how to whip cream. It's that easy.
If this is your first time making this dessert, maybe because you thought it was too complicated, I promise you it is fun to make even for novice cooks.
Helpful tips for gluten free tiramisu recipe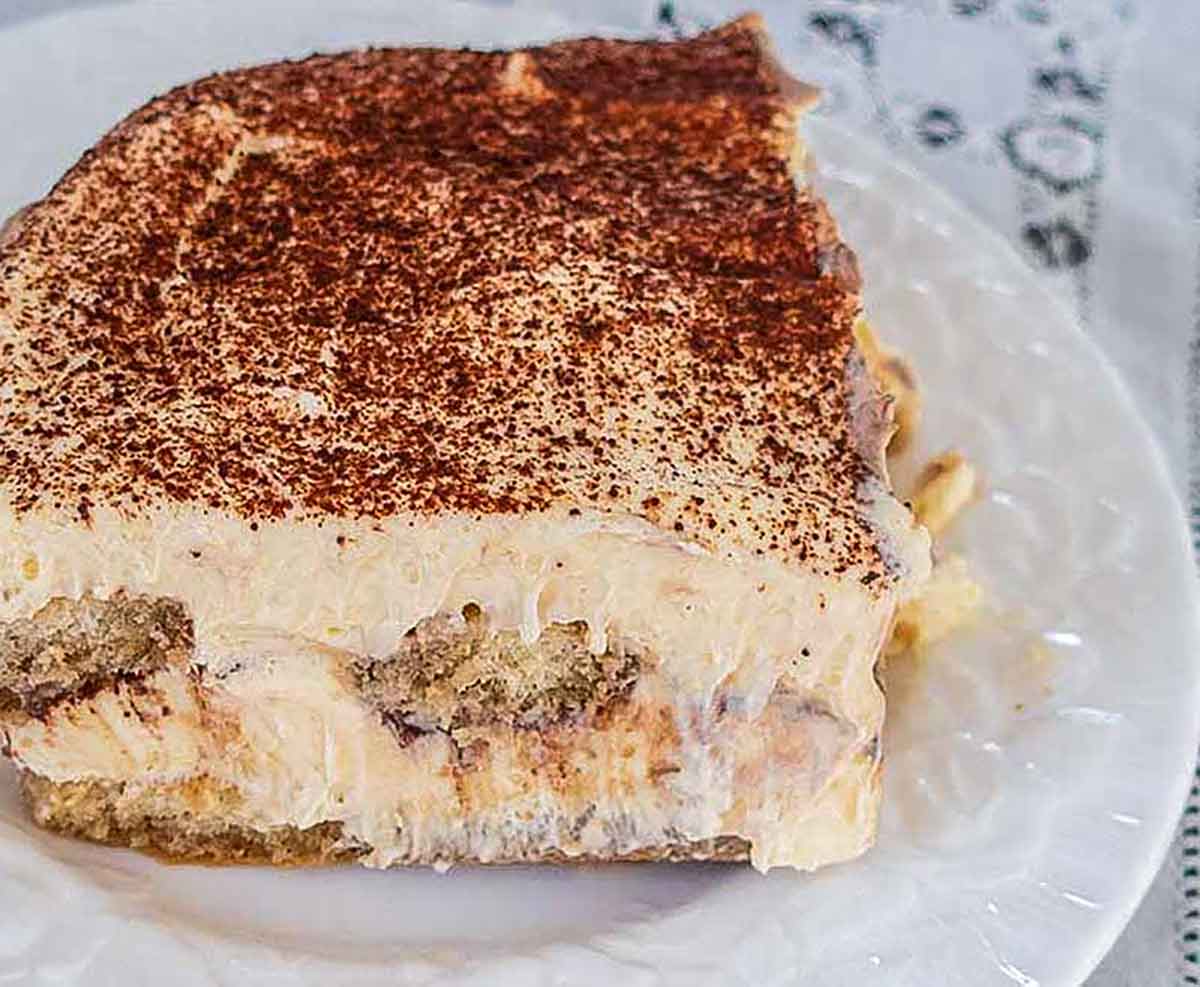 Is tiramisu naturally gluten free?
Traditional tiramisu is not gluten free because it contains ladyfingers made with wheat flour. To make it gluten free, you need to replace these ladyfingers with gluten free ones or use gluten free cake layers.
What are some gluten-free alternatives to ladyfingers in tiramisu?
You can use gluten free sponge cake, or homemade gluten-free cake layers as alternatives to traditional ladyfingers.
Can I buy gluten free ladyfingers or sponge cake in stores?
Yes, many specialty grocery stores and online retailers offer gluten free ladyfingers and gluten free sponge cakes that you can use in your tiramisu recipe.
Is gluten free tiramisu as good as the traditional version?
Gluten free tiramisu can be just as delicious as the traditional version when prepared correctly with high-quality gluten free ingredients. Many people find it difficult to taste the difference.
Are all mascarpone cheeses gluten free?
Most mascarpone cheeses are naturally gluten free, but it's essential to check the label for any potential cross-contamination or added ingredients that may contain gluten.
Is cocoa powder gluten free?
Pure cocoa powder is typically gluten free, but it's a good practice to check the label, as cross-contamination can sometimes occur during processing.
Can I make gluten free tiramisu dairy free?
You can make a gluten and dairy-free tiramisu using alternatives such as dairy-free mascarpone and dairy-free whipped cream.
Can I make gluten free tiramisu in advance?
Yes, it's recommended to allow the flavors to meld together. It must be stored in the refrigerator, and covered, for a few hours to overnight before serving.
What can I replace the coffee liquor with?
Use coffee-flavored liqueur extract or coffee-flavored syrup if you want to omit the liquor in the recipe. Some brands offer non-alcoholic coffee-flavored extracts or essences that mimic the taste of coffee liqueur. Just be sure it is gluten free. Or omit it altogether.
Is coffee liquor gluten free?
Coffee liqueur can vary in gluten content depending on the brand and ingredients used in its production. In general, coffee liqueurs are made with a variety of ingredients, and some of them may contain gluten. It's crucial to check the specific brand and product label to determine if it's gluten free.
For those who are more adventurous in the kitchen, here is a recipe for gluten free ladyfingers.
Gluten Free Lady Fingers Recipe (24 pieces)
Ingredients:
½ cup (56 g)

almond flour

1/3 cup (53 g) white rice flour

¼ cup (30 g) tapioca starch

1 tsp.

gluten-free, aluminum-free baking powder

¼ tsp. sea salt

4 large eggs whites, at room temperature

3 large egg yolks

1/3 (66 g) cup granulated sugar

1 tsp. pure vanilla extract
Directions:
Preheat oven to 350 F
Sift together almond flour, rice flour, baking powder, tapioca starch and salt
Beat egg whites with one tablespoon of sugar until stiff peaks form
Add balance of sugar and vanilla into egg yolks and beat until creamy
Gently fold egg whites in the egg yolks, and then fold in the dry ingredients
Transfer the batter into a pastry bag or a plastic bag with the end snipped off.
Pipe the batter on a cookie sheet lined with parchment paper in the form of ladyfingers. But don't worry too much about the shape since they will be used layering the cake
Bake for 8 minutes, then cool for 5 minutes before transferring onto a cooling rack.
Here are 5 popular gluten free tiramisu recipes to try
everyone should try tiramisu dessert at least once
This gluten free tiramisu cake is a delicious Italian dessert made from scratch with gluten-free ingredients, and it's every bit as delicious as the traditional version. So whether you're serving it to guests or enjoying it as a special treat, this tiramisu cake will impress everyone.
When it comes to Italian desserts, there is nothing that beats traditional tiramisu cake.
If you love Italian food, please check out our gluten-free Italian recipes for inspiration.
Let's Connect!
Be sure to FOLLOW US on FACEBOOK or, check us out on PINTEREST. And don't forget to sign up for our newsletter. We always have something new and exciting for you!
Many thanks!
Kristina xx
Gluten Free Very Best Tiramisu Recipe
Published on Mar 24, 2015
by
Kristina Stosek
Instructions
1.

Combine egg yolks and sugar over a double boiler and while stirring cook for 10 minutes

2.

Remove from the stove and whip yolks until the sugar has melted. Set aside to cool

3.

Add Mascarpone ¼ cup at a time to cooled yolks and beat until combined.

4.

In a separate bowl, whip the cream until stiff peaks form.

5.

Gently fold the whipped cream in the mascarpone mixture.

6.

Line the bottom of an 8 x 10-inch glass serving dish with half the ladyfingers

7.

Mix the espresso coffee with the coffee liqueur. Brush the ladyfingers with ¼ of the espresso mixture

8.

Spoon half of the mascarpone mixture over the ladyfingers and dust with cocoa. Add another layer of ladyfingers and brush with remaining espresso

9.

Top with mascarpone mixture and dust with cocoa. Chill overnight before serving
Leave a Comment
Excellent tiramisu, light and perfectly flavored.
Kristina
I am so happy to hear than Mary Ann, thank you.
Made this Tiramisu for Christmas Desert and it was absolutely amazing! Everyone loved it. Thank you for an easy fantastic, gluten free desert.
Kristina
Mia, if you layer them between parchment paper and place them in an airtight container they can be frozen for up to 2 months
Can the lady fingers be made in advance and frozen? Thank you
Kristina
Barbara, I would not freeze tiramisu, although it probably can be frozen. I just never had any leftovers to freeze. The recipe for the lady fingers should be the right amount for this tiramisu recipe.
I'm wondering if this can be frozen. And do the lady fingers make the amount needed for the tiramisu recipe?
Kristina
amazing tiramisu and gluten free WOW, you are the best!!!
Kristina
Hi Kate, good catch. No there isn't cornstarch, but it can be used to replace the tapioca or arrowroot starch. Sorry about the confusion
The ladyfinger recipe mentions cornstarch (sifted with the flours) but doesn't have this in the ingredient list, so ....? How did others make this recipe? Did you just ignore the cornstarch since it doesn't state how much to use??
Kristina
I am not sure why Anthony, were the egg whites at room temperature? Either way it will taste good, they don't have to be perfect
Kristina
thank you Tracie for sharing, did you whip the cream well?
I really enjoyed this recipe and so did my family. I made two- one gluten free and one regular- both were excellent. The only thing I wish was a little better is the cream was a little thicker (probably my own fault). I found that once cooled and served the filling did "travel" and I would have preferred that it held its shape. Other than that, taste and presentation were outstanding!
I whipped the egg whites till they peaked, Im not sure If I need to do longer, but when I made the lady fingers. The liquid leveled off and they came out very thin. Im sure when I make it tommorow it will tase fine, but why did that happen?
Kristina
thank you Anne for sharing
Ladyfingers were a bit dry without enough coffee flavor. Definitely recommend quickly dipping the ladyfingers in the coffee rather than just brushing them with the coffee. Otherwise, this was a very good recipe.
Kristina
thank you, I am so happy you enjoyed this amazing dessert!
Excellent recipe with consistent results. Tastes amazing and the lady fingers are so nice homemade fresh.
I'm making this right now. About to put the cake in the fridge to cool overnight, then I'll put the whipped topping on tomorrow. Hope it turns out as good as it looks!
Kristina
so nice to hear, thank you!
very good recipe, my family loved the tiramisu
Kristina
yes, they are not that difficult to make and they taste better, thank you for letting me know
I tried to buy the gluten-free ladyfingers but they sold out, so I made them following your recipe. They were perfect and so easy to make, thank you.
Kristina
I am so happy to hear that, thank you
thank you so much for this recipe! This recipe was so easy to make and the tiramisu is so delicious!
Kristina
yes tiramisu may sound complicated, but it is probably one of the easier dessert recipes. Thank you
This recipe was a lot easier than I thought it would be, the tiramisu was amazing. Thank you
Kristina
fantastic, glad your family enjoyed it!
I made this tiramisu desert over the holidays. My entire family said it was the best tiramisu they ever tasted, and we are Italian. I also made the lady fingers from scratch. Thank you
Kristina
thank you for sharing :-)
Absolutely amazing dessert!!