Gluten Free Tiramisu Recipe
Prep Time
30 Minutes
Difficulty
Moderate
Serves
10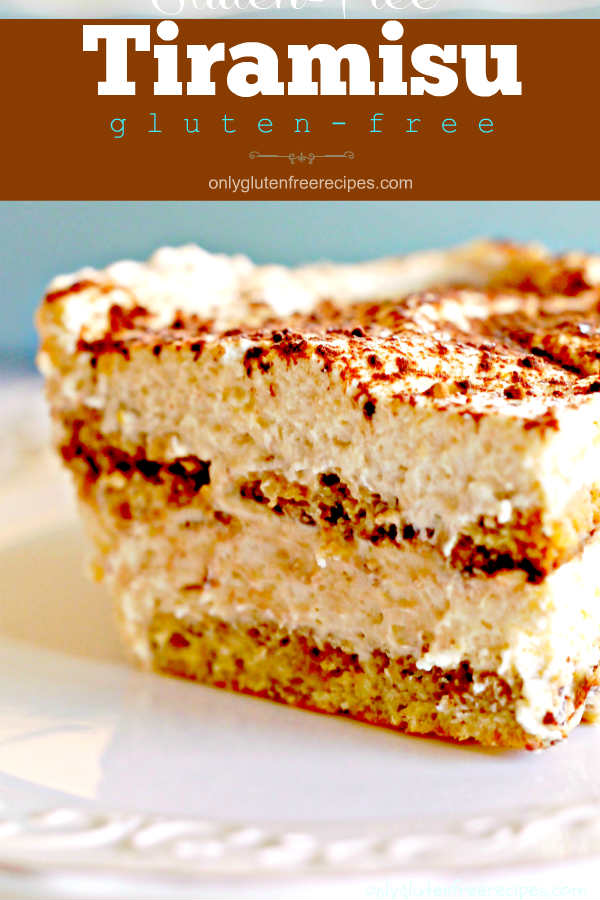 Average Rating: 5 | Rated By: 10 users
Tiramisu is an amazing traditional Italian dessert oozing with rich cream, ladyfingers, cocoa and coffee liqueur. This gluten-free tiramisu dessert is made from scratch. Yes, I have included a recipe for gluten-free ladyfingers, please see below. But, if you want to save time, you can buy ready made gluten-free ladyfingers here. 
♥

How is gluten free tiramisu made? Gluten Free Tiramisu Recipe
Gluten free tiramisu is all about the rich cream layered with ladyfingers. The ladyfingers are brushed with a mixture of espresso coffee and liqueur. Then, they are layered with rich cream and powdered with cocoa. So, gluten free tiramisu is layers of gluten-free ladyfingers flavoured with coffee liqueur and cream. To make the rich cream you use egg yolks and briefly cook them in a double boiler with sugar. Then, the eggs whipped until the sugar has melted. Once the egg mixture has cooled you mix it with mascarpone cheese and whipped cream. Pretty straight forward, but it does take a little hands-on time. Once the cake is layered in a beautiful serving dish, place it in the fridge overnight to chill. Gluten free Tiramisu is not a cake that you bake and it is always served chilled. Enjoy!
For those who are more adventurous in the kitchen, I have included a recipe for gluten-free ladyfingers. 
♥

Gluten Free Lady Fingers Recipe (makes 24)
Ingredients:
½ cup 

almond flour

¼ cup white rice flour

¼ cup tapioca or arrowroot powder/starch

1 tsp. 

gluten-free, aluminum-free baking powder

¼ tsp. sea salt

4 large eggs whites, at room temperature

3 large egg yolks

1/3 cup granulated sugar

1 tsp. pure vanilla extract
Directions:
Preheat oven to 350 F

For the ladyfingers; Sift together almond flour, rice flour, baking powder, cornstarch and salt

Beat egg whites with one tablespoon of sugar until stiff peaks form

Add balance of sugar and vanilla into egg yolks and beat until creamy

Gently fold egg whites in the egg yolks, and then fold in the dry ingredients

Transfer the batter into a pastry bag or a plastic bag with the end snipped off. 

Pipe the batter on a cookie sheet lined with parchment paper in the form of ladyfingers. But don't worry too much about the shape since they will be used in the tiramisu.

Bake for 8 minutes, then cool for 5 minutes before transferring onto a cooling rack.
Love Italian food? Check out our complete selection of gluten-free Italian recipes
Ingredients
6 large egg yolks
2 cups Mascarpone cheese
2 cups heavy whipping cream
24 gluten free lady fingers (* see recipe below in comments) or you can buy them here
¾ cup cold espresso (or strong drip coffee)
¼ cup coffee liqueur, Kahlua or rum
*As an Amazon Associate and member of other affiliate programs, I earn from qualifying purchases. Please check out my sponsorship and disclosure policy page for more details
Instructions
Combine egg yolks and sugar over a double boiler and while stirring cook for 10 minutes
Remove from the stove and whip yolks until the sugar has melted. Set aside to cool
Add Mascarpone ¼ cup at a time to cooled yolks and beat until combined.
In a separate bowl, whip the cream until stiff peaks form.
Gently fold the whipped cream in the mascarpone mixture.
Line the bottom of an 8 x 10-inch glass serving dish with half the ladyfingers
Mix the espresso coffee with the coffee liqueur. Brush the ladyfingers with ¼ of the espresso mixture
Spoon half of the mascarpone mixture over the ladyfingers and dust with cocoa. Add another layer of ladyfingers and brush with remaining espresso
Top with mascarpone mixture and dust with cocoa. Chill overnight before serving
Similar Recipes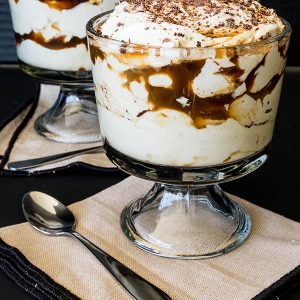 Gluten Free Tiramisu Parfait Cups
Making gluten free Tiramisu from scratch can seem overwhelming. In this Tiramisu recipe, you will find easy to follow instructions that will help you make the best gluten free Tiramisu parfait cups. Creamy with a hint of coffee and pure cocoa, this dessert is outstanding Making Tiramisu in individual cups makes a lovely presentation for […] Read More
Prep Time
30 Minutes
Difficulty
Easy
Cook Time
12 Minutes
Serves
6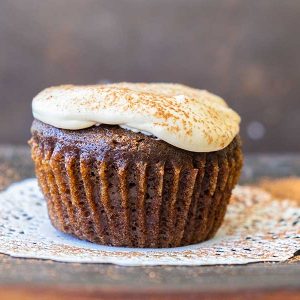 Gluten-Free Tiramisu Cupcakes (Grain-Free)
These Gluten-Free Tiramisu Cupcakes are insanely delicious! Honestly, if you are looking for a magical dessert but still want to keep it simple, this recipe is for you. These coffee-flavoured cupcakes are perfect for a birthday, anniversary or a dinner party. They will satisfy your craving for something delectable, sweet and delicious every time. ♥ […] Read More
Prep Time
15 Minutes
Difficulty
Easy
Cook Time
20 Minutes
Serves
12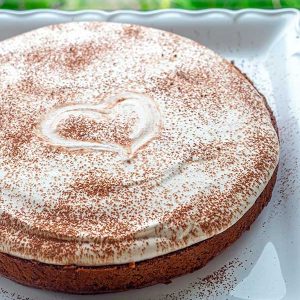 Gluten-Free Baked Tiramisu Cheesecake
This Gluten-Free Baked Tiramisu Cheesecake is outstanding! Think of this heavenly dessert as Greece meets Italy. This gluten-free cake is a mix of cheesecake and tiramisu, what a great combination don't you think?.  Three layers make up this cake. First a buttery chocolate shortbread crust, then a layer of coffee flavoured cheesecake and for the […] Read More
Prep Time
20 Minutes
Difficulty
Moderate
Cook Time
60 Minutes
Serves
8 - 10