Gluten-Free Baked Tiramisu Cheesecake
Published on Jul 06, 2019
by
Kristina Stosek
Prep Time:

20 minutes
Cook Time:

60 minutes
Serves:

8 - 10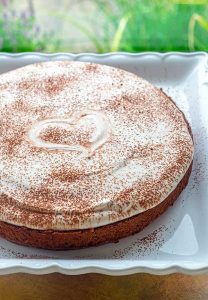 ​This post may contain affiliate links, please see our
privacy policy
for details
This Gluten-Free Baked Tiramisu Cheesecake is outstanding! Think of this heavenly dessert as Greece meets Italy. This gluten-free cake is a mix of cheesecake and tiramisu. What a great combination, don't you think?
three layer baked tiramisu cheesecake
There are three layers that make up this Italian-inspired dessert. The buttery chocolate shortbread crust, then a coffee-flavored cheesecake, and whipping cream with mascarpone cheese and cocoa for the final layer.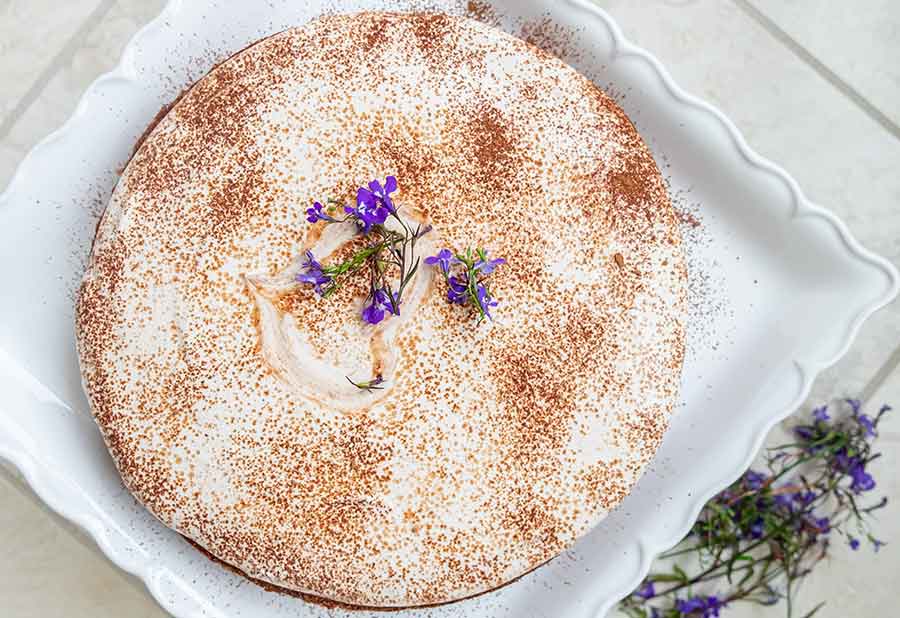 Cheesecake meets Tiramisu
The Gluten-Free Baked Tiramisu Cheesecake recipe isn't complicated, but it does take a little more time than our usual 15-minute recipes. Whether you like cheesecake or tiramisu, the two combined make for an insanely delicious gluten-free dessert. More on gluten-free tiramisu recipes here->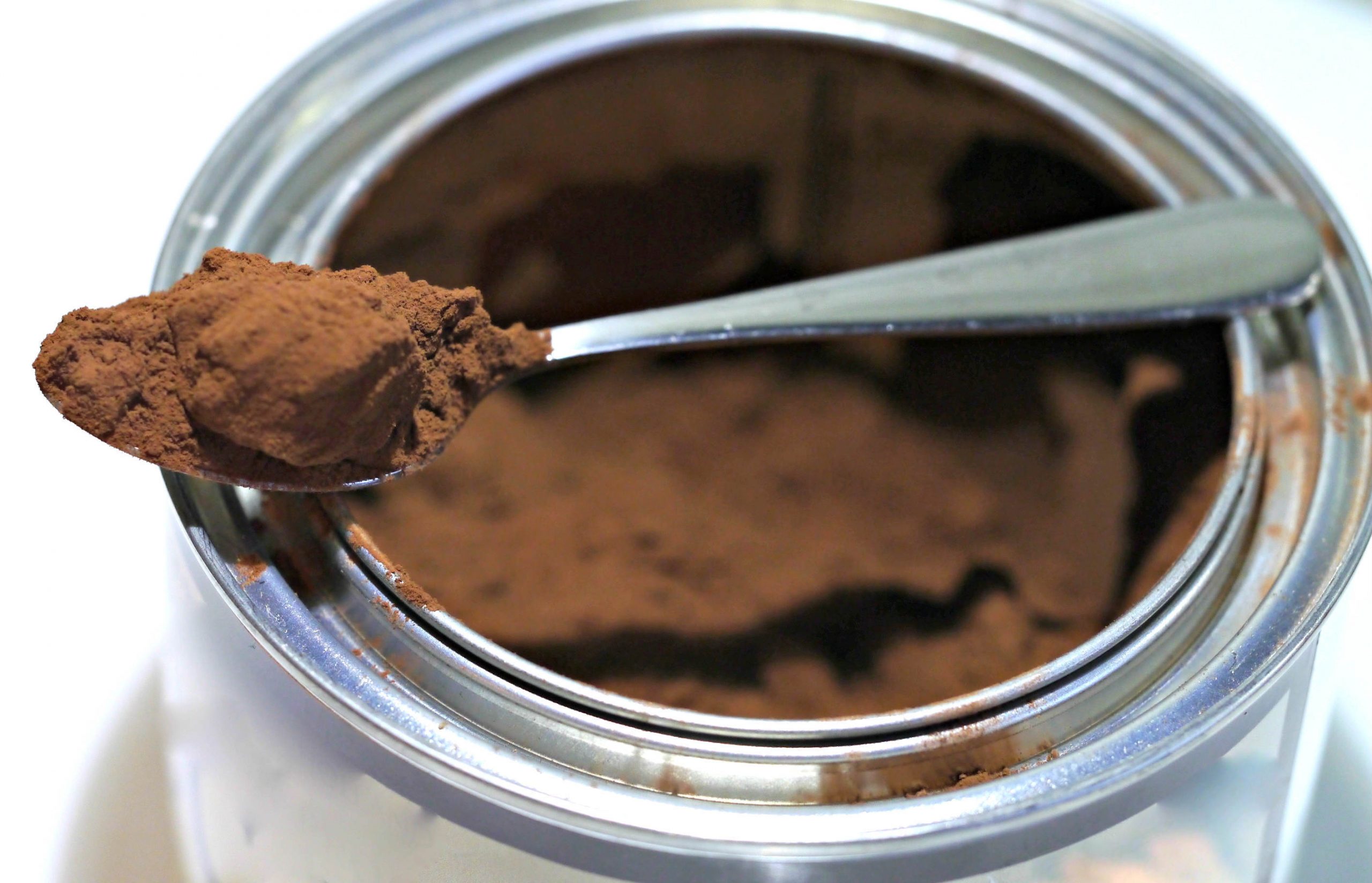 Step-by-step baked tiramisu cheesecake recipe
STEP ONE: start with the shortbread crust,
Cream the butter with sugar, then add the dry ingredients and mix to combine. Press the mixture into the pan and bake. Just as a side note, this gluten-free dessert recipe is primarily flavoured with cocoa powder and espresso.
STEP TWO: the cheesecake layer
Cream the cream cheese with sugar. Add the cocoa powder, eggs, vanilla and espresso and whip it up. Then stir in almond flour. As soon as the crust is done baking and still hot, spread the cream cheese mixture over the top.
Pop it back in the oven and bake until the cheese layer is firm to touch. This layer will deflate a bit once it cools. But don't stress, you will cover it up with the creamy topping.
STEP THREE – the fluffy creamy topping
This layer is made with mascarpone cheese, maple syrup, cocoa powder and whipped cream. Once the cheesecake layer has cooled, remove it from the pan and top with the creamy topping—a sprinkle of cocoa powder to finish the gluten-free Tiramisu Cheesecake.
On a side note, I discovered this 9 Inch Springform Nonstick, Leakproof Cheesecake Pan that includes parchment paper liners…Yey!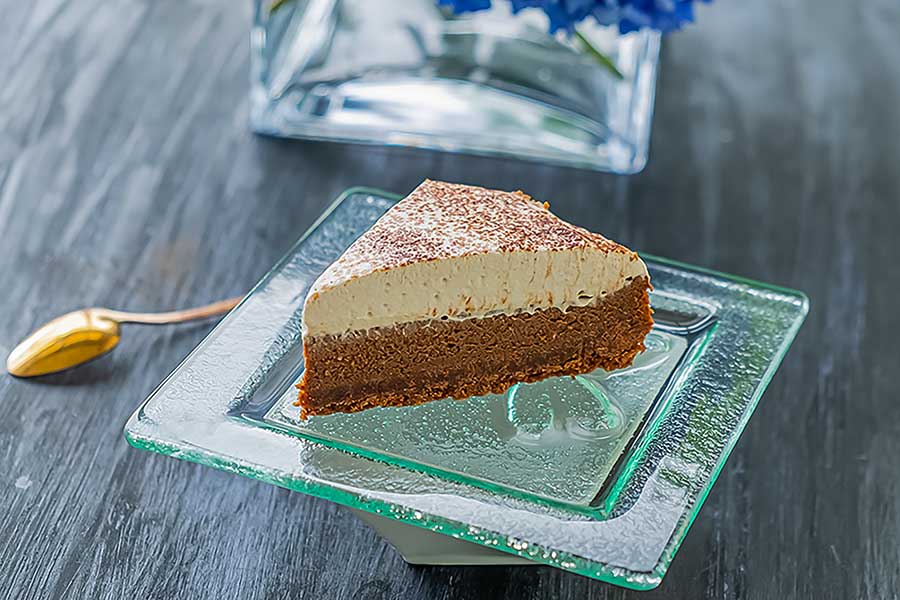 tips on the best way to store baked cheesecake
Storing baked cheesecake properly is essential to maintain its freshness and flavor. Here are some helpful tips:
Cooling

: Allow the cheesecake to cool completely at room temperature before attempting to store it. This helps prevent condensation inside the container.

Refrigeration

: Cheesecake should be stored in the refrigerator. Cover it loosely with plastic wrap or aluminum foil. Ensure that the covering does not touch the surface of the cheesecake to prevent sticking.

Airtight Container

: Place the cheesecake in an airtight container or cake keeper for extra protection. This prevents odors from the fridge from seeping into the cheesecake and helps maintain its moisture.

Chilling

: Store the cheesecake in the refrigerator for 5-7 days. Cheesecakes can become firmer and more flavorful after chilling a day or two, so it's often best when served a day or more after baking.

Freezing (optional)

: If you want to store the cheesecake longer, you can freeze it. Wrap the cheesecake in several layers of plastic wrap, followed by a layer of aluminum foil to prevent freezer burn. Store it in an airtight container if possible. Cheesecake can be frozen for up to 1-2 months. To thaw, place it in the refrigerator overnight.
Properly stored, your baked cheesecake should remain delicious for several days in the refrigerator or for a couple of months in the freezer.
This gluten-free dessert is simple to make but takes time because you work with three layers. But trust me on this, it's well worth the effort. This baked tiramisu cheesecake is the BEST!
Let's Connect!
Be sure to FOLLOW US on FACEBOOK or, check us out on PINTEREST. And don't forget to sign up for our newsletter. We always have something new and exciting for you!
Many thanks!
Kristina xx
Gluten-Free Baked Tiramisu Cheesecake
Published on Jul 06, 2019
by
Kristina Stosek
Instructions
1.

2.

For the crust; using a high-speed mixer, cream the butter with coconut sugar until smooth. Add almond flour, rice flour, arrowroot flour, cocoa powder and salt and mix together. Press into prepared pan and bake for 15 minutes

3.

For the cheesecake layer; Mix cream cheese and sugar until creamy. Add cocoa powder, vanilla, espresso and eggs. Mix at high speed for 1 minute, scraping sides as needed. Stir in almond flour until smooth

4.

As soon as the crust is finished baking and still hot pour the cream cheese mixture over the top. Bake for 40 - 45 minutes, until the center of the cake, is firm to touch. Cool in the pan. Don't worry if the cake deflates a bit, you get to cover it with a creamy topping

5.

For the cream layer; Using an electric mixer beat the mascarpone cheese with maple syrup, vanilla and cocoa powder until creamy. In a separate bowl whip the whipping cream until stiff peaks form. Fold the whipped cream into the mascarpone mixture

6.

Once the cake is cooled using a sharp knife loosen the edges and remove the cake. Spread the cream over the top and dust with cocoa powder. Refrigerate overnight. Enjoy!
Leave a Comment
Kristina
Can you sub the arrowroot for tapioca flour? thanks :)
Best. Thing. Ever. Thank you!
Kristina
can he have other nuts? If he can you can substitute cashew or walnut flour for almond flour. To make flour out of nuts, place them in a food processor and process until grainy but not smooth or they will get very oily. If he can't have nuts you can try it with GF oat flour
My husband has a sensitivity to almonds, is there something I could substitute instead?