Gluten-Free Baked Tiramisu Cheesecake
Prep Time
20 Minutes
Difficulty
Moderate
Cook Time
60 Minutes
Serves
8 - 10
Average Rating: 5 | Rated By: 11 users
This Gluten-Free Baked Tiramisu Cheesecake is outstanding! Think of this heavenly dessert as Greece meets Italy. This gluten-free cake is a mix of cheesecake and tiramisu, what a great combination don't you think?.
Three layers make up this cake. First a buttery chocolate shortbread crust, then a layer of coffee flavoured cheesecake and for the final layer I combined whipping cream with mascarpone cheese and cocoa.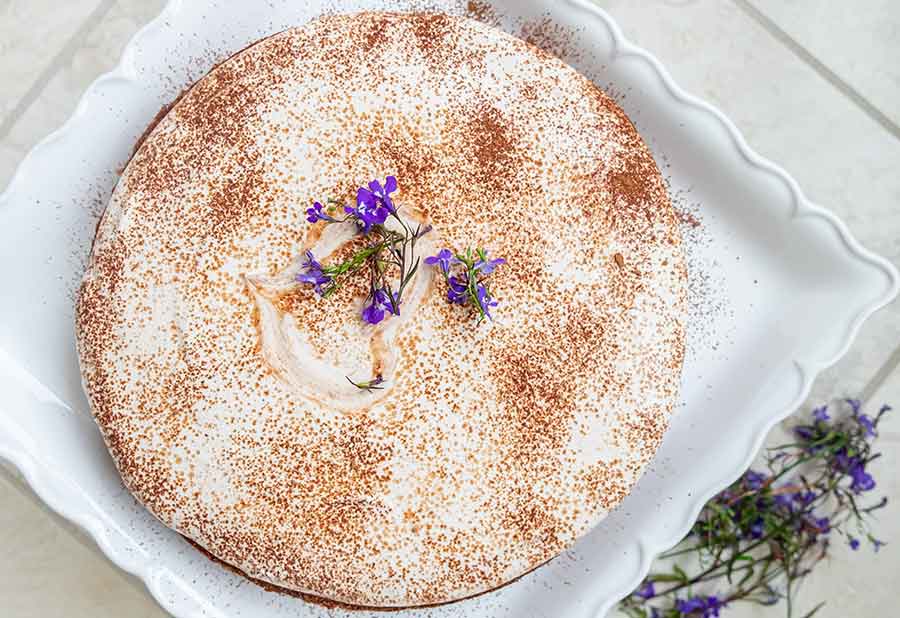 The Gluten-Free Baked Tiramisu Cheesecake recipe isn't complicated, but it does take a little more time than my usual 15 minutes. Whether you like cheesecake or tiramisu, the two combined make for a magical dessert. More on gluten-free tiramisu recipes here->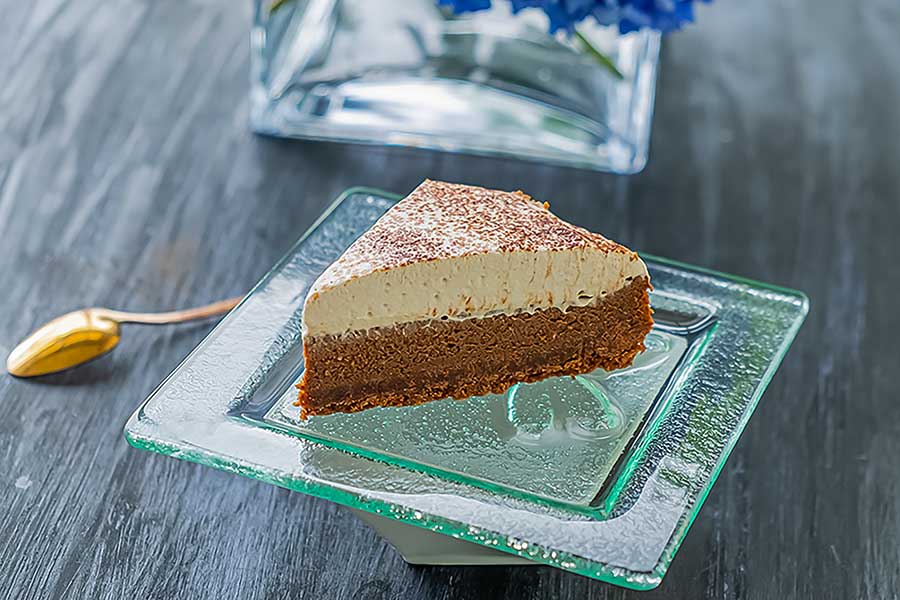 Ingredients
CHOCOLATE SHORTBREAD CRUST
3/4 cup unsalted butter, at room temperature
1/3 cup coconut sugar or sweetener of choice
1 1/2 cups almond flour
1/2 cup rice flour
1/2 cup arrowroot flour
1/4 cup pure cocoa powder
1/4 tsp. Himalayan salt
CHEESECAKE LAYER
250 g (1 cup) cream cheese, softened
3/4 cup coconut sugar or sweetener of choice
1/4 cup pure cocoa powder
2 tsp. pure vanilla extract
1/4 cup espresso or strong drip coffee
5 large eggs, at room temperature
1/4 cup almond flour
CREAM LAYER
1 cup whipping cream, at room temperature
1 cup mascarpone cheese, at room temperature
2 Tbsp. Pure maple syrup or desired sweetener
1 tsp. Pure vanilla extract
1 Tbsp. Pure cocoa powder plus some for dusting
*As an Amazon Associate and member of other affiliate programs, I earn from qualifying purchases. Please check out my sponsorship and disclosure policy page for more details
Instructions
For the crust; using a high-speed mixer, cream the butter with coconut sugar until smooth. Add almond flour, rice flour, arrowroot flour, cocoa powder and salt and mix together. Press into prepared pan and bake for 15 minutes
For the cheesecake layer; Mix cream cheese and sugar until creamy. Add cocoa powder, vanilla, espresso and eggs. Mix at high speed for 1 minute, scraping sides as needed. Stir in almond flour until smooth
As soon as the crust is finished baking and still hot pour the cream cheese mixture over the top. Bake for 40 - 45 minutes, until the center of the cake, is firm to touch. Cool in the pan. Don't worry if the cake deflates a bit, you get to cover it with a creamy topping
For the cream layer; Using an electric mixer beat the mascarpone cheese with maple syrup, vanilla and cocoa powder until creamy. In a separate bowl whip the whipping cream until stiff peaks form. Fold the whipped cream into the mascarpone mixture
Once the cake is cooled using a sharp knife loosen the edges and remove the cake. Spread the cream over the top and dust with cocoa powder. Refrigerate overnight. Enjoy!
Similar Recipes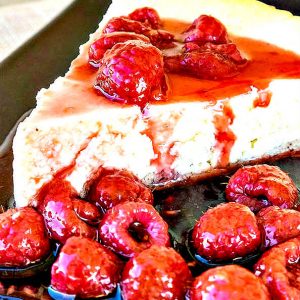 Gluten-Free Baked German Cheesecake
There are many ways to make a cheesecake. This sumptuous gluten-free cheesecake is baked using two types of cheeses creating that perfect creamy texture. The cake is light, slightly flavoured with fresh lemon juice and if desired topped with our fresh raspberry sauce. Recipe included. What I love about this grain-free cheesecake, it can be […] Read More
Prep Time
20 Minutes
Difficulty
Easy
Cook Time
60 Minutes
Serves
12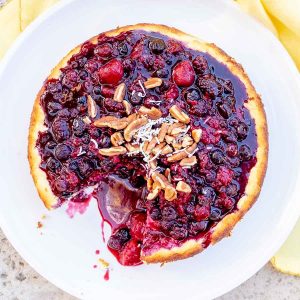 Coconut Cheesecake With Berry Compote {Gluten-Free}
I just had to share this glorious Gluten-Free Coconut Cheesecake With Berry Compote because it is so incredibly delicious! ♥ This is a healthy-ish version of cheesecake, and I will explain why. This gluten-free dessert has a buttery oat crust topped with a creamy cheesecake. The cheesecake layer is made with light ricotta cheese, eggs, […] Read More
Prep Time
15 Minutes
Difficulty
Easy
Cook Time
55 Minutes
Serves
8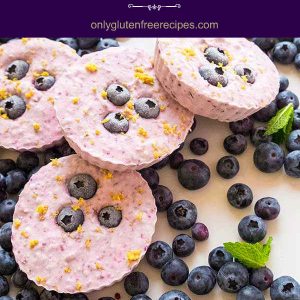 Keto Minnie Blueberry Cheesecakes
If you are following a keto diet, you will enjoy these Minnie Blueberry Cheesecakes. All you need is six ingredients and six minutes to make this heavenly keto zesty dessert. The best part, you don't have to bake them and the cheesecakes taste heavenly. Now you can have a keto dessert without worrying about the […] Read More
Prep Time
10 Minutes
Difficulty
Beginner
Serves
8