Tiramisu Swiss Roll – Gluten Free
Published on Mar 03, 2022
by
Kristina Stosek
Prep Time:

25 minutes
Cook Time:

15 minutes
Serves:

8 - 10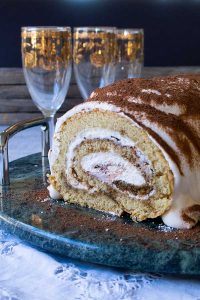 ​This post may contain affiliate links, please see our
privacy policy
for details
This Gluten-Free Tiramisu-Style Swiss roll is a real show stopper of a dessert, with a soft, moist sponge cake and a layer of cream, coffee, cocoa powder, and if you wish, Kahlua rolled into a log. This take-on on tiramisu dessert is a fail-proof gluten-free Swiss roll recipe.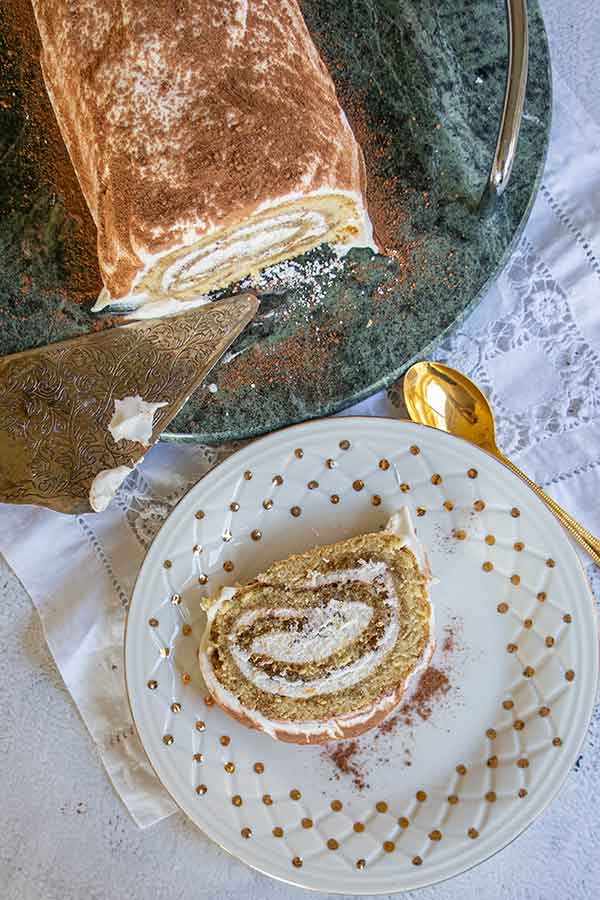 If you have been following my blog, you probably know our gluten-free classic tiramisu dessert, the Irish cream tiramisu, or the strawberry tiramisu. These gluten-free desserts have been popular, and this is why I wanted to introduce another tiramisu dessert you may enjoy!
What is a Swiss roll?

A classic Swiss roll is a thin layer of vanilla sponge cake rolled around strawberry or raspberry jam. This gluten-free tiramisu-style version is layered with whipping cream-mascarpone cream, cocoa powder, coffee and Kahlua liqueur. You can replace the liqueur with chocolate sauce or vanilla extract if you prefer.
Easy way to make a tiramisu-style Swiss roll.
The Swiss roll is all about the sponge cake. First, the sponge must be moist and soft enough to roll. This tiramisu Swiss roll recipe took me a few tries before I perfected a moist, light sponge cake to roll.
Start with whisking the eggs with sugar. The eggs must be at room temperature. Once the eggs are light and fluffy, add melted butter and vanilla.
To finish the swiss roll batter, add a simple mix of dry ingredients, flour, baking soda, baking powder and salt. The batter is now ready for baking.
Using a large rimmed baking sheet lined with parchment paper brushed with olive oil, spread the batter evenly on the baking sheet. The sponge easily peels off the paper by brushing the parchment paper with oil.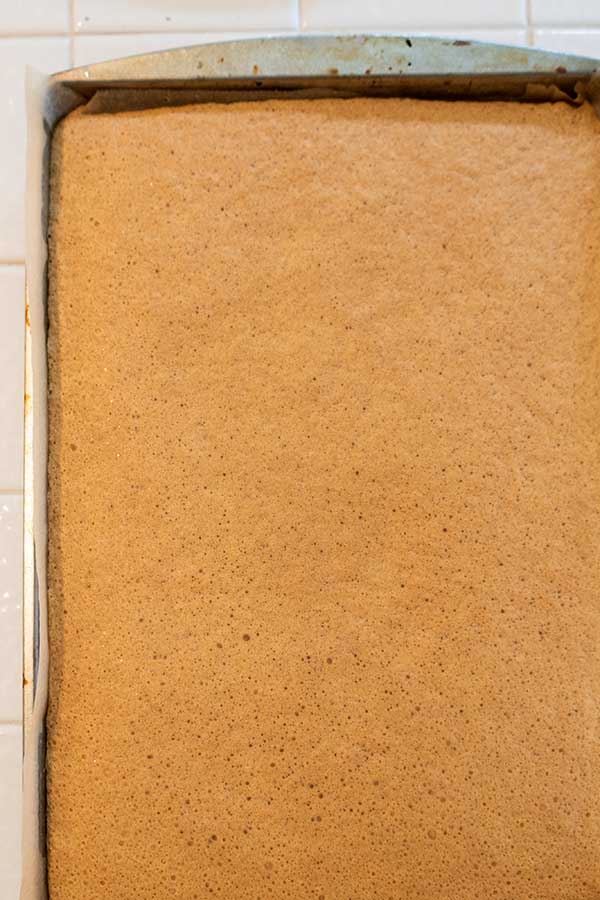 The sponge is kept slightly warm while you drizzle it with coffee and spread with cream and a dusting of cocoa powder.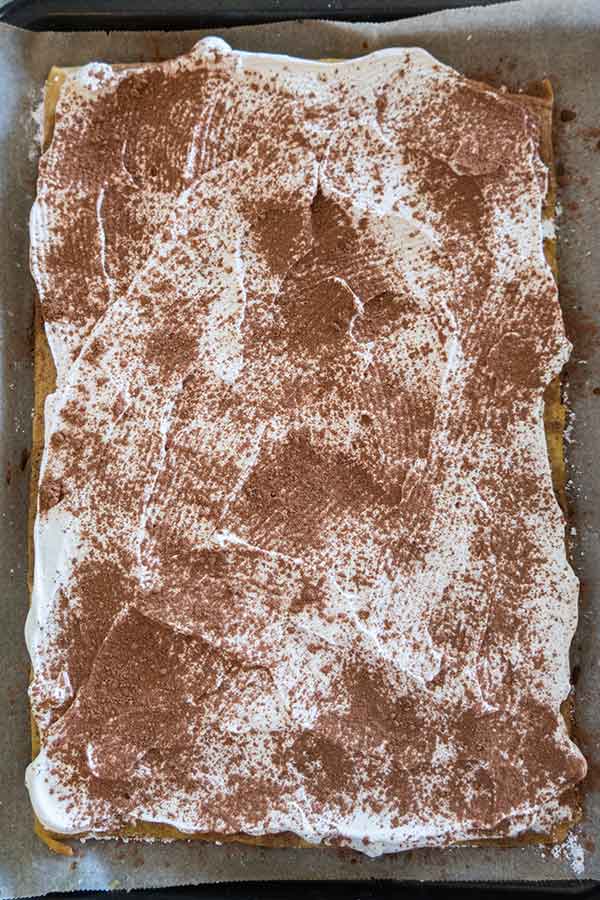 roll the sponge cake,
Turn the sponge so that a short edge is closest to you. Using the paper underneath to help you, roll up the sponge firmly but gently.
the next step,
Once you have the roll ready, you must chill it. By chilling the roll, the dessert will firm up for easy slicing.
the topping for tiramisu Swiss roll,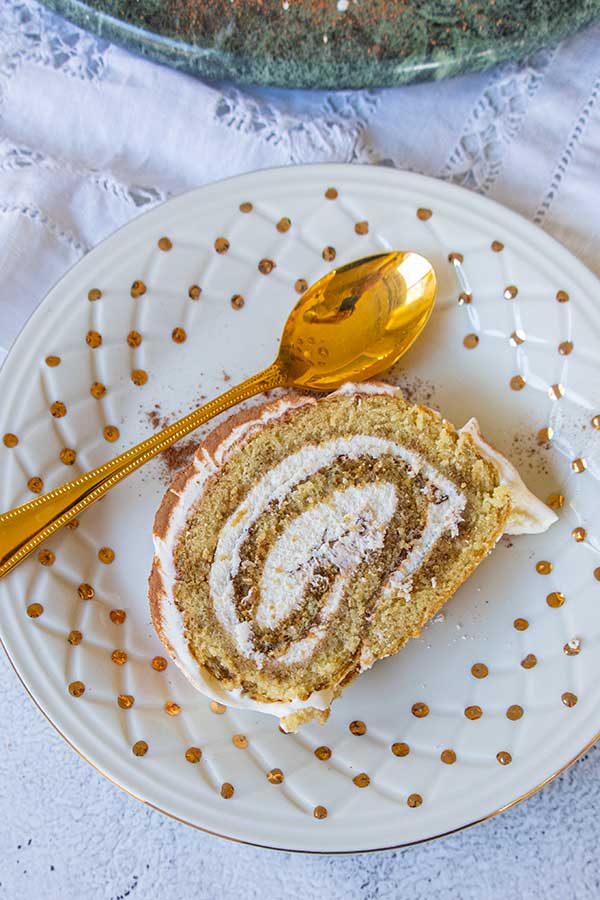 Once the roll has chilled, coat it with the remaining cream and give it a generous sprinkle of cocoa powder. The gluten-free tiramisu swiss roll is a lot simpler to make than it seems, I promise.
What is Kahlua?
Kahlua coffee liqueur's main ingredients are 100% Arabica coffee beans, rum, corn syrup and has 20% of alcohol. This sweet liqueur tastes like black coffee, roasted chestnut and sweet butter—a classic flavour for tiramisu dessert.
Is Kahlua Gluten-Free?
As per the Kahlua manufacturer, there are no added gluten ingredients in the Kahlua original, and it is considered gluten-free. Another one of our favourite gluten-free dessert recipes made with Kahlua is the Gluten-Free Chocolate Brownie.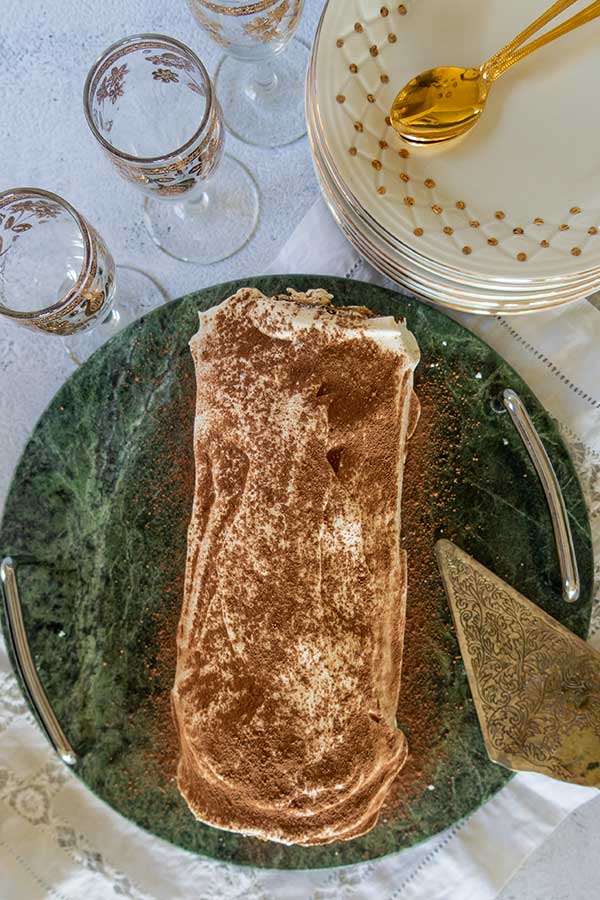 If you like coffee and cocoa flavoured desserts and rich cream, this gluten-free tiramisu Swiss roll will become one of your favourites. Enjoy!
Tiramisu Swiss Roll – Gluten Free
Published on Mar 03, 2022
by
Kristina Stosek
Instructions
1.

Preheat oven to 350 F and line a 10x15-inch rimmed baking sheet with parchment paper. Lightly brush the parchment paper and the sides of the baking sheet with olive oil

2.

In a small bowl, whisk the flour, baking soda, baking powder and salt

3.

Using a stand mixer fitted with the whisk attachment or a hand mixer fitted with the double beaters, whisk the eggs and sugar together until pale and fluffy. This should take about 4 - 5 minutes

4.

Add vanilla and melted butter and mix to combine

5.

Add dry ingredients and whisk until combined and creamy, scraping the sides as needed. About 15 seconds

6.

Transfer batter into the prepared baking sheet in an even layer. Bake for 12 - 15 minutes, until golden brown and spongy to the touch

7.

Remove the baking sheet from the oven and loosely cover it with foil paper. This keeps the sponge moist and easy to roll. Cool slightly but keep it still warm. (About 10 minutes) The temperature should be of luke warm water (72 F)

8.

9.

While the sponge is cooling, whisk the whipping cream with powdered sugar until firm peaks form. Add mascarpone and kahlua and mix to combine

10.

11.

Once the sponge has cooled, gently loosen from the edges of the baking sheet with a knife. Lightly dust the top of the sponge with 2 tablespoons of powdered sugar and turn it out onto a large sheet of parchment or wax paper. Peel away the baking parchment paper

12.

Evenly drizzle the sponge with coffee and spread about 1/3 - 1/2 of the filling to the edges over the sponge. Sprinkle with 4 tablespoons of cocoa powder

13.

Turn the sponge so that a short edge is closest to you. Using the paper underneath to help you, roll up the sponge firmly but gently until you get a 10-inch long log. Don't worry if the sponge cracks slightly, but it shouldn't. It will roll up nicely, and the outside will be covered with the cream

14.

Chill in the fridge for 2 hours

15.

Once chilled, coat the roll with the cream and sprinkle with remaining cocoa powder. Serve remaining cream with the roll if you wish

16.

Store in a closed container in the refrigerator for 3-4 days
Leave a Comment
Kristina
what a great idea Julie, thank you for sharing
I made this for stay in home date night tonight and it looks and smells delicious!!! I made it in my sheet roll pan and instead of rolling it I cut it into thirds and layered it instead. Came out PERFECT! Thanks for the post.
Kristina
what a great idea, thank you for sharing Kathleen
This dessert was AMAZING! I brought it to a Christmas dinner and everyone loved it! The only change I made was to substitute Amaretto for Kahlua. Soo good!
This Swiss roll was so easy to make, has the perfect texture and so delicious. My family LOVED it, and they had no idea it was gluten-free. Thank you so much for this recipe Kristina.
delicious and easy to make, thank you!
Kristina
Jannie, I am so happy that you enjoyed the dessert. Enjoy!
excellent tiramisu Swiss roll recipe, and the surprising thing was how easy the recipe is. Thank you, my family LOVED this dessert!!