Gluten-Free Chocolate Brownie Cake
Published on Nov 05, 2020
by
Kristina Stosek
Prep Time:

15 minutes
Cook Time:

45 minutes
Serves:

12 pc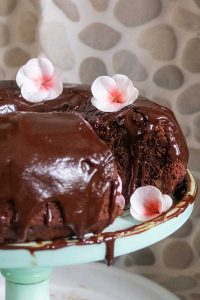 ​This post may contain affiliate links, please see our
privacy policy
for details
You have never met Gluten-Free Chocolate Brownie Cake like this before. Extra fudgy topped with a chocolate glaze spiked with Kahlua, this dessert is rich and indulgent. Move over chocolate brownies, because this Chocolate Brownie Cake is more than just a brownie.
This gluten-free dessert is a grain-free brownie filled with walnuts, a hint of coffee and topped with unapologetic rich Kahlua chocolate glaze.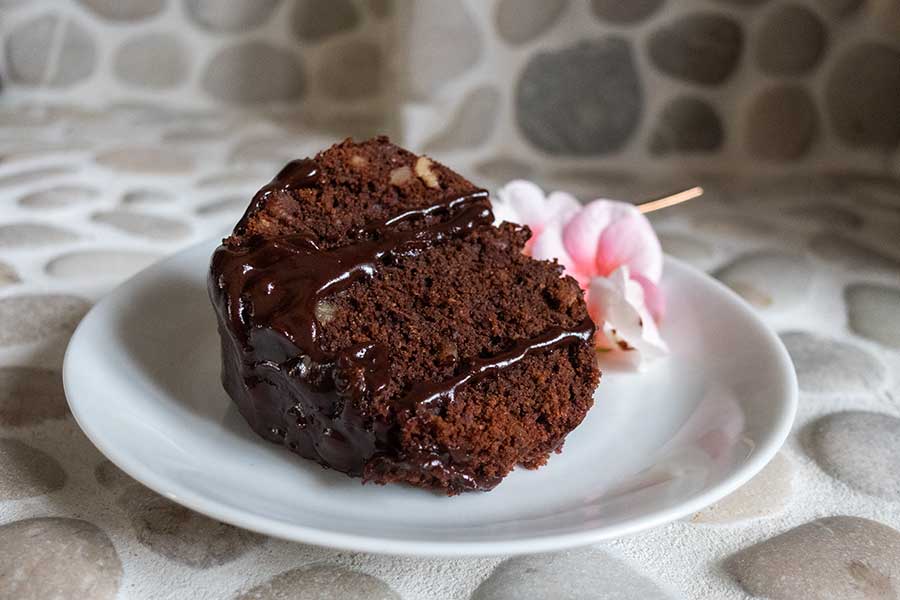 This Gluten-Free Chocolate Brownie Cake is one of those gluten-free desserts we should always keep in our fridge because it is that good! If you don't want to add Kahlua to the glaze, you can replace it with cream and vanilla.
Either way, this gluten-free chocolate dessert is extra special. Sometimes we long for something sweet and chocolaty, and this chocolate brownie cake will hit the spot every time.
gluten-free chocolate brownie cake ingredients
In this Gluten-Free Chocolate Brownie Cake recipe, the ingredients are simple. Almond flour and arrowroot or tapioca flour, baking soda, butter, coconut sugar or golden brown sugar, eggs, coffee, vanilla and walnuts.
The best part, these are basic naturally gluten-free ingredients you most likely already have in your pantry.
Why add coffee to a brownie cake?
Coffee is another way to set this gluten-free brownie cake apart from most. Yes, the coffee is optional. However, the coffee adds to the richness of the chocolate, making this brownie cake insanely delicious! Use decaffeinated coffee if you are concerned about the caffeine.
easiest chocolate glaze recipe
The chocolate glaze takes just minutes to make. You will need chocolate chips, butter, honey, vanilla, and the flavourful Kahlua to make the glaze. The Kahlua adds another level of deliciousness to this already delectable dessert.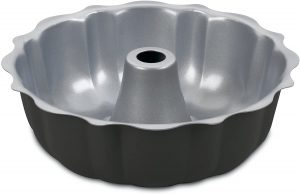 To make this Gluten-Free Chocolate Brownie Cake looking extra special, I used a non-stick bundt pan. I love using this pan because the cake looks pretty, it is easy to slice and fun to decorate with the chocolate glaze.
If you don't have a bundt cake pan, no problem, use an 8 by 8-inch baking pan.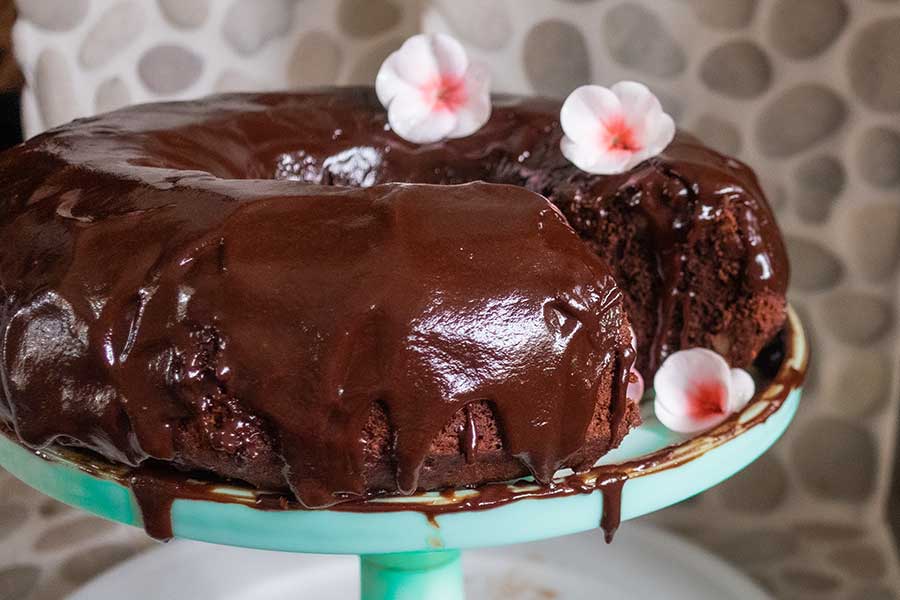 the Kahlua spiked chocolate glaze
You will love this chocolate glaze recipe because it is super easy to make and so flavourful. You will need a double boiler or two pots. One is partially filled with water and the other with the chocolate glaze ingredients.
The water should be super hot but not boiling, place the other pot over the water without touching the water. Stir the ingredients until the chocolate is melted and smooth. The chocolate sauce should still be warm when you pour it over top of the cooled cake.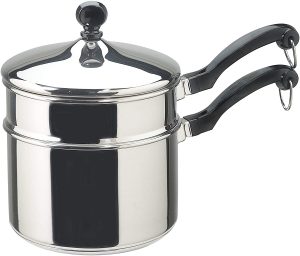 I don't like my desserts to look perfect in terms of decorating them. I prefer when the dessert looks rustic and inviting, this is why I poured the chocolate glaze over the cake and let it run down the sides. The more chocolate glaze, the better…YUM!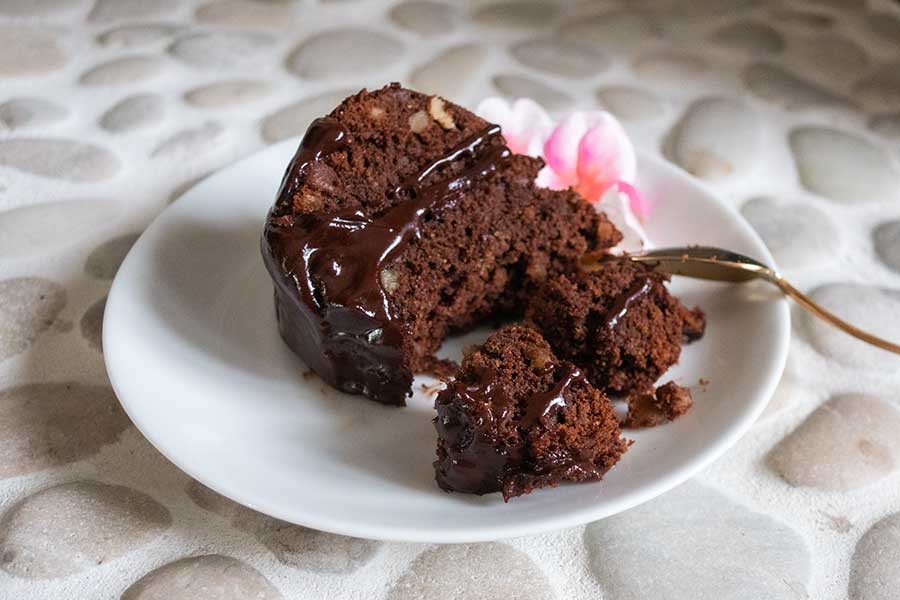 This Gluten-Free Chocolate Brownie Cake can be served as is, or if you want to go all out, add some fresh berries, whipped cream or vanilla bean ice cream. This gluten-free chocolate dessert will make any occasion extra special whichever way you serve it.
Another one of our special chocolate desserts is the 2 Layer Grain-Free Chocolate Cake. This dessert is everyone's favourite!
Let's Connect!
Be sure to FOLLOW US on FACEBOOK and PINTEREST.
Many thanks!
Kristina xx
Gluten-Free Chocolate Brownie Cake
Published on Nov 05, 2020
by
Kristina Stosek
Instructions
1.

Preheat oven to 350 F Generously butter a bundt cake pan and sprinkle with GF flour

2.

In a medium bowl, whisk together almond flour, arrowroot/tapioca flour, baking soda and salt.

3.

In a large bowl of an electric mixer, mix butter with sugar until smooth. Add cocoa powder, eggs, coffee and vanilla and blend until creamy.

4.

Add dry ingredients to butter mixture, and using a spatula, mix until combined. Stir in walnuts

5.

Transfer batter into the prepared bundt cake pan and bake for 40 - 45 minutes until the cake passes the toothpick test. Let the cake cool for 15 minutes in the pan, then turn it out onto a cooling rack to cool completely. 

6.

7.

In a double boiler over hot water, combine chocolate chips, butter, Kahlua or cream and honey. Stir until chips are melted, and the mixture is smooth, then stir in vanilla if you are making the cream version

8.

Spread or pour warm glaze over top of cooled cake
Leave a Comment
It looks awesome. Thank you for sharing this recipe.
Stop. Stop showing me delicious pictures like this. I already have a chocolate cake at home and I want this one too!
Ooooooohmygod thank you T_T