2 Layer Grain-Free Chocolate Cake (Gluten-Free, Nut Free)
Published on Jun 11, 2019
by
Kristina Stosek
Prep Time:

15 minutes
Cook Time:

45 minutes
Serves:

10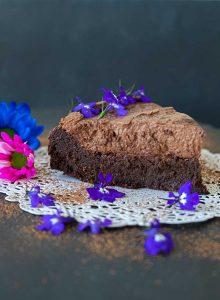 ​This post may contain affiliate links, please see our
privacy policy
for details
This 2 Layer Grain-Free Chocolate Cake is a chocolate lover's dream. This incredibly delicious chocolate dessert is made up of two layers. A light chocolate sponge cake and a layer of chocolate mousse. How does that sound, I know, where is the spoon 😍
This grain-free chocolate cake is made with only 6 ingredients!
You may find this hard to believe, but you will need only six ingredients to create this chocolate masterpiece. The best part about this chocolate dessert is, there are no grains or nuts, and the cake is especially moist.
This chocolate cake is as simple as a two-layer dessert can be. But I will warn you, the cake is super rich. However, this is good, because all you need is a small slice to satisfy that sweet chocolate craving. This recipe makes an eight-inch round cake, but you can get ten servings 😍
This heavenly grain-free chocolate cake can be made even by a novice cook. But you need to know that if you are planning to serve it at a dinner party, the dessert has to be made a day in advance. So you must plan ahead. Enjoy!
If you like this chocolate dessert you will love the Gluten-Free Death by Chocolate Cake!
2 Layer Grain-Free Chocolate Cake (Gluten-Free, Nut Free)
Published on Jun 11, 2019
by
Kristina Stosek
Instructions
1.

Preheat oven to 350 F and line the bottom of an 8-inch springform cake pan with a circle of parchment paper

2.

Over medium-low heat, heat 1 cup of whipping cream until hot but not boiling

3.

Add chocolate chips and butter and stir until melted. Remove from the heat and stir in vanilla. Set aside and cool

4.

In a large bowl using an electric mixer whisk the eggs with sugar until frothy. While the mixer is running, slowly add 2 cups of cooled chocolate sauce until combined. Pour batter into the prepared springform cake pan, then place the pan on a baking tray and bake for 40 minutes. Slightly open the oven door and let the cake cool completely. The cake will deflate a bit, don't worry it will be filled with the mousse layer

5.


To make the chocolate mousse layer, add the remaining chocolate sauce into 1 cup of whipping cream and whip until small peaks form. Refrigerate for one hour

6.

Spread the mousse layer over the cake and refrigerate for 4 hours or overnight

7.

To remove the cake from the pan, use a knife to loosen the sides before releasing the clasp. Remove the pan and transfer on to a cake plate. Dust with cocoa powder if you wish