Gluten-Free Death By Chocolate Cake
Published on Aug 02, 2022
by
Kristina Stosek
Prep Time:

20 minutes
Cook Time:

50 minutes
Serves:

8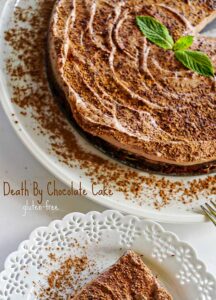 ​This post may contain affiliate links, please see our
privacy policy
for details
This death by chocolate cake is a luxurious gluten-free dessert. It will make an impressive finale for any dinner party. The chocolate truffle bottom with creamy mousse topping makes this chocolate dessert insanely delicious.
This dessert is very rich, meaning you only need a small slice to satisfy your chocolate craving.
There's nothing quite like this rich, decadent chocolate cake. And when it's gluten-free, you can enjoy it without worrying about your dietary restrictions.
How does gluten free death by chocolate cake taste like?
Well, it's a chocolate lover's dream come true. The cake is moist and fluffy, with a deep chocolate flavour. It's often topped with whipped chocolate cream, which takes the cake over the top.
only 6 ingredients to make grain-free chocolate cake
For this death by chocolate cake, you will need only six ingredients: heavy cream, chocolate chips, butter, eggs, sugar and vanilla.
If you wish to make it extra pretty, add a sprinkle of cocoa powder.
It's the perfect dessert for any occasion! However if you love chocolate check out the Grain Free Chestnut Chocolate Cake, the Gluten-Free Chocolate Brownie Cake, or my favourite, the Flourless Chocolate Truffle Cake.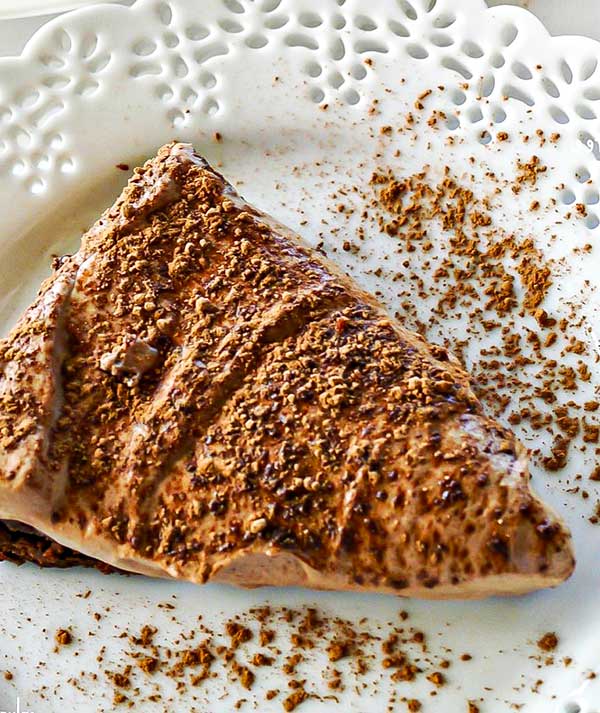 Why is it called death by chocolate?
I'm not sure where the term "death by chocolate" came from, but it's definitely a fitting name for this cake! This super-rich, decadent cake has two layers: a ganache buttercream layer and whipped chocolate cream.
And you can be assured that this chocolate dessert is gluten-free because the entire cake is made without grains.
So if you're in the mood for something truly indulgent, give this death by chocolate cake a try. I think you'll be glad you did!
easy grain free chocolate cake recipe
This is an easy chocolate cake recipe with only six simple ingredients and minimal prep time. However, the dessert has to be chilled before you can enjoy it.
How to store Gluten-Free Death By Chocolate Cake?
-If you have any leftover cake, it's best to keep it in an airtight container in the fridge. It will last up to five days.
-You can also freeze this chocolate cake, which will last up to three months.
-When you're ready to eat the frozen cake, thaw it overnight in the fridge, and always serve it chilled.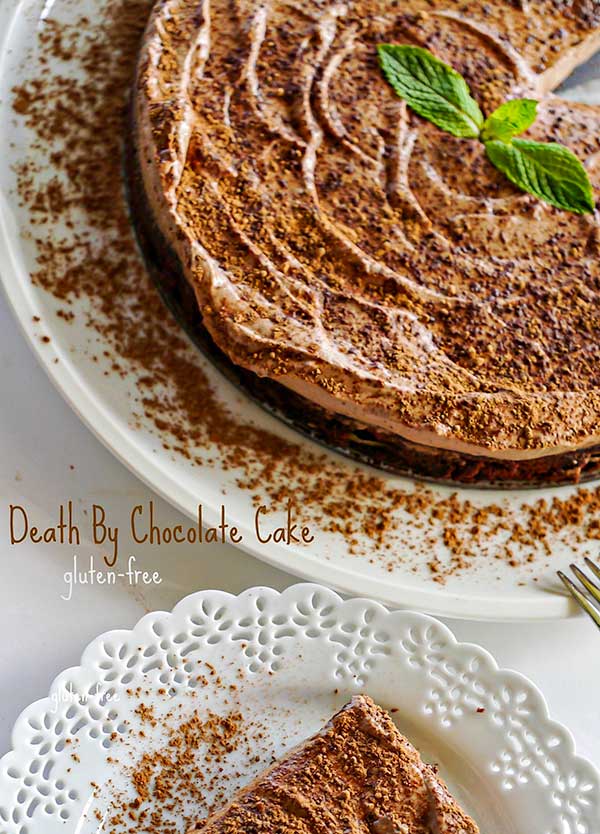 Why is this gluten-free chocolate dessert so popular?
There are many reasons that death by chocolate cake is such a popular dessert, but one of the main reasons is that it has a rich, creamy chocolate flavour.
Is chocolate gluten-free?
Most chocolate is gluten-free, but there are a few exceptions. Check the labels on any chocolate you purchase to be sure it doesn't contain gluten.
Some brands of chocolate that are known to be gluten-free include Scharffen Berger, Ghirardelli, and Lindt.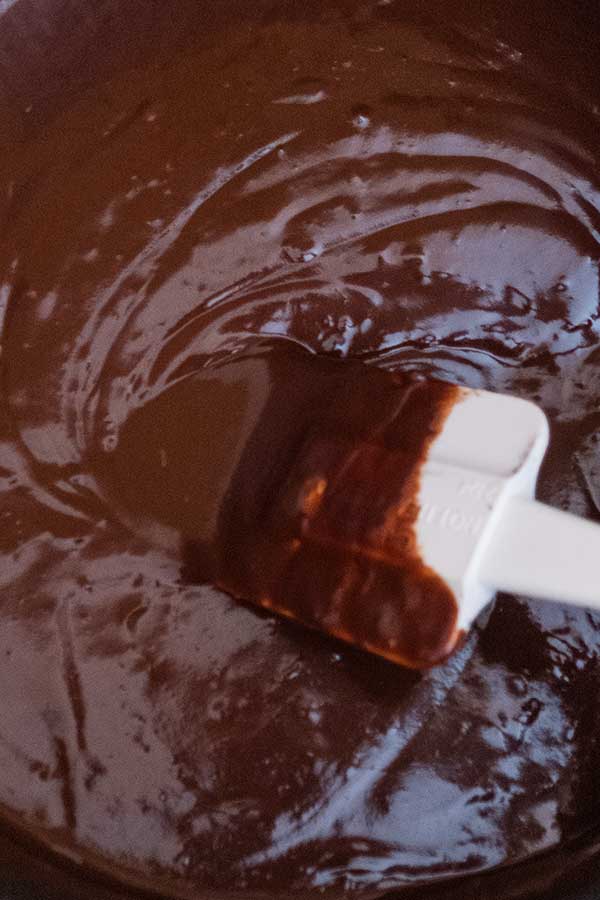 Is chocolate healthy?
Chocolate is made from cocoa beans, which are a source of antioxidants. Antioxidants are essential for good health because they help to protect cells from damage.
Cocoa beans, the main ingredient in chocolate, also contain flavonoids, which have been linked to lower heart disease and stroke rates.
So, overall, chocolate does have some health benefits. However, death by chocolate cake also contains sugar and fat, which should be consumed in moderation.
After trying out this delicious gluten-free death by chocolate cake recipe, we can safely say it lives up to its name!
The rich chocolate flavour and moist, fluffy texture make it hard to believe that this cake is gluten-free.
Just be warned – it's so good that you might not be able to stop at just one thin slice!
Let's Connect!
Be sure to FOLLOW US on FACEBOOK and PINTEREST.
Many thanks!
Kristina xx
Gluten-Free Death By Chocolate Cake
Published on Aug 02, 2022
by
Kristina Stosek
Instructions
1.

Preheat oven to 350 F and line a 9-inch springform cake pan with a circle of parchment paper.

2.

3.

Add 1 cup of heavy cream into a saucepan and heat over medium-low temperature. When the cream is fairly hot, not bubbling, add butter and chocolate chips and stir until chocolate is melted

4.

Remove from the heat and stir in vanilla. Bring to room temperature

5.

In a large bowl using an electric mixer, whisk together eggs and sugar until the eggs become fluffy. Slowly add 2/3 of the chocolate cream sauce while mixing until combined

6.

Pour batter into the cake pan and place on a baking sheet. Bake for 40 minutes. Turn the heat off and slightly open the oven door until the cake cools. Cover cooled cake and refrigerate

7.

8.

While the first layer is cooling, add 1 cup of heavy cream to the remaining chocolate cream sauce and whip until small peaks form. Cover and refrigerate for 1 hour

9.

10.

Spread the whipped chocolate cream over top of the chilled cake and refrigerate for a minimum of 4 hours or preferably overnight

11.

To serve, remove the cake from the pan by loosening the sides with a knife before releasing the clasp. Remove the ring and place on a cake platter. Dust with cocoa powder