Grain Free Chestnut Chocolate Cake
Published on May 05, 2017
by
Kristina Stosek
Prep Time:

15 minutes
Cook Time:

35 minutes
Serves:

8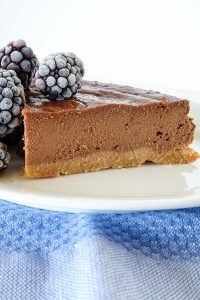 ​This post may contain affiliate links, please see our
privacy policy
for details
Delicious Grain-Free Chestnut Chocolate Cake. Chestnuts are mildly sweet and have an earthy flavour, almost like sweet potato, and they are naturally gluten-free.
Also, chestnuts are lower in calories and fats than most nuts. Because they are a rich source of minerals, vitamins and phytonutrients, they greatly benefit our health.
What I love about this chestnut cake, it is super easy to make. Add some berries or whipped cream to make this dessert extra special.
For more gluten-free chocolate cake recipes click here->
Grain Free Chestnut Chocolate Cake
Published on May 05, 2017
by
Kristina Stosek
Instructions
1.

Preheat oven to 350 F and line the bottom of 8-inch springform pan with a circle of parchment paper

2.

In a medium bowl, mix cashew butter, coconut flour, maple syrup/agave and coconut milk. Lightly press the dough on the bottom of springform pan and set aside

3.

Place chestnut puree, maple syrup/agave, sea salt and vanilla into a bowl and mix well. Set aside

4.

In a heavy bottom saucepan over low heat melt chocolate and coconut oil. Add to chestnut mix and whisk well. Add the eggs one at a time and whisk until creamy. Using an electric mixer works best

5.

Pour batter in the prepared pan and bake for 35 minutes

6.

Cool in the pan completely then refrigerate for 1 hour before serving