Flourless Chocolate Ganache Cake
Published on Jul 30, 2014
by
Kristina Stosek
Prep Time:

20 minutes
Cook Time:

60 minutes
Serves:

8 - 10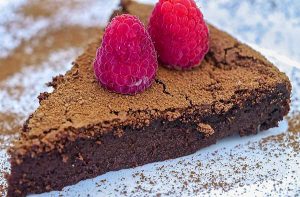 ​This post may contain affiliate links, please see our
privacy policy
for details
Welcome to our gluten-free dessert section for our delicious flourless chocolate ganache cake recipe! This cake is perfect for anyone who loves chocolate, and it's also an easy chocolate cake recipe for novice bakers.
How does flourless chocolate ganache cake taste?
This delectable grain-free chocolate cake tastes like chocolate ganache filling. Honestly, every bite is as if you were eating the creamiest chocolate.
I will warn you, this flourless cake is dense and rich tasting. And this is why a thin slice is all you need to satisfy your chocolate craving, even if you are a chocoholic like me!
Is flourless cake gluten-free?
Yes, the flourless cake is gluten-free. This chocolate ganache cake is made without grains, so it's perfect for those with gluten sensitivities or celiac disease.
The best part is nobody will be able to tell that this decadent chocolate cake is gluten-free!
What doe chocolate ganache mean?
Chocolate ganache means chocolate melted with cream in equal parts. In this recipe I used 2 : 1 chocolate to whipping cream ratio because I also added butter.
cake with only 7 ingredients
This cake is made with only seven ingredients – chocolate chips, whipping cream, eggs, sugar, butter, salt, and for flavor, rum or pure vanilla extract.
The flourless cake is so simple to make, and the texture and rich chocolate flavour are insanely good!
How to make flourless chocolate cake?
Making a flourless chocolate cake is easier than you might think! Here's how to make a flourless chocolate cake that will impress everyone:
To make this cake, melt chocolate and butter in warm cream. Then add the flavor, rum or pure vanilla extract.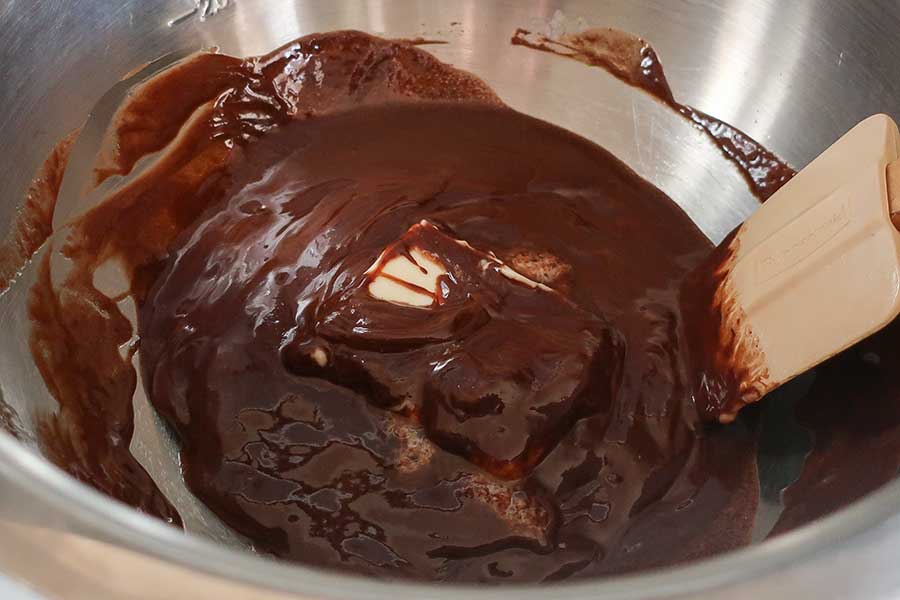 While the chocolate sauce is cooling, whisk the eggs with sugar and salt. Then slowly mix in the cooled chocolate sauce.
Pour the mixture into a springform cake pan and place the pan on a baking sheet to bake.
Once the flourless cake is baked, it needs to chill. For best results, I recommend chilling it overnight. However, if you are short on time or can't wait to dig into this chocolate ganache cake, chill it for about six hours, the texture will be softer.
For the finish, just before serving, I like to add a dusting of pure cocoa powder. Or, add your favourite toppings.
easiest chocolate cake
As you can see, this flourless chocolate ganache cake recipe is undeniably easy.
This gluten-free dessert is perfect for any occasion, whether you celebrate a birthday, an anniversary, or want to treat yourself to something special.
It is also a great choice if you entertain guests with dietary restrictions, such as gluten, nuts or grains.
Why is flourless cake so famous?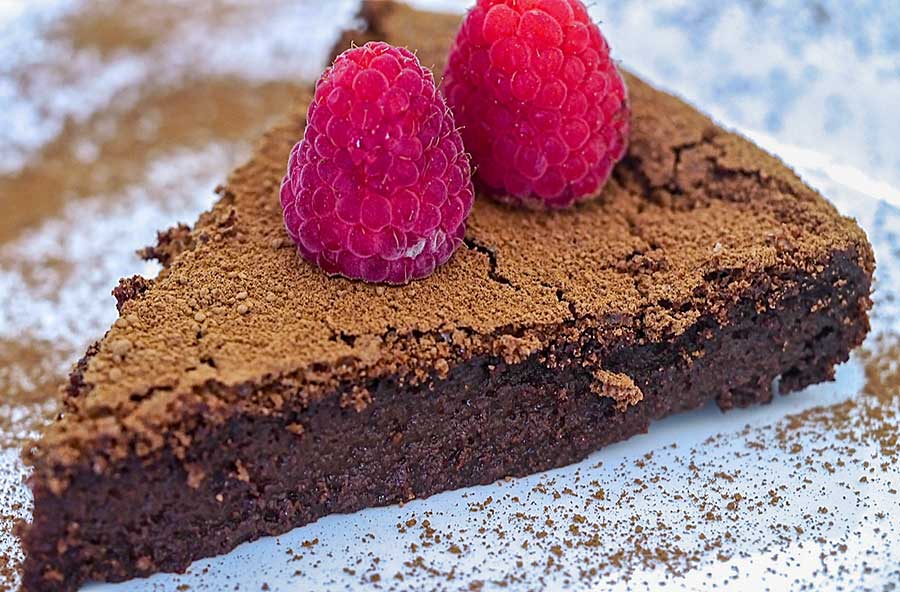 Flourless chocolate cake is a type of chocolate cake made without any flour. The lack of flour makes the cake very dense, rich, and super chocolaty.
The dense and rich texture is a great reason. Because all you will need is a thin slice, the chocolate dessert goes a long way.
The fact that it is grain-free is also an appealing factor for those avoiding grains and gluten.
It is easy to make and will keep up to seven days when refrigerated.
Whatever the reason, this type of cake is sure to please any chocolate lover! Another two chocolate dessert recipes you may enjoy is the Gluten-Free Death By Chocolate Cake, or the Nut-Free 2 Layer Grain-Free Chocolate Cake.
toppings for a flourless cake
Chocolate ganache cake is delicious, but there are many ways to dress it up with different toppings. Here are some ideas:
-Fresh berries
-Whipped cream
-Coconut flakes
-Chopped nuts
-Chocolate shavings
-Ice cream
-Edible flours
-Cocoa powder
So if you are looking for a rich, decadent cake for a special occasion or a dessert to keep in the fridge for when you get a chocolate craving, this flourless chocolate ganache recipe is one to try.
Thank you for reading, and I hope you enjoy making this cake as much as I did.
Let's Connect!
Be sure to FOLLOW US on FACEBOOK and PINTEREST.
Many thanks!
Kristina xx
Flourless Chocolate Ganache Cake
Published on Jul 30, 2014
by
Kristina Stosek
Instructions
1.

Preheat oven to 350 F. Line a 9-inch springform cake pan with a circle of parchment paper.

2.

Using a heavy bottom saucepan, heat whipping cream over medium heat until hot but not bubbling. Add butter and chocolate chips and gently stir until the chocolate has melted. Remove the saucepan from heat and stir in rum/vanilla. Cool to room temperature

3.

In a large bowl, add eggs, sugar and salt and beat with an electric mixer until the eggs become fluffy. Slowly add the chocolate mixture and beat until combined

4.

Pour the batter into the cake pan and place the pan on a baking sheet. Bake for 60 - 65 minutes. The cake may look a bit soft in the middle this is fine, as long as it is not jiggling.

5.

Place the pan on a cooling rack and cool to room temperature. The cake may deflate a bit, this is fine. Cover and chill for 6 hours or overnight

6.

To remove the cake from the pan, using a sharp knife loosen the sides before releasing the clasp. Then remove the ring and place it on a cake platter—dust with cacao and garnish with your favourite toppings.

7.

Baker's note: you can serve the cake just dusted with cacao