Gluten-Free French Lemon Tart
Published on Feb 26, 2018
by
Kristina Stosek
Prep Time:

15 minutes
Cook Time:

30 minutes
Serves:

6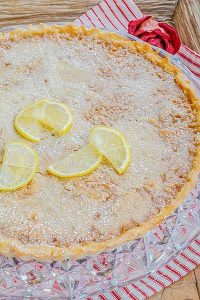 ​This post may contain affiliate links, please see our
privacy policy
for details
This Gluten-Free French Lemon Tart is a dessert for any day of the week because it is super easy to make. The creamy filling has a delicious citrusy flavour, and the crust is buttery and nutty. I promise you, this classic French dessert will melt in your mouth.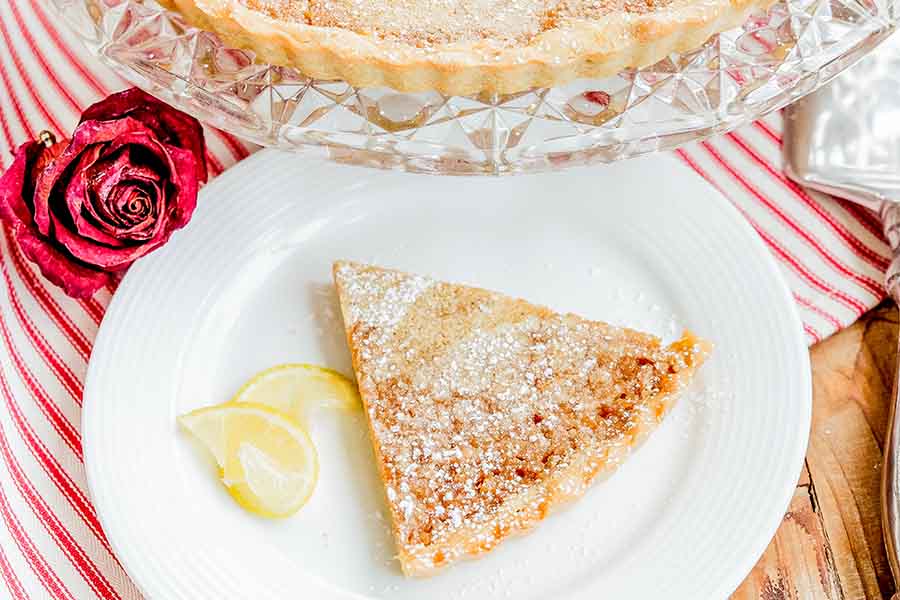 ♥ Easy steps to make a gluten-free lemon tart
To make the filling is so easy. You will need five ingredients, and they are all naturally gluten-free, so you don't have to worry about gluten. The best part, just place everything into a high-speed blender and blend… that's it! For the gluten-free crust, again pretty straight forward. You will need a combination of three flours, almond, rice and sweet sorghum. All of these flours are readily available at most supermarkets. I have also added an arrowroot starch. Mix the dry ingredients, cut in the butter and add the wet ingredients. Mix to combine, form a disk of dough and refrigerate for 20 minutes. Once chilled, roll out the disk to fit your tart pan with a removable bottom and fill with the filling. The dough is super easy to work with. Now bake, chill and refrigerate overnight. The next day you will have the most delicious Gluten-Free French Lemon Tart.
♥ Dairy-Free Lemon Tart Option
Follow the same steps as the non-dairy recipe, except substitute coconut cream… not coconut milk, for the butter. For the filling, the coconut cream must be melted. The tart tastes the same with the same texture, but with a slightly tropical flavour and just as insanely delicious! If you like French cuisine, check out these gluten-free French recipes. One of my favourites, is the Gluten-Free Crusty French Baguette recipe
Gluten-Free French Lemon Tart
Published on Feb 26, 2018
by
Kristina Stosek
Instructions
1.

In a blender, on high speed combine first 5 ingredients until smooth. Set aside

2.

3.

In a large bowl combine dry ingredients. Cut in the butter until the whole mixture has a rough, crumbly texture leaving a few larger pieces of butter

4.

In a separate bowl, whisk the eggs, maple syrup, lemon zest, and water. Add to the flour mixture and stir until the dough comes together

5.

Shape the dough into a disc, wrap it and chill for just 20 minutes

6.

Line your counter with parchment paper dust with gluten free flour and place dough on top, then sprinkle with some more flour. Roll out into a circle to fit your tart. Press the pastry onto the bottom and up the sides of a 9-inch tart pan with removable bottom

7.

Pour the filling into the crust. Bake for 30 minutes at 350 F

8.

Remove the pie from the oven and cool on a wire rack. Refrigerate overnight before serving