Very Best Gluten Free Nanaimo Bars
Published on Nov 08, 2022
by
Kristina Stosek
Prep Time:

15 + chill time minutes
Cook Time:

minutes
Serves:

16 - 18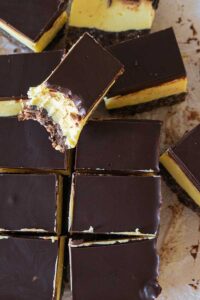 ​This post may contain affiliate links, please see our
privacy policy
for details
There are few things as classic – or delicious – as a Nanaimo bar. And while there are many variations of this delicious gluten-free Nanaimo bar, one thing remains the same: they're very famous!
If you're looking for a traditional take on the gluten free Nanaimo bar, we've got you covered. We have also included a plant-based version for those that follow a vegan diet.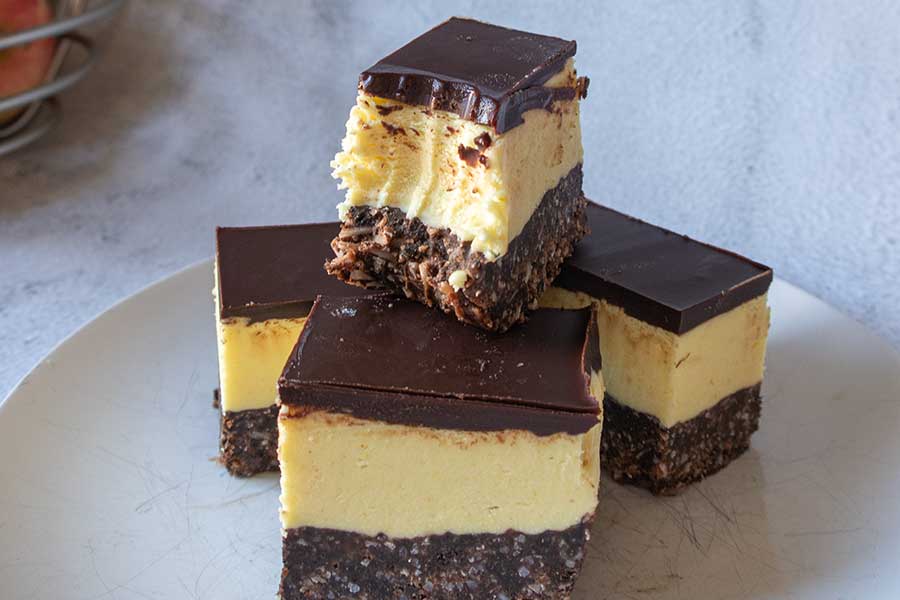 What is a Nanaimo bar?
Nanaimo bar is a no-bake dessert bar made with a cookie crumb base, custard buttercream filling, and chocolate ganache topping.
The original recipe for Nanaimo bars was created in the 1950s, and they have since become a popular dessert item in Canada and spreading into America.
gluten free Nanaimo bar recipe overview
The crumb base is typically made with graham cracker crumbs, shredded coconut, cocoa powder, sometimes nuts, and butter.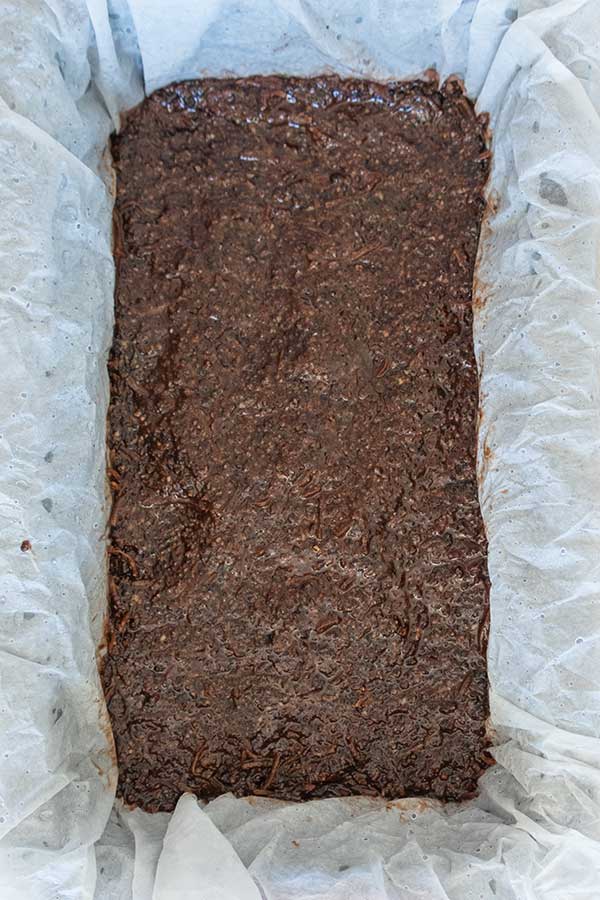 The custard cream filling is usually made with butter, custard powder and icing sugar.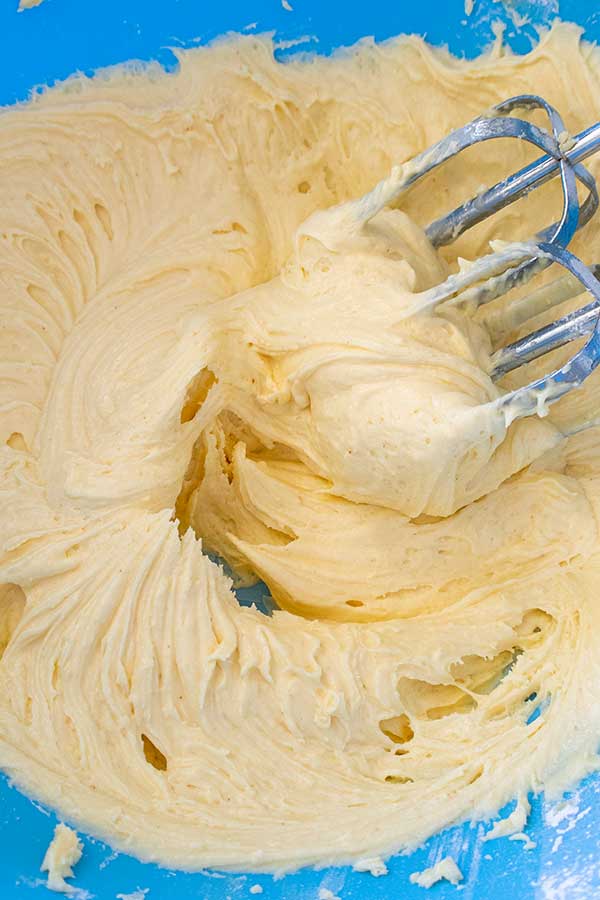 The chocolate ganache topping is made with dark chocolate and heavy cream or butter.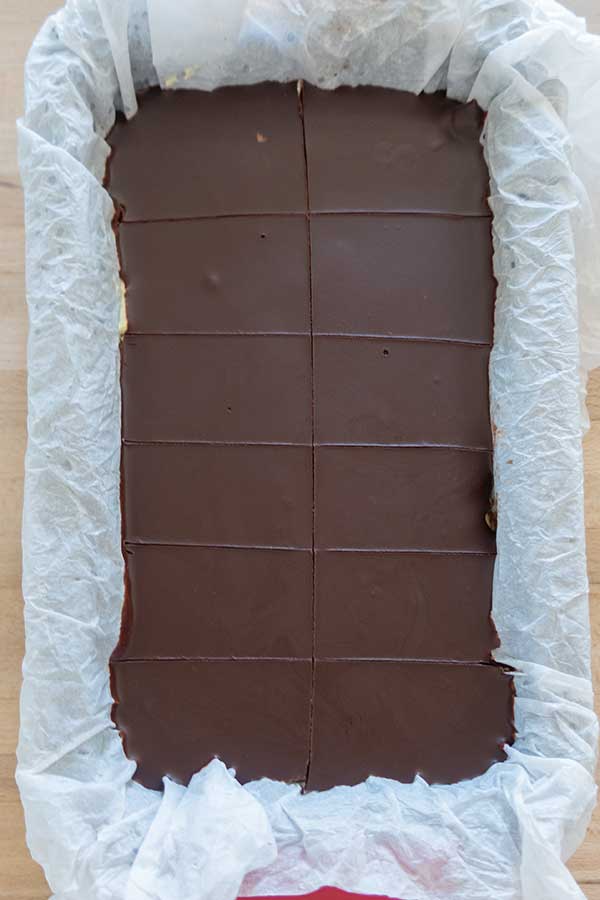 Nanaimo bars are served chilled and will keep for up to 10 days when refrigerated.
Where does the Nanaimo bar recipe come from?
The Nanaimo bar recipe is believed to have originated in the city of Nanaimo, British Columbia, in the 1950s. The recipe gained popularity in Canada and eventually made its way to the United States, where it is now a popular dessert.
The Nanaimo bar recipe has different variations, but the classic Nanaimo bar is the most popular.
Does gluten free Nanaimo bar taste the same as a regular bar?
There are a lot of people that are curious about whether or not gluten free Nanaimo bars taste the same as regular bars.
The answer to this question is yes! This Gluten free Nanaimo bar tastes the same as regular bars but without gluten.
The main difference between the two types of bars is that gluten free Nanaimo bars are made with gluten free cookie base and gluten free custard powder. All other ingredients are naturally gluten free.
This doesn't mean that the gluten free Nanaimo bars have a different texture or flavor. The flavor is based on the type of gluten free cookie you use.
Is there another name for Nanaimo bars in America?
The Nanaimo bar is a no-bake Canadian dessert that has recently gained popularity in the United States.
While it is sometimes called a "Nanaimo bar cookie" or a "Canadian chocolate bar," there is no official name for the dessert in America.
However, some people have started calling it a "West Coast chocolate bar" due to its popularity on the West Coast of the United States.
Can gluten free Nanaimo bars be made dairy-free?
Yes absolutely! For a dairy-free version, here are the substitutions.
butter: vegan butter (such as Earth Balance)
cream: coconut cream or any plant-based milk
chocolate chips: gluten free vegan chocolate chips
custard powder: vegan custard powder (use vegan powdered milk in the recipe)
gluten free cookies: gluten free vegan cookies (you can make vegan 4 ingredient gluten free coconut cookies and use those)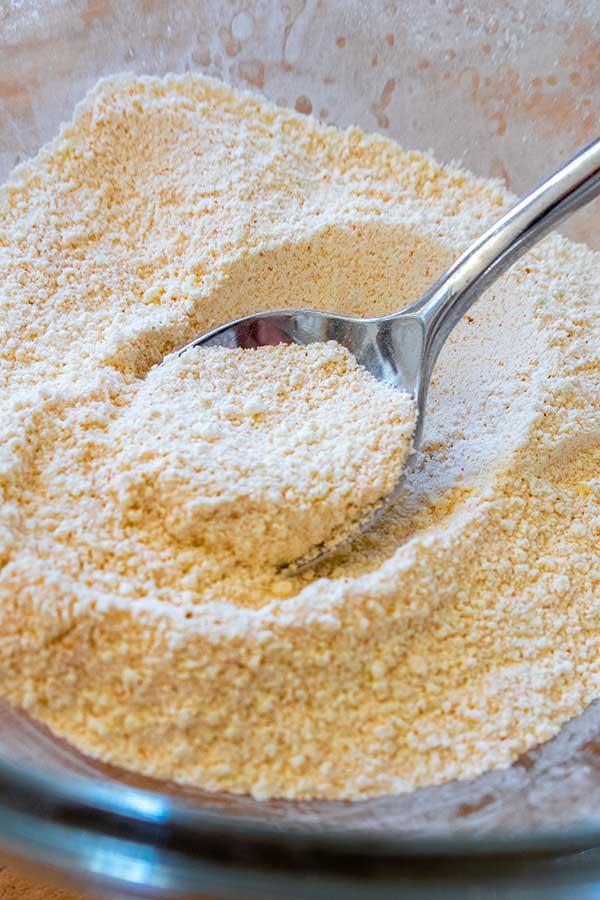 Home Made Gluten Free Custard Powder Recipe
1 cup milk powder or vegan milk powder
1/2 cup tapioca starch
1/4 tsp. Powdered yellow food colouring or 1/2 tsp. GF ground turmeric
6 tsp. Vanilla sugar (if you don't have vanilla sugar, mix vanilla extract directly into the custard)
DIRECTIONS: Add all the ingredients to a food processor or blender, then blend for about 15 seconds. Store in an airtight container in your pantry.
How to store Nanaimo bars?
Assuming you have already made your Nanaimo bars, here are some tips on storing them:
Nanaimo bars can be stored in an airtight container in the refrigerator, lasting up to 10 days.
The filling softens if you store them at room temperature, so they're best chilled.
Gluten free Nanaimo bars freeze exceptionally well in an airtight container for up to 3 months.
First, wrap them with cling wrap before placing them in an airtight container, so they don't dry out before freezing. Then, thaw overnight in the refrigerator before serving.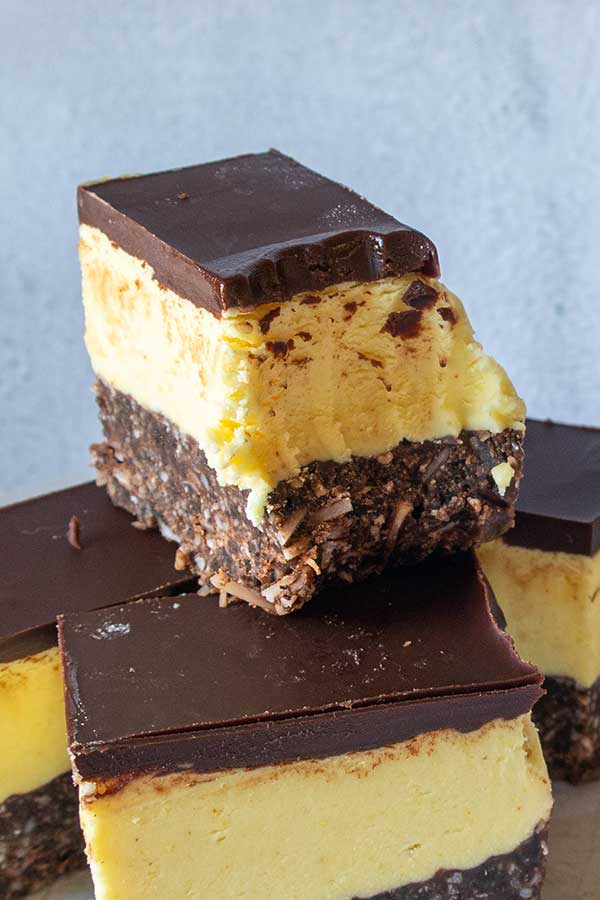 Why are Nanaimo bars so popular?
There are many reasons why Nanaimo bars are so popular. First of all, they are delicious! They have a chocolatey bottom layer, a creamy custard middle layer, and a chocolate ganache top layer.
They are also easy to make and don't have to be baked, which is another plus. And they will keep for up to 10 days when refrigerated.
And last but not least, they can easily be made gluten-free, which is excellent for those who are celiac or have gluten intolerance.
There's no need to miss out on delicious Nanaimo bars just because you're gluten free! These very best gluten free Nanaimo bars are every bit as good as the original.
Let's connect
Meet Kristina. Passionate about creating delicious, innovative gluten free recipes, and author of two gluten free cookbooks, "Entertaining The Gluten Free Way" and "Small Bites The Gluten Free Way".
Be sure to FOLLOW US on FACEBOOK or, check us out on PINTEREST. And don't forget to sign up for our newsletter. We always have something new and exciting for you!
Many thanks!
Kristina x
Very Best Gluten Free Nanaimo Bars
Published on Nov 08, 2022
by
Kristina Stosek
Instructions
1.

Line a 9 x 9" square pan with parchment paper for thinner bars or a loaf pan for taller bars. I wet the parchment paper, allowing me to line the pan easier

2.

3.

In a medium heavy bottom saucepan over low heat, melt the butter with chocolate chips until smooth. Or use a double boiler

4.

Remove from the heat and stir in cookie crumbs, almond flour, shredded coconut and vanilla. Mix to combine 

5.

Transfer the mixture to the prepared pan and press it firmly and evenly to the bottom of the pan. Refrigerate while you prepare the custard cream layer

6.

7.

In a large mixing bowl, beat the butter with custard powder and vanilla until smooth. Add 1 cup of icing sugar and 1 tablespoon of cream at a time, mixing in between until smooth and scraping sides as needed. I used only 3 tablespoons of cream.

8.

Spread the custard buttercream mixture over the cookie base in an even layer and place in the freezer for 10 minutes

9.

CHOCOLATE GANACHE TOPPING

10.

Using a heavy bottom saucepan over low heat or a double boiler, melt the chocolate with butter and cream until smooth

11.

Pour the chocolate sauce over the custard, then quickly shake the pan to form an even layer of chocolate topping, or use a spatula to spread the sauce

12.

Place in the fridge for 20 minutes. Then using a sharp knife, score along the chocolate, creating lines where you will cut the bars. Just score through the chocolate and not the custard cream. If you miss this step, the chocolate may crack as you cut through it later. Place back in the fridge for a minimum of 3 hours or overnight

13.

When ready, cut along the lines through the bars, wiping the knife clean between each cut for perfect slices