4-Ingredient Gluten-Free Coconut Cookies
Prep Time
5 Minutes
Difficulty
Beginner
Cook Time
15 Minutes
Serves
18 cookies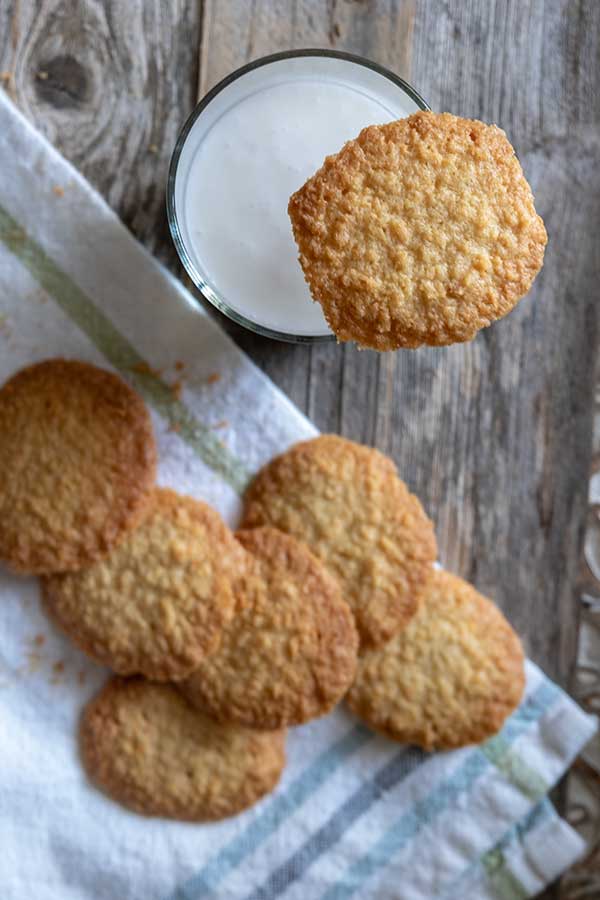 Be the first to rate this recipe.
This is probably one of the easiest gluten-free cookie recipes I have created. All you need is 4 ingredients and a food processor. The delicious cookies are chewy on the inside and crispy on the outside and are made without refined sugar. Next time you crave something sweet and tasty and would like to keep it on the healthier side, try these gluten-free coconut cookies. The kids love them! On a side note, unsweetened coconut flakes have a significant amount of fiber, iron and potassium. In this recipe, I used grass-fed butter because I love the flavour. To keep these cookies vegan, dairy-free and paleo substitute solid coconut oil for the butter
Ingredients
1/4 cup + 2 Tbsp. unsalted grass-fed butter or for vegan option use solid coconut oil
Instructions
Preheat oven to 350 F and line a baking sheet with parchment paper
Add coconut flakes, almond flour, maple syrup and butter/coconut oil in that order to a food processor. Blend until you form a thick mixture. The coconut flakes should be smaller and visible
Using a cookie scoop, scoop firmly packed balls with the mixture and drop onto the prepared baking sheet about 1 1/2-inch apart. The cookies will spread. Bake for 13 - 15 minutes until the cookies are golden around the edges
Once cookies are done baking, cool the cookies on the baking sheet for 1 hour.
Similar Recipes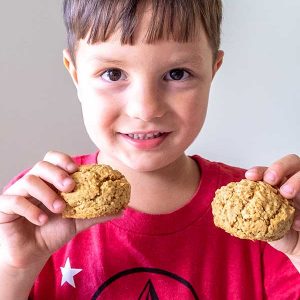 Gluten-Free Oatmeal Coconut Butter Cookies
Here is a gluten-free cookie recipe that everyone will love. The delicious cookie is made with gluten-free oats, coconut, sweet sorghum and arrowroot flour. Sweet sorghum flour is naturally gluten-free and non-GMO. In addition, it is high in fiber, iron and a good source of antioxidants. Sweet sorghum flour has a mild nutty taste adding […] Read More
Prep Time
10 Minutes
Difficulty
Easy
Cook Time
15 Minutes
Serves
12 large cookies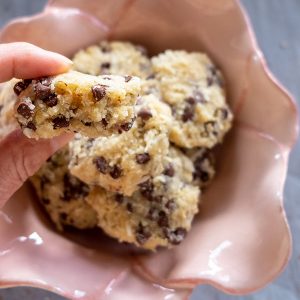 Coconut Chocolate Chip Energy Bites {Paleo, Grain-Free, Gluten-Free}
For a healthy snack on the go, try these delicious gluten-free coconut chocolate chip energy bites. When you combine coconut and chocolate, you can't go wrong. These simple to make energy bites are packed with fiber and protein and are wonderful as a before workout snack or an afternoon treat. Replace cookies in your kid's […] Read More
Prep Time
10 Minutes
Difficulty
Easy
Cook Time
25 Minutes
Serves
10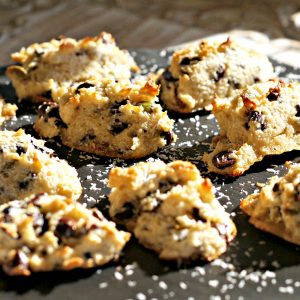 Coconut Chocolate and Fruit Macaroons
If you are craving a sweet snack try coconut chocolate and fruit macaroons. This easy to make sweet treat is satisfying and on a healthier side. Kids especially love the macaroons Read More
Prep Time
10 Minutes
Difficulty
Easy
Cook Time
12-15 Minutes
Serves
18 pcs