6 Ingredient Grain-Free Coconut Chocolate Chip Cookies
Published on Feb 05, 2019
by
Kristina Stosek
Prep Time:

10 minutes
Cook Time:

25 minutes
Serves:

10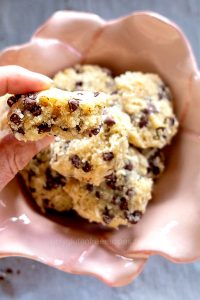 ​This post may contain affiliate links, please see our
privacy policy
for details
As cookies go, it's hard to find an easier Grain-Free Coconut Chocolate Chip Cookie recipe. The cookies are completely gratifying, filled with coconut and chocolate chips. When you combine coconut and chocolate, you can't go wrong, and we all need a chocolate fix every once in a while.
Is this a cookie or an energy snack?
This is an excellent question. I couldn't decide which category I should put these sweets in. So, let us examine the ingredients. The six ingredients used in this grain-free cookie recipe are unsweetened coconut flakes, almond flour, paleo chocolate chips, pure maple syrup, vanilla and either grass-fed butter or coconut oil.
If you are not concerned about dairy, I recommend you use the grass-fed butter. The cookie tastes richer and slightly buttery. But if you are following a plant-based diet or are dairy intolerant, then use coconut oil.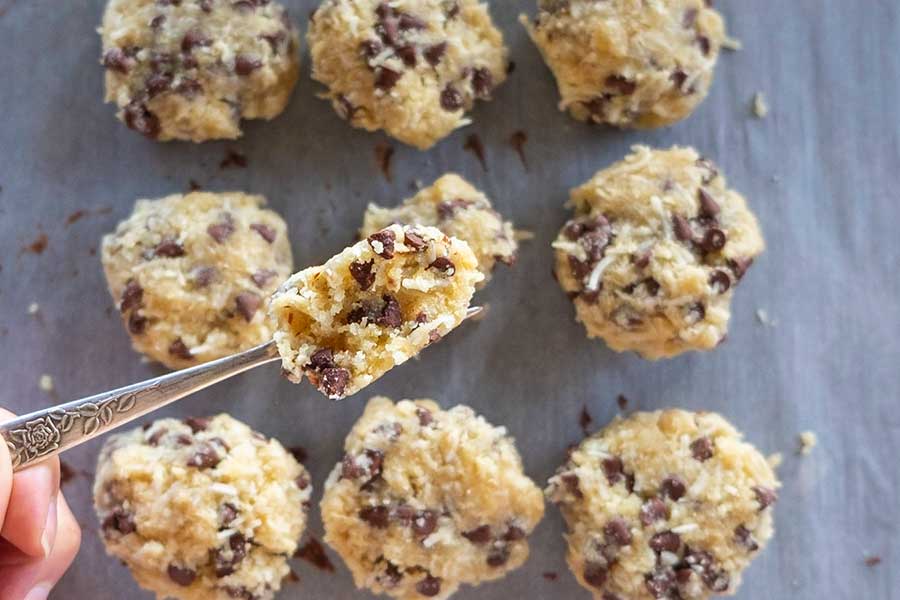 So the question remains, is it a cookie or not. The answer is, it is a nutrient-packed cookie that can also be a substitute for an energy snack.
This Grain-Free Coconut Chocolate Chip Cookie recipe is easy enough for novice bakers!
These simple to make cookies are packed with fiber and protein and are an excellent snack to have before a workout or as an afternoon pick me up sweet treat. Or, replace these grain-free coconut chocolate chip cookies for sugar cookies in your kid's lunch box.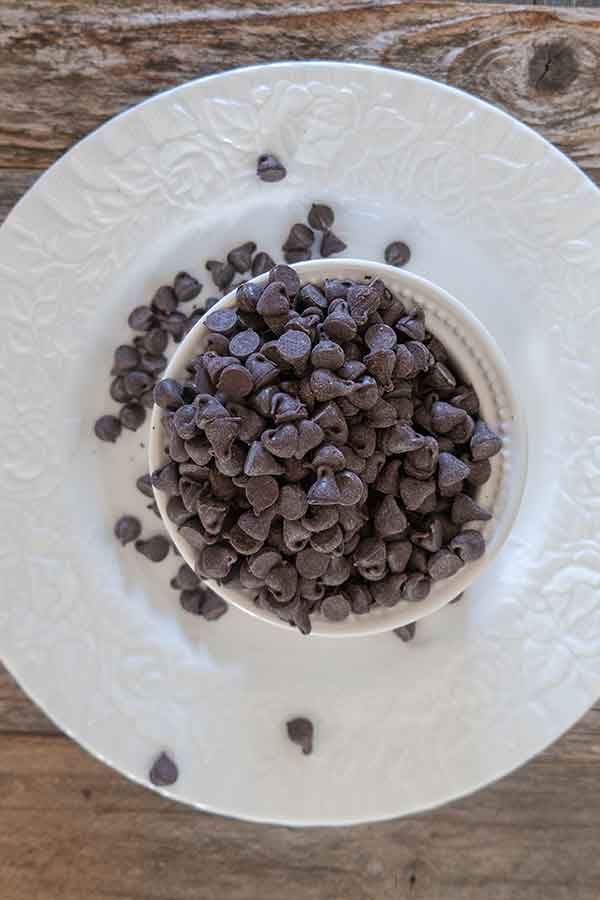 These gluten-free cookies are so easy to put together that you have no excuse to not make them. The only thing is, the cookies take longer to bake than typical chocolate chip cookies because they must be baked at a lower temperature.
I hope you enjoy these grain-free coconut chocolate chip cookies as much as my family does!
Do you love chocolate sweets? If the answer is yes, then you must check out our 3 most popular gluten-free chocolate desserts 🙂
2 Layer Grain-Free Chocolate Cake
30 Minute Gluten-Free chocolate Cake with Nutella Frosting
6 Ingredient Grain-Free Coconut Chocolate Chip Cookies
Published on Feb 05, 2019
by
Kristina Stosek
Instructions
1.

Preheat oven to 200°F and line a baking sheet with parchment paper

2.

In a medium bowl, combine coconut, almond flour and chocolate chips

3.

Whisk together maple syrup, butter and vanilla and add to dry ingredients. Using a spatula mix until a sticky dough forms

4.

Lightly wet your hands and form 10 cookies

5.

Bake for 25 minutes. Cool completely on the cookie sheet
Leave a Comment
Kristina
Penelope the cookie queen
these cookies are awesome!!!!!