Chocolate Filled Cupcakes (Gluten-Free, Egg-Free)
Published on Nov 16, 2019
by
Kristina Stosek
Prep Time:

20 minutes
Cook Time:

25 minutes
Serves:

12
​This post may contain affiliate links, please see our
privacy policy
for details
Very Best Gluten-Free Chocolate Filled Cupcakes. It is not very often I will make this statement. Chocolaty, moist, and filled with freshly made chocolate sauce. A chocolate cupcake for chocolate lovers! I believe you can't have too much chocolate, especially when the chocolate is freshly made.
And let's be honest, everyone should have a chocolate cupcake recipe. Because I wanted to make these gluten-free chocolate filled cupcakes unforgettable, I added a topping. So you have two choices, either fresh whipped cream or one of my favourites, a freshly made royal cream cheese frosting. Did I get your attention?
Yes, this is the best chocolate cupcake because it has three things – a moist luxurious chocolate cupcake, a freshly made chocolate sauce and a delicious topping.
You may think this recipe is complicated, but it is super simple to make. I will get into that a little later. This is one of those cupcakes that you can serve instead of a birthday cake. It is that special and beautiful.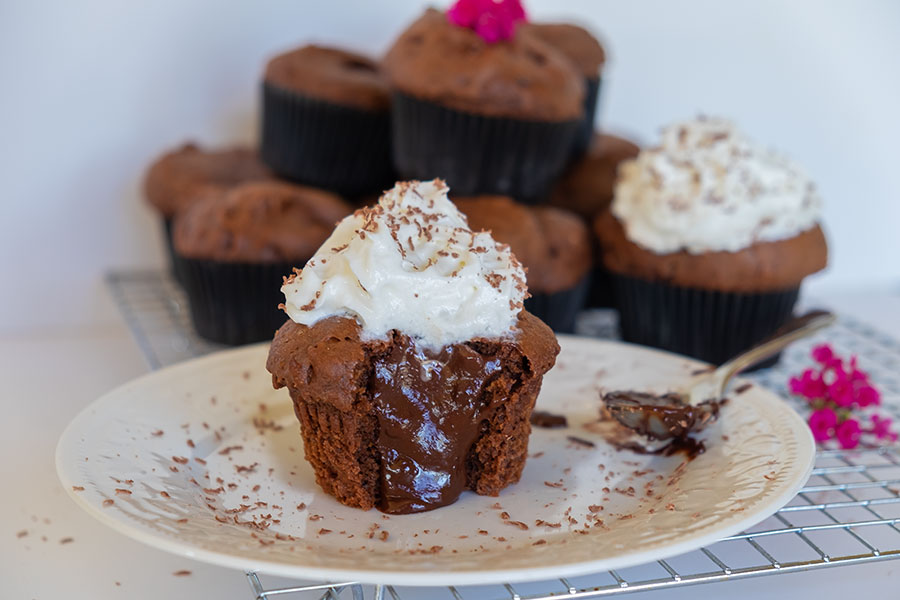 Things to know about chocolate filled cupcakes!
Firstly this is an egg-free cupcake. How wonderful is that? Did you know that good quality dark chocolate is a powerful source of antioxidants? I used two flours to keep the recipe simple.
An all-purpose gluten-free flour blend and almond flour. The almond flour is what keeps the cupcakes moist.
I melted chocolate chips into the batter to make the cupcake extra chocolaty. The chocolate sauce itself was super simple; all you do is heat all the sauce ingredients until melted, and that is it!
Because I wanted to make this cupcake extra special, I added another layer of deliciousness, a whipped topping.
The topping is not needed, but I wanted to use these cupcakes for birthdays, so the topping was a must. You can always add a candle to each cupcake. These chocolate cupcakes are so much fun to eat. What a great idea for kids' birthdays 🙂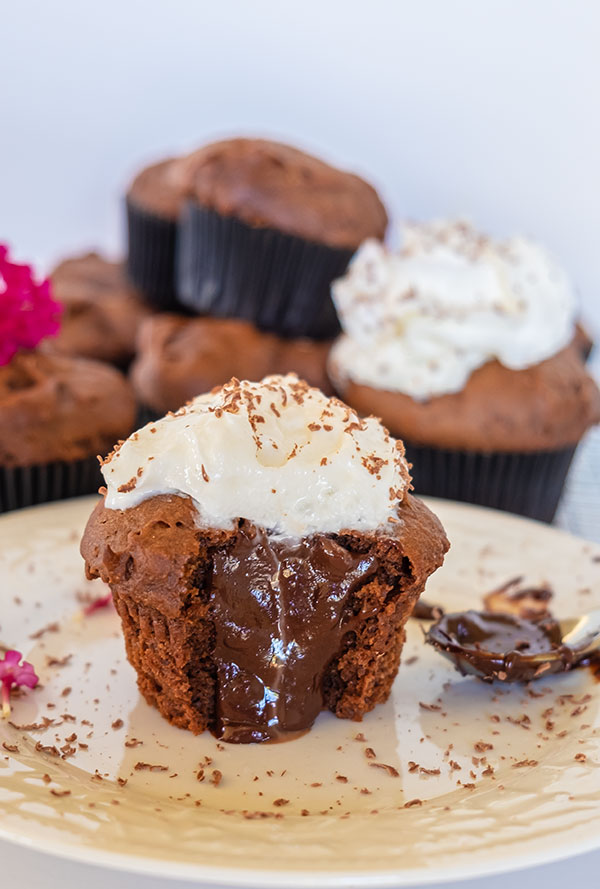 How do you get chocolate sauce into a cupcake?
I know everyone may be thinking, how do we get the freshly made chocolate sauce inside the cupcake. That is easy. You create an opening in the middle and spoon in the sauce using an apple corer. That's it, nothing complicated.
Once this is done, you add the topping, but you want the cupcakes to be cooled first. I should have called these beauties birthday cupcakes, don't you think? If you LOVE chocolate, check out these gluten-free chocolate desserts.
Chocolate Filled Cupcakes (Gluten-Free, Egg-Free)
Published on Nov 16, 2019
by
Kristina Stosek
Instructions
1.

2.

Whisk together flour, cocoa powder, baking powder and baking soda

3.

Using a small saucepan over medium-low heat, add one cup of chocolate chips, butter, sugar and 1/2 cup of milk. Cook until the chocolate and sugar have melted. Remove from the heat and whisk in remaining milk until combined

4.

Add chocolate mixture to dry ingredients and mix until a smooth batter forms

5.

Transfer the batter into the muffin pan and bake for 25 minutes. Cool cupcakes on a wire rack

6.

For the chocolate filling; Combine all the ingredients in a saucepan and cook over medium heat until the chocolate has melted and the mixture is smooth. Set aside

7.

To assemble; using an apple corer create a hole in each cupcake, then fill with chocolate filling. Before adding the topping make sure that the cupcakes are cooled
Leave a Comment
I am already close enough to diabetes, dont push me over the edge!