30-Minute Gluten-Free Chocolate Cake With Nutella Frosting
Prep Time
18 Minutes
Difficulty
Easy
Cook Time
12 Minutes
Serves
8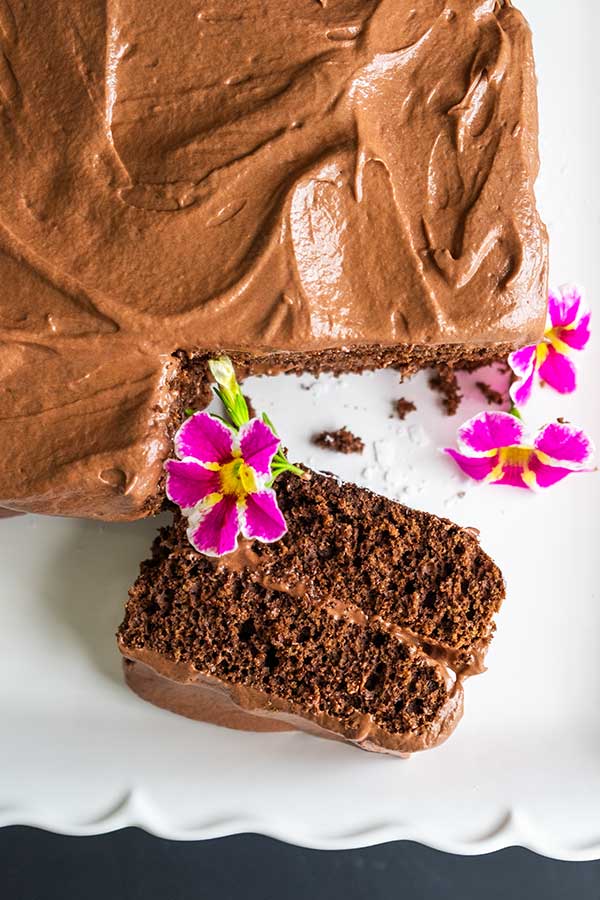 Average Rating: 5 | Rated By: 2 users
Moist and indulgent 30-Minute Gluten-Free Chocolate Cake With Nutella Frosting → this recipe would make the perfect weeknight dessert when you need something fast and sweet. The cake is light, moist, and chocolaty finished with the creamiest, fluffiest, most delicious Nutella frosting. 
I am super excited about this gluten-free chocolate dessert recipe because all you need is a few ingredients, and the recipe is fast and simple. This is a no-fail chocolate dessert that your entire family will love.
♥

What do I love about this chocolate cake?
This is a moist and rich gluten-free chocolate cake including the stunning frosting made under only 30 minutes. It's perfect for when chocolate chip cookies aren't just enough! Whenever I make a dessert, I try to keep it as healthy as possible.
In this recipe, I used five eggs, adding a good amount of protein, I cut back on the sweetener, and there is no added powdered sugar in the frosting. Oh, I almost forgot, kids especially love this chocolate cake, I think it's mainly because of the Nutella frosting 🙂 I am pretty sure your family will not be disappointed with this chocolate dessert.
Need more chocolate dessert recipes? Check out our entire list of gluten-free chocolate desserts. There is always something sweet, chocolaty and delicious for everyone to enjoy!
If you try this chocolate cake recipe please be sure to tag me on Instagram #only.glutenfree.recipes
Ingredients
CAKE
5 large eggs, at room temperature
3/4 cup coconut sugar
1/2 stick (1/4 cup) salted butter, melted
1/4 cup pure cocoa powder
3/4 cup gluten-free all-purpose flour blend
1/4 cup almond flour
1/2 tsp. Baking soda
NUTELLA FROSTING
1 1/2 cups Nutella, at room temperature
1/2 stick (1/4 cup) salted butter, at room temperature
4 Tbsp. Cream
*As an Amazon Associate and member of other affiliate programs, I earn from qualifying purchases. Please check out my sponsorship and disclosure policy page for more details
Instructions
Using an electric mixer whisk the eggs and coconut sugar on high speed for 2 minutes. Whisk in melted butter and cocoa powder until incorporated
Combine flours, baking soda and baking powder. Gently fold dry ingredients into the wet mixture until blended. Do not over mix
Transfer batter to the prepared baking pan and bake for 12 minutes. Once done baking using the parchment paper lift the cake and place on a rack to cool. The cake cools very quickly
For the Nutella frosting; While the cake is cooling, using an electric mixer beat Nutella and butter on high speed until smooth. Add cream one tablespoon at a time and beat until the frosting is fluffy
To assemble; once the cake has cooled, slice the cake in half. Spread half the Nutella frosting on one half, then top with the other half of the cake and spread remaining frosting over the top. The cake can be served at room temperature or chilled
Similar Recipes
Chocolate Banana Bundt Cake With Coffee Walnut Glaze {Gluten-Free}
This Gluten-Free Chocolate Banana Bundt Cake topped with incredibly delicious coffee walnut glaze is amazing! Let's be real -> we all love comfort food, especially during stressful times. For me, baking is therapeutic and satisfying. The aroma of freshly baked chocolate cake makes everything better. Ordinarily, I bake special desserts on weekends, but today is […] Read More
Prep Time
15 Minutes
Difficulty
Easy
Cook Time
50 Minutes
Serves
8
Gluten-Free Almond Swirl Coffee Cake With Chocolate
This Almond Swirl Coffee Cake With Chocolate is super moist, chocolaty and flavoured with maple flavoured almond butter. And the coffee cake is gluten-free.   The gluten-free coffee cake recipe has only eight ingredients and is easy to make. This is why this gluten-free cake is in our blog's top three chocolate snack cake recipes.   […] Read More
Prep Time
15 Minutes
Difficulty
Easy
Cook Time
25 Minutes
Serves
20 squares
Gluten Free Vegan Chocolate Cake with Ganache Frosting
This Gluten Free Vegan Chocolate Cake with Ganache Frosting dessert is only for serious chocolate lovers. The cake is laden with cocoa and ganache frosting. I have added some fresh raspberries to give it that extravagant, luxurious, decadent and irresistible flavour. Indulge yourself in this vegan chocolate cake. You will never know this dessert is […] Read More
Prep Time
20 Minutes
Difficulty
Easy
Cook Time
35 Minutes
Serves
8