Gluten-Free Easy Nutella Cookie Recipe
Prep Time
10 Minutes
Difficulty
Easy
Cook Time
12 Minutes
Serves
16 cookies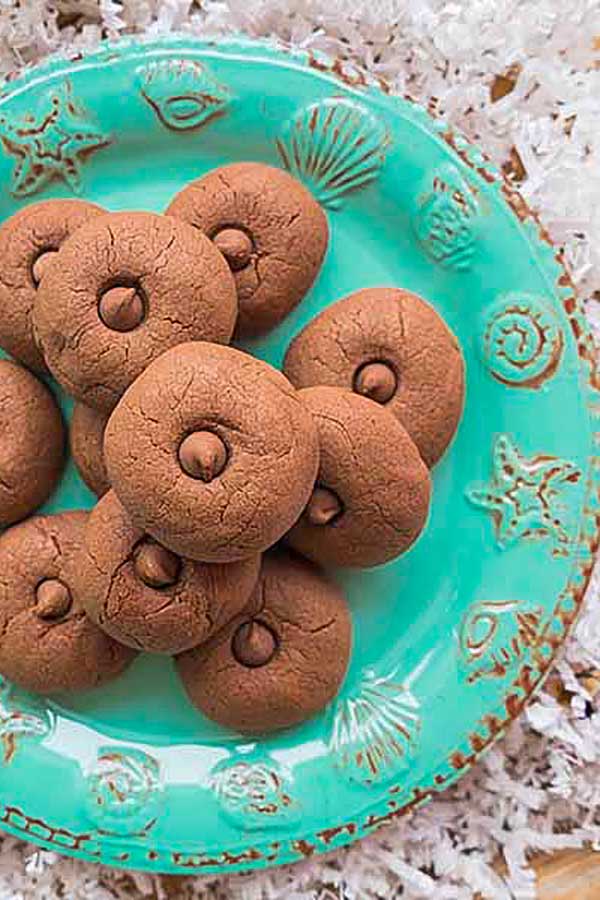 Be the first to rate this recipe.
Chocolaty, most delicious gluten-free cookies made with Nutella using only six ingredients!
These gluten-free cookies are flavoured with hazelnut chocolate spread called Nutella. In Italy, Nutella is considered as peanut butter is to Americans, except a little sweeter. 
Enjoy these chocolate hazelnut cookies as a sweet treat during the festive season. Though the Nutella spread contains saturated fat and sugar, the chocolate spread also supplies a good amount of key vitamins and minerals beneficial to our health. 
the quick details for this simple Nutella cookie recipe,
For this gluten-free Nutella cookie recipe, you will need only six ingredients. If you like Nutella, you will LOVE this 30-Minute Gluten-Free Chocolate Cake With Nutella Frosting recipe!
First, mix the Nutella spread with the egg in a food processor. Add remaining ingredients except for the chocolate chips. Shape the dough into small walnut size balls and press a chocolate chip in each cookie. 
Bake, then cool on the baking sheet and enjoy! Yes, one of the simplest chocolate cookies, and you know that the kids will love them. A win-win for gluten-free cookie recipes!
One warning, Nutella cookies are super addictive because they are soo yummy!
Ingredients
2/3 cup Nutella, at room temperature
1 large egg, at room temperature
½ cup less 1 teaspoon white rice flour
1/3 cup sweet sorghum flour
3 Tbsp. arrowroot powder
16 GF chocolate chips
*As an Amazon Associate and member of other affiliate programs, I earn from qualifying purchases. Please check out my sponsorship and disclosure policy page for more details
Instructions
Preheat oven to 350 F and line a baking sheet with parchment paper
Place Nutella and egg into a food processor and blend until smooth
In a small bowl mix rice flour, sorghum flour and arrowroot powder and then add to the Nutella mixture in the food processor. Blend until a ball forms
Using a cookie scoop or a spoon, scoop the dough into about the size of a walnut and roll into a ball, should make 16 cookies. Place on prepared baking sheet. Press chocolate chip into the center of each ball. Bake for 12 minutes
Cool on the baking sheet
Similar Recipes
Gluten-Free Espresso Chocolate Cookies
These melt in your mouth Gluten-Free Espresso Chocolate Cookies are a mix of coffee and chocolate. Indeed a delicious sweet treat that is more than just a chocolate cookie. ♥ Not only these espresso chocolate cookies are extraordinary – they are made with some good things too! To make these gluten-free cookies, I wanted not […] Read More
Prep Time
15 Minutes
Difficulty
Easy
Cook Time
15 Minutes
Serves
24
5 Ingredient Gluten-Free Peanut Butter Chocolate Chip Cookies (Grain-Free, Dairy-Free)
These gluten-free peanut butter chocolate chip cookies are sooo delicious! The cookie 🍪 will melt in your mouth and all you need is five ingredients for this recipe. Just imagine a cookie recipe without flour, doesn't this sound good? In this gluten-free peanut butter chocolate chip cookie recipe, as a sweetener I used coconut sugar, […] Read More
Prep Time
10 Minutes
Difficulty
Easy
Cook Time
14 Minutes
Serves
12