No-Bake Pumpkin Seed Cranberry Bars (Gluten-Free, Vegan)
Published on Sep 05, 2018
by
Kristina Stosek
Prep Time:

10 minutes
Cook Time:

minutes
Serves:

12 bars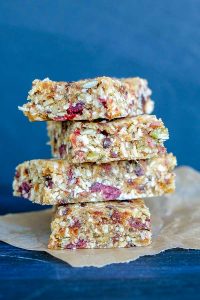 ​This post may contain affiliate links, please see our
privacy policy
for details
Healthy No-Bake Pumpkin Seed Cranberry Bar is a delicious protein snack for any time of the day. Whether you are travelling, driving to work or just finished a workout, it is always good to carry a nutritious snack that will keep your hunger at bay. The bars are a little chewy with a perfect texture and are very tasty.
What is in this pumpkin seed cranberry bar that makes it so healthy and tasty!
This gluten-free, vegan bar is one of those nutrient-packed snacks that have all the things we love. Pumpkin seeds, dates, cranberries, ginger, coconut flakes, cacao nibs, hemp seeds and vanilla. There is no added sugar because the fruit adds plenty of sweetness to these heavenly bars. I wanted to have some chocolate flavour but did not want to add sugary chocolate chips, so I used cacao nibs. They add a touch of chocolate without adding sugar. This is also one of those bars that kids love!
How to make a healthy pumpkin seed cranberry bar?
This is the best part, these bars take almost no time to make using ingredients you can find in most supermarkets, and you don't have to bake them. All you do is place everything into a food processor, process until you reach desired consistency and then place the mixture in a pan and refrigerate overnight. How easy is that? What I love is that these bars cost less to make than the store bought ones, and they are made with ingredients you want. Another one of my favourite no-bake bar is the Gluten-Free  Lemon Coconut Bar.
No-Bake Pumpkin Seed Cranberry Bars (Gluten-Free, Vegan)
Published on Sep 05, 2018
by
Kristina Stosek
Instructions
1.

Line a 9x9-inch cake pan with parchment or wax paper

2.

Soak dates in hot water for 1 minute. Drain and keep the liquid. Chop the dates

3.

Place everything including soaked dates in the food processor. Process until everything is chopped into very small pieces. Add 1 tablespoon of the reserved date water and process until the mixture comes together. If it is still too dry add another tablespoon of date water

4.

Transfer mixture into the prepared pan, and using a spatula firmly pat it down until the mixture is evenly distributed

5.

Cover and refrigerate overnight before slicing. The bars will keep up to 7 days in an airtight container when refrigerated. They also freeze well