No-Bake Pumpkin Seed Cranberry Bars (Gluten-Free, Vegan)
Published on Sep 05, 2018
by
Kristina Stosek
Prep Time:

10 minutes
Cook Time:

minutes
Serves:

12 bars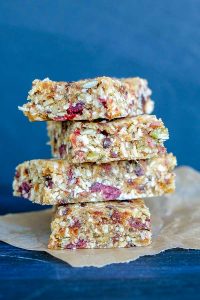 ​This post may contain affiliate links, please see our
privacy policy
for details
No-Bake Pumpkin Seed Cranberry Bars are a guilt-free treat and will accommodate many diets. These gluten free nutritious bars are plant-based and will satisfy your sweet cravings without compromising your health-conscious choices.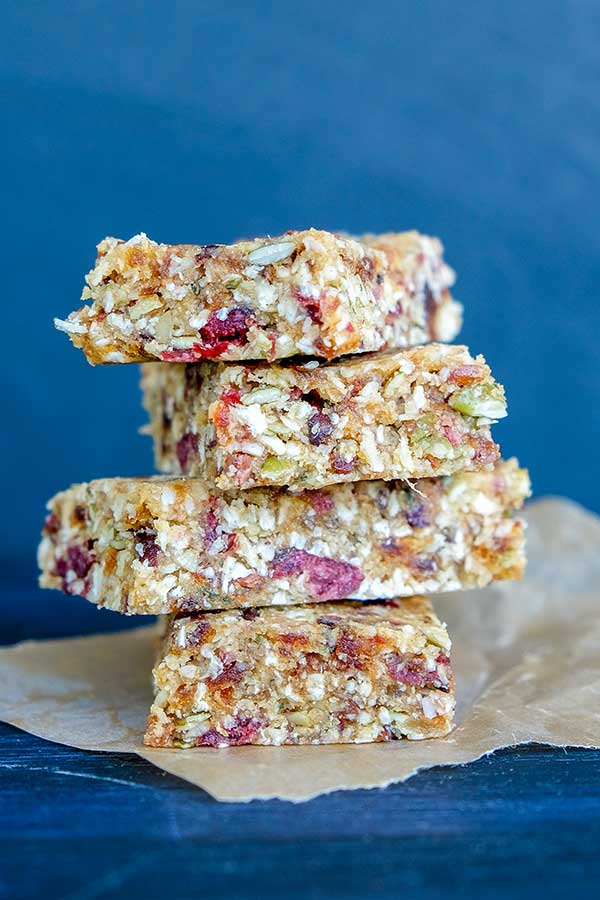 These plant-based treats are delicious and mouthwatering autumn-inspired bars perfect for a quick snack, or an energy boost after a workout or during your busy day.
Are No-Bake Pumpkin Seed Cranberry Bars Nutritious?
These bars are a nutritious treat acceptable to gluten free and vegan lifestyles. These bars offer a range of health benefits, including nutrients, essential minerals, and heart-healthy fats from pumpkin seeds, almond flour and hemp. They provide an energy boost and balance sweetness naturally.
The No-Bake Pumpkin Seed Cranberry Bar, being both gluten-free and vegan, offers a range of health benefits that make them a nutritious choice for snacking or even a dessert.
Here are some of the key health benefits associated with these No-Bake Pumpkin Seed Cranberry Bars: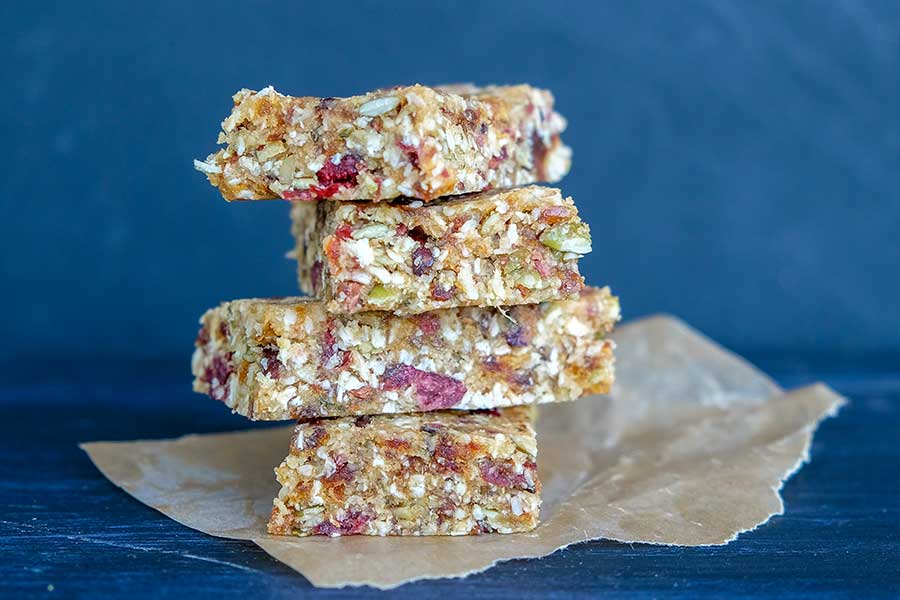 Rich in Nutrients:
These bars contain nutrients derived from pumpkin seeds, cranberries, dates, ginger, almond flour, coconut, and hemp seeds. Pumpkin seeds are an excellent source of protein, healthy fats, and essential minerals like magnesium, zinc, and iron. Dried cranberries provide vitamins, antioxidants, and dietary fiber.
Heart-Healthy Fats:
Pumpkin seeds and almonds are abundant in heart-healthy monounsaturated and polyunsaturated fats, including omega-3 fatty acids.
Rich in Fiber:
The combination of pumpkin seeds, dried cranberries, dates, ginger, and hemp seeds makes the bars high in dietary fiber. Fiber aids digestion, helps maintain steady blood sugar levels, and promotes a feeling of fullness, which can assist with weight management.
Gluten-Free:
These bars are gluten-free, making them suitable for someone who is celiac or follows a gluten free diet.
Vegan-Friendly:
Great for those following a plant-based diet.
Antioxidant-Rich:
Dried cranberries and ginger are known for their high antioxidant content, particularly vitamin C and various polyphenols.
Energy Boost:
Thanks to their blend of healthy fats, carbohydrates, and protein, these bars can serve as an energy-boosting snack, making them an excellent choice for when you're on the go or for a pre or post-workout energy bar.
Balanced Sweetness:
The natural sweetness from the dried cranberries and dates provides a satisfying treat without the refined sugars.
Incorporating No-Bake Pumpkin Seed Cranberry Bars into your diet can be a delicious way to enjoy various health benefits, from nutrient-rich ingredients to dietary accommodations. Whether you're gluten-free, vegan, or simply seeking a wholesome snack, these bars offer a tasty combination of flavors and nutrition to support your well-being.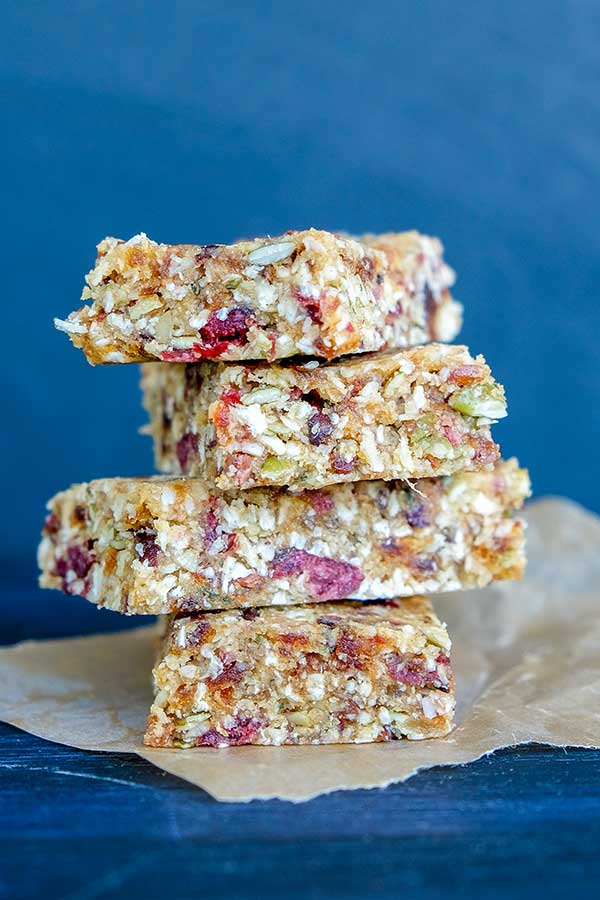 How to make a healthy pumpkin seed cranberry bar?
This is the best part, these bars take almost no time to make using ingredients you can find in most supermarkets, and you don't have to bake them.
All you do is place everything into a food processor, process until you reach desired consistency and then place the mixture in a pan and refrigerate overnight.
How easy is that? What I love is, these bars cost less to make at home, than the store bought ones. And they are made with ingredients you want. Another one of my favourite no-bake bar is the Gluten-Free Lemon Coconut Bar.
Let's Connect!
Be sure to FOLLOW US on FACEBOOK or, check us out on PINTEREST. And don't forget to sign up for our newsletter. We always have something new and exciting for you!
Many thanks!
Kristina xx
No-Bake Pumpkin Seed Cranberry Bars (Gluten-Free, Vegan)
Published on Sep 05, 2018
by
Kristina Stosek
Instructions
1.

Line a 9x9-inch cake pan with parchment or wax paper

2.

Soak dates in hot water for 1 minute. Drain and keep the liquid. Chop the dates

3.

Place everything including soaked dates in the food processor. Process until everything is chopped into very small pieces. Add 1 tablespoon of the reserved date water and process until the mixture comes together. If it is still too dry add another tablespoon of date water

4.

Transfer mixture into the prepared pan, and using a spatula firmly pat it down until the mixture is evenly distributed

5.

Cover and refrigerate overnight before slicing. The bars will keep up to 7 days in an airtight container when refrigerated. They also freeze well