4-Ingredient Double Stuffed Butternut Squash
Published on Nov 09, 2015
by
Kristina Stosek
Prep Time:

10 minutes
Cook Time:

50 minutes
Serves:

4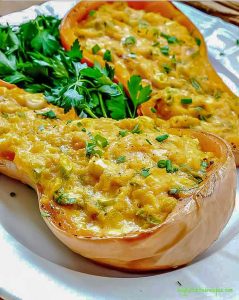 ​This post may contain affiliate links, please see our
privacy policy
for details
This 4 Ingredient Double Stuffed Butternut Squash is tasty, cheesy and easy to make. This gluten-free, vegetarian dish features healthy butternut squash filled with deliciousness using only four ingredients plus spices. Add a side, and this double stuffed squash will satisfy even big appetites!
stuffing for butternut squash
The stuffing is made with simple gluten free ingredients such as yogurt, cheddar cheese, green onions and butternut squash. For added healthiness, some turmeric spice, a spice that has powerful antioxidants. This is an easy weeknight vegetarian meal for the whole family to enjoy.
Another favourite squash recipe of ours is the Thai red curry with chickpeas and butternut squash. It is outstanding!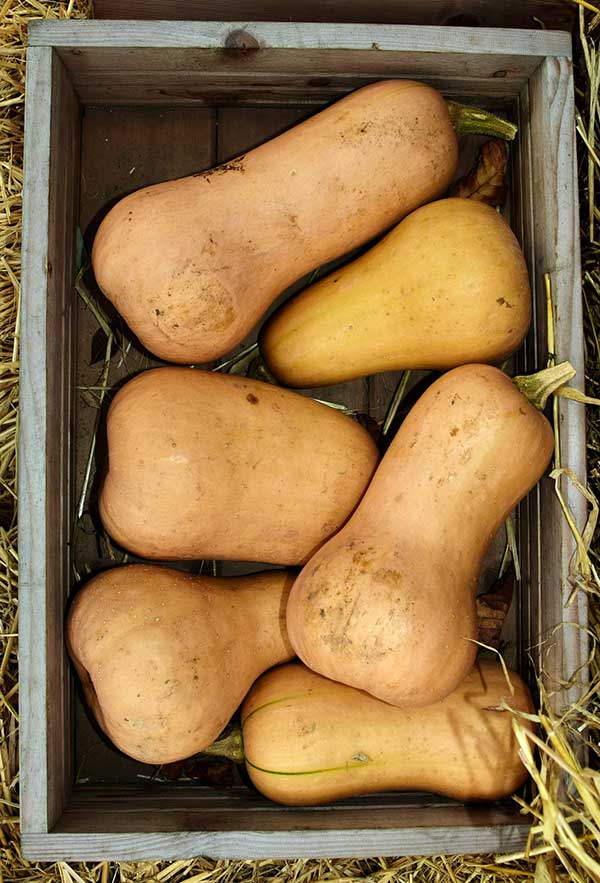 FAQs about butternut squash
1. What is butternut squash?
Butternut squash is a type of winter squash typically harvested in the fall. It is a gourd family member that includes pumpkins and cucumbers.
2. Where does butternut squash come from?
Butternut squash is native to Central and South America, but it is now grown in many parts of the world, including the United States, Canada, Europe, and Asia.
3. How do you eat butternut squash?
Butternut squash can be roasted, sauteed, mashed, or pureed. You can add it to soups, stews, pies, and other dishes. Butternut squash can also be eaten raw, such as spiralized noodles with pasta sauces.
4. What does this squash taste like?
This squash has a rich, creamy taste similar to sweet potatoes. The flesh of the squash is very dense and has a slightly grainy texture.
When cooked, the flesh of the squash breaks down and becomes very soft. Therefore, double stuffed butternut squash is often used as a substitute for mashed potatoes.
5. What are the health benefits of butternut squash?
Butternut squash is a good source of vitamins A and C, potassium, and fiber. In addition, it has been linked with several health benefits, including improved heart health, reduced inflammation, and better blood sugar control.
6. Can you eat it raw?
You can eat butternut squash fresh or cooked. It can be roasted, baked, mashed, or made into soup.
Why is stuffed butternut squash so popular?
Stuffed butternut squash is a popular dish for several reasons. First, it is a healthy and hearty meal. Stuffing the squash with a filling of your choice makes it a complete hearty meal.
Second, stuffed butternut squash is easy to make. Simply roast the squash until it is tender, then stuff it with your favorite ingredients. This can be anything from rice and beans to ground beef or vegetables.
Third, stuffed butternut squash can be made ahead of time and refrigerated or frozen for later. This makes it a great option for busy weeknights or when you need to take a dish to a potluck or party.
How long does it take to bake butternut squash?
Butternut squash can take anywhere from 30 minutes to an hour to bake, depending on the size of the squash and oven temperature. Butternut squash is done when it is fork-tender and starting to brown around the edges.
What goes well with stuffed butternut squash?
Many different things go well with stuffed butternut squash. One great option is to pair it with a salad. A salad's light, fresh flavors complement the rich, savory flavors of the squash.
Another option is to serve it as a side replacing mashed potatoes with chicken or fish.
Finally, you could also serve it with a grain dish. Quinoa or rice would be a good choice.
Best way to peel squash?
There are a few different ways that you can peel butternut squash. The best way to peel butternut squash will depend on the size and shape of the squash.
If you have large, round butternut squash, the best way to peel it is to cut it in half. Then, use a spoon to scoop out the seeds and pulp from the center of the squash. Once the seeds and pulp are removed, you can use a vegetable peeler to peel off the skin.
If you have long, narrow butternut squash, the best way to peel it is to cut it into slices. Then, peel off the skin from each piece using a vegetable peeler. You may need to use a knife to remove any tough spots.
This creates a delicious and fun dish perfect for entertaining or family dinners.
4-Ingredient Double Stuffed Butternut Squash
Published on Nov 09, 2015
by
Kristina Stosek
Instructions
1.

Preheat oven to 375 F and line a baking pan with parchment paper

2.

Halve the squash lengthwise, scoop out the seeds and generously sprinkle the squash with pepper. Place squash on prepared baking pan skin side up and roast for 30 – 35 minutes or until tender. Remove from the oven and cool slightly

3.

While the squash is roasting, in a medium size bowl combine yogurt, onion, cheddar cheese and turmeric (I do not add salt because the cheese and yogurt is already salted

4.

Once the squash has cooled enough to handle, scoop out the flesh keeping the skin intact. Then, thoroughly mix the squash flesh with the yogurt mixture

5.

Fill squash shells with the mixture and return to the baking pan. Bake for 20 minutes or until the top is golden brown. Serve warm
Leave a Comment
Kristina
I am so thrilled to hear that, thank you Roberta
this butternut squash dish was soooo good!! thank you and I love your recipes, especially the vegetarian sides YUM
Kristina
I am so happy that you enjoyed it and thank you.I always make this recipe for family gatherings because it is a big hit every time!
the best side dish I have ever made and perfect for the holidays. Thank you so much for this recipe!