Chocolate Pecan Shortbread Squares (Gluten-Free)
Published on Sep 27, 2018
by
Kristina Stosek
Prep Time:

15 minutes
Cook Time:

55 minutes
Serves:

9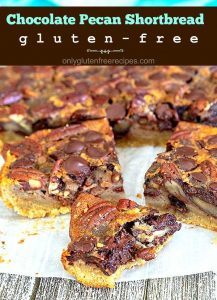 ​This post may contain affiliate links, please see our
privacy policy
for details
Gluten-Free Chocolate Pecan Shortbread Squares never tasted this good! A two-layer dessert made of a buttery shortbread crust and a layer of sticky, chocolaty topping packed with pecans.
I love to serve this gluten-free dessert for special occasions such as Thanksgiving or Easter because these chocolate pecan shortbread squares are exceptionally delicious. The perfect squares will melt in your mouth. And plenty of chocolate, something that makes every dessert tastier…well, in my opinion.
Make the chocolate pecan shortbread squares in advance.
This gluten-free dessert recipe is always popular because you can make the squares in advance. First, you make the shortbread layer. This takes about five minutes. Then the shortbread is baked. After fifteen minutes of partially baking the first layer, you add the chocolate pecan layer and finish baking the dessert. Nothing to it 🙂
When it comes to holiday baking for Thanksgiving or Easter, traditionally, it is gluten-free pumpkin pie and paleo chocolate pecan pie. This year I am breaking the tradition and will make chocolate pumpkin cake with ganache and these delightful chocolate pecan shortbread squares.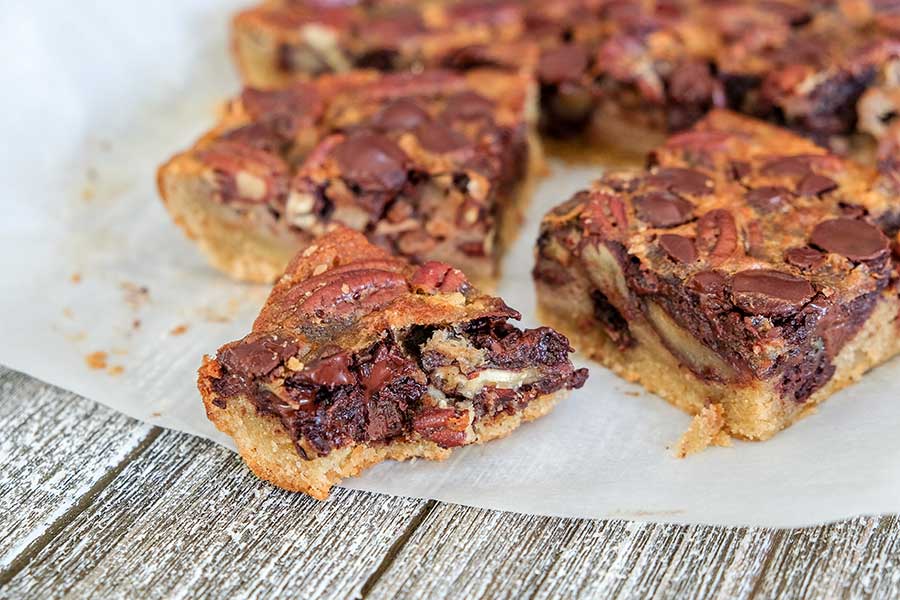 Shortbread is festive on its own but add a chocolate pecan layer, and, well, you know what I am talking about. It screams delicious!! I promise you, this chocolate pecan shortbread dessert will melt in your mouth.
This holiday season, I am sticking to tradition, well sort of, by making chocolate pumpkin cake and chocolate pecan shortbread, just adding a little twist to my favourite gluten-free Holliday desserts. Yes, I know a lot of chocolate, but if you can't indulge during holidays when is a good time? What's great about these squares is, you need only nine ingredients, and you can make them in advance.
If you haven't already, check out my new STORE for gluten-free ingredients, I use in my recipes, cookbooks, kitchen gadgets, health products, carefully selected gifts and more! I will be adding new finds weekly, so keep checking, and thank you 🙂
Chocolate Pecan Shortbread Squares (Gluten-Free)
Published on Sep 27, 2018
by
Kristina Stosek
Instructions
1.

Preheat oven to 325 F and line an 8x8-inch baking pan with parchment paper

2.

3.

In a medium bowl beat the butter and sugar until creamy

4.

Stir in the flour to combine

5.

Evenly spread the batter into prepared baking pan and bake for 15 min

6.

7.

While the shortbread layer is baking, make the chocolate pecan mixture

8.

In a medium bowl whisk together butter and maple syrup. Then whisk in the eggs, cream and vanilla

9.

Add pecans and chocolate chips and stir to combine. The pecan layer will firm up once finished baking

10.

When the base is finished baking pour the chocolate pecan mixture over the top and return back in the oven. Increase heat to 350 F and bake for 40 minutes

11.

Cool in the pan before slicing. Serve at room temperature