Gluten-Free Pumpkin Pie with Walnut Crust
Published on Sep 06, 2016
by
Kristina Stosek
Prep Time:

15 minutes
Cook Time:

60 minutes
Serves:

9-inch pie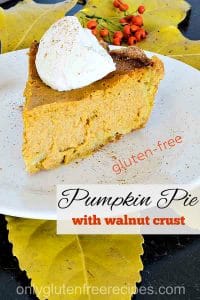 ​This post may contain affiliate links, please see our
privacy policy
for details
It is hard to imagine Thanksgiving without a freshly baked Pumpkin Pie. Making this gluten-free dessert is like baking custard in a pie shell. The crust for this pie is made with walnuts, maple syrup, a dash of buckwheat flour and butter.
Gluten-Free Pumpkin Pie with Walnut Crust
THE CRUST: The walnut crust is probably the easiest to make because all you need is a food processor.
THE PUMPKIN FILLING: This silky gluten-free pumpkin pie filling has all the right balances; spices, creamy texture, sweetened with maple syrup and nestled in a delicious walnut crust.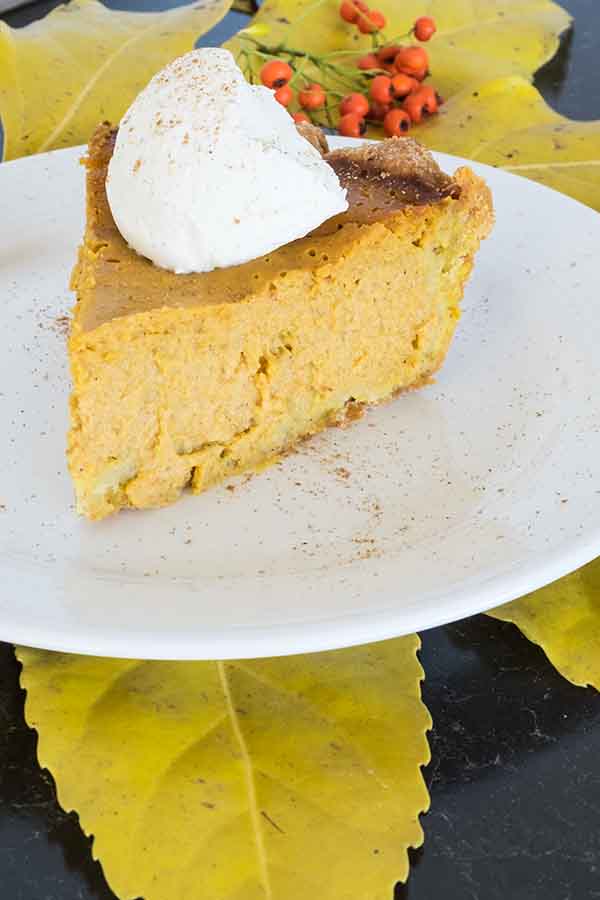 Easy Gluten-Free Pumpkin Pie Recipe
First, this pumpkin pie recipe is super easy to whip up. The walnut crust is made in a food processor then chilled. You don't have to roll out the dough – I love that, no mess, and it's super easy.
Recipe steps:
STEP ONE: THE WALNUT CRUST: Once the walnut mixture for the crust has chilled, press it into the pie dish and pre-bake for a few minutes.
STEP TWO: THE PUMPKIN FILLING: The silky filling is made with pumpkin puree, cream, eggs, maple syrup, cinnamon, nutmeg, ginger and vanilla. Once the crust has cooled, pour the filling into the crust and bake. Easy — right?
the perfect gluten-free holiday dessert
This holiday season, surprise everyone with this silky, light pumpkin pie. I promise you, your family will never know that this unmistakably delicious pumpkin dessert is gluten-free.
If you are looking for a Pumpkin Pie Recipe with chocolate, check out this Gluten-Free Chocolate Pumpkin Pie. So much deliciousness in one pumpkin pie! Or, check out these easy to make nutritious Grain-Free Pumpkin Pie Bars.
Let's Connect!
Be sure to FOLLOW US on FACEBOOK or, check us out on PINTEREST. And don't forget to sign up for our newsletter. We always have something new and exciting for you!
Many thanks!
Kristina xx
Gluten-Free Pumpkin Pie with Walnut Crust
Published on Sep 06, 2016
by
Kristina Stosek
Instructions
1.

2.

Place walnuts in a food processor and blend until the walnuts have a sandy texture. Do not over process or the walnuts will become oily

3.

Add balance of ingredients and pulse a few times until the mixture comes together into a soft dough. Wrap in plastic wrap and refrigerate for 1 hour

4.

Press the dough into a 9-inch pie dish all the way up the sides, and using a fork poke several holes in the crust. Freeze for 30 minutes

5.

Preheat oven to 375 F and bake the crust for 12 minutes. Cool before adding pumpkin filling

6.

7.

Using an electric mixer whisk the eggs. Add balance of ingredients and mix until creamy. Place the pie dish on a baking sheet and pour the filling into the crust

8.

Bake for 20 minutes at 375 F, then reduce the oven temperature to 350 F and bake for 35 - 40 more minutes, until the pie doesn't jiggle in the middle

9.

Cool, the pie to room temperature and then refrigerate for at least 3 hours or overnight before serving. Serve with whipped cream or vanilla ice cream