Gluten-Free No Bake Chocolate Pumpkin Pie
Published on Nov 25, 2017
by
Kristina Stosek
Prep Time:

15 minutes
Cook Time:

0 minutes
Serves:

6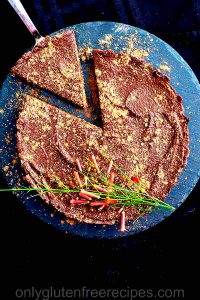 ​This post may contain affiliate links, please see our
privacy policy
for details
This Gluten-Free No-Bake Chocolate Pumpkin Pie is like no other! The crust is made with walnuts, pure cocoa, a splash of coconut oil, and to sweeten the crust up only healthy Medjool dates. The filling itself is so chocolaty and delicious, with a hint of pumpkin flavour and classic pumpkin spices, you will love it!
I have never been a pumpkin pie lover, but add chocolate to the pumpkin, and now we are talking. I believe that anything with good chocolate tastes good 🙂
for the crust,
The recipe for this gluten-free pie crust is probably the easiest and healthiest you will find. However, you will need a food processor to make this raw pie crust. To make the crust is simple, add everything into the food processor and pulse until a coarse texture forms.
Press the mixture into a tart pan and refrigerate until you are ready to add the filling. Maybe I should have called it a tart? But for me, it tastes more like a pie.
for the filling,
The filling is made with pumpkin puree, melted chocolate chips, butter or coconut oil, cinnamon, nutmeg and cloves and a good splash of pure maple syrup or honey to sweeten everything up. I recommend using good quality chocolate chips because they add the chocolaty flavour.
Once the filling is ready, pour it into the prepared crust and refrigerate the gluten-free chocolate pumpkin pie for at least six hours, but I recommend overnight for the best results.
Once the pie sets, dust it with pure cocoa powder. The no-bake chocolate pumpkin pie can be served with freshly whipped cream or with vanilla ice cream. Doesn't this sound delicious…well, the no-bake pie is undoubtedly one of the best gluten-free no-bake chocolate pumpkin pies that I have tasted!
This gluten-free chocolate pumpkin pie makes a beautiful addition to Thanksgiving dinner. The pumpkin pie gives you that warm feeling we appreciate in the fall, especially on Thanksgiving.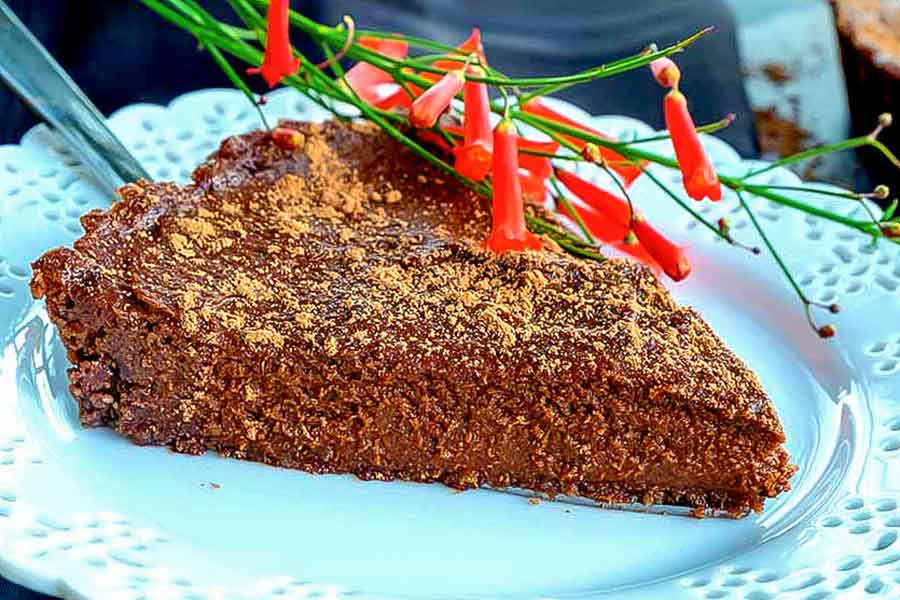 the best part about this no-bake chocolate pumpkin pie!
The best part, of course, is the pie in itself because it is so yummy! But for some of us, our time doesn't allow us to bake, or we shy away from making desserts and pick one up at the local supermarket.
However, you may find this no-bake chocolate pumpkin pie may be your go-to fall dessert because not only is it healthier than most pies, but it is failproof and super easy to make.
Making a dessert at home allows you to control the sugars and fats and sometimes unwanted ingredients like preservatives. Plus, as a bonus, you know this is a grain-free dessert and 100% gluten-free. Enjoy!
With the fall in the air, you will find plenty of pumpkin at your local supermarkets. Whether you make the pumpkin puree from scratch or buy a can of pure pumpkin, you can create delicious gluten-free pumpkin recipes. For inspiration, check out these gluten-free pumpkin recipes.
Gluten-Free No Bake Chocolate Pumpkin Pie
Published on Nov 25, 2017
by
Kristina Stosek
Instructions
1.

Grease a 9-inch tart pan with removable bottom with butter or coconut oil. I used coconut oil spray

2.

Place walnuts in a food processor and process to coarse texture. Add dates, cocoa, and butter/coconut oil and blend until a coarse paste forms

3.

Press mixture onto the bottom and sides of the tart pan and refrigerate until ready to use

4.

5.

Using a medium size heavy bottom saucepan over low heat, while stirring melt the chocolate and butter

6.

Remove the saucepan from the heat and stir in pumpkin puree, maple syrup, cinnamon, cloves and nutmeg. Mix everything together until smooth

7.

Pour mixture over the crust and refrigerate for a minimum of 6 hours or overnight

8.

Dust with cocoa powder before serving