Gluten-Free Chocolate Pumpkin Cake with Ganache
Published on Sep 20, 2018
by
Kristina Stosek
Prep Time:

15 minutes
Cook Time:

60 minutes
Serves:

8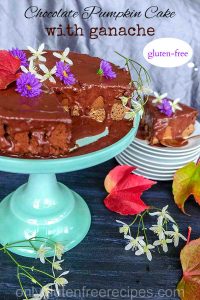 ​This post may contain affiliate links, please see our
privacy policy
for details
OMG, this Gluten-Free Chocolate Pumpkin Cake with Ganache dessert is heavenly!
After tasting it, nobody could tell that it was gluten-free. It's rich, chocolaty, and moist; the superfood cocoa powder and pumpkin give it a tremendous wholesome boost.
Naturally sweetened with maple syrup, this three-layer dessert is perfect for any occasion. And be prepared, this gluten free chocolate pumpkin cake is incredibly addictive.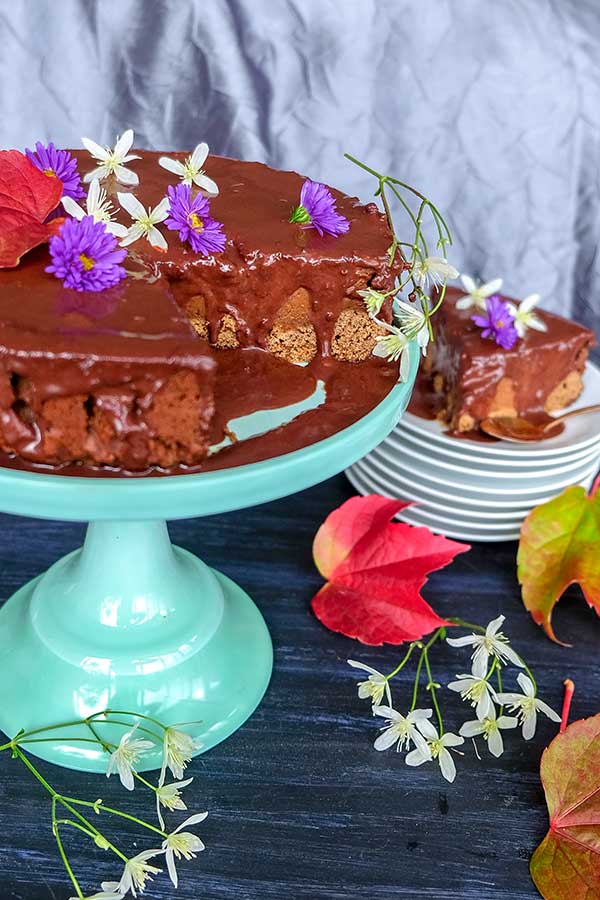 the chocolate ganache elevates this pumpkin dessert to another level
What's not to love about chocolate, pumpkin, and ganache all in one place?
Well, this gluten-free chocolate pumpkin cake is just that with a bonus. It is topped with a luscious chocolate ganache to give it added deliciousness. This gluten-free dessert is one that everyone will enjoy!
Variations of Pumpkin desserts!
We love pumpkin dessert recipes. You can make many variations when making a pumpkin dessert, from gluten-free no bake chocolate pumpkin pie to light pumpkin cheesecake with blueberry topping.
Today, I combined chocolate with pumpkin cake. This dessert has multiple layers of flavour working together to satisfy your sweet tooth and cravings for a decadent dessert.
The chocolate's creaminess and the pumpkin's sweetness complement each other so well. Adding ganache to the mix takes this healthy-ish gluten-free dessert recipe to the top of our list of desserts.
The pumpkin cake is tender and moist, and the chocolate ganache takes it to a new level.
The entire process may seem complicated since it has a few steps (I was not kidding about that). But each step is simple, and you will be done in under 20 minutes!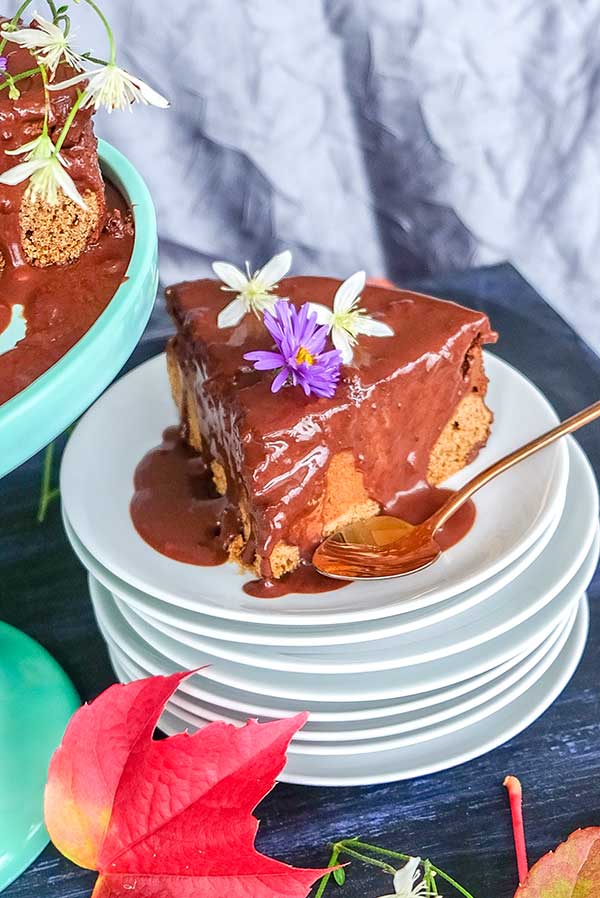 chocolate pumpkin cake for a special occasion
We all love to have a good time. It's time to gather with our families and friends, eat delicious foods, and enjoy our time together. It also means we need to find desserts that are gluten-free, healthy, and delicious.
This gluten-free chocolate pumpkin cake will please everyone at your next dinner party or a special celebration like Easter.
this is a healthier pumpkin dessert recipe
Seriously, if you're looking for a healthier gluten-free pumpkin dessert to impress your family and friends, you have found it.
This gluten-free chocolate pumpkin cake has layers and layers of rich chocolate, moist pumpkin cake, cinnamon goodness, and glorious ganache.
Chocolate cake with pumpkin is a classic combination, yet it's often overlooked. This gluten-free dessert recipe is pure comfort food and a surefire hit with anyone who likes chocolate or pumpkin.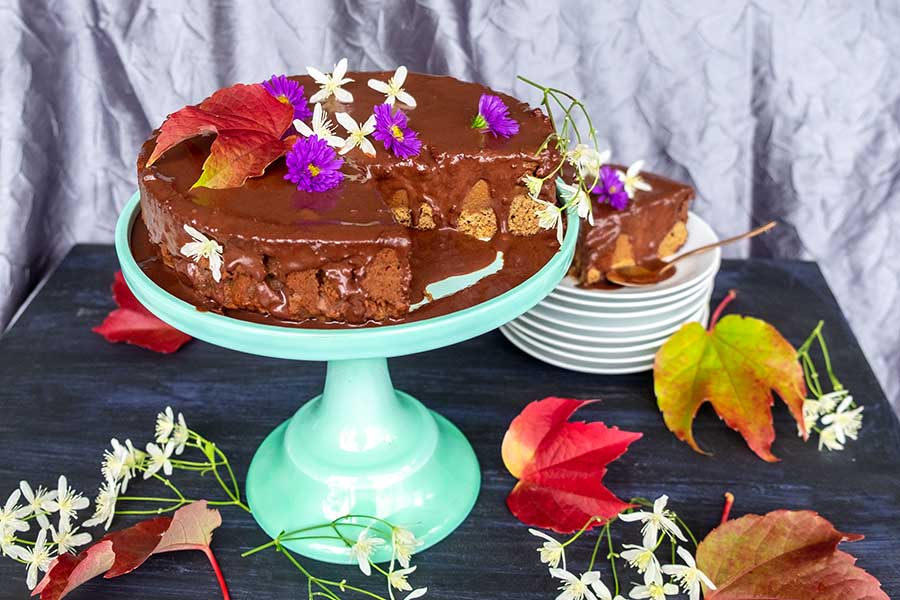 In this dessert the gluten-free graham base is made from scratch, with an added layer of heavenly chocolate pumpkin cake, and topped with chocolate ganache.
Need we say more? Give it a try! You won't disappoint your family or friends.
Gluten-Free Chocolate Pumpkin Cake with Ganache
Published on Sep 20, 2018
by
Kristina Stosek
Instructions
1.

For the BASE; Preheat oven to 325 F. Spray an 8-inch springform pan with cooking oil. Line the bottom with a circle of parchment paper. In a large bowl whisk together flour, baking powder, baking soda and cinnamon

2.

In a separate bowl mix together butter, coconut sugar, honey and molasses until creamy. Whisk in egg and milk until combined. Add to dry ingredients and mix to combine. Spread the dough over the bottom of the springform pan and bake for 15 minutes. Remove from the oven to cool

3.

For the CAKE; Place all ingredients in a food processor. Process until smooth. Pour over cooled base. Place on a rimmed baking sheet and bake for 1 hour. Cool in the pan and refrigerate overnight. The next day, remove the cake by loosening the edges first, then transfer onto a cake plate

4.

For the GANACHE; Pour the cream into a small saucepan and place it over medium-low heat for a few minutes or microwave it in a bowl. It just needs to get hot, not boiling. Turn off the flame and gently distribute the chocolate through the cream and then let it sit for 5 minutes to give the chocolate time to melt. Using a spatula stir the ganache, then set aside until cool, it thickens as it cools. Pour over the cake. If the ganache is too thick add 1 tablespoon of hot cream or as needed
Leave a Comment
Kristina
fantastic, glad you enjoyed it!
yummiest pumpkin cake I have ever made!!!