Light Pumpkin Cheesecake With Blueberry Topping
Prep Time
15 Minutes
Difficulty
Easy
Cook Time
80 Minutes
Serves
9-inch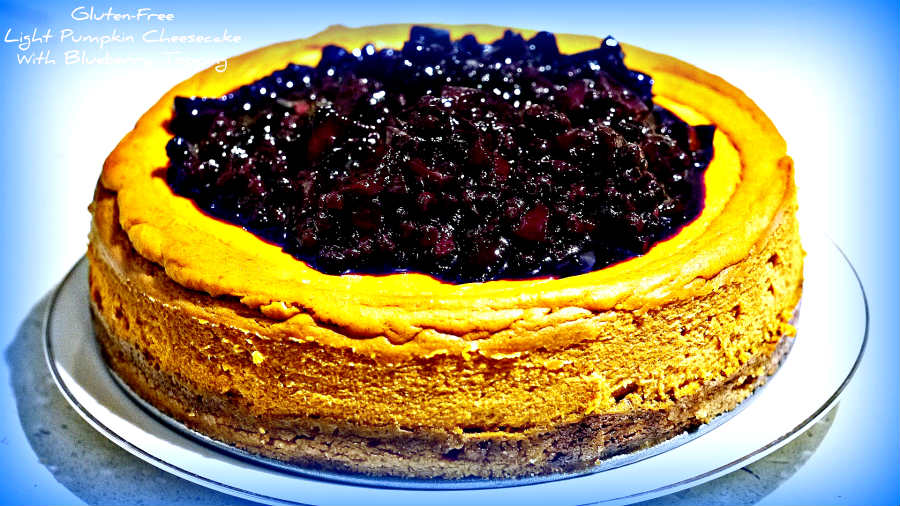 Average Rating: 4.5 | Rated By: 2 users
This gluten free pumpkin cheesecake is so light it tastes like a mousse. The flavours are gentle not to overpower the delicious pumpkin taste. If you are looking for an award-winning gluten-free pumpkin cheesecake this is it!
Ingredients
FOR THE CRUST; 3 cups walnuts + 3 Tbsp. GF ground flax seeds + 1 Tbsp. coconut oil + 1 Tbsp. pure maple syrup
2 x 8 oz. fat reduced cream cheese, at room temperature
¾ cup agave nectar
1 x 15 oz. can pure pumpkin puree
½ tsp. GF ground ginger
2 tsp. GF cinnamon
¼ tsp. GF nutmeg
2 Tbsp. pure vanilla extract
1 ½ Tbsp. certified GF oat flour
3 eggs, at room temperature
FOR THE TOPPING; 1 ½ cups blueberries + 1 cup sliced peeled apples + 2 Tbsp. rum or 1 Tbsp. pure vanilla extract + 1 Tbsp. agave nectar + pinch of GF cinnamon + 1 tsp. fresh lemon juice + 1 tsp. lemon zest + 1 tsp. GF tapioca starch
*As an Amazon Associate and member of other affiliate programs, I earn from qualifying purchases. Please check out my sponsorship and disclosure policy page for more details
Instructions
Preheat oven to 350 F
FOR THE CRUST; Add walnuts, flax seed, coconut oil and agave into a food processor. Blend for 1 minutes. Transfer the mixture into a 9-inch springform pan and lightly pat down. Bake for 10 minutes, and cool
FOR THE CHEESE LAYER; Add cream cheese, agave, pumpkin puree, ginger, cinnamon, nutmeg and vanilla into a large mixing bowl. Using a mixer blend until smooth. Add flour and mix, then add one egg at a time and keep mixing until fluffy, scraping sides to make sure it is evenly mixed.
Pour cheese mixture over cooled crust and bake at 350 F for 1 hour and 10 minutes. Turn the oven off and slightly open the oven door leaving the cake in the oven until cooled. Once the cake is cooled, cover it tightly and refrigerate overnight
FOR THE TOPPING; Place all the ingredients into a saucepan. Cook over medium-low heat until the sauce starts to thicken. Cool and pour over cooled cheesecake. When ready to serve, using a knife loosen the sides of the pan and the cake should slide out easily.
Similar Recipes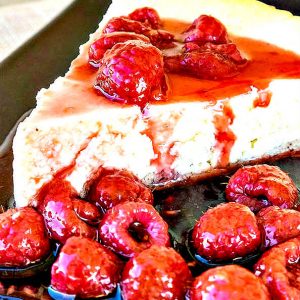 Gluten-Free Baked German Cheesecake
There are many ways to make a cheesecake. This sumptuous gluten-free cheesecake is baked using two types of cheeses creating that perfect creamy texture. The cake is light, slightly flavoured with fresh lemon juice and if desired topped with our fresh raspberry sauce. Recipe included. What I love about this grain-free cheesecake, it can be […] Read More
Prep Time
20 Minutes
Difficulty
Easy
Cook Time
60 Minutes
Serves
12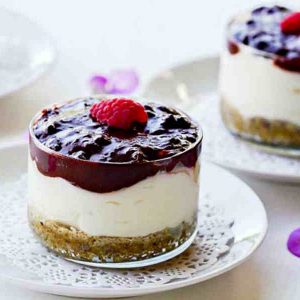 Gluten-Free Cheesecake Cups with Chocolate Raspberry Topping
When you choose to indulge, do it in small portions, the same as the French people do. These mini gluten-free cheesecakes are served in small cups topped with raspberry chocolate sauce. A delectable French dessert that gives everyone just enough forbidden pleasure without feeling guilty. I must say this is probably one of the […] Read More
Prep Time
15 + Minutes
Difficulty
Easy
Serves
4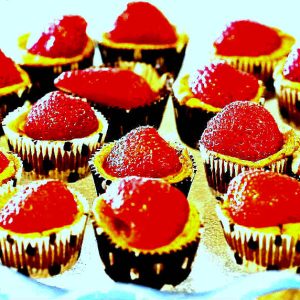 Flourless Chocolate Cheesecake Cupcakes
When it comes to chocolate cheesecake, smaller portions are always welcome such as these cupcakes. These gluten free flourless chocolate cheesecake cupcakes may look complicated but are simple to make. A small delectable dessert such as these morsels, everyone will love. The small cupcakes are especially popular at Valentines. Enjoy! […] Read More
Prep Time
15 Minutes
Serves
8