Gluten-Free Pumpkin Cheesecake Snickerdoodle Crumb Bars
Published on Nov 03, 2021
by
Kristina Stosek
Prep Time:

15 minutes
Cook Time:

40 minutes
Serves:

16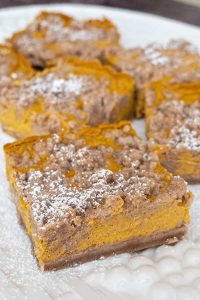 ​This post may contain affiliate links, please see our
privacy policy
for details
These Pumpkin Cheesecake Snickerdoodle Crumb Bars might just be the easiest pumpkin dessert bar that anyone can bake up. If you love the flavor of a pumpkin, this is one dessert recipe to try.
I think most of us are familiar with snickerdoodle cookies? A buttery cookie rolled in cinnamon sugar. These gluten-free dessert pumpkin bars have a cheesecake twist with the snickerdoodle cookie crumb.
This week is that kind of week. Pumpkin, snickerdoodle cookie crust and cheesecake. Doesn't this sound like a great idea? Everywhere I look, I see so many pumpkins and pumpkin products. So, why not these pumpkin cheesecake snickerdoodle crumb bars or try the gluten-free snickerdoodle oat snacking cake.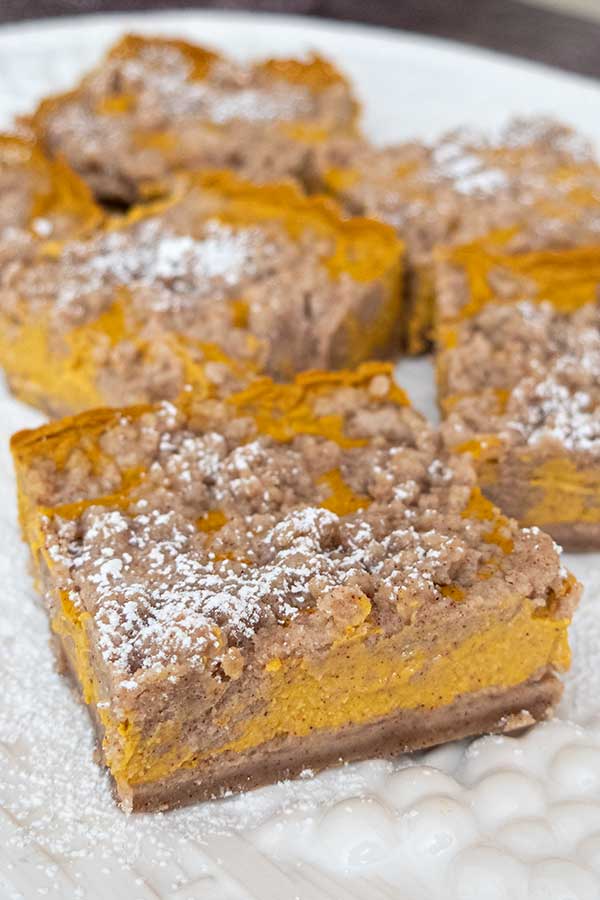 These gluten-free crumb bars are pretty simple to make. But it is the egg-free, lightly sweetened pumpkin cheesecake layer that sets these dessert bars apart from most.
These pumpkin cheesecake snickerdoodle crumb bars represent all the flavours of fall. Pumpkin, pumpkin spice, a good cookie crumb and a light cheesecake. A cozy kind of casual gluten-free dessert.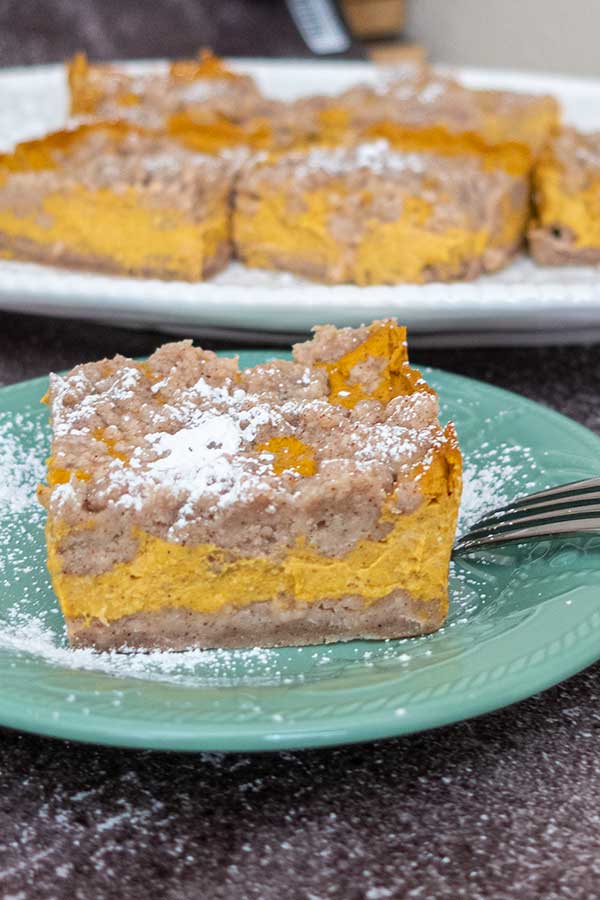 They are fun to make, delicious, not overly sweet, and everyone loves them. So let us agree, these pumpkin cheesecake bars are perfect cold weather sweet treats! Especially for Thanksgiving or Christmas dessert table.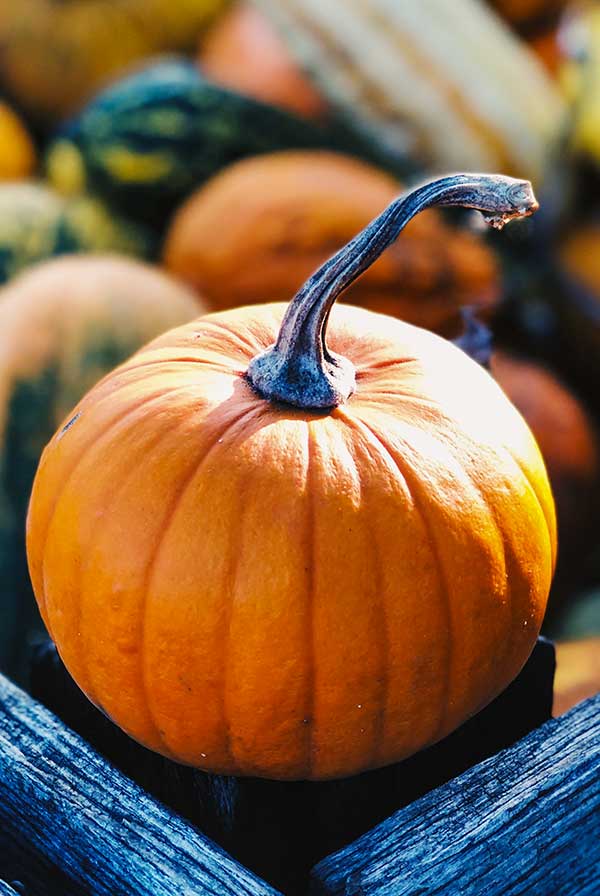 What is a sugar pumpkin?
The pumpkin puree for desserts is typically made from a sugar pumpkin. This pumpkin is smaller and rounder. And the ridges are less defined. A ripe sugar pumpkin has a deep orange colour, is less stringy, and contains less water. They also taste sweeter, making them perfect for pumpkin desserts.
How to make pumpkin puree for desserts?
1 sugar pumpkin
1 Tbsp. Extra virgin olive oil
Directions:
Preheat oven to 350 degrees.
Cut the top off of the pumpkin and discard it
Flip the pumpkin over so the cut side is down (this creates a stable base), cut the pumpkin in half, and remove the seeds and strings
Brush the cut-side of the pumpkin with olive and place cut-side down onto a lined baking sheet. Bake for 35-45 minutes. It all depends on how big the pumpkin is. The inside should be tender
Remove the pumpkin from the oven and scrape the insides out. Discard the peel
Place the pumpkin in a food processor and pulse until silky smooth. The pumpkin puree will keep for up to 5 days when refrigerated
pumpkin cheesecake crumb bars recipe details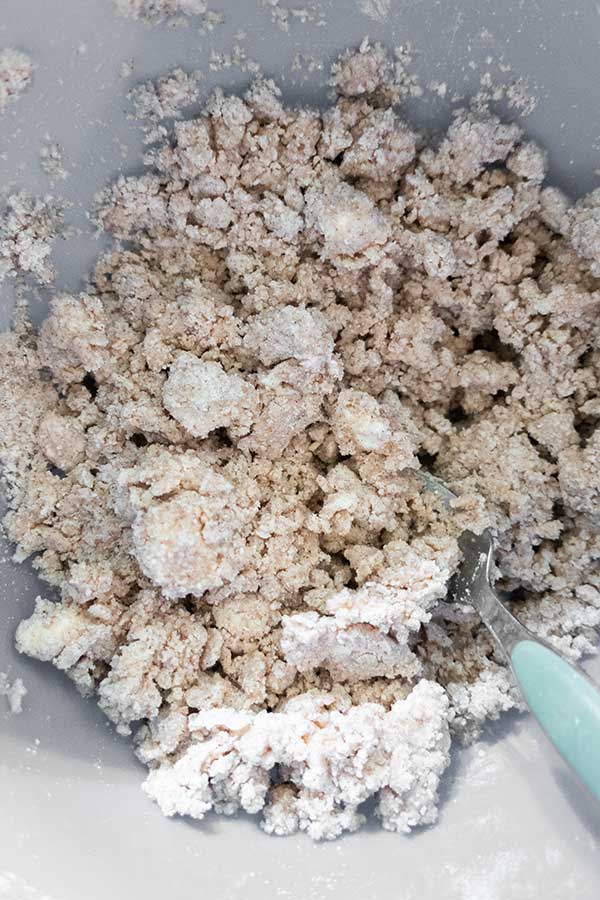 how to make the crust and crumble?
The crust and the crumble are made with the same dough. To make the gluten-free dough, mix the dry ingredients, add the chilled butter and work it into the flour mixture until crumbly.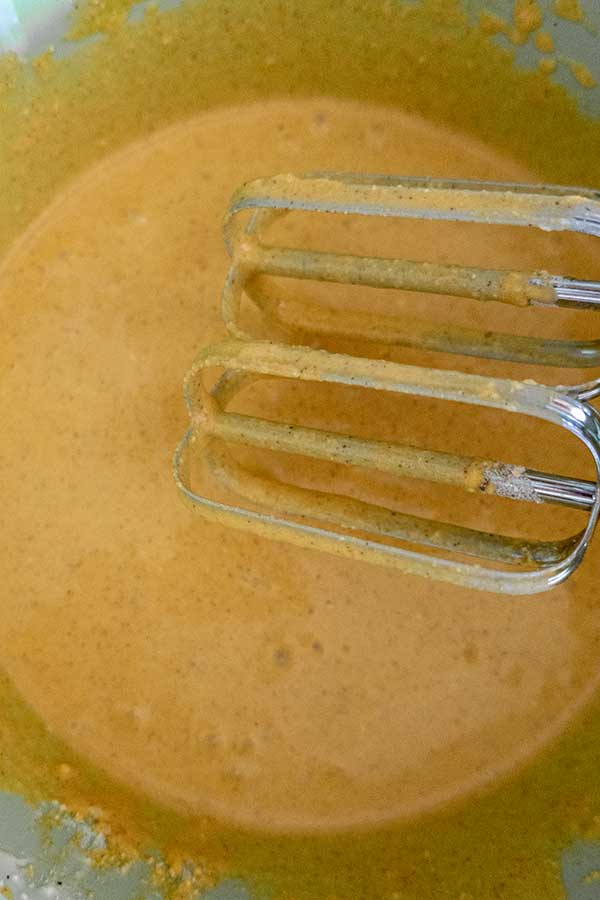 quick and easy pumpkin cheesecake layer
Using a light cream cheese, mix using an electric mixer until creamy. Add remaining ingredients and mix until smooth. Remember, there are no eggs in this pumpkin cheesecake, so mixing everything up is pretty simple.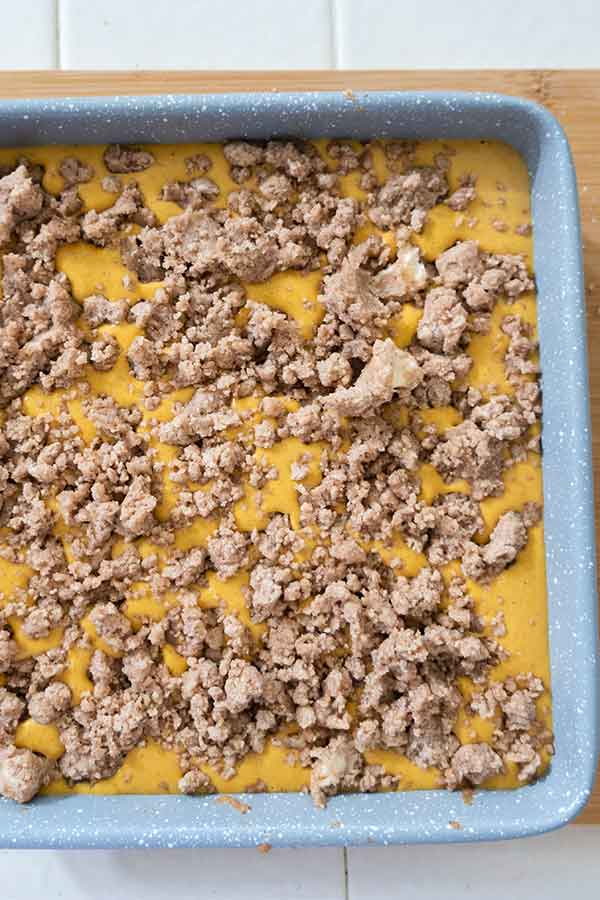 Assembling Pumpkin Cheesecake Snickerdoodle Crumb Bars
Some of the crumbly dough is pressed into a baking pan and par-baked for 15 minutes. This creates the crust.
Then, pour the pumpkin cheesecake mixture over the crust and sprinkle the top with the remaining crumbly dough. Next, bake and then chill.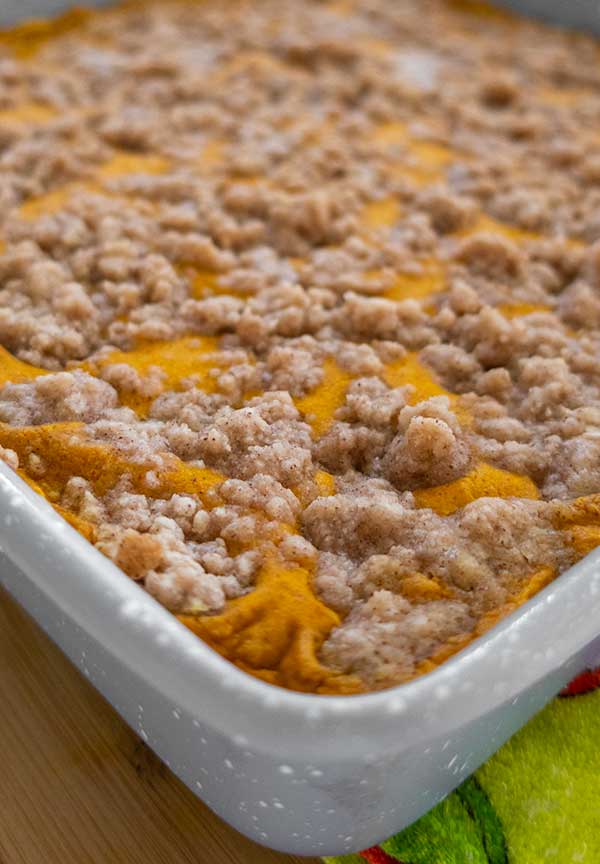 These delicious gluten-free sweet bars made with the cinnamon crust and crumble, a classic flavour of a snickerdoodle cookie, make it a perfect pairing for these pumpkin cheesecake bars.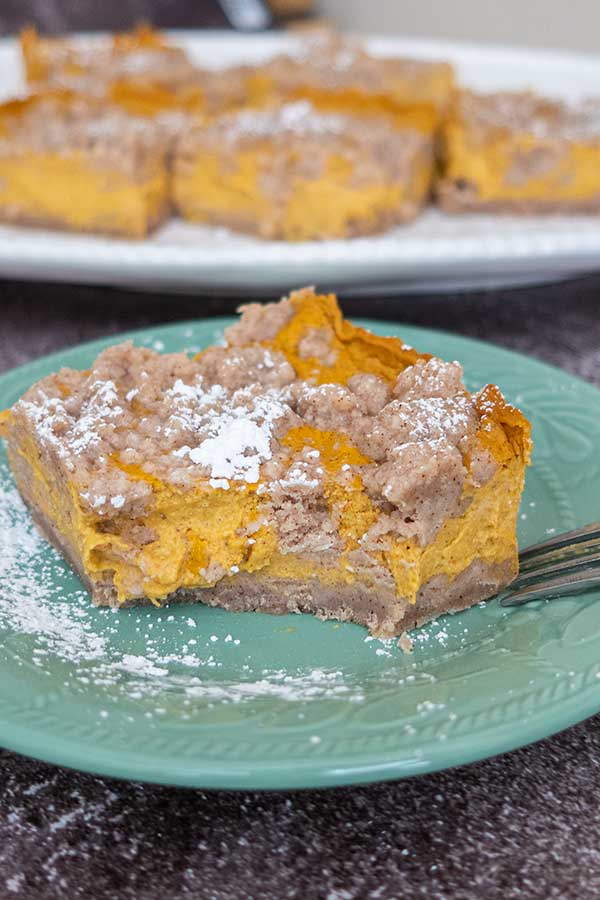 Need more pumpkin desserts? Be sure the check out these gluten-free pumpkin recipes. Enjoy!
Let's Connect!
Be sure to FOLLOW US on FACEBOOK and PINTEREST.
Many thanks!
Kristina xx
Gluten-Free Pumpkin Cheesecake Snickerdoodle Crumb Bars
Published on Nov 03, 2021
by
Kristina Stosek
Instructions
1.

Preheat the oven to 350 F

2.

3.

In a large bowl, whisk together flour, oats, sugar, cinnamon and salt. Add butter, and using a pastry cutter or your fingers, work the butter into the dry ingredients. The dough should resemble small clumps. If you find the dough is still too dry, add a tablespoon of ice water

4.

Reserve 1 1/2 cups of the dough for the topping and refrigerate until ready to use

5.

Press the remaining dough into the bottom of an 8 x 8-inch baking dish, and bake for 15 minutes.

6.

7.

Using an electric mixer, cream the cream cheese until smooth. Add remaining ingredients and continue mixing until smooth

8.

Pour the pumpkin cheesecake mixture evenly over the partially baked crust and sprinkle the cheesecake layer with the remaining crumbs

9.

Bake for 30 minutes, then cool. Chill for two hours or overnight before serving. Sprinkle with powdered sugar if you wish.