Gluten-Free Pumpkin Chocolate Fudge Bread
Published on Oct 02, 2021
by
Kristina Stosek
Prep Time:

10 minutes
Cook Time:

55 minutes
Serves:

1 loaf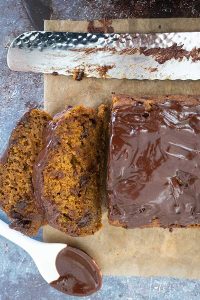 ​This post may contain affiliate links, please see our
privacy policy
for details
Welcoming the cooler weather with a Gluten-Free Pumpkin Chocolate Fudge Bread…better than from bakery. Moist pumpkin bread oozing with chocolate, sweetened with maple syrup, pumpkin pie spices and topped with chocolate sauce. Perfect for autumn weekends to enjoy!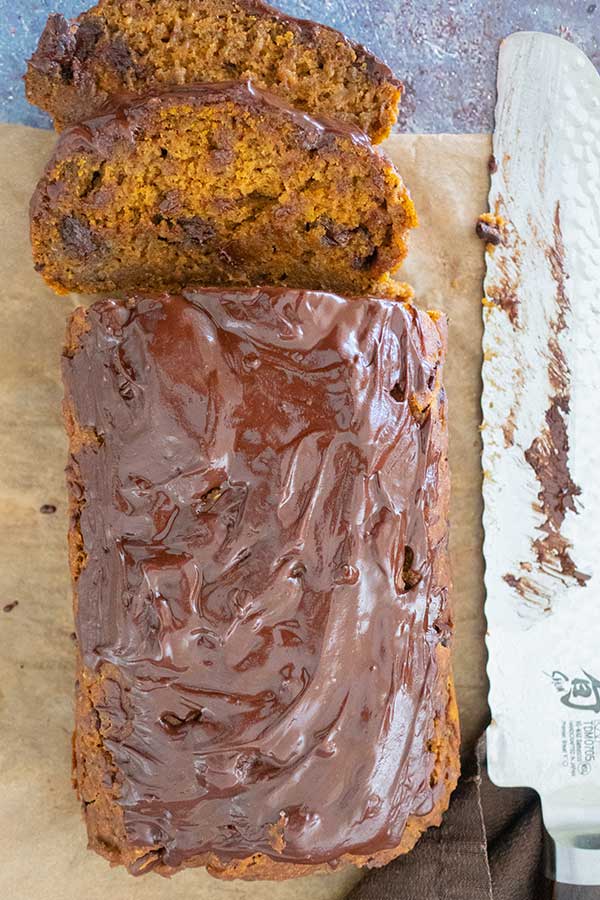 Gluten-Free Pumpkin Chocolate Fudge Bread
This pumpkin chocolate fudge bread is better than what you would pick up from a bakery. The pumpkin spiced bread is super moist, chocolaty, insanely delicious, and simple, making it the perfect autumn holiday loaf.
Last month we highlighted apple and zucchini recipes. Our most popular ones were the Gluten-Free Apple Pie Bars, and the Gluten-Free, Dairy-Free Olive Oil Zucchini Bread With Chocolate Chips.
Both of these gluten-free recipes were a huge hit. If you haven't tried them, I highly recommend you do. You will not be disappointed. Oh, I almost forgot, the Very Best Gluten-Free Apple Fritter Bread was our most downloaded recipe in September.
pumpkin and chocolate
A great combination is mixing pumpkin with chocolate. The pumpkin will keep the bread moist and has a natural, earthy sweetness making it a good ingredient in baking.
The chocolate is studded throughout the pumpkin bread, complementing the natural sweetness of the pumpkin. I used a combination of chocolate chunks and chocolate chips. I love the idea of biting into a chunk of chocolate in pumpkin bread.
The generous addition of warming pumpkin pie spices makes this gluten-free pumpkin chocolate fudge bread a great addition to autumn recipes.
One bowl, healthy-ish, pantry staple ingredients, super quick to mix up, moist and chocolaty. That pretty much sums it up.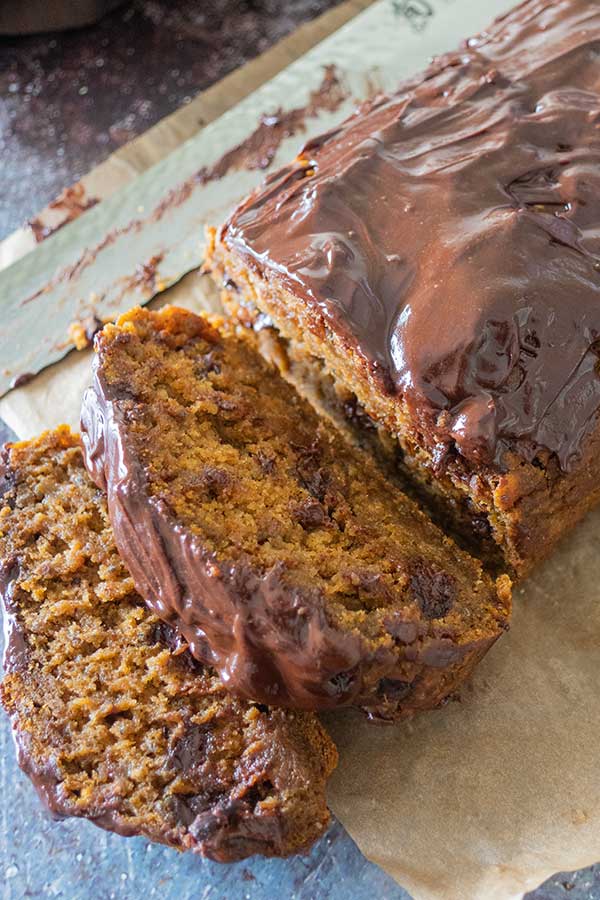 Pumpkin Chocolate Fudge Bread with Health Benefits
As I mentioned, this pumpkin bread is healthy-ish. Yes, I consider this bread on the healthier side. First, the pumpkin. This gentle squash is lower in carbs when compared to other winter squashes. It is nutrient-dense and provides calcium and potassium.
In addition, this is a dairy-free bread made with heart-healthy olive oil, protein-packed eggs and sweetened with maple syrup.
Why add brown sugar to pumpkin bread?
You may be wondering why did I add brown sugar in addition to maple syrup? Brown sugar is a mixture of white sugar and molasses. Molasses add darker colour, increase nutritional value and add flavour to pumpkin spiced recipes.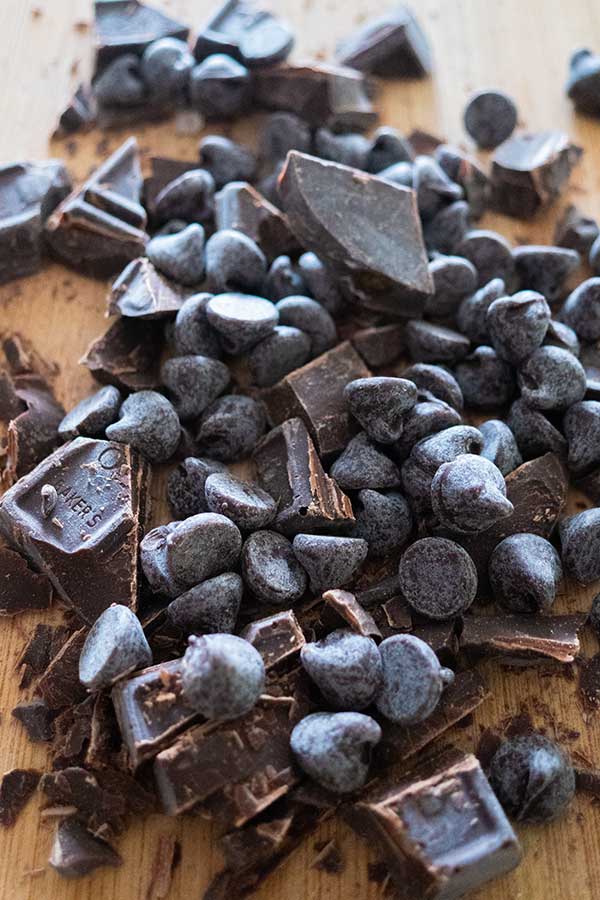 Is chocolate good for you?
And don't forget the chocolate a lot of chocolate in this gluten-free bread recipe. Chocolate is believed to contain high levels of antioxidants. Antioxidants fight free radicals in your body. So a diet high in antioxidants may reduce the risk of some diseases.
Gluten-Free Pumpkin Chocolate Fudge Bread Recipe Overview
One bowl is all you need. Gather your ingredients. Mix the dry ingredients in a large bowl, but not the chocolate chips. Then add your wet ingredients to the same bowl and give everything a gentle stir.
Next step, fold in some of the chocolate, and the batter is ready for the oven.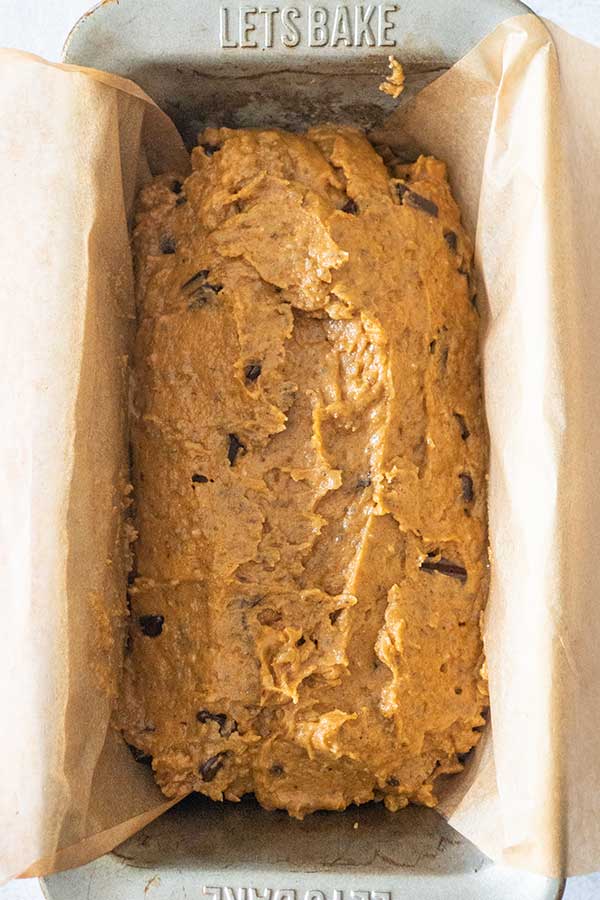 the chocolate fudge sauce
Is it needed? Not really, but the chocolate fudge sauce is what makes this gluten-free pumpkin bread MAGICAL!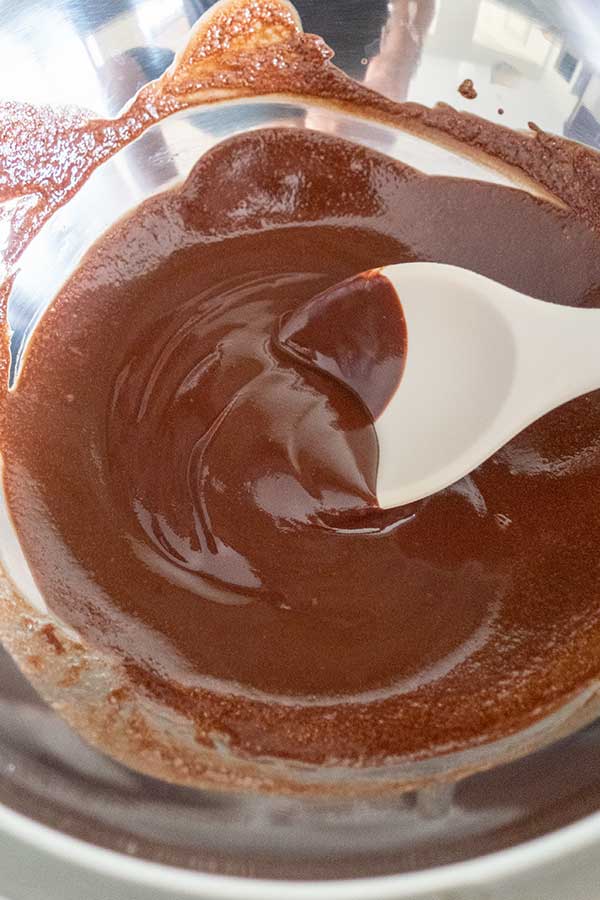 Once the pumpkin bread is baked and cooled, pour the chocolate sauce over the top. That's right, it's all about the chocolate fudge sauce. YUMMY!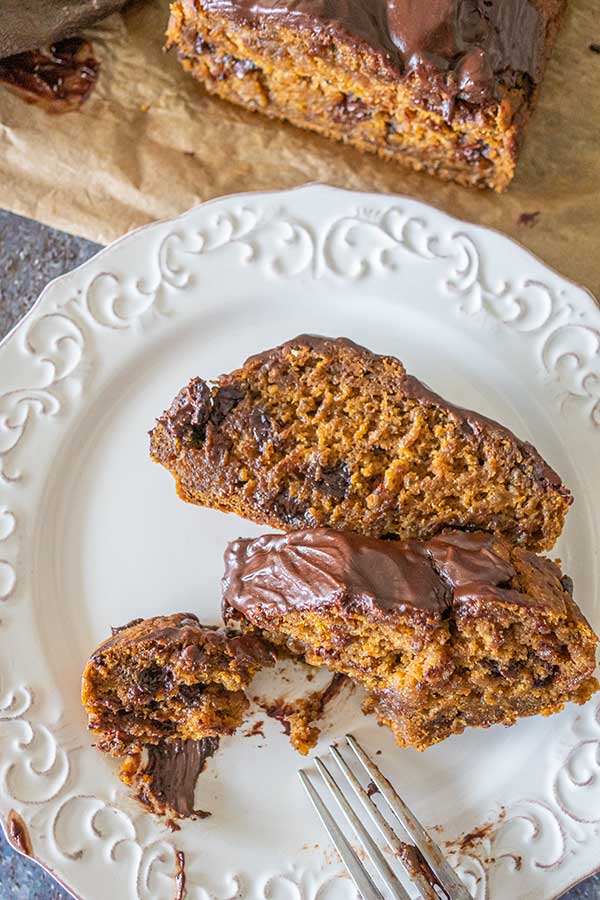 The sound of moist pumpkin bread with chocolate chunks and chocolate sauce as a topping sounds so exciting. Nothing's better than this pumpkin bread on cooler days. Great for breakfast, any time snack or a late-night dessert. Enjoy!
Let's Connect!
Be sure to FOLLOW US on FACEBOOK and PINTEREST. And don't forget to sign up for our newsletter. We always have something new and exciting for you!
Many thanks!
Kristina xx
Gluten-Free Pumpkin Chocolate Fudge Bread
Published on Oct 02, 2021
by
Kristina Stosek
Instructions
1.

Preheat oven to 350 F and line a standard bread pan with parchment paper

2.

Using a large bowl, whisk together dry ingredients (flour to salt)

3.

Add remaining ingredients except for chocolate. Using a spatula, mix until just combined. Do not over mix 

4.

Fold in chocolate, saving 1/3 cup for topping. Transfer batter into the pan and bake for 50 - 55 minutes until the bread passes the toothpick test. Cool in the pan

5.

Melt the remaining chocolate with coconut oil or butter in a double boiler and stir until smooth. Spoon the chocolate sauce over the cooled bread. Enjoy