Grain-Free Dairy-Free Pumpkin Pie
Published on Oct 21, 2020
by
Kristina Stosek
Prep Time:

15 + minutes
Cook Time:

60 minutes
Serves:

6 - 8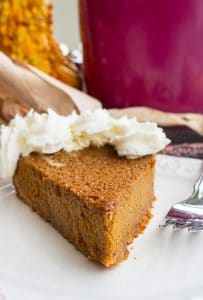 ​This post may contain affiliate links, please see our
privacy policy
for details
We love this Grain-Free, Dairy-Free Pumpkin Pie. It is that time of year when pumpkins and pumpkin recipes are popular. And what better way to celebrate the pumpkin season than with a freshly baked Pumpkin Pie?
In this gluten-free pumpkin pie recipe, the crust is made without grains or dairy. Instead, the flaky crust comes from almond flour, healthy cassava flour, coconut oil or dairy-free butter, and a light sprinkle of sugar and cinnamon.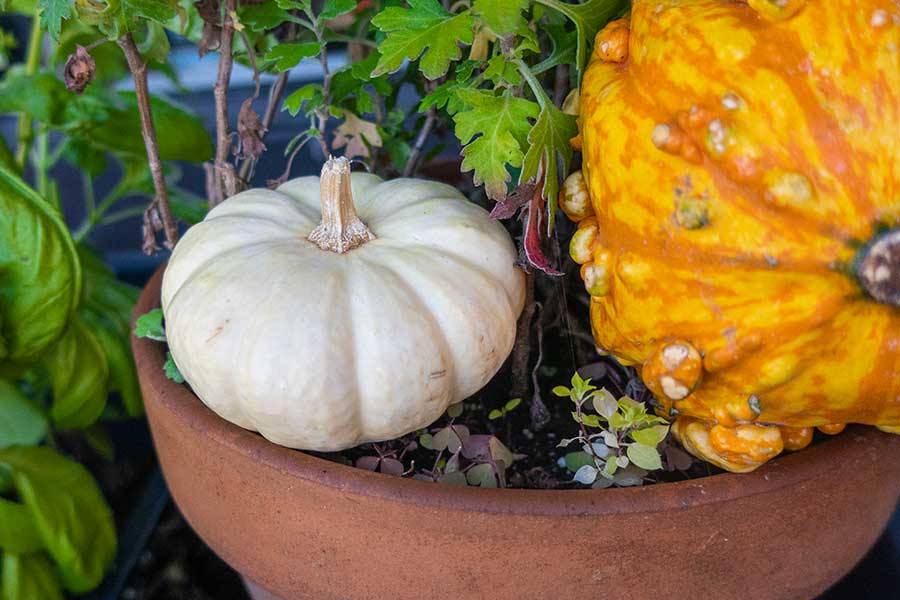 Grain-Free Dairy-Free Pumpkin Pie Recipe Overview
The coconut milk adds extra creaminess to the velvety Pumpkin Pie filling. I also added healthy molasses, giving the pumpkin filling richness and beautiful caramel colour.
As with most pumpkin pie recipes, the spices are cinnamon, ginger and nutmeg. I have also doubled up on the vanilla.
I can't tell you how delicious this pumpkin pie turned out. It is the molasses and extra vanilla that made this pie insanely tasty.
The filling is super light and creamy. And I promise you would never know that this gluten-free pumpkin pie is dairy-free.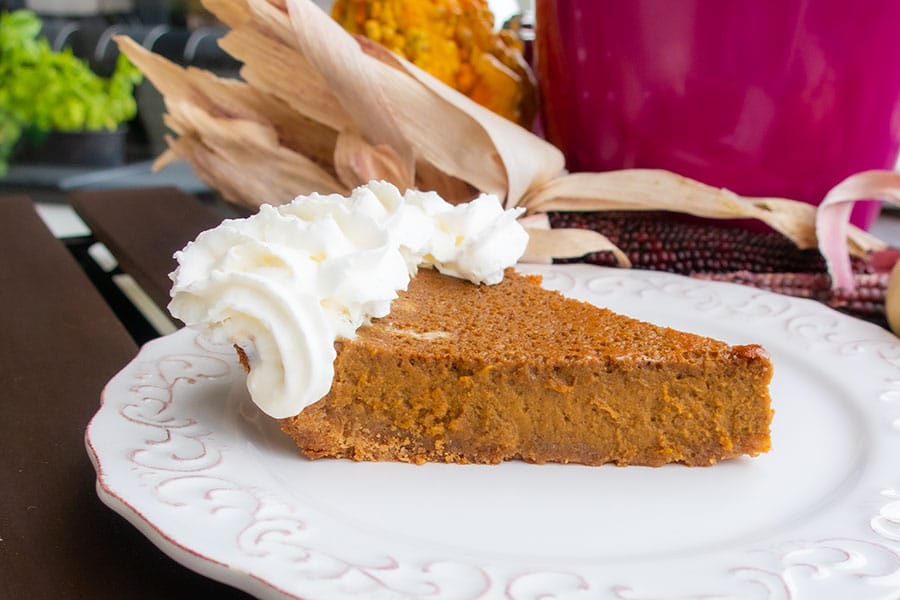 The easiest grain-free pie crust – ever!
What I love about this pumpkin pie is its simplicity. Anyone can make this pie recipe into a perfect dairy-free pumpkin pie. For the grain-free crust, all you do is place the ingredients into a food processor, pulse to form a soft dough and then chill.
When ready, press the dough into the pie dish with your fingers. No rolling of the dough – no mess – and the crust is perfect.
First, for the dairy-free pumpkin filling, you beat the eggs with sugar, add the remaining ingredients, and briskly whisk everything together.
Before you pour the filling into the crust, you need to partially pre-bake the crust. By baking the crust first, it will stay buttery and not soggy.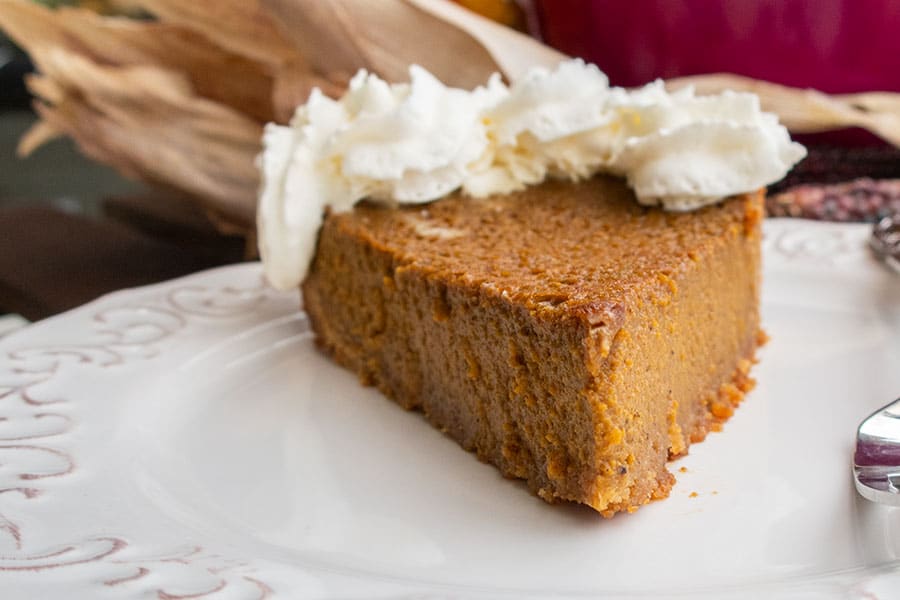 you can't rush the pumpkin pie
If you want a silky gluten-free pumpkin pie with a perfect crust, there are a few things to keep in mind.
First, the pie crust dough has to be chilled, the crust has to be partially baked before adding the filling.
The filling is slowly baked so that it doesn't crack.
Then, it becomes more like a delicious pumpkin custard. You will have a few extra steps but a perfect and incredibly delicious Pumpkin Pie without grains and dairy.
Emile Henry Made In France HR Modern Classics Pie Dish, 9" Blue

I always bake two pies to ensure there is plenty of Pumpkin Pie to go around.
If you have any leftovers, cover the pie with plastic wrap and keep it in the fridge. The pie will keep for up to five days when refrigerated. Do not add the whipped cream until ready to serve the pie.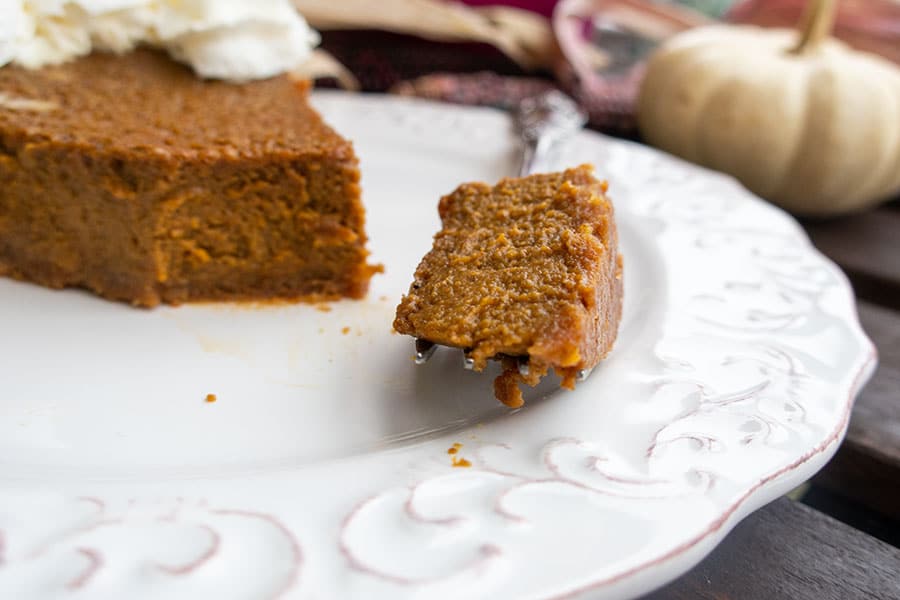 Whether you serve this heavenly Pumpkin Pie for Thanksgiving, Christmas, Easter, or any time of the year, it will be a huge hit.
This year is the first time I got my brother to try a slice because he doesn't like pumpkins. He commented, oh wow, I wish I had tried this pumpkin pie before. It is so delicious 🙂 And he had a second slice.
It was the molasses and double vanilla that made the big difference. I hope you enjoy this Pumpkin Pie, and if you celebrate the holidays, Happy Holidays to your family from our home to yours.
Kristina xx
For the latest recipes and tips, please like us on Facebook or follow us on Pinterest.
Grain-Free Dairy-Free Pumpkin Pie
Published on Oct 21, 2020
by
Kristina Stosek
Instructions
1.

2.

Place flours, sugar, cinnamon and salt into a food processor bowl and pulse to combine.

3.

Add coconut oil or dairy-free butter and pulse until the mixture comes together into a soft dough. Wrap with plastic wrap and refrigerate for 2 hours

4.

Using your fingers, press the dough into a 9-inch pie dish all the way up the sides of the dish and freeze for 30 minutes.

5.

Preheat oven to 375 F and bake for 12 minutes

6.

7.

In a large bowl, beat eggs with coconut sugar. Add remaining ingredients and briskly whisk until blended.

8.

Place the pie dish on a baking sheet and pour the filling into the pie crust.

9.

Bake for 20 minutes at 375 F, then reduce the oven temperature to 350 F and bake the pie for 35 to 40 more minutes, until all but the center is set.

10.

Cool the pie to room temperature and then refrigerate for at least 3 hours before serving. Serve with coconut cream or dairy-free vanilla ice cream.