Gluten-Free Baked Pumpkin Mousse Cake
Published on Oct 30, 2021
by
Kristina Stosek
Prep Time:

20 minutes
Cook Time:

80 minutes
Serves:

10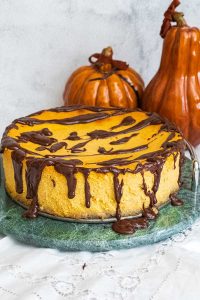 ​This post may contain affiliate links, please see our
privacy policy
for details
Pumpkin lovers, this gluten free baked pumpkin mousse cake with chocolate ganache is for you! The best part, this dessert is grain free and gluten free and tastes exceptionally delicious.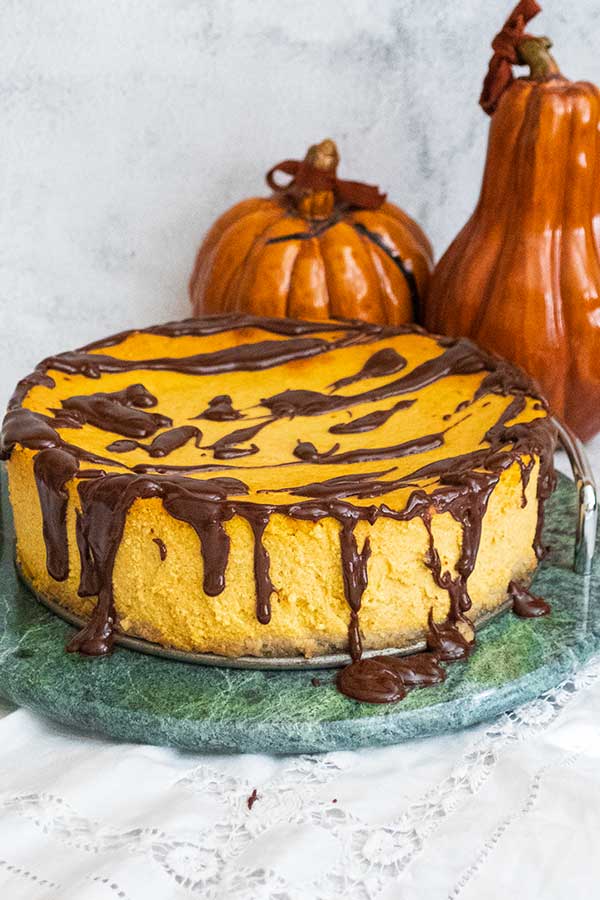 There really are no words for this Gluten-Free Baked Pumpkin Mousse Cake other than incredible. The base is like an almond shortbread cookie, the cake layer is the creamiest, silkiest, pumpkin mousse, and the top is a drizzle of chocolate ganache. Could it get better? I think not.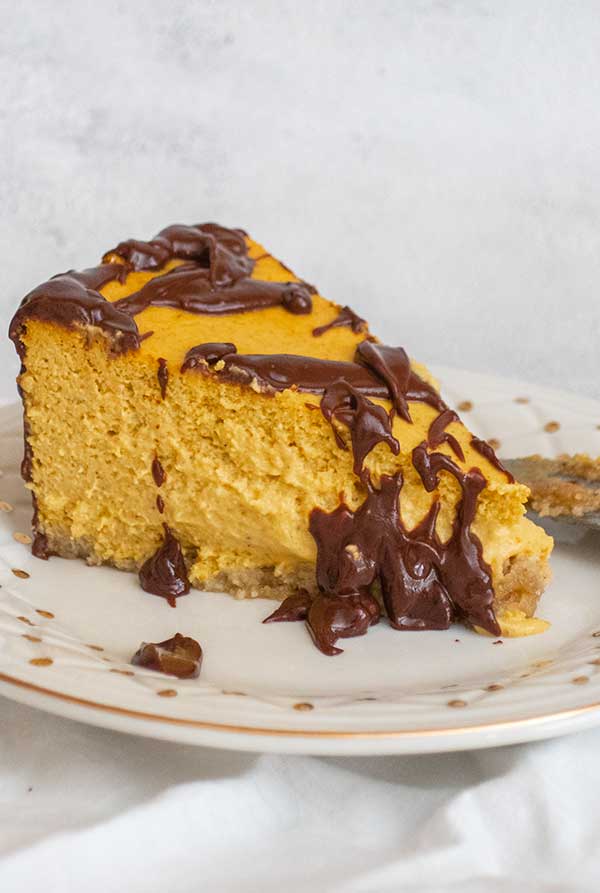 The very best baked pumpkin mousse cake. Mascarpone and ricotta cheese, unsweetened pumpkin puree, eggs, coconut flour, vanilla, pumpkin spices and…..what sets this pumpkin dessert apart from most, the orange zest. The orange flavour adds freshness making this pumpkin mousse cake out of this world!
And did I mention a drizzle of delicious chocolate ganache? OMG, this Holliday cake is a roll your eyes back kind of gluten-free dessert. Another Holliday dessert you may enjoy is the Gluten-Free Strawberry Tiramisu.
baked pumpkin mousse cake recipe details
For the crust you will need, almond flour, coconut or brown sugar, coconut flour, nutmeg, baking soda, salt, butter and one egg. Everything is mixed together to a paste-like texture and spread on the bottom of a springform pan. The crust is then baked for 10 minutes.
It crust tastes just like an almond shortbread cookie.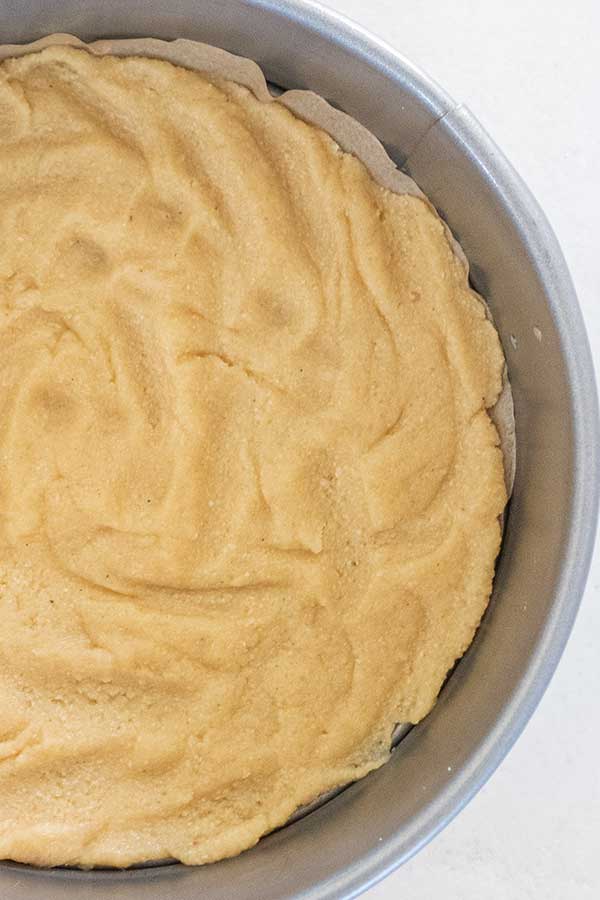 How to make the pumpkin mousse layer?
You will need two types of cheese, ricotta and mascarpone. Both add to the creaminess and keep the cake light. Then, you will need egg yolks, vanilla, freshly grated nutmeg and cinnamon and unsweetened pumpkin puree.
This is a grain-free pumpkin mousse, so this is why we replaced regular gluten free flour with grain-free healthy coconut flour.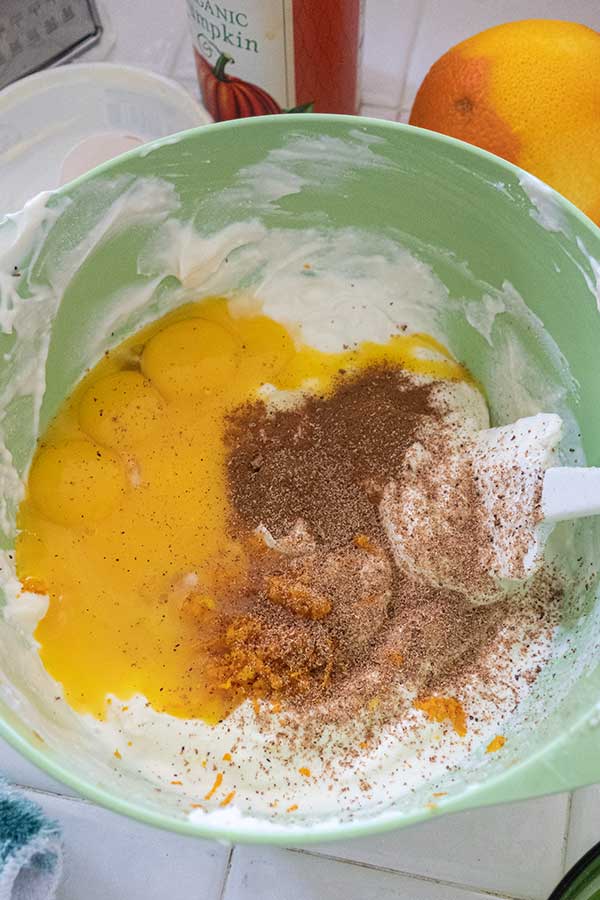 For an extra light mousse texture add whipped egg whites
I used sweetened condensed milk to sweeten the cake which also keeps the mousse extra silky. The orange zest is a must to add fresh flavor to the cake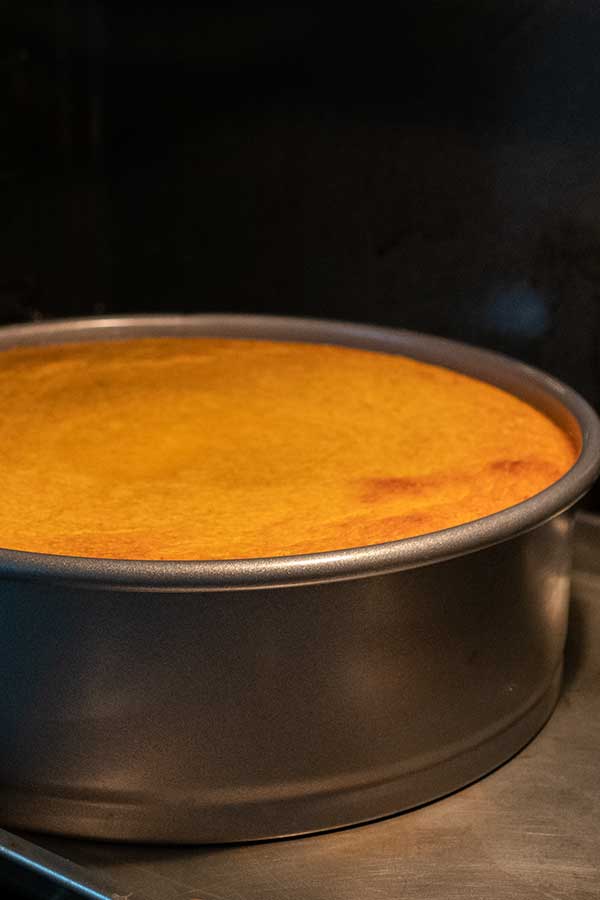 And finally, I added whipped egg whites. This is what will keep the baked mousse super light and airy.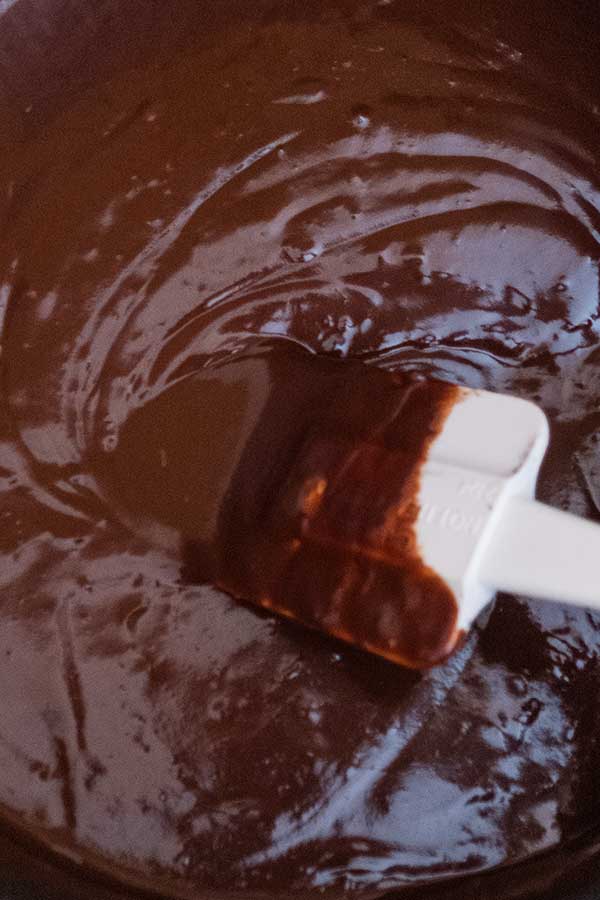 How to make chocolate ganache for pumpkin mousse cake?
The chocolate ganache is optional. However it is super easy to make and it elevates the pumpkin mousse cake to another level.
You will need good quality gluten-free chocolate or chocolate chips and cream. Melt the chocolate with the cream in a double boiler, and the ganache is ready. You can drizzle as little or as much as you like over the cake.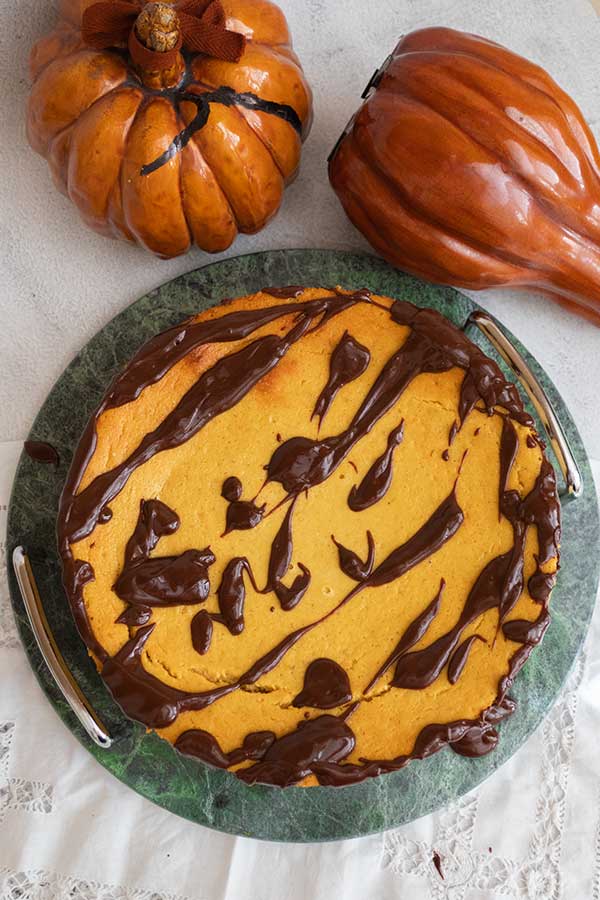 Chocolate and pumpkin are a great combo, but you can replace the chocolate ganache with whipped cream if you prefer. Or, use both, so good!
There is nothing hard or complicated about this grain-free pumpkin mousse cake. In fact, it is easy, just some mixing and chilling.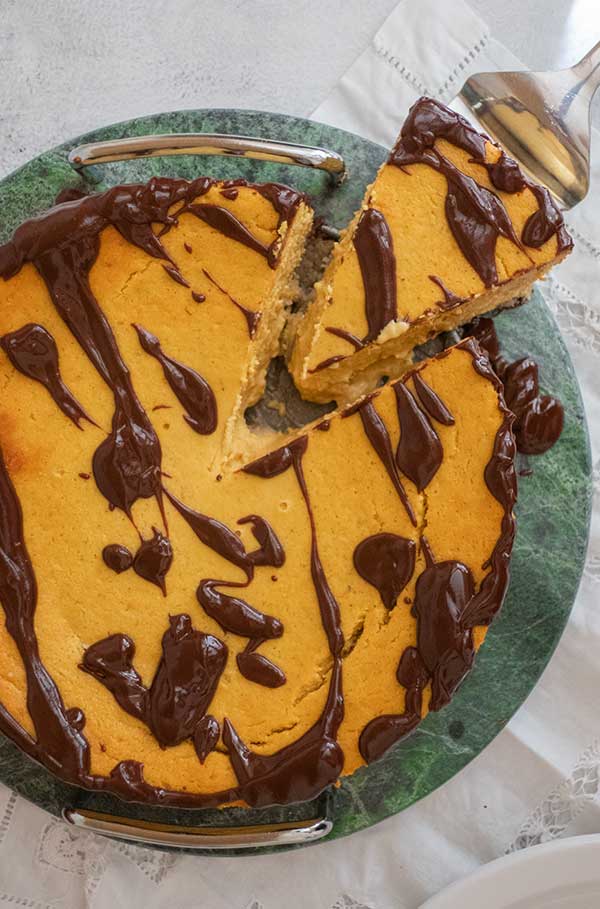 baker

'

s notes
All the ingredients must be at room temperature! This baked mousse cake needs to chill, so plan ahead. And be sure to keep the dessert refrigerated until ready to serve.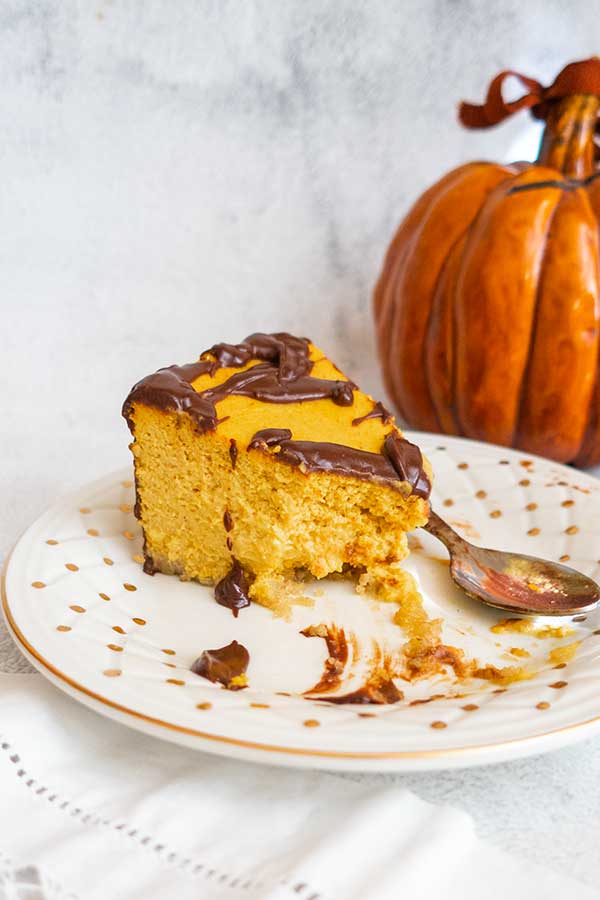 No matter what the Holliday is, this chilled creamy baked pumpkin mousse cake is one that I would definitely add to the list of gluten-free desserts. Enjoy!

Gluten-Free Baked Pumpkin Mousse Cake
Published on Oct 30, 2021
by
Kristina Stosek
Instructions
1.

2.

For the base, in a medium bowl, mix dry ingredients, add butter and egg and mix to form a thick paste. Spread the paste on the bottom of a 10-inch springform pan lined with a circle of parchment paper and bake for 10 minutes

3.

Remove from the oven and cool

4.

5.

Reduce oven temperature to 325 F and place a pan with about 2 inches of water on the bottom rack. The moisture will minimize the cracking of the cake

6.

In a large bowl, using a handheld whisk, mix the first nine ingredients (ricotta to nutmeg) until combined. Stir in pumpkin evenly through the mixture and set aside for 10 minutes

7.

In a separate bowl, beat the egg whites with an electric mixer until stiff peaks form. Using a spatula, gently fold the egg whites into the pumpkin mixture until combined

8.

Pour batter into the springform pan over the crust and bake for 1 hour and 20 minutes. Bake until cake is puffed, edges feel set, the center is still soft but not jiggly. The cake may start to brown after about an hour. To avoid this, loosely cover the pan with foil paper. The cake will rise while it's baking and sink a little as it cools. Open the oven door about 6 inches wide and allow the cake to cool completely in the oven

9.

Once the cake has cooled, refrigerate it for a minimum of 6 hours or overnight. To remove the cake from the pan, run a sharp knife between the cake and the sides of the pan, release the latch and lift the cake free

10.

THE CHOCOLATE GANACHE GLAZE (optional)

11.

Using the top of a double boiler, melt the chocolate and cream together, occasionally stirring until the chocolate melts. Set aside to cool for 15 minutes. The glaze will thicken as it cools. Decorate the cake.
Leave a Comment
Kristina
Alene, although I have only used coconut flour in this recipe, if I were to replace it, I would use equal amount of cassava or rice flour. Please let us know how it turns out, thank you.
I can't eat coconut right now. I would love to make this though. For the crust, maybe I can use a little tapioca flour? For the mousse layer, I'm not sure at all how to replace it. Can I even do that? Thank you!
Kristina
I am so happy to hear that Sheryl, thank you!
I made this pumpkin mousse cake yesterday, OMG it is so good. A big thank you Kristina, you are the best!!!