Gluten-Free Basic Muffin Recipe
Prep Time
10 Minutes
Difficulty
Easy
Cook Time
22 Minutes
Serves
12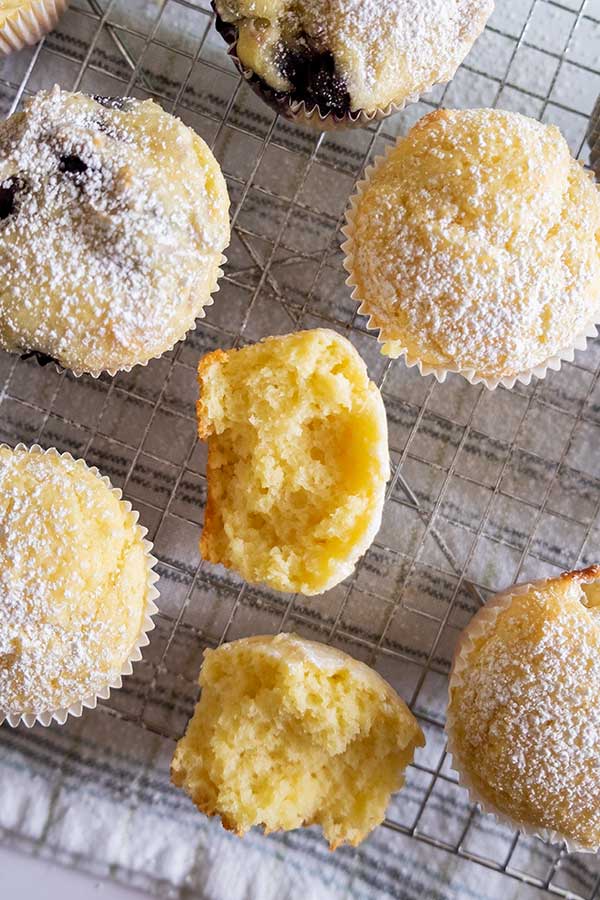 Be the first to rate this recipe.
Who doesn't love a freshly baked muffin made from scratch? This is a basic gluten-free muffin recipe that can be used for a variety of muffins. I wanted to create a plain gluten-free muffin batter that is simple with as few ingredients as possible. There is nothing complicated about this muffin recipe, you probably already have all the ingredients in your pantry. The fun part is, you add your own mix-ins. My favourite combination is blueberries and walnuts, they make the muffin healthier and most flavourful. There are many mix-ins options, such as berries, nuts, seeds, chocolate chips, cocoa, chopped apples, grated carrots, raisins the list is endless. It is so much fun creating muffins. You will find more gluten-free muffin recipes here
Ingredients
2 cups all-purpose gluten-free flour blend. I found cup4cup or better batter work best in this recipe. Both contain xanthan gum. Add 1 teaspoon If your blend does not include it.
2/3 cup coconut sugar (you can use granulated sugar)
2 tsp. Baking powder
3 large eggs, at room temperature
1/2 cup salted butter, melted, at room temperature
3/4 cup milk, at room temperature
1 tsp. Lemon juice
1 tsp. Pure vanilla extract
1 - 1 1/2 cups of optional mix-ins; berries, nuts, seeds, cinnamon, chopped apples, grated carrots, raisins, chips, cocoa, just about anything you like.
Instructions
In a large bowl combine flour, sugar and baking powder
In a separate bowl whisk eggs with butter. Add milk, lemon juice and vanilla and whisk to combine
Add egg mixture to dry ingredients and stir until just combined. Do not over mix. At this point add your choice of mixings and gently stir to evenly distribute them through the batter
Pour batter into prepared muffin pan and bake for 22 - 25 minutes until the muffins are golden
Cool in the muffin pan for 10 minutes, then transfer onto a rack to cool completely
Similar Recipes
Best Gluten Free Banana Apple Muffins
Start your day with moist and delicious gluten free banana apple muffins. These dairy free muffins are sweetened mostly with fruit, and are high in protein and fiber. I promise you these muffins will melt in your mouth and your family will never know these banana apple muffins are gluten free. This recipe is a […] Read More
Prep Time
15 Minutes
Difficulty
Easy
Cook Time
35 Minutes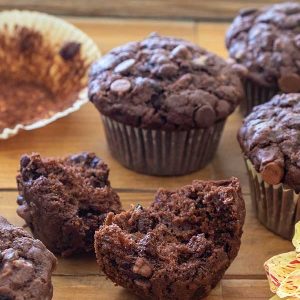 Better Than Bakery Gluten-Free Chocolate Chip Zucchini Muffins
Just in time for back to school! A gluten-free chocolate chip zucchini muffin that tastes better than one from a bakery. The zucchini adds great nutritional value and keeps the chocolate chip muffins extra moist. I promise you will not be able to stop at one because they taste like the best chocolate cake, except […] Read More
Prep Time
10 Minutes
Difficulty
Easy
Cook Time
35 Minutes
Serves
12 muffins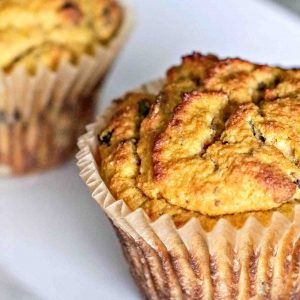 Gluten Free Morning Glory Muffins
A wonderful way to start your day is with a healthy muffin such as our famous Gluten Free Morning Glory Muffin. These mouthwatering moist muffins are packed with healthy nutrients giving you lasting energy. In this muffin recipe, there is no added sugar, fat or dairy. Using ingredients in this recipe such as bananas, pumpkin seeds, apples, […] Read More
Prep Time
15 Minutes
Difficulty
Easy
Cook Time
35 Minutes