Gluten-Free Blueberry Rhubarb Muffins
Prep Time
15 Minutes
Difficulty
Easy
Cook Time
40 Minutes
Serves
12
Average Rating: 5 | Rated By: 3 users
Healthy incredibly delicious Gluten-Free Blueberry Rhubarb Muffins to start your day. The super moist and light muffin with wholesome ingredients such as flaxseed, almond flour, sweet sorghum flour, olive oil, coconut sugar, fresh blueberries and rhubarb. The blueberry rhubarb muffin is so so good!
The tart rhubarb and the sweet blueberries make a perfect balance of sweetness and tartness in these gluten-free muffins.
How can I let rhubarb season slip away without at least one more tribute to the healthy vegetable….such intense tart flavour when raw, however, this celery shape like vegetable becomes sweeter as it cooks.
Add the blueberries, and you have a healthy gluten-free muffin that we can only admire. 
♥

Things to know about rhubarb!

Although rhubarb is technically a vegetable, it has been declared as fruit for many years because of its uses in desserts, pies, muffins and coffee cakes. Rhubarb has a short season that spans from April to June and is harvested in the early spring.

Rhubarb has an impressive amount of vitamin K a vitamin that supports bone health – one serving meets 45% of your daily vitamin K — is low in calories and carbohydrates.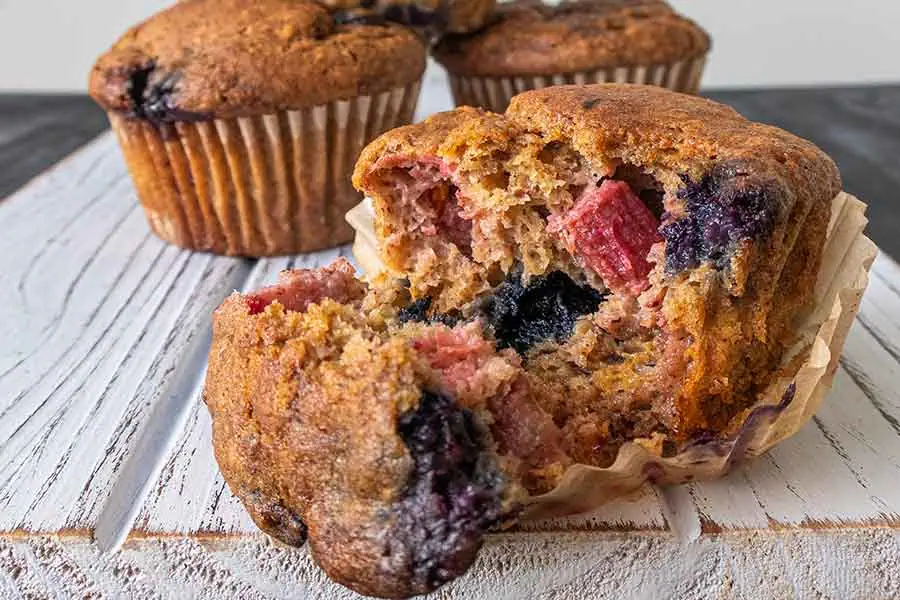 ♥

The making of gluten-free blueberry rhubarb muffin 🙂

This gluten-free recipe is another super easy muffin recipe. First, you soak the flaxseeds in milk for 15 minutes. Combine the dry ingredients, then mix the olive oil with eggs, vanilla, and coconut sugar → add to dry ingredients with the flaxseed and mix.

Toss the rhubarb and blueberries with some coconut sugar and cinnamon and stir into the batter. The batter is ready for the oven…simple.

One thing about these blueberry rhubarb muffins is, they take longer to bake using lower temperature than your typical butter and sugar muffins. So you have to be patient, imagine the aroma of fresh muffins lingering throughout your house while they are baking. It's worth the wait 🙂
♥

Substitutions:
There are few things you can change up in this gluten-free muffin recipe.
The milk can be changed to dairy-free milk as long as it is sugar-free. One of my favourites is the sugar-free vanilla coconut milk. This milk adds extra vanilla flavour making the muffins even tastier.
The flaxseed can be changed for chia seeds, using the same steps.
You can use certified gluten-free oat flour or quinoa flour if you don't have or like sweet sorghum flour. I love sweet sorghum flour; it has a gentle nutty flavour and is packed with fiber and protein.
Arrowroot flour, also called starch or powder, can be changed for tapioca or cornstarch. I don't use cornstarch because it is often GMO.
For the olive oil, you can use avocado oil or melted coconut oil. If you are using coconut oil, the eggs have to be at room temperature.
If you don't have blueberries, you can substitute them for quartered strawberries.
I used fresh fruit in this recipe, but if you are making these muffins when rhubarb is out of season, you can use frozen rhubarb and frozen blueberries. If you use frozen fruit, leave them at room temperature for 15 minutes before adding them to the batter.
If you are sensitive or allergic to almonds, you can substitute almond flour for 1/2 cup certified gluten-free oat flour and 1/2 cup gluten-free all-purpose flour blend.
In this recipe I used coconut sugar because it is low glycemic, but you can sub it for brown sugar, maple syrup or honey. If you use maple syrup add 1 extra tablespoon of sweet sorghum flour
All these substitutions will work, the texture will not be the same, however, the muffin will be just as delicious. If you want the ultimate gluten-free blueberry rhubarb muffin, use ingredients as per recipe.
One of our favourite gluten-free rhubarb recipes is Rhubarb Strawberry Squares
If you do make this recipe, don't forget to tag me on Instagram! I love looking through the photos of recipes you all have made:-) or join me on my Facebook page for the latest updates.  
Ingredients
3/4 cup milk
2 Tbsp. flaxseeds
1 cup almond flour
1 Tbsp. baking powder
1 tsp. xanthan gum
1/4 tsp. Sea salt
1/3 cup extra virgin olive oil
2 large eggs
1 tsp. pure vanilla extract
1 cup diced fresh rhubarb
1 cup fresh blueberries
1 tsp. GF ground cinnamon
*As an Amazon Associate and member of other affiliate programs, I earn from qualifying purchases. Please check out my sponsorship and disclosure policy page for more details
Instructions
Preheat oven to 350 F and line a muffin pan with parchment paper liners
Mix milk and flaxseeds and set aside for 15 minutes
Using a large bowl combine flours, baking powder, xanthan gum and sea salt
In a separate bowl using an electric mixer whisk together olive oil, 1/2 cup coconut sugar, eggs and vanilla until creamy. Add flaxseed mixture and mix to combine
Add wet mixture to dry ingredients and using a spatula mix to combine.
Toss rhubarb and blueberries with 1 tablespoon of coconut sugar and cinnamon and stir into the batter. The batter will be relatively thin
Transfer batter into muffin cups and bake for 40 - 45 minutes until the muffins are firm to touch and golden brown.
Similar Recipes
Best Gluten Free Banana Apple Muffins
For an exceptional treat, these Gluten-Free Banana Apple Muffins with their moist, light and tender texture brimming with apples and sweetened with bananas are not to be missed. Is there anything more tantalizing than sweet muffins spiced with cinnamon? Most sweet snacks are full of sugar and butter, but this dairy-free muffin is packed with […] Read More
Prep Time
15 Minutes
Difficulty
Easy
Cook Time
35 Minutes
Chai-Spiced Cranberry Zucchini Muffins – Gluten-Free
Most flavourful Chai-Spiced Cranberry Zucchini Muffins. I can't tell you how delicious these gluten-free muffins are. They are moist and light, flavoured with chai spices, and the cranberries add a little tart flavour, making them so good! If you are looking for a way to include healthy zucchini in your diet, adding this squash to […] Read More
Prep Time
15 Minutes
Difficulty
Easy
Cook Time
35 Minutes
Serves
12