Gluten-Free Sugar-Free Flax Muffin With Raisins
Published on Jan 13, 2020
by
Kristina Stosek
Prep Time:

15 minutes
Cook Time:

35 minutes
Serves:

12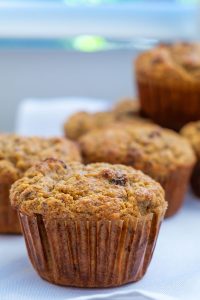 ​This post may contain affiliate links, please see our
privacy policy
for details
Healthy Gluten-Free Sugar-Free Flax Muffin With Raisins everyone will love. The sweetness in these tasty muffins comes from ripe bananas, freshly grated apples and raisins.
The flax adds a good punch of fiber, and the almond flour and eggs add protein. For added fats, I used a splash of extra virgin olive oil, keeping this a dairy-free muffin.
This gluten-free muffin recipe is perfect when you have over-ripe bananas or extra apples. A gluten-free, sugar-free flax muffin equals super healthy food packed with nutrients.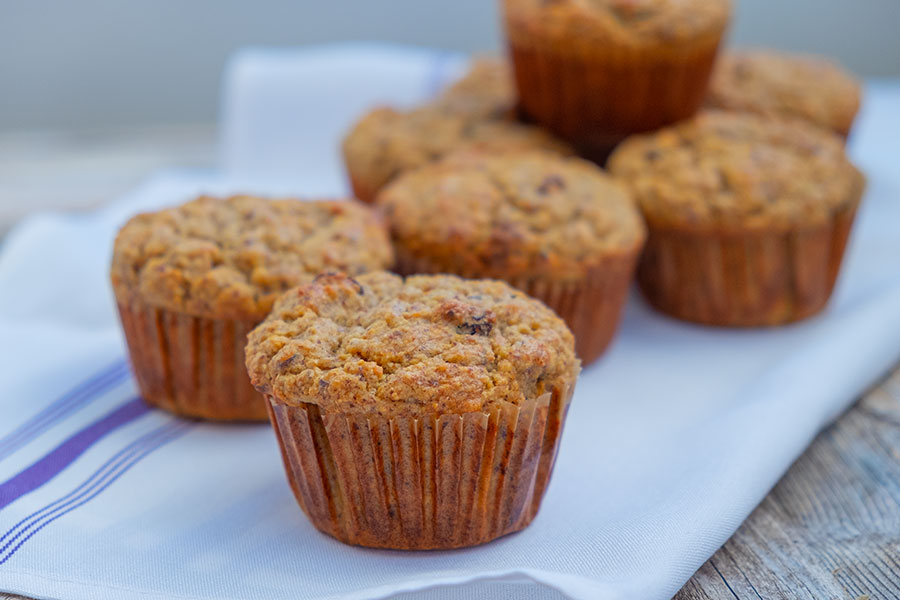 You ask, where do I get my recipe ideas?
I often receive emails from you asking where I get my recipe ideas. An excellent question! In January, I focus on super healthy recipes.
After the holidays of indulging in rich, delicious meals and desserts, starting the New Year with healthy food is essential.
When I focus on healthy eating, it is all about cutting back on sweeteners, saturated fats, carbs and calories. Sometimes I add a hearty, comforting meal to mix things up a bit, like the Instant Pot Spaghetti Bolognese.
However, overall, it is all about delicious and healthy eating. Other times, I look in my fridge, see what I have the most of, and go from there.
This sugar-free muffin came about because I had too many bananas that were ripening too fast, and my fridge was packed with organic apples.
Bananas and apples equals no sugar added!
Bananas and apples are a perfect combination in this gluten-free flax muffin recipe because you don't have to add a sweetener. Adding raisins to the mix made the muffin even sweeter and tastier.
But primarily, I focus on produce that is in season and start there. I also research the latest trends and health tips and try to incorporate those into my recipes.
However, my family inspires me the most because they come up with fresh ideas and foods they love. So I combine their ideas with my personal touch, which is how it happens.
I hope you enjoy my recipes, and please email me with recipe ideas or foods you would like to see on my blog. I am always happy to hear from you.
Gluten-Free Sugar-Free Flax Muffin With Raisins
Published on Jan 13, 2020
by
Kristina Stosek
Instructions
1.

Preheat oven to 350 F. Line a muffin pan with parchment paper liners (parchment paper liners are a must to stop the muffins from sticking to the paper)

2.

Whisk together dry ingredients (almond flour to salt)

3.

Mix bananas, apples, olive oil, lemon juice, lemon zest and vanilla until combined

4.

Using an electric mixer whisk the eggs for 1 minute

5.

Add wet mixture and eggs to dry ingredients and mix well. Stir in raisins

6.

Pour batter into prepared muffin pan and bake for 35 minutes, until golden and firm to touch

7.

Transfer muffins onto a cooling rack to cool