Basic Gluten-Free Muffin Recipe
Published on Feb 28, 2019
by
Kristina Stosek
Prep Time:

10 minutes
Cook Time:

22 minutes
Serves:

12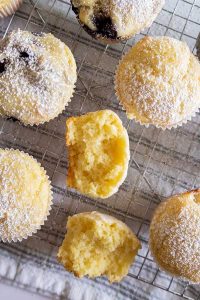 ​This post may contain affiliate links, please see our
privacy policy
for details
What is a Gluten Free Muffin recipe? It's a gluten-free muffin mix that you can use as a base to create just about any gluten free muffin recipe. The easy basic muffin batter is simple and can be used in savoury and sweet gluten-free muffin recipes.
After all, who doesn't love a freshly baked muffin, especially when it is made from scratch? This is an easy basic gluten free muffin recipe made with ingredients you probably have in your gluten-free pantry already.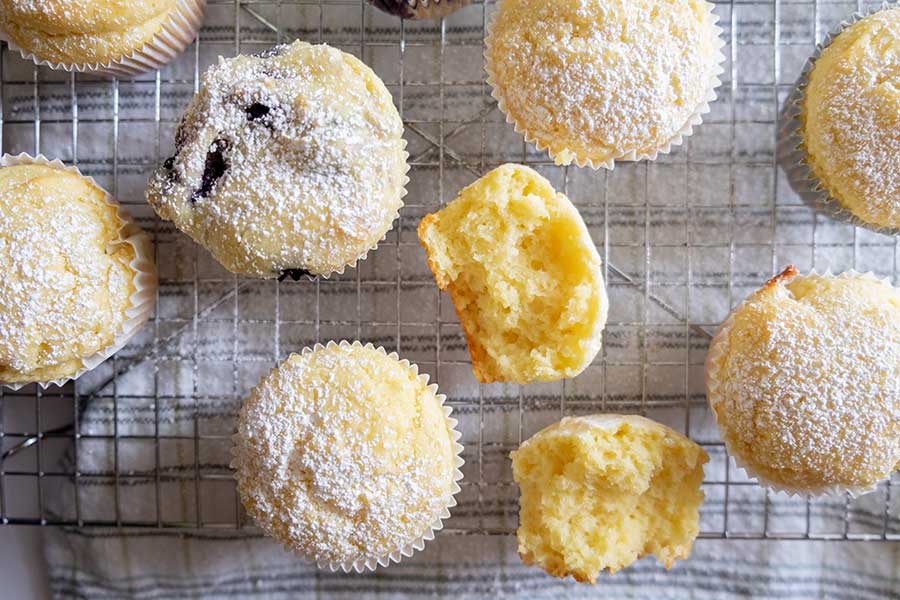 How to make basic gluten-free muffin batter!
First, you will need dry ingredients. I recommend that you use an all-purpose gluten-free flour blend, one that includes xanthan gum, baking powder and sugar.
When you measure the flour, do not dip the scoop into the flour. ALWAYS using a spoon lightly fill the measuring cup with the flour and level it off with a knife.
And, don't forget the baking powder has to be gluten-free…not all brands are. For sugar, I always use coconut sugar. I know sugar is sugar, but coconut sugar has a trace of minerals and has a lower glycemic index than white sugar.
If you do decide to use white sugar, try and use unrefined one.
For the liquids, the muffin should be deliciously buttery and soft, so I used butter. You will also need milk, eggs, vanilla and if you wish some fresh lemon juice. Pretty basic ingredients you will find in most kitchens.
In this gluten free muffin recipe, I used salted butter. By using salted butter, I don't have to add salt one less ingredient to worry about.
If you do use unsalted butter, add a 1/4 teaspoon of salt. In this basic gluten free muffin recipe, you can use regular milk or dairy-free milk. They will both work.
So in total, you have only eight ingredients, and I bet you have all these basic ingredients in your pantry already. There is nothing complicated about making these gluten-free muffins.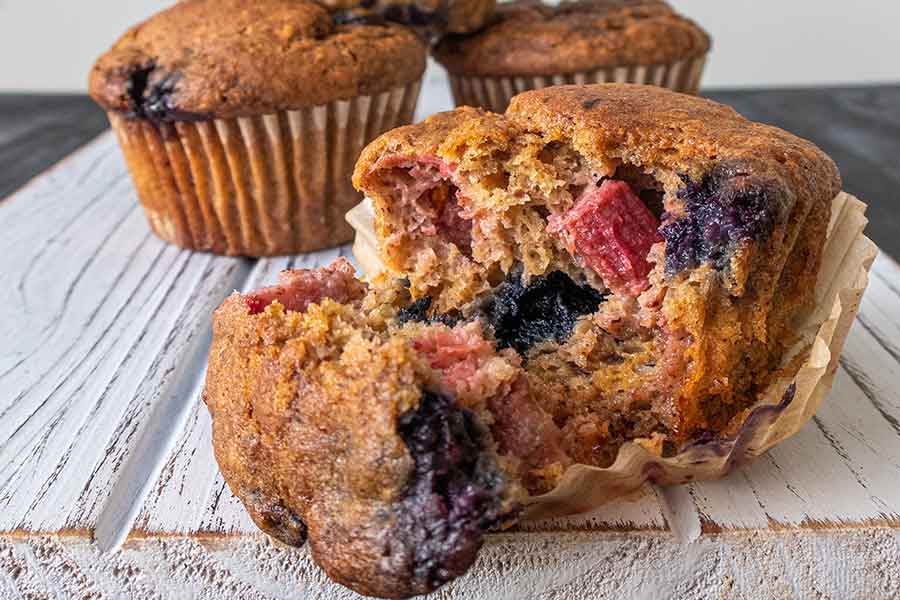 Why is this an easy gluten free basic muffin recipe?
First, you mix the dry ingredients. Then you whisk the wet ingredients and add them to the dry mix. Combine the two just enough so that they are barely mixed. Over mixing will create dense muffins.
Now you are ready to add your mix-ins. For the best results, never use more than 1 1/2 cups of mix-ins. If you add more than that, the muffin becomes heavy, and the outside of the muffin is finished baking leaving the middle uncooked.
Mix-ins you can add to gluten free muffin batter.
The mix-ins are the fun part. If you are making sweet muffins, the list is endless from berries to chocolate chips, nuts, grated carrots, apples, raisins, cocoa powder, lemon or orange zest and more.
If you are thinking of making savoury gluten free muffins add small cubes of your favourite cheese, chopped crispy bacon, chives, ham, chopped drained sundried tomatoes, caramelized onions or steamed veggies.
As you can see, once you have the basic gluten free muffins recipe, you can create any muffin you desire.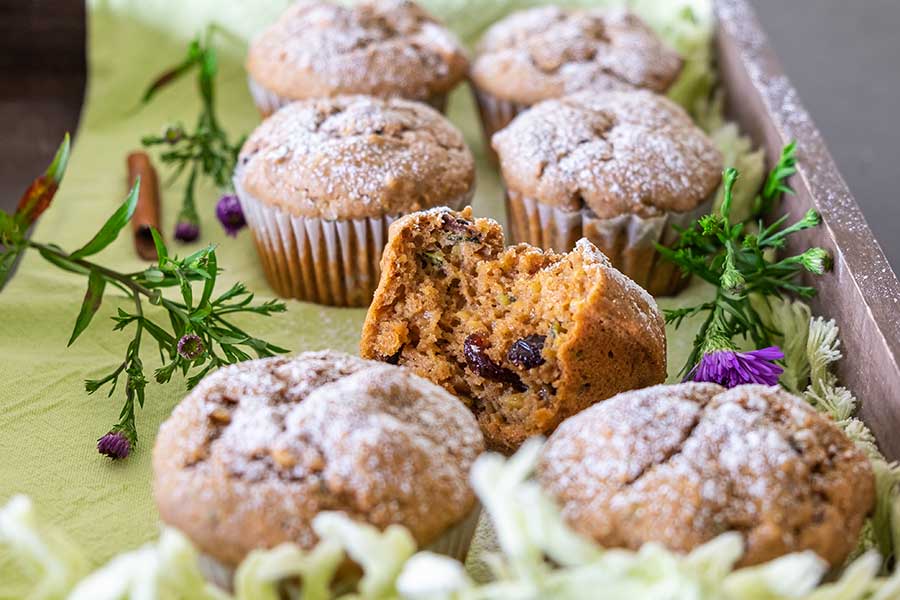 key points for baking gluten free muffins
The temperature should be set at 350 F. Yes, a bit lower than the traditional muffins that contain gluten. I prefer to line my muffin pan with paper liners, but you can also spray the pan with cooking oil.
If you are using paper liners ALWAYS and I am stressing this, use parchment paper liners. They are truly the best.
I found that using regular paper liners, the muffins tend to stick to the paper, but this is not the case with parchment paper liners.
Divide the muffin batter between the 12 muffin cups and bake for 22 – 25 minutes. The muffins should be golden and pass the toothpick test.
If you love muffins for breakfast, you will need a basic gluten free muffin recipe. This recipe is so easy, anyone can make it, and the batter makes a perfect base for sweet or savory mix-ins.
The best part is, creating muffins using mix-ins you have on hand or love. I will always use in-season fresh fruit when making gluten free muffins. The flavour of fresh fruit truly creates spectacular muffins.
If you love soft and buttery muffins, this basic gluten free muffins recipe will become your repertoire. All you have to do is add in your various mix-ins to make that perfect gluten free muffin every time. Enjoy!
Basic Gluten-Free Muffin Recipe
Published on Feb 28, 2019
by
Kristina Stosek
Instructions
1.

2.

In a large bowl combine flour, sugar and baking powder

3.

In a separate bowl whisk eggs with butter. Add milk, lemon juice and vanilla and whisk to combine

4.

Add egg mixture to dry ingredients and stir until just combined. Do not over mix. At this point add your choice of mixings and gently stir to evenly distribute them through the batter

5.

Pour batter into prepared muffin pan and bake for 22 - 25 minutes until the muffins are golden

6.

Cool in the muffin pan for 10 minutes, then transfer onto a rack to cool completely
Leave a Comment
I had struggled to find a good gluten free muffin recipe but this one is amazing. It will be my muffin base recipe from now on. Thank you for a great recipe!
Kristina
Shaina, if you want sweetness, you will need to add sugar. However, you can cut back the sugar to 1/2 cup for less sweetness. Also, if you only add cinnamon and nutmeg, the muffins will become more savory. Regarding proportions, I suggest adding 1 teaspoon of cinnamon, 1/4 teaspoon of nutmeg and 1 1/2 cups of grated zucchini. Enjoy!
These look amazing!!! Can I just add cinnamon, nutmeg, and zucchini to make zucchini muffins? Or would I need brown sugar? Any suggestions on proportions? Can't wait to try! :)
Kristina
We are sorry Margarita, we do not have that option at this time. However, here is a link to an easy converter, hope it helps. Thank you. Kristina xx https://www.thecalculatorsite.com/cooking/cups-grams.php
I look forward to making these muffins. Would appreciate if you could give the measurements in grams or ounces. Thank you
Very easy to make and delicious. I finally found the BEST GF muffin.
Kristina
yes Feeny you can. However, I would add 1 tsp. of olive oil
Can I use Earth Balance instead of butter and rice milk instead of dairy or nut milk?
Kristina
thank you Hayley, store them in airtight container at room temperature.
This are delicious and the best GF muffin recipe I have found! Best way to store them?
Kristina
you can try the egg substitute, https://onlyglutenfreerecipes.com/recipe-items/how-to-make-an-egg-substitute/
What can I use as a replacement for eggs?
Kristina
thank you Kristina M. for sharing!
This is a wonderful recipe! I used Bob's RedMill 1:1 since it was the only GF flour I had on hand and it worked great. I added some blueberries, walnuts, and cinnamon and the muffins came out amazing! This is the best GF muffin recipe I've found and I love how versatile it can be.
Kristina
I am so happy to hear that your grandson loved them. Kids are often finicky eaters.
I made these for my gluten-free grandson and he loved them. I thought they were delicious also. Will make these again.
Kristina
thank you Candice for sharing, I often use this recipe as a base when I create new muffin recipes.
I have used this basic gluten-free muffin batter for so many of my muffin recipes. It is so good, sometimes I add a few things like a spoon of flaxseed or chia and always the muffins turn out perfect. Thank you, I love all your recipes!!
this has become my basic muffin recipe. I have used it for savoury and sweet muffins, the batter is perfect. THANK YOU!!
Kristina
wonderful, I am so happy the basic muffin recipe worked for you. I often use it to create something new
This recipe was a perfect base! I added chia and oatmeal then added blueberries and cranberries to one batch and banana and pecans to the second batch. Delicious, fluffy and moist.
Kristina
Thank you for letting me know, I am so happy you enjoyed them!
I made these muffins today, I added fresh blueberries. They were perfect. Best GF muffin recipe I have come across.