Basic Gluten-Free Muffin Recipe
Prep Time
10 Minutes
Difficulty
Easy
Cook Time
22 Minutes
Serves
12
Average Rating: 5 | Rated By: 15 users
What is a Gluten Free Muffin recipe? It's a gluten-free muffin mix that you can use as a base to create just about any gluten free muffin recipe. The easy basic muffin batter is simple and can be used in savoury and sweet gluten-free muffin recipes.
After all, who doesn't love a freshly baked muffin, especially when it is made from scratch? This is an easy basic gluten free muffin recipe made with ingredients you probably have in your gluten-free pantry already.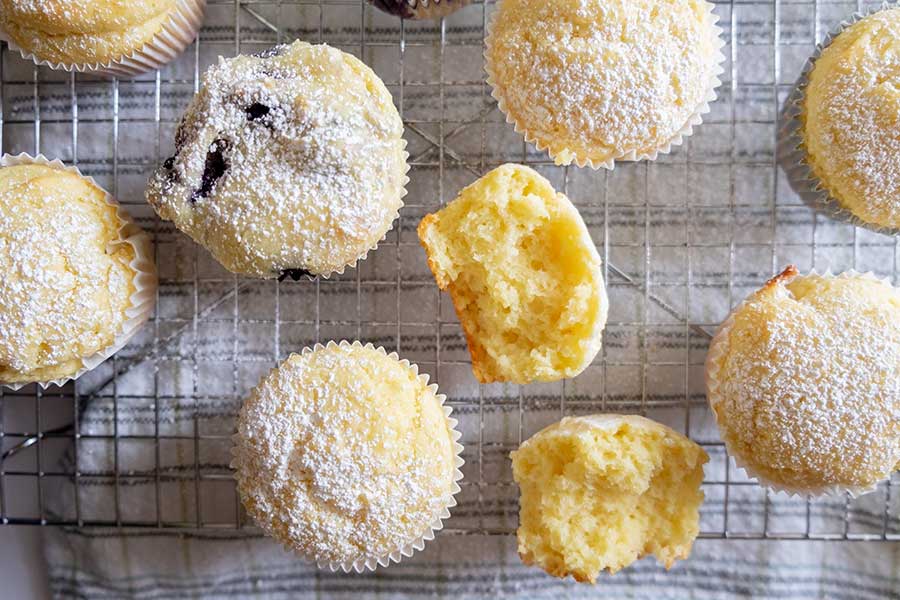 How to make basic gluten-free muffin batter!
First, you will need dry ingredients. I recommend that you use an all-purpose gluten-free flour blend, one that includes xanthan gum, baking powder and sugar.
When you measure the flour, do not dip the scoop into the flour. ALWAYS using a spoon lightly fill the measuring cup with the flour and level it off with a knife.
And, don't forget the baking powder has to be gluten-free…not all brands are. For sugar, I always use coconut sugar. I know sugar is sugar, but coconut sugar has a trace of minerals and has a lower glycemic index than white sugar.
If you do decide to use white sugar, try and use unrefined one.
For the liquids, the muffin should be deliciously buttery and soft, so I used butter. You will also need milk, eggs, vanilla and if you wish some fresh lemon juice. Pretty basic ingredients you will find in most kitchens.
In this gluten free muffin recipe, I used salted butter. By using salted butter, I don't have to add salt one less ingredient to worry about.
If you do use unsalted butter, add a 1/4 teaspoon of salt. In this basic gluten free muffin recipe, you can use regular milk or dairy-free milk. They will both work.
So in total, you have only eight ingredients, and I bet you have all these basic ingredients in your pantry already. There is nothing complicated about making these gluten-free muffins.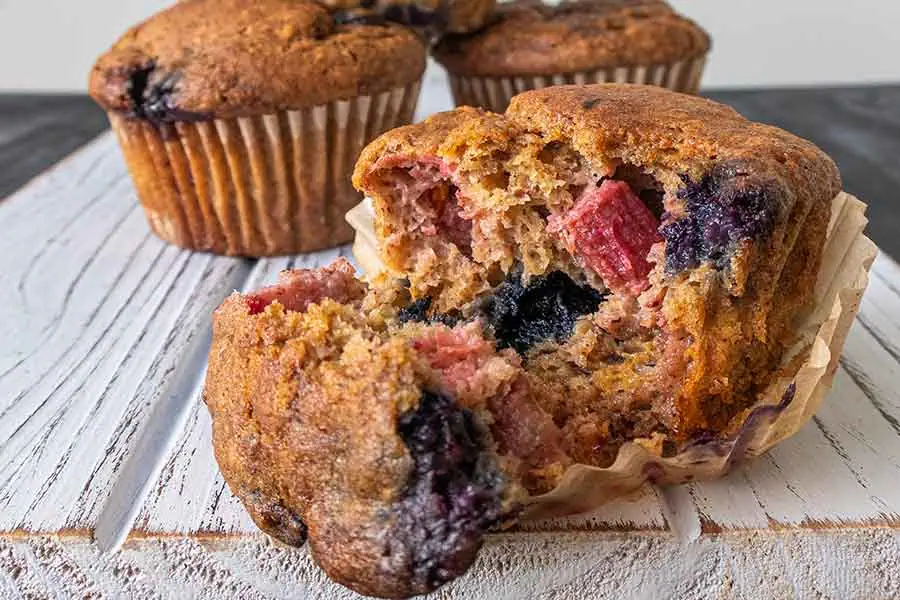 Why is this an easy gluten free muffin recipe?
First, you mix the dry ingredients. Then you whisk the wet ingredients and add them to the dry mix. Combine the two just enough so that they are barely mixed. Over mixing will create dense muffins.
Now you are ready to add your mix-ins. For the best results, never use more than 1 1/2 cups of mix-ins. If you add more than that, the muffin becomes heavy, and the outside of the muffin is finished baking leaving the middle uncooked.
What mix-ins can you use in gluten free muffin recipe?
The mix-ins are the fun part. If you are making sweet muffins, the list is endless from berries to chocolate chips, nuts, grated carrots, apples, raisins, cocoa powder, lemon or orange zest and more.
If you are thinking of making savoury gluten free muffins add small cubes of your favourite cheese, chopped crispy bacon, chives, ham, chopped drained sundried tomatoes, caramelized onions or steamed veggies.
As you can see, once you have the basic gluten free muffins recipe, you can create any muffin you desire.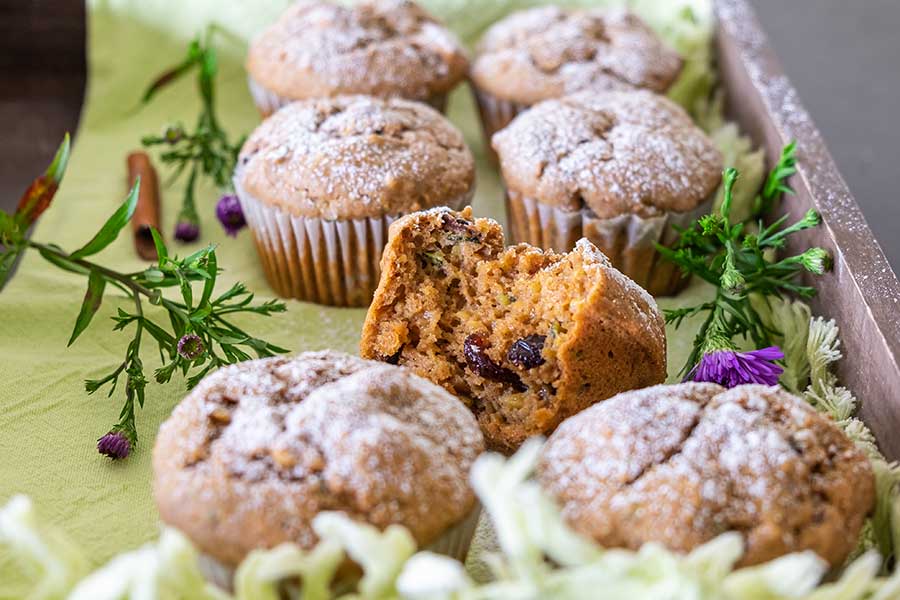 Baking the muffins.
The temperature should be set at 350 F. Yes, a bit lower than the traditional muffins that contain gluten. I prefer to line my muffin pan with paper liners, but you can also spray the pan with cooking oil.
If you are using paper liners ALWAYS and I am stressing this, use parchment paper liners. They are truly the best.
I found that using regular paper liners, the muffins tend to stick to the paper, but this is not the case with the parchment paper liners. Divide the muffin batter between the 12 muffin cups and bake for 22 – 25 minutes. The muffins should be golden and pass the toothpick test.
If you love muffins for breakfast, you will need a basic gluten free muffin recipe. This recipe is so easy anyone can make it, and the batter makes for a perfect base for any add-ins.
The best part is creating your muffins using mix-ins you have on hand or love. I will always use in-season fresh fruit when making gluten free muffins. The flavour of fresh fruit truly creates spectacular muffins.
If you love soft and buttery muffins, this basic gluten free muffins recipe will become your repertoire. All you have to do is add in your variations to make that perfect gluten free muffin every time. Enjoy!
Ingredients
2 cups all-purpose gluten-free flour blend. I found cup4cup or better batter work best in this recipe. Both contain xanthan gum. Add 1 teaspoon If your blend does not include it.
2/3 cup coconut sugar (you can use granulated sugar)
2 tsp. Baking powder
3 large eggs, at room temperature
1/2 cup salted butter, melted, at room temperature
3/4 cup milk, at room temperature
1 tsp. Lemon juice
1 tsp. Pure vanilla extract
1 - 1 1/2 cups of optional mix-ins; berries, nuts, seeds, cinnamon, chopped apples, grated carrots, raisins, chips, cocoa, just about anything you like.
*As an Amazon Associate and member of other affiliate programs, I earn from qualifying purchases. Please check out my sponsorship and disclosure policy page for more details
Instructions
In a large bowl combine flour, sugar and baking powder
In a separate bowl whisk eggs with butter. Add milk, lemon juice and vanilla and whisk to combine
Add egg mixture to dry ingredients and stir until just combined. Do not over mix. At this point add your choice of mixings and gently stir to evenly distribute them through the batter
Pour batter into prepared muffin pan and bake for 22 - 25 minutes until the muffins are golden
Cool in the muffin pan for 10 minutes, then transfer onto a rack to cool completely
Similar Recipes
Best Gluten Free Banana Apple Muffins
For an exceptional treat, these Gluten-Free Banana Apple Muffins with their moist, light and tender texture brimming with apples and sweetened with bananas are not to be missed. Is there anything more tantalizing than sweet muffins spiced with cinnamon? Most sweet snacks are full of sugar and butter, but this dairy-free muffin is packed with […] Read More
Prep Time
15 Minutes
Difficulty
Easy
Cook Time
35 Minutes
Gluten-Free Chocolate Chip Zucchini Muffins
These Gluten-Free Chocolate Chip Zucchini Muffins look and taste chocolaty, kind of indulging muffin. Don't you agree? And, they taste better than ones from a bakery. What makes this the best gluten-free chocolate chip zucchini muffin recipe? In this chocolate chip zucchini muffin, there is so much chocolate and chocolate flavour. I should have called […] Read More
Prep Time
10 Minutes
Difficulty
Easy
Cook Time
35 Minutes
Serves
12 muffins
Healthy Gluten-Free Morning Glory Muffins
Healthy gluten-free muffin packed with bananas, pumpkin seeds, apples, raisins, carrots and chia. This muffin recipe has no added sugar, fat or dairy, making this a healthy, allergy-friendly recipe. I added a splash of fresh lemon juice and pure vanilla extract for extra flavour. The mouthwatering muffin is moist with plenty of texture. I especially […] Read More
Prep Time
15 Minutes
Difficulty
Easy
Cook Time
35 Minutes