Gluten-Free Vegan Chow Mein
Published on Jul 05, 2018
by
Kristina Stosek
Prep Time:

15 minutes
Cook Time:

15 minutes
Serves:

4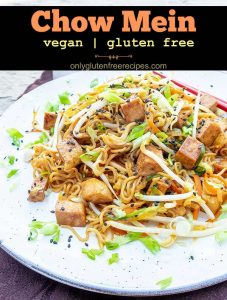 ​This post may contain affiliate links, please see our
privacy policy
for details
This Gluten-Free Vegan Chow Mein is all about – balancing the vegetables with noodles and the flavourful sauce is the success of this stunning dish. I replaced tofu for the chicken in this recipe to keep it vegetarian. However, it's a filling meal even without the chicken.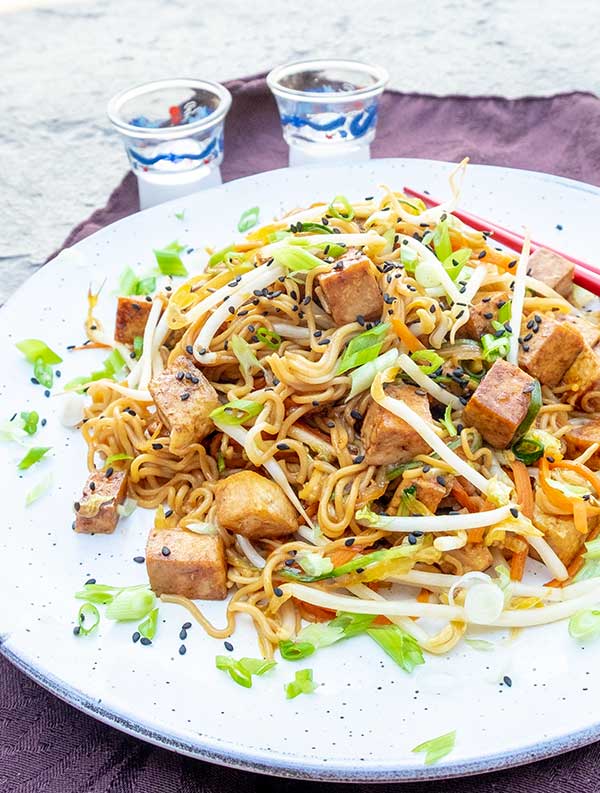 Chow Mein is an easy stir-fry dinner
Stir-frys are a quick way to cook healthy meals because the ingredients retain most of their flavour, texture and nutrients. The idea is to toss the ingredients continually, so they stir-fry rather than fry.
vegetable variations for noodle dishes
You can vary the vegetables to your liking, but Nappa cabbage, carrots, zucchini, bean sprouts and green onions bring out the ethnic chow mein flavour. This gluten-free noodle dish mixes the deliciously flavoured veggies with chow mein noodles and tofu.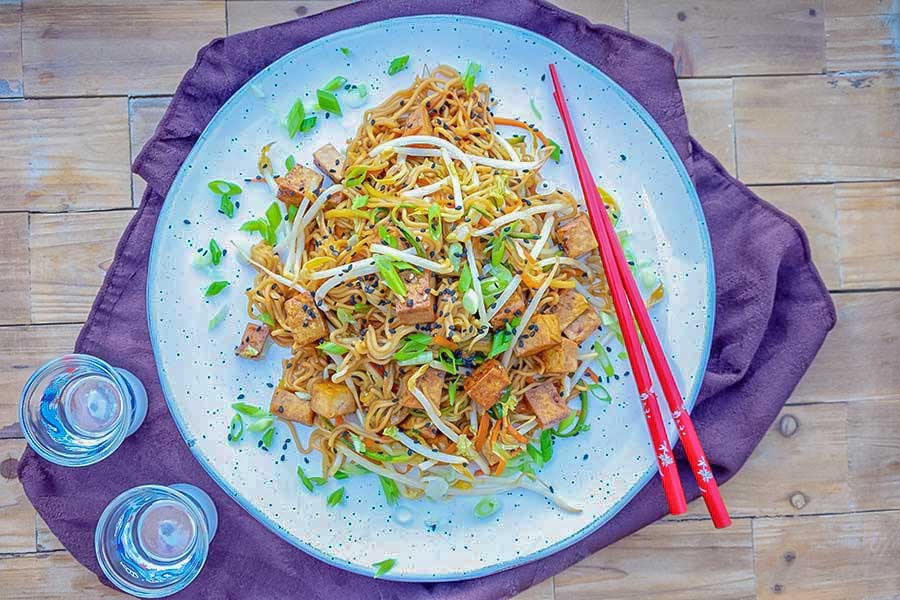 Easy way to make Chow Mein
This vegan chow mein recipe is for a tasty dish made with vegetables and noodles, briefly stir-fried in a tasty sauce. When it comes to any stir-fry, it is all about prepping the ingredients in advance.
prepare the veggies for chow mein ahead of time
Once you start cooking, everything goes very quickly. So, before you start, bring out all the ingredients you will need to make the stir-fry.
Clean and cut all the veggies and set them aside until you are ready to cook. For the noodles, you should also cook them before you start making the chow mein. Now that you are prepared, it goes very quickly, no need to panic because you have everything ready to go.
When I am making chow mein for dinner, I prep all my veggies well in advance, that way, I can have the entire meal on the table in under fifteen minutes. The plant based gluten-free noodle dish comes together quickly for a satisfying, Asian inspired delicious meal.
Do you like meals made with noodles? Check out these gluten-free noodle recipes that are made in a jiffy!
Let's Connect!
Be sure to FOLLOW US on FACEBOOK and PINTEREST.
Many thanks!
Kristina xx
Gluten-Free Vegan Chow Mein
Published on Jul 05, 2018
by
Kristina Stosek
Instructions
1.

In a small bowl whisk together tamari sauce, ginger, garlic, sesame oil, maple syrup, rice vinegar and tapioca starch. Set aside

2.

Cook noodles per package directions, drain and refresh under cold running water. Set aside

3.

Heat a wok over medium heat, add 1 tablespoon of olive oil. Add the tofu and stir-fry for 4 - 5 minutes until crispy. Reduce heat to low and add 1/3 of the sauce. Stir to coat the tofu, then transfer to a plate and set aside

4.

Add remaining olive oil to the wok and heat over medium heat. Add cabbage, carrots and zucchini and stir-fry for 5 minutes. Add noodles and remaining sauce and cook until heated through. Add tofu and bean sprouts and stir fry over low heat for 2 more minutes

5.

To serve, top with green onions and sesame seeds