30 Family Friendly Gluten-Free Weeknight Dinners
In this collection of gluten-free weeknight dinners, we invite you to explore a world of flavors, textures, and wholesome ingredients that will tantalize your taste buds and leave you feeling satisfied and nourished.
Gluten-free dining has come a long way, and the options available today are more diverse and exciting than ever before.
From mouthwatering Italian classics with gluten-free pasta to savory Asian stir-fries featuring rice or rice noodles, we've carefully chosen a range of dinner ideas showing how eliminating gluten doesn't mean sacrificing flavor or creativity.
Whether you're a seasoned gluten-free chef or just beginning your gluten-free journey, these dinners are here to inspire. So, join us as we explore gluten-free dinner recipes with vibrant, wholesome ingredients that will become staples in your kitchen.
Today we are sharing 30 Family Friendly Gluten-Free Weeknight Dinners, from quick family meals on a budget to one-skillet recipes.
30 Family Friendly Gluten-Free Weeknight Dinners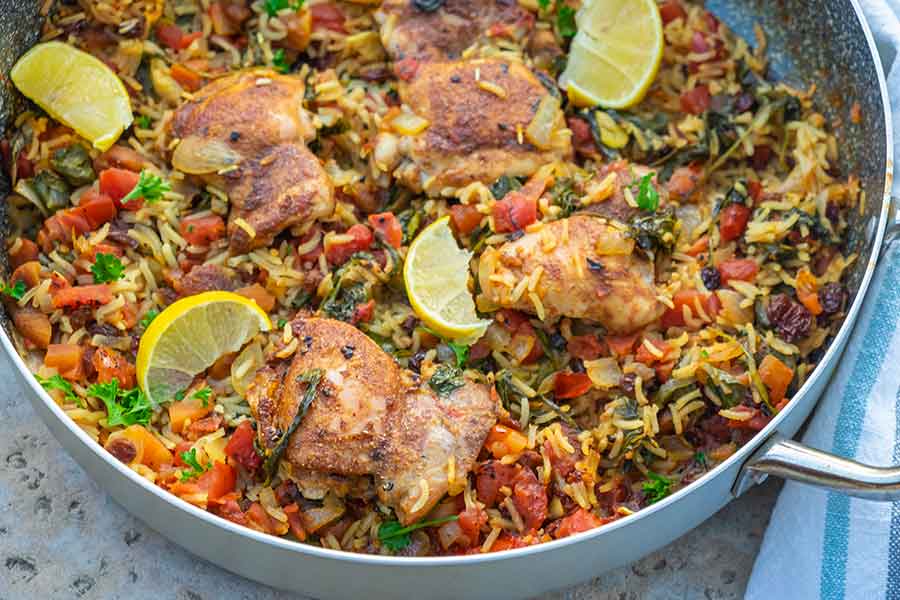 As an Amazon Associate and member of other affiliate programs, I earn from qualifying purchases. Please check out my sponsorship and disclosure policy page for more details
Easy Gluten-Free Weeknight Dinners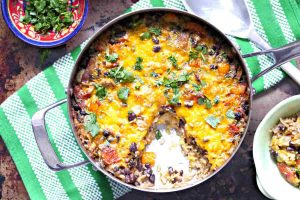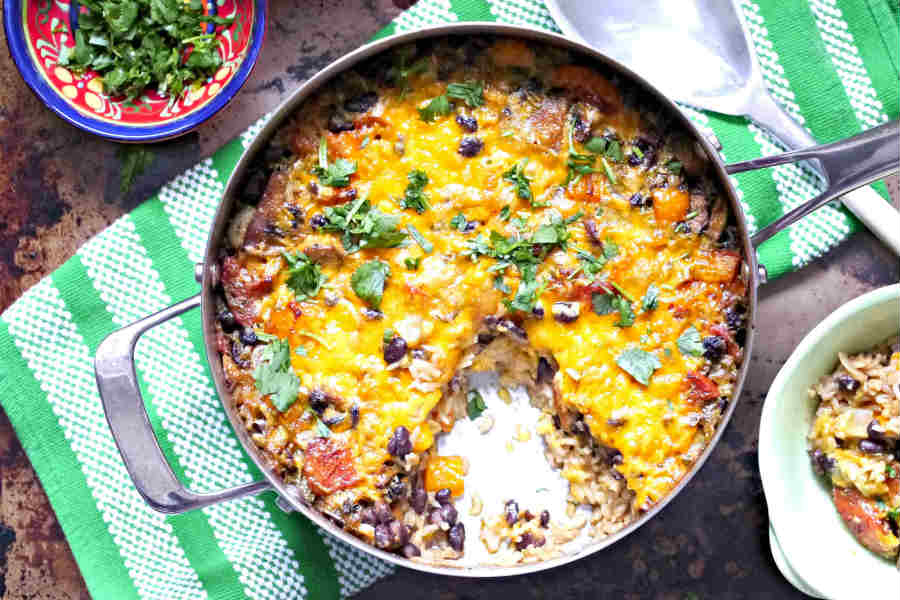 This gluten-free, vegetarian burrito has all the delicious ingredients of a burrito but without the tortilla. This Mexican dish is made with black beans, tomatoes, bell peppers, rice, cheese, and plenty of cilantro. A gluten-free weeknight dinner does not get any easier than this!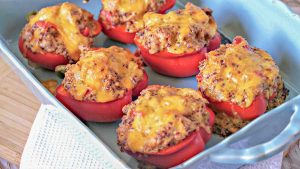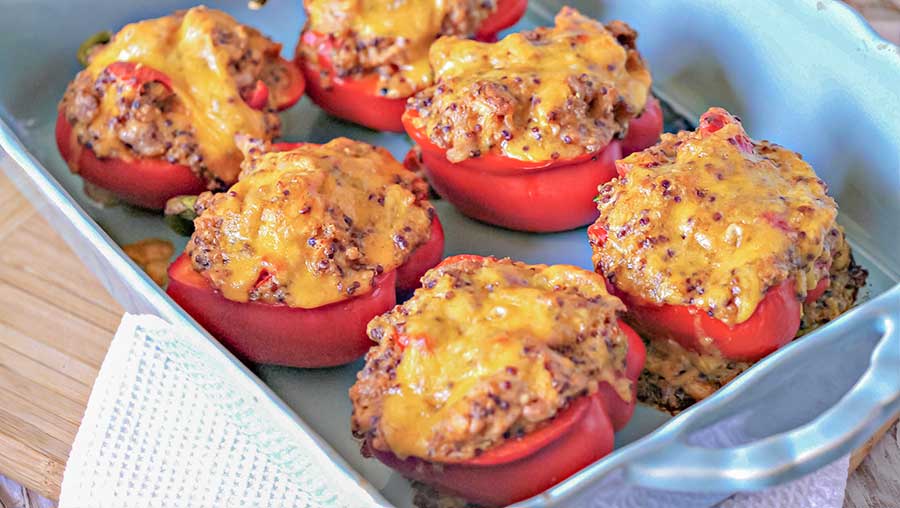 You may think that making stuffed peppers is complicated? We can promise you this gluten-free cheesy chicken stuffed pepper recipe is so simple to make even a novice cook can whip it up in minutes. The filling has a robust Mexican flavour making these stuffed peppers extraordinary. Another example of an easy gluten-free weeknight dinner recipe.
An easy version of gluten-free chicken cordon bleu. The tender chicken breast is layered with black forest ham, Swiss cheese and basil. Then, the casserole is baked in a creamy garlic sauce. The recipe is easy enough to appeal even for the novice cook
This one-pot wonder takes only 25 minutes to cook, making this an easy gluten-free weeknight meal that even the pickiest eater will love. What is so great about this recipe, is the easy cleanup…only one pot 😆 This is one of our most favourite easy gluten-free weeknight dinner recipes!
Plenty of garlic, fresh vegetables and spices give this sheet pan spaghetti and meatballs lovely rich flavour. This recipe is an easy gluten free weeknight dinner made on one baking sheet and in less than 30 minutes. The meatballs are light, made with grated zucchini and Parmesan cheese and are moderately spiced.
This is a gluten-free Vegan Ramen Salad is made with lots of interesting veggies, cashews and sesame seeds. The noodle salad is particularly sought after in the cooler months when big, gutsy flavours are required. This easy weeknight meal takes less than 30 minutes to make from start to finish.
This Louisiana Chicken Gumbo is a thick stew made with chicken, chorizo sausage, veggies and a large selection of spices. True comfort food, you know the one that makes you feel good. This thick, richly spiced stew has the most flavourful sauce showcasing Creole and New Orleans cuisine. Don't let the long list of ingredients scare you, they are mostly spices, and this is why this stew stands out from most!
A robust bolognese sauce or as they call it in Italy ragout, is oozing of authentic Italian herbs and spices, a little cream, white wine and Parmesan cheese. Traditionally the Bolognese sauce is slowly simmered for a couple of hours or longer for the flavours to develop and allowing for the sauce to thicken. By using Instant Pot, we cut the cooking time drastically making this an easy weeknight dinner recipe.
Slow Cooker, Rice Cooker, Steamer, Saute, Yogurt Maker, and Warmer, 6 Quart, Teal, 14 One-Touch Programs. Replaces up to 7 Appliances: combines 7 kitchen Appliances in 1 to save you space, including: pressure cooker, slow cooker, rice cooker, steamer, saute, yogurt maker, and warmer.
This pressure cooker is excellent for easy weeknight gluten-free dinners.
Healthy, hearty Instant Pot Beef And Vegetable Soup with Gluten-Free Mini Dumplings. When the cold weather rolls around, it is all about warm, satisfying meals. This soup is thick, and every bite is filled with veggies, tender meat and gluten-free mini dumplings. Using Instant pot makes weeknight meals stress free and easy. This is a straight forward beef and vegetable soup recipe with easy to make mini dumplings
Easy One Dish Chicken Bake with Marinara Sauce topped with melted mozzarella cheese. This gluten-free Italian recipe is made entirely from scratch using only one pan. Fresh veggies simmered in the most flavourful tomato sauce, then topped with chicken and creamy mozzarella cheese. The entire meal is ready under an hour using only one dish, making this chicken dinner an easy weeknight meal.
Chicken and Creamy Mushrooms Casserole made in one pan for a lazy night. This casserole is a feel good dish with chicken and mushrooms in a cream sauce, kale, rice, lemon zest and cheese. A simple, satisfying meal packed with flavour.
Easiest Gluten-Free One-Skillet Chicken Penne with Fennel dinner. Chicken, Fennel, Lemon, garlic, fresh tomatoes, penne pasta, gruyere cheese and plenty of fresh parsley. So delicious, yet so simple! The gluten-free penne pasta is paired with healthy fennel and cherry tomatoes baked in a creamiest lemon garlic sauce and finished with gruyere cheese and fresh parsley.
A delicious Moroccan Chicken Rice Dinner made in one skillet. Using a blend of seven spices, raisins and dried apricots is what gives this chicken rice dinner the authentic Moroccan flavour. The chicken dinner is made simply in one skillet. The best part, everything in this recipe is naturally gluten-free, making this dish a gluten-free chicken rice dish.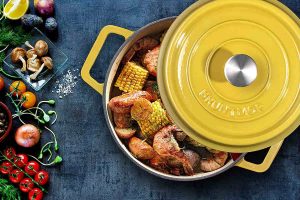 Enameled solid cast-iron offers superior and even heat retention while vibrant porcelain-enamel exterior offers contemporary styling. Self-basting condensation ridges on lid uniformly collect and direct vapors onto food, producing moist and savoury dishes.
This Zucchini Baked Ziti is for nights when you are craving Italian, but want something low-carb and healthy. Zucchini ziti baked in a basil tomato sauce, three different kinds of cheese and Italian chicken sausage. This is a flavourful low-carb Italian dish for any night of the week. Besides, who doesn't love a cheesy baked dish?
A fresh homemade pizza in minutes with this Gluten-Free Yeast-Free Thin Crust Pizza recipe. The thin crust pizza dough has no yeast, so there is no waiting for the pizza dough to rise. The pizza crust is crispy and soft on the inside, just like a delicious pizza from an Italian bakery. The crust is thin and firm enough to hold plenty of toppings…you will love it!
BAKE ANYWAY YOU LIKE: Can be used on the grill or in the oven. No need to sacrifice your favorite style of pizza. Measures 12.75 inches in diameter on the outer rim and 11.25 inches in diameter on the inside. 1 inch tall. Dishwasher safe for quick and easy clean up
An incredibly flavourful Gluten-Free Tomato and Feta Pasta dish. Using fresh tomatoes, olive oil, garlic, herbs, feta cheese and fresh parsley is what makes this Italian dish exceptional. The best part -> all you need is five fresh ingredients plus herbs and salt. The simplicity of this dish is what makes it so delicious, especially the saltiness of feta cheese. And… all you need is 20 minutes from start to the table.
This gluten-free one pot lasagna is a quick and easy recipe. Using fresh veggies such as tomatoes, spinach and zucchini and plenty of fresh basil is what makes this one pot dinner outstanding. Yes, this is an easy, cheesy, beef lasagna recipe made in one hour using only one pot. What I love about this recipe, there is minimal cleanup, and it takes minutes to put together.
This One Skillet Gluten-Free Alfredo Basil Pasta Dinner takes 30 minutes to make from start to finish. The pasta is smothered with creamy, cheesy, basil pesto sauce, then baked with mozzarella cheese. The best part, all you need is seven ingredients plus salt and pepper to make the most delicious, satisfying gluten-free Italian pasta meal
The Chicken Fajita Stew is a refreshing twist on tex-mex food. In this quick and healthy gluten-free meal, the chicken is marinated in fresh lime juice, Mexican spices and then seared until the chicken is crusted with the most delicious coating. Then come the fresh vegetables like bell peppers, red onions and tomatoes. They are pan-fried with the chicken until crisp tender. To finish this tasty dinner, I added corn, chicken broth and plenty of fresh cilantro. Somewhere in between, baby potatoes
The easiest, mildly spicy weeknight style dinner One Skillet Cheesy Brazilian Chicken Rice Bake. To make this chicken dinner, use rice, classic Brazillian spices, poblano peppers, tomatoes, limes and plenty of fresh cilantro. The aromatic naturally gluten-free chicken rice bake is easy, cheesy and takes just over thirty minutes to make. In Brazil, this dish is called Galinhada. It is a typical Brazilian dish prepared with rice, chicken, vegetables and turmeric or saffron.
Simple 30 Minute Gluten-Free Beef Ramen Noodles. This gluten-free Asian inspired noodle dish is just the thing for when you crave take out food but are short on time. The beefy noodles are seasoned with mildly spicy ginger sauce and mixed with julienned carrots, peppers and corn. This noodle dish is quick and simple to make, with incredibly tasty flavours throughout.
This Spicy Soba Noodles recipe is the simplest of simple. This noodles dish is made with soba noodles, chicken, miso, garlic, nut butter, veggies, herbs and spices and sesame seeds. This lovely and mildly spicy noodle dish takes just minutes to prepare.
Outrageously Easy Quinoa Pizza Crust recipe that takes only 5 minutes of prep time, yes 5 minutes. The gluten-free pizza crust has just the right amount of crispness and will hold several toppings without being soggy. I often use this vegan quinoa pizza crust as a bread substitute with fresh toppings such as avocado, pesto, fresh tomatoes and chives.
100% food grade silicone; Stain-proof, BPA free and stick-resistant,baking mat will never tarnish or discolor; Meticulously designed to serve you for years and years or even more; a must-have accessory for any kitchen.
Garlicky, gingery and a little sweet and spicy pan seared chicken baked with creamy coconut rice. For added flavours and textures, some green beans and fresh corn off the Cobb. This Honey Garlic Chicken with Coconut Rice is perfect for busy weeknights when you are looking for something quick, flavourful and a little more special than a simple chicken dinner. This chicken dish has a mix of Thai flavours, the rice has a lovely coconut flavour, and all the ingredients are naturally gluten-free.
A crisp chill in the air is your cue to cook some hearty delicious chowders. Fresh corn, potato & leek chowder is one of our guilty pleasures. What could possibly be better then, charred sweet corn with potatoes and leeks in a thick creamy soup topped with freshly cooked crispy bacon crumbles? This exceptionally simple yet knock out chowder is oozing with rustic flavour.
If you get Mexican food cravings, look to our Rotisserie Chicken Enchilada Casserole. Rotisserie chicken, homemade enchilada sauce, tortillas, sour cream and green onions spiced with chilli powder, cumin, oregano and garlic. For an easy assembly, everything is layered in a casserole dish with cheese and baked until all the flavours are melted together, and full of so much flavour.
A flavourful creamy Thai Cashew Chicken Ramen is a hot, hearty meal cooked under 30 minutes. This recipe is based on Japanese noodle dish called ramen with added Thai flavours. The entire meal is made in one pot using healthy ingredients. Loaded with fresh veggies briefly cooked in a creamy lightly spiced broth with chicken and gluten-free ramen noodles.
The entire recipe takes only 20 minutes to cook. But more importantly the chicken is juicier because it is cooked under pressure. The curry sauce is more flavourfull because none of the juices escape. And, did you know that food cooked in an Instant pot retains more nutrients? The curry is mildly spiced and has a fragrant and delicate flavour.
This Sheet Pan Spanish Chicken Dinner takes only minutes to whip up! Sheet pan dinners are simple with minimal clean up, boasting with an array of flavours. In this dish, the chicken and potatoes soak up the flavours from chorizo sausage, red onions, garlic, peppers, oregano and fresh lemon juice. This is an absolute must have gluten-free weeknight dinner recipes.
What should you know about gluten free cooking?
Before diving into cooking, there are several key things you should know about cooking without gluten.
Understand What Gluten Is:
Gluten is a protein found in wheat, barley, rye, and their derivatives. It's what gives dough its elasticity and bread its structure. Gluten can also hide in various food additives, so it's important to learn to recognize these on ingredient labels.
Cross-Contamination:
Cross-contamination can occur when gluten-free foods come into contact with gluten-containing surfaces, utensils, or ingredients. To prevent this, thoroughly clean cooking utensils, cutting boards, and countertops before use. Consider designating gluten-free cooking equipment.
Gluten-Free Ingredients:
Familiarize yourself with gluten-free grains and flours, such as rice, corn, quinoa, almond flour, coconut flour, and tapioca starch. You'll need these alternatives to replace wheat-based ingredients in recipes.
Gluten-Free Labeling:
Look for gluten-free labels on packaged products. Many countries have specific regulations regarding what can be labeled as gluten-free. These labels can help you identify safe options.
Read Labels Carefully:
Always read ingredient labels on packaged foods. Gluten can hide in unexpected places, like sauces, seasonings, and processed foods. Familiarize yourself with ingredients that may contain gluten, such as modified food starch, malt, and hydrolyzed vegetable protein.
Check Spices and Seasonings:
Some spice blends and seasonings may contain gluten as a filler or thickener. Purchase gluten-free versions or make your spice blends from single ingredients to be safe.
Gluten-Free Cooking Techniques:
Gluten-free flours and grains can behave differently than wheat-based ingredients. You may need to adjust cooking times and temperatures. For example, gluten-free baked goods might require extra moisture or binders.
Certified Gluten-Free Products:
If you have celiac disease or extreme gluten sensitivity, consider using products certified as gluten-free by reputable organizations. These products undergo testing to ensure they meet strict gluten-free standards.
Be Patient:
Transitioning to a gluten-free diet can be challenging at first. Be patient with yourself as you learn and adapt to new cooking techniques and ingredients.
By following these key steps, you'll be better prepared to start your gluten-free cooking journey, whether for health reasons or to explore new culinary horizons. With the right knowledge and tools, gluten-free cooking can be simple, delicious, and satisfying.
Need more dinner ideas for the family? Check out our gluten-free casual meal recipes.
Let's Connect!
Be sure to FOLLOW US on FACEBOOK and PINTEREST. And don't forget to sign up for our newsletter, the form is at the bottom of this page. We always have something new and exciting for you!
Many thanks!
Kristina xx