Cheesy Chicken Stuffed Peppers (Gluten-Free)
Published on Feb 19, 2016
by
Kristina Stosek
Prep Time:

15 minutes
Cook Time:

40 minutes
Serves:

6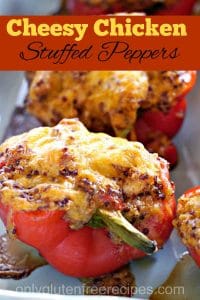 ​This post may contain affiliate links, please see our
privacy policy
for details
When it comes to gluten-free stuffed peppers, this Cheesy Chicken Stuffed Peppers recipe is my favourite! The sweet red bell peppers are filled with chunks of tender chicken, quinoa, cheddar cheese, and fresh tomatoes.
For the flavour, delicious spices such as cumin, chilli powder, garlic and oregano. Because I love spicy food, I also added cayenne pepper. However, you can skip the cayenne pepper if you are not a fan of spicy food.
You may think that making stuffed peppers is complicated? I can promise you this gluten-free cheesy chicken stuffed pepper recipe is so simple to make even a novice cook can whip it up in minutes. The filling has a robust Mexican flavour making these stuffed peppers extraordinary.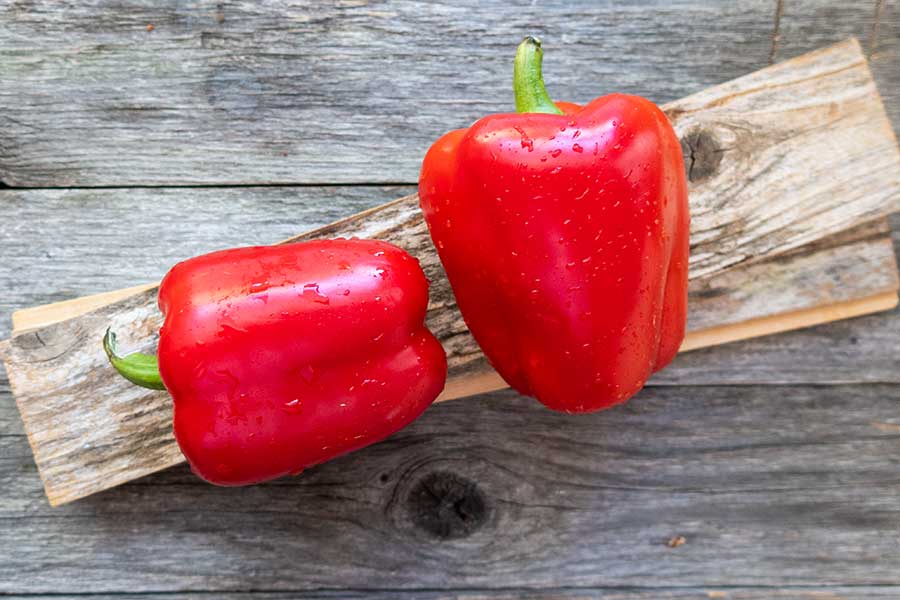 Why is this a healthier version of stuffed peppers?
Most stuffed peppers have rice in the filling. I wanted to keep this gluten-free recipe on the healthier side, so I replaced the rice with nutrient-rich quinoa. I know that some of you may not like quinoa, but trust me on this! If quinoa is prepared correctly and seasoned, you will love it.
In these stuffed peppers, the quinoa is mixed with plenty of cheddar cheese and chunks of tender chicken. To keep the filling moist, I added pieces of fresh tomatoes and sour cream.
Stuffed peppers are considered comfort food, and this healthier version of peppers filled with deliciousness makes for a perfect midweek meal that will warm your soul.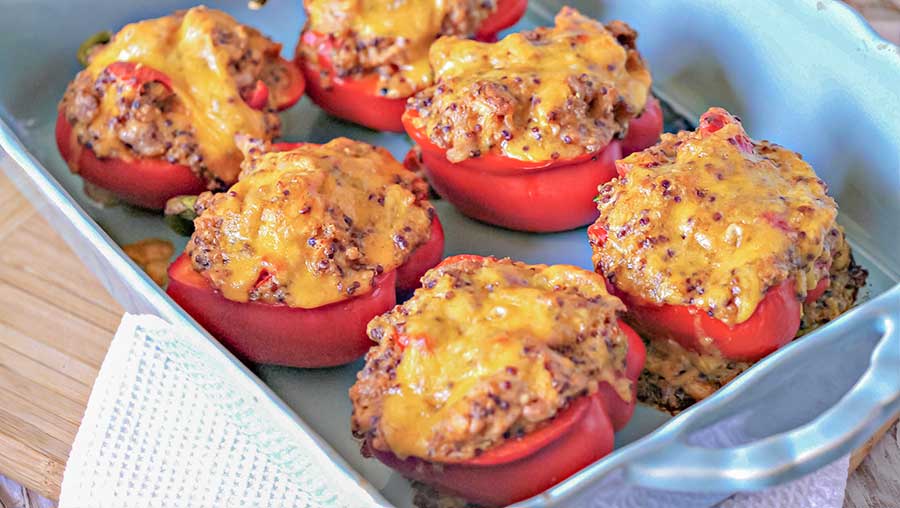 Cheesy Chicken Stuffed Peppers (Gluten-Free)
Published on Feb 19, 2016
by
Kristina Stosek
Instructions
1.

2.

Line a 9 x 13-inch baking pan with peppers, cut side up

3.

In a large non-stick frying pan, heat the oil over medium-high heat. Add the chicken and season well with salt and pepper. Stir-fry for 3 – 5 minutes or until the chicken is no longer pink on the inside

4.

In a large bowl combine 1 ½ cups cheese, quinoa, sour cream, tomato, chili powder, cumin, garlic, oregano, cayenne and cooked chicken. Mix well

5.

Firmly fill each pepper with chicken mixture and top with remaining cheese

6.

Bake for 30 – 35 minutes or until the cheese is bubbling. Serve hot