Cheesy Cabbage Chorizo Casserole
Published on Oct 23, 2021
by
Kristina Stosek
Prep Time:

10 minutes
Cook Time:

60 minutes
Serves:

6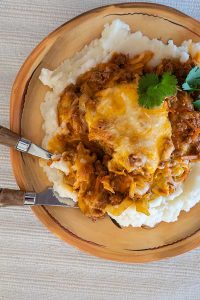 ​This post may contain affiliate links, please see our
privacy policy
for details
Switching up the average weeknight ground beef dinner with this Cheesy Cabbage Chorizo Casserole. The low-carb casserole comes together simply and is insanely delicious.
The flavourful chorizo meat, creamy tomato sauce, thinly sliced cabbage and julienned carrots, cooked to perfection topped with a generous portion of goey cheese—all this goodness in only one skillet.
the chorizo is the heart and soul of this casserole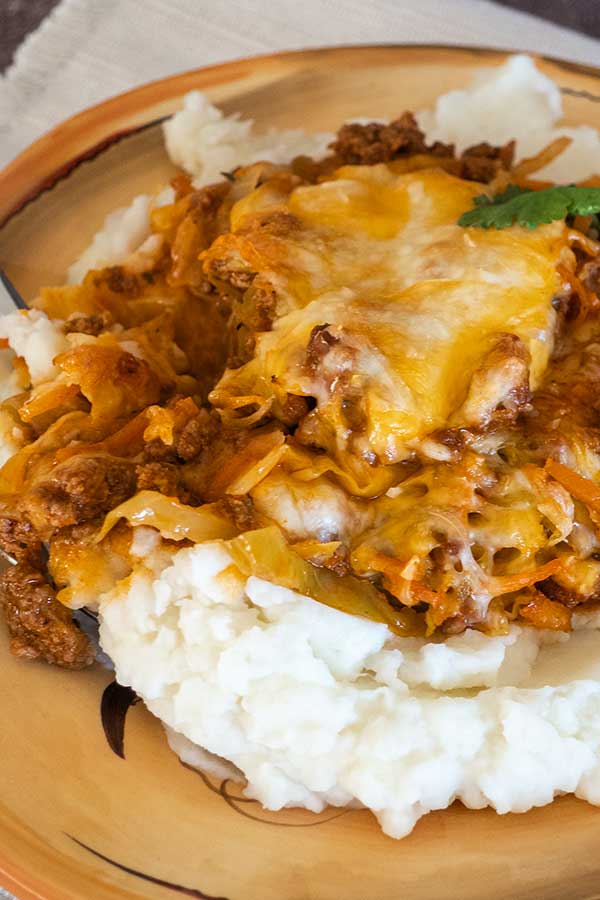 Cheesy Cabbage Chorizo Casserole — Recipe Overview
The deep rich flavour in this cabbage casserole comes from the chorizo. Chorizo is an intensely season ground pork used in Mexican and Spanish cuisine. The Spanish version is usually smoked, while the Mexican chorizo is made with raw, well seasoned ground pork.
If your butcher doesn't carry gluten-free chorizo, a simple recipe for gluten-free homemade chorizo is included below.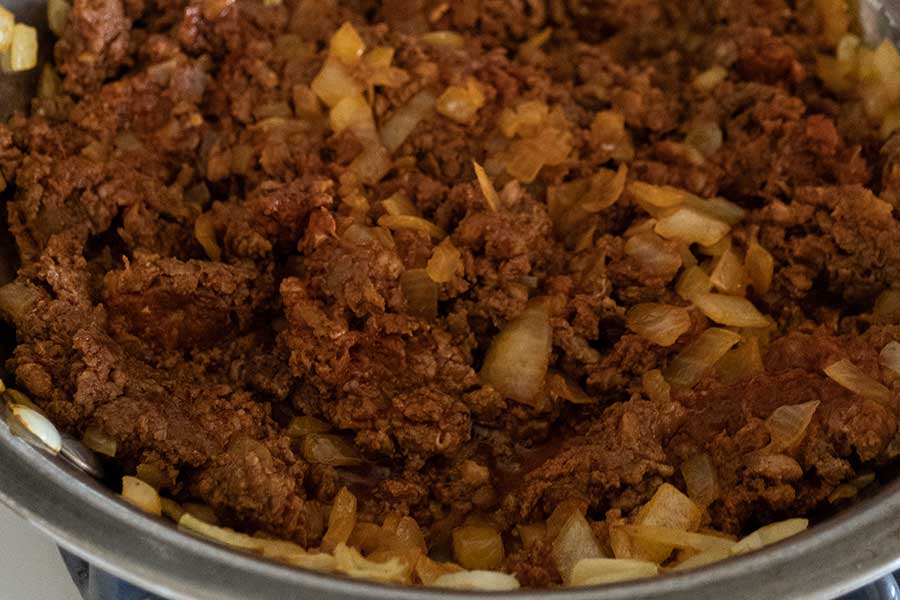 Cheesy Cabbage Chorizo Casserole A One Skillet Dish
Use a large oven-proof skillet, preferably one that has a lid. Or a cast-iron skillet for this one-pan recipe. First, saute the onions until they caramelize, add the chorizo and cook until no longer pink.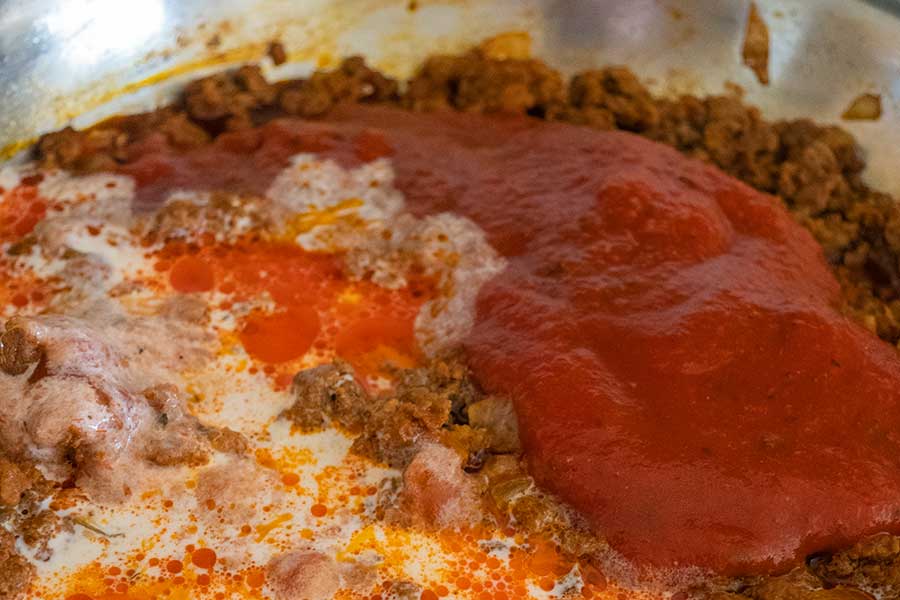 Add the tomato sauce and cream. By mixing the tomato sauce with the cream, the sauce will become creamy without a strong tomato flavour. The sauce is sooo good!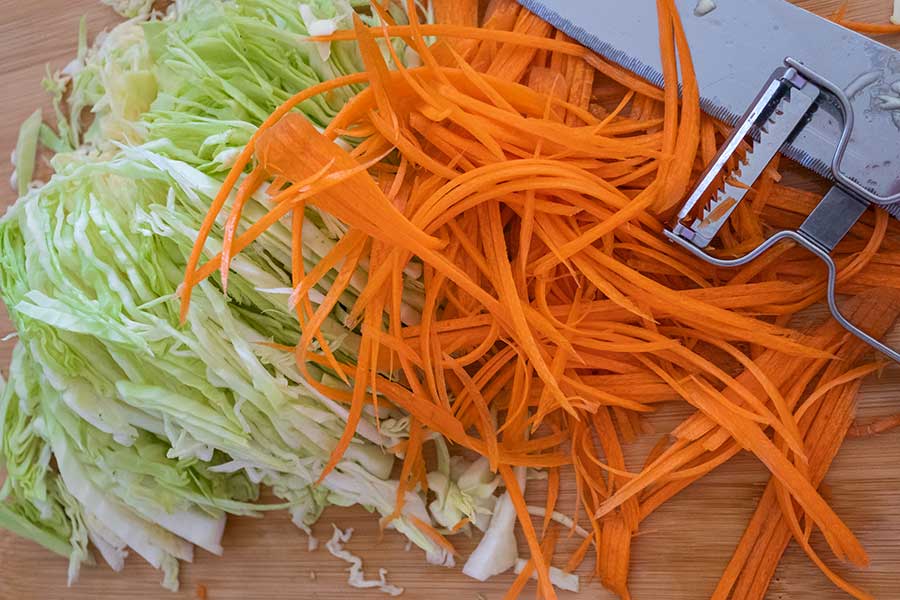 Thinly sliced cabbage and carrots add freshness to this casserole
Top the chorizo mixture with the thinly sliced cabbage and julienned carrots. I use my hands to briefly mix the two to distribute the carrots with the cabbage evenly. Then lightly season the cabbage and carrots with salt and pepper, cover and bake.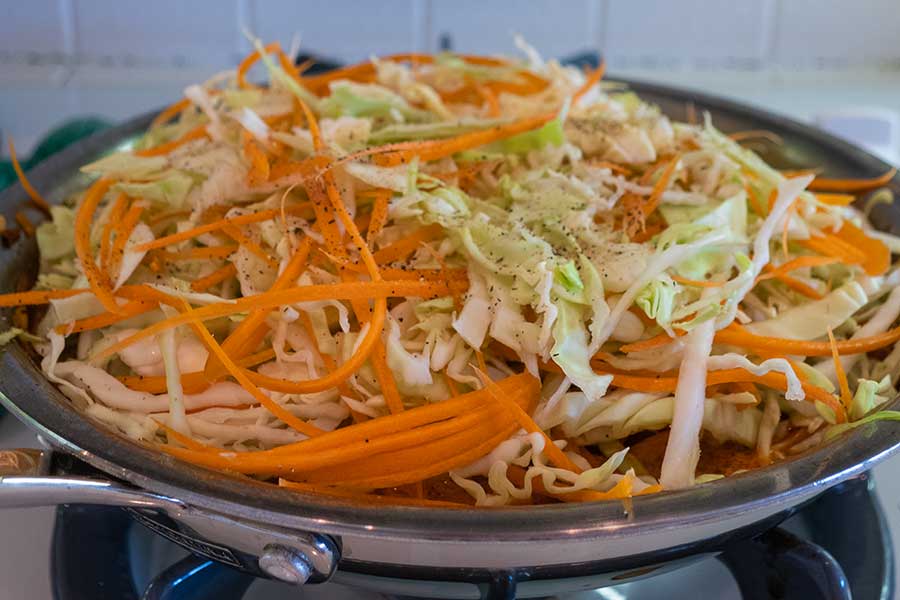 You don't want to add too much salt and pepper because the chorizo sauce is already richly flavoured, and the cabbage with carrots is later mixed with the sauce.
the cheese seals the deal
By this time, this cabbage chorizo casserole will make your kitchen smell so good. It will be hard to wait for dinner. Remove the lid, mix the softened cabbage and carrots with the chorizo mixture and top with your favourite good melting cheese.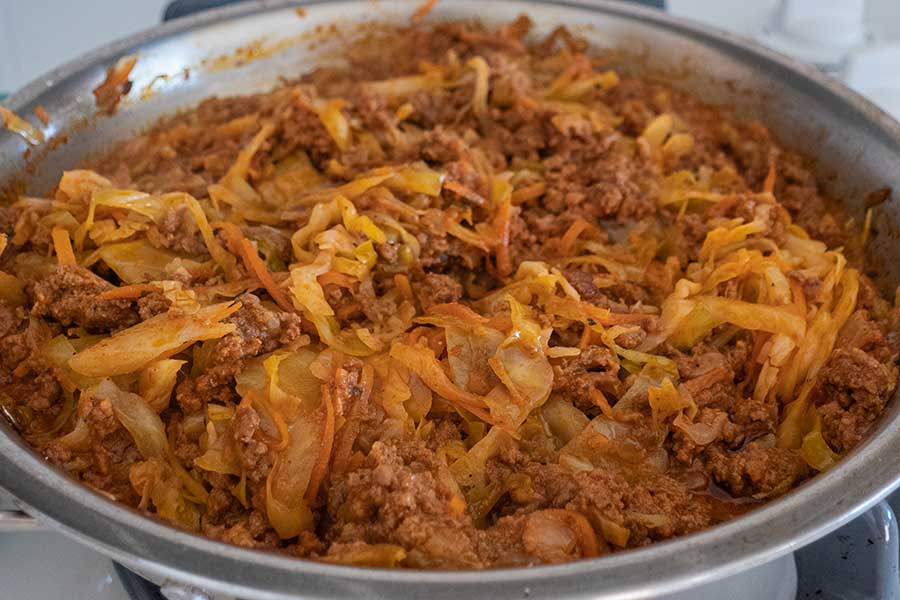 Continue baking until the cheese has melted and starts to bubble. This takes only about 10 minutes. OMG, this Mexican-inspired dish is amazing!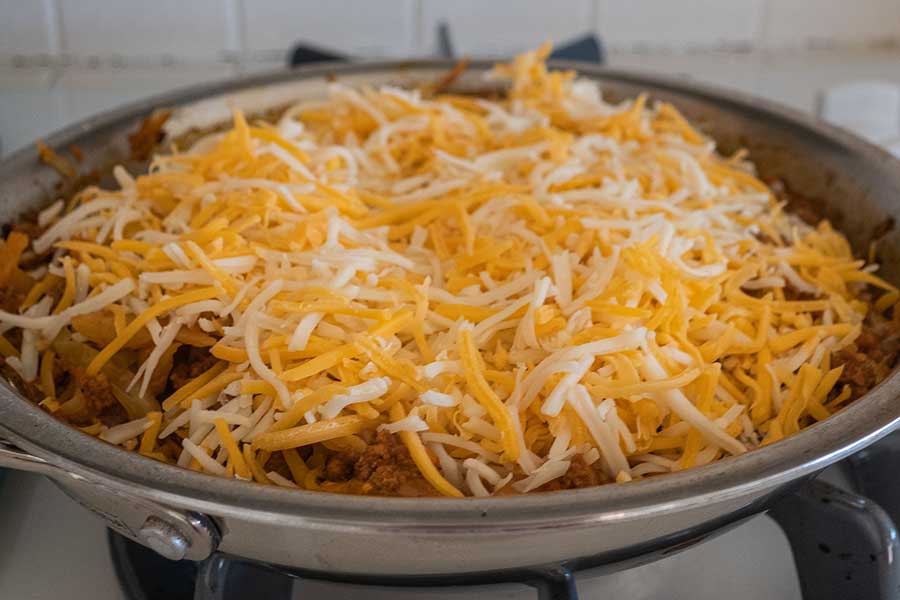 Easy gluten-free chorizo recipe
1 lb. ground pork (you can also use ground beef, turkey or chicken)
1 Tbsp. GF paprika
1 Tbsp. GF chilli powder
1/2 tsp. GF garlic powder
2 tsp. GF dried oregano
2 tsp. GF ground cumin
1 tsp. GF dried coriander
1/4 tsp. GF ground cloves
GF cayenne pepper to taste (optional)
1 tsp. Sea salt
1 Tbsp. Lime juice or apple cider vinegar
In a large bowl, mix pork with spices and lime juice/apple cider vinegar until well combined. The chorizo meat is now ready to be used in the recipe.
I used certified gluten-free chorizo meat which I purchased from Whole Foods, because I wanted to keep this recipe super simple. But when. I have more time, I always make fresh chorizo sausage meat.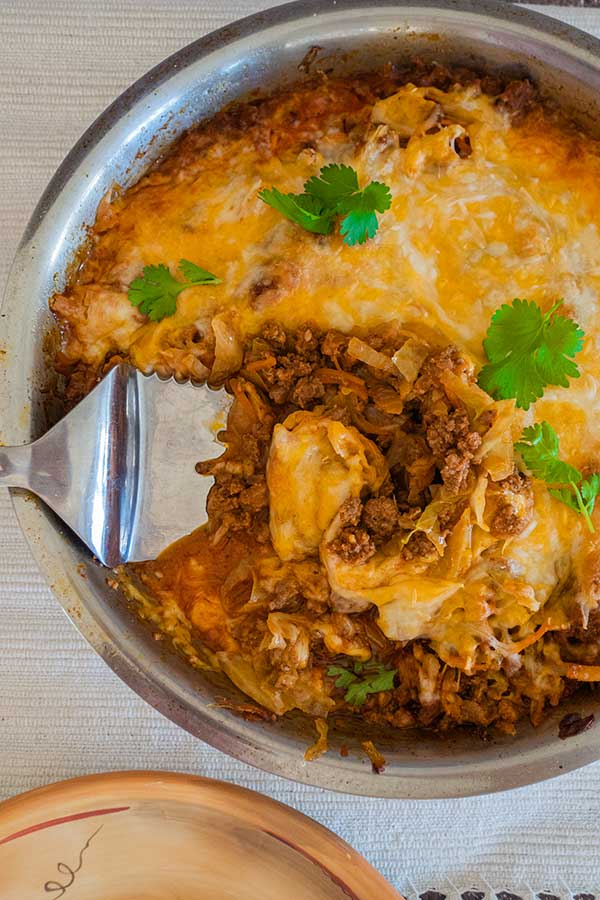 serving suggestion for cheesy cabbage chorizo casserole
This casserole dinner recipe is gluten-free and low carb. You can add a light salad or serve it over garlic fauxtatoes. Or, serve this chorizo dish with scrambled eggs for brunch. YUM!
Are you feeling hungry? Or have big appetites to feed? Serve this cheesy cabbage chorizo dish over rice, mashed potatoes or even pasta. Or, save this Mexican-inspired recipe for Cinco de Mayo!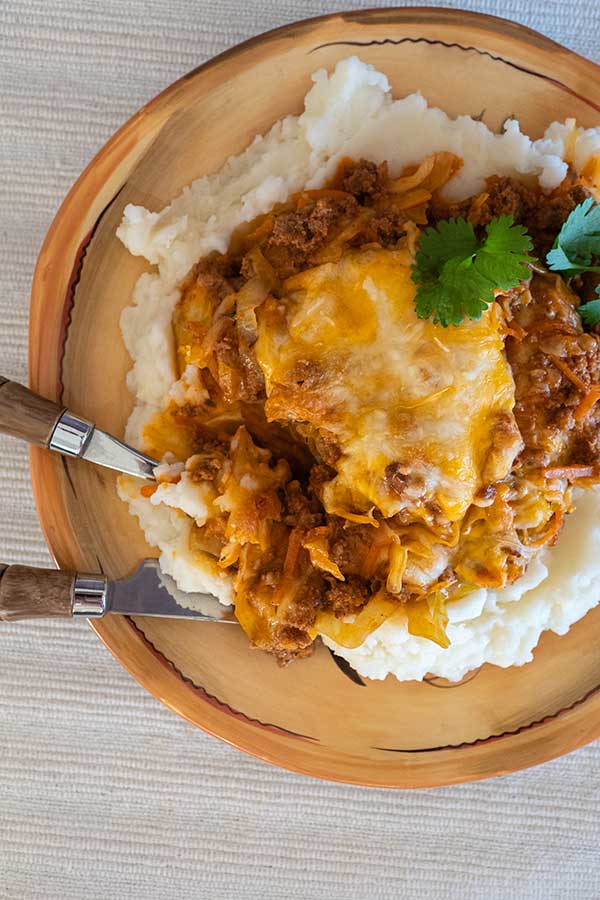 Need an easy appetizer to feed a crowd? Bake the casserole in a pretty serving dish and serve with gluten-free corn chips or some veggie sticks for the diet savvy. You can also top the low-carb chorizo casserole with sour cream and fresh herbs. Enjoy!
Are you looking for casserole recipes? Here are some of our favourites:
Let's Connect!
Be sure to FOLLOW US on FACEBOOK and PINTEREST.
Many thanks!
Kristina xx
Cheesy Cabbage Chorizo Casserole
Published on Oct 23, 2021
by
Kristina Stosek
Instructions
1.

Using a large skillet saute onions in olive oil until lightly caramelized. About 5 minutes

2.

Turn up the heat to high and add chorizo meat. Cook while breaking up with a wooden spatula until no longer pink

3.

Stir in tomato sauce and cream until combined

4.

Remove the skillet from the heat and top with a mixture of cabbage and carrots. Lightly season with salt and pepper. Cover the skillet with a lid or foil paper and bake for 45 minutes at 375 F

5.

Remove the lid and stir everything until combined. Top with cheese and continue baking for 10 - 15 minutes until the cheese has melted and is bubbling.

6.

Serve hot with a sprinkle of fresh herbs if you wish
Leave a Comment
Kristina
this cabbage dish was outstanding, thank you!
Kristina
thank you Renata, wonderful to hear
this was sooooo good, my family loved it. Thank you for posting
Kristina
the oven temperature is at 375 F, thank you Loriana for pointing this out.
what temp do you bake it at?