30 Minute Gluten-Free Stovetop Lasagna
Published on Oct 24, 2020
by
Kristina Stosek
Prep Time:

10 minutes
Cook Time:

20 minutes
Serves:

6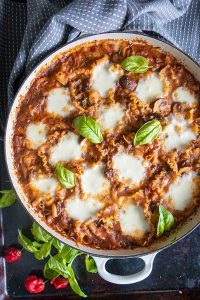 ​This post may contain affiliate links, please see our
privacy policy
for details
Creamy 30 Minute Gluten-Free Stovetop Lasagna never tasted this good before. This Italian dish is the easiest lasagna recipe ever! Creamy and meaty sauce made with buttermilk, cheese, tomato paste, ground beef, mushrooms, onions, garlic, and spices. The sauce is super flavourful, and you don't even have to add ricotta or cottage cheese.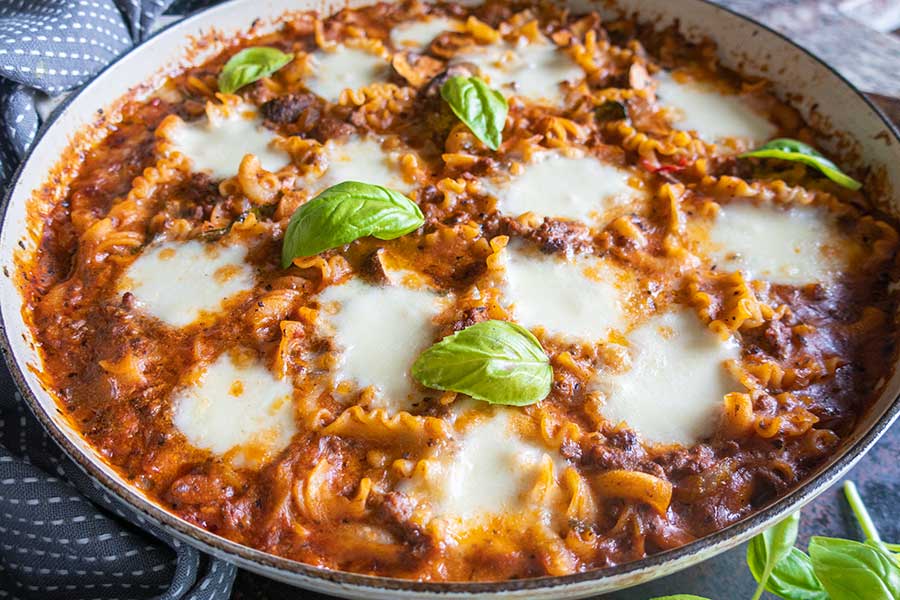 This lasagna is a perfect weeknight meal. All you need is thirty minutes from start to the table. I know, hard to believe. Everything you crave in lasagna is in this stovetop lasagna meal…the meaty sauce, cheese and the classic Italian spices.
The picture says it all. However if you prefer a grain-free lasagna, you may enjoy our Grain-Free Vegetarian Lasagna or Keto Lasagna.
Cuisinart CI670-30CR Chef's Classic Enameled Cast Iron 7-Quart Round Covered Casserole, Cardinal Red

Today I had very little time to make dinner, plus Friday is a night where I am pretty tired from working long hours the entire week. The weather is grim, and my family craves comfort food.
In our home, Italian food such as pizza or pasta is what I end up cooking on Fridays. It has to be a comforting meal. However, today I was super short on time, so I decided to make an easier version of lasagna. And besides, gluten-free take-out is never an option at our house.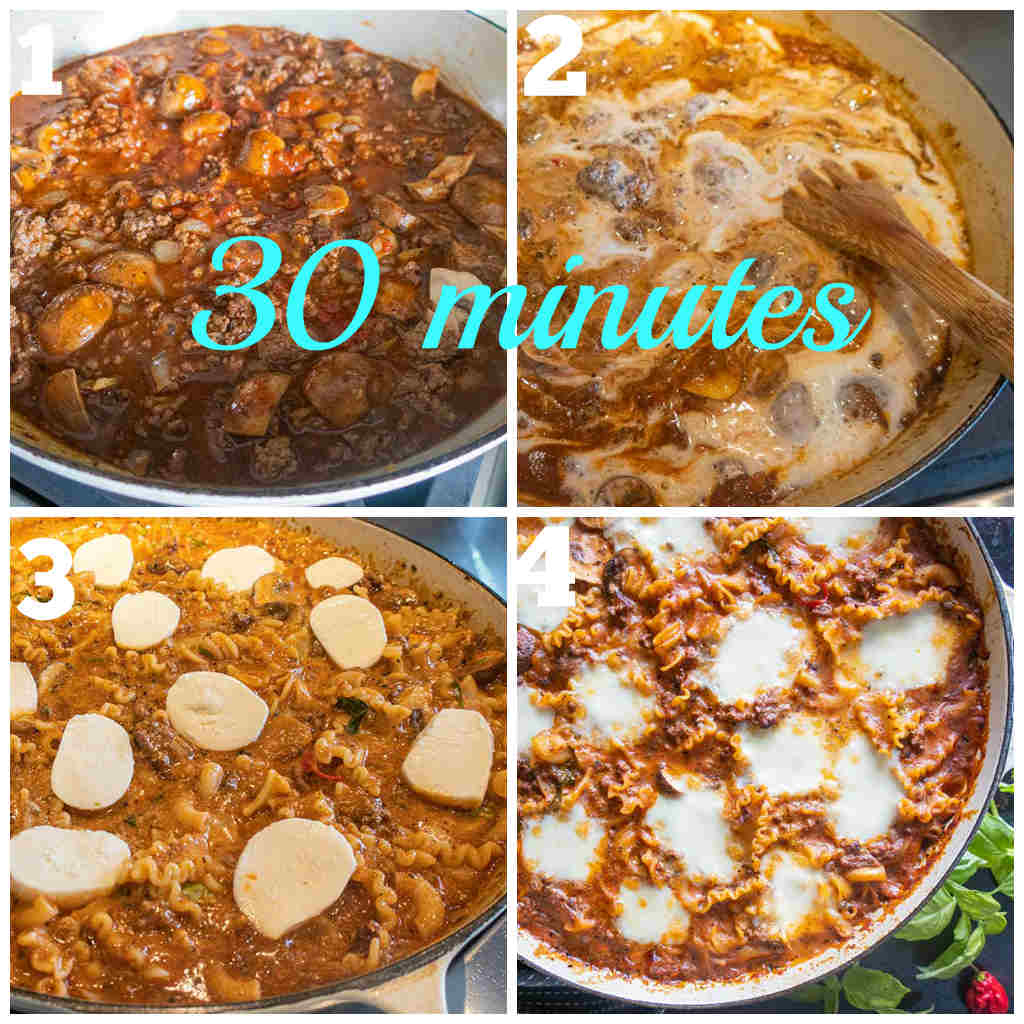 The 30-Minute Gluten-Free Stovetop Lasagna!
Besides making this gluten-free pasta dish an easy weeknight meal, I wanted to simplify it as much as possible. So here goes! While the pasta was cooking, I made a tasty Italian meat sauce. I added plenty of spices such as oregano, basil, thyme, and rosemary, some broth, and tomato paste.
If you have gluten-free Italian seasoning, then use it, and forget about the other spices. My pantry has just about every spice you can think of, so I always mix my spices. I would add a tablespoon of the Italian seasoning if I were using it.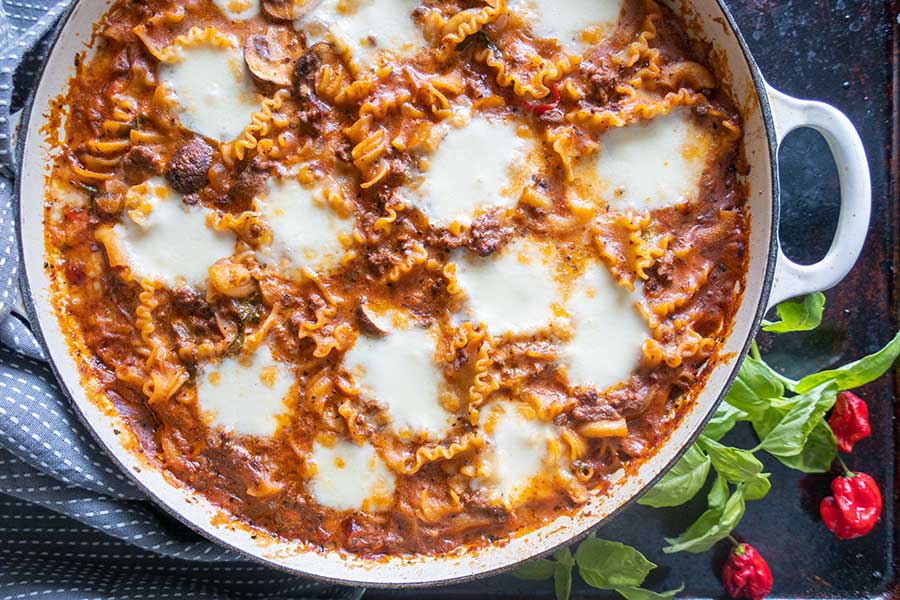 By the time the meat sauce is ready, about 15 minutes, the pasta is cooked. Now all you have to do is mix everything. First, mix buttermilk with arrowroot or tapioca flour, then add it to the meat sauce with some cheese.
Once the sauce starts to boil, add the pasta and fresh basil. Stir everything and top with bocconcini. Pop the skillet under a broiler for a couple of minutes, just long enough to melt the cheese on the top, and dinner is ready.
If you don't want to use the broiler, add the cheese to the sauce, give it a good stir, and heat it through until the cheese starts to melt. You are done…finito!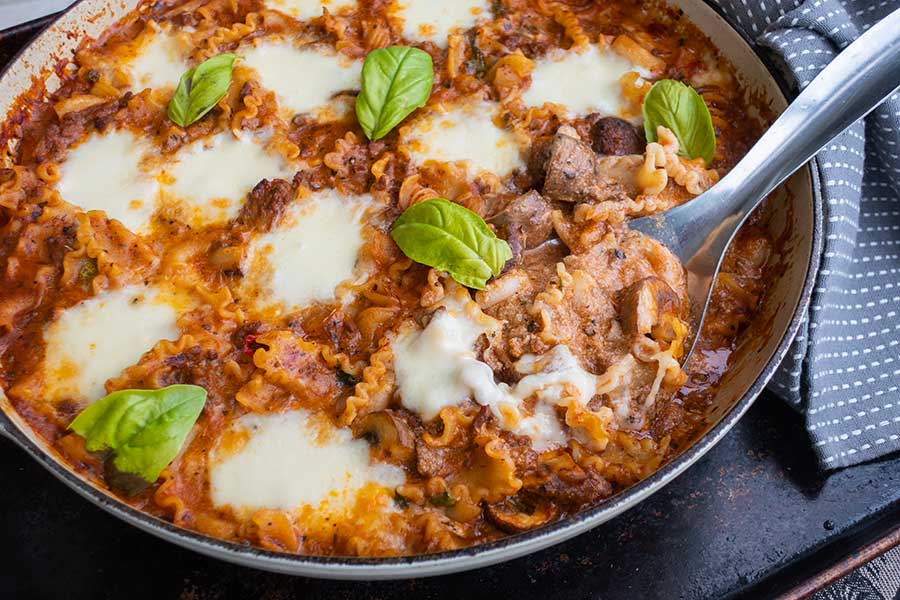 the secret ingredient that made this stovetop lasagna,
This one ingredient may surprise you, but it is a trick I learned a long time ago. We all know ricotta cheese is somewhat pricy, so I wanted to skip this cheese and used buttermilk instead, which is very economical.
The results were outstanding. The sauce is creamy and has less fat. Wait until you make this Gluten-Free Stovetop Lasagna. You will be pleasantly surprised…well, at least my family was.
Everyone love the lasagna, and all it took me is thirty minutes from start to finish. If you have the time and energy, add a light salad or make this super easy gluten-free cheese and garlic flatbread.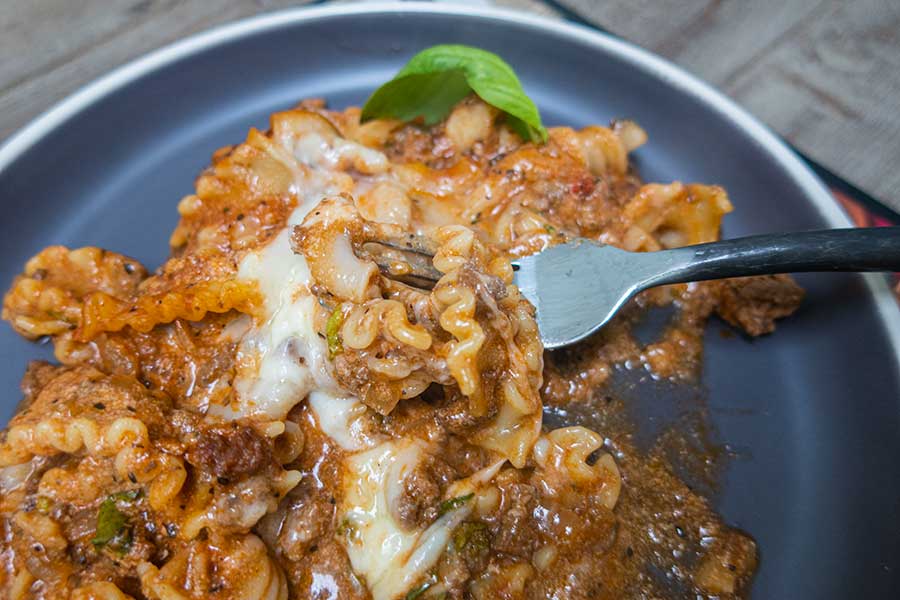 It's Friday, my feet are up, and I am enjoying a glass of red with my delicious Italian meal. If today is Friday or Saturday night for you, have an amazing weekend!
For the latest recipes and tips, please like us on Facebook or follow us on Pinterest and Instagram.
Kristina xx
30 Minute Gluten-Free Stovetop Lasagna
Published on Oct 24, 2020
by
Kristina Stosek
Instructions
1.

In a large pot of boiling salted water, cook pasta until al dente. Cooked but firm to bite. Drain

2.

While the pasta is cooking, heat olive oil in a large oven-safe skillet over medium heat, add ground beef, break it up with a wooden spoon, and cook until browned. About 5 minutes

3.

Stir in onions and garlic and cook until the onions start to soften and brown. About 3 minutes.

4.

Stir in oregano, basil, thyme, rosemary and chilli flakes if using. Add tomato paste, broth and season with salt. Stir to combine, and cover. Cook for 10 minutes

5.

Whisk together buttermilk and arrowroot/tapioca and add to the beef mixture with half a cup of grated cheese. As soon as the sauce starts to boil, stir in the pasta, fresh basil and remove the skillet from the heat. Top with bocconcini or mozzarella and place under a broiler for 2 - 3 minutes until the cheese has melted. If you don't want to use the broiler, stir the bocconcini into the sauce and cook for another 2 minutes, until the cheese starts to melt.

6.

Serve immediately topped with fresh basil if you wish.
Leave a Comment
Kristina
That's so good to hear Samantha, lasagna is always a favourite in our homel
From now on, this is my go to lasagna recipe. So easy and so little mess, and, this gluten-free version made on stove top is so delicious. Thank you, your recipes made my celiac life so much easier!
Kristina
Great to hear Roger, enjoy!
this lasagna was soooo good! and super easy to put together. I will definitely be making this again.