Grain-Free Vegetarian Lasagna
Prep Time
20 Minutes
Difficulty
Easy
Cook Time
65 Minutes
Serves
4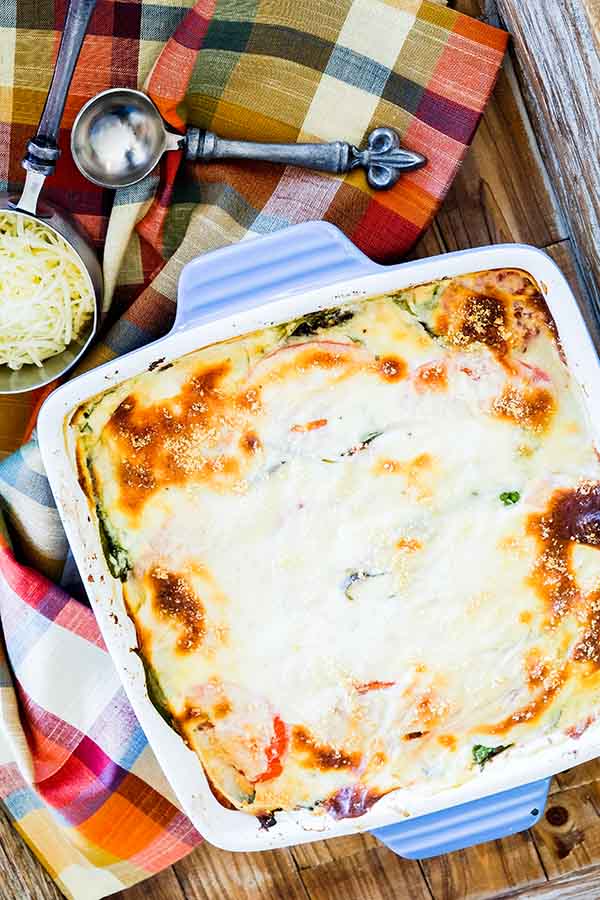 Average Rating: 5 | Rated By: 3 users
When we think Italian food, we mean lasagna. You may not know this, but many believe Lasagna originated in Greece. Traditional lasagna is a layered baked dish of pasta, sauce, meat and lots of mozzarella cheese, and is one of the most popular Italian dishes these days in America. This grain-free vegetarian version is made without mozzarella cheese and is lower in carbs and calories than the traditional lasagna, having the same robust flavour that will satisfy your craving for Italian food. In this recipe, the layers are made with fresh vegetables which are finished with a creamy Parmesan sauce, then baked to perfection. Having gluten-free Italian food without the guilt of extra carbs and calories is the best!
Ingredients
1 small eggplant, thinly sliced
5 oz. baby spinach leaves
1 lb. gluten-free ricotta cheese
2 large eggs, whisked
2 tsp. GF dried oregano, divided
1 cup grated parmesan cheese, divided
1 tsp. pure sea salt, divided
2 garlic cloves, minced
¼ tsp. GF ground nutmeg
2 large tomatoes, thinly sliced
1 cup diced mushrooms
A handful of fresh basil leaves
1 1/4 cup milk
1 Tbsp. tapioca flour
½ tsp. freshly ground black pepper
Extra virgin olive oil for greasing the pan
*As an Amazon Associate and member of other affiliate programs, I earn from qualifying purchases. Please check out my sponsorship and disclosure policy page for more details
Instructions
Preheat oven to 400 F and line a large baking sheet with parchment paper
Place sliced eggplant on the prepared baking sheet and sprinkle with salt. Roast for 30 minutes. Set aside
While the eggplant is roasting, in a large bowl combine spinach, ricotta cheese, eggs, oregano, 1/3 cup Parmesan cheese, ½ teaspoon salt, garlic and nutmeg. Set aside
Generously grease 10 x 10-inch baking dish with olive oil and line the bottom with roasted eggplant, following with ½ spinach mixture, ½ basil leaves, ½ tomatoes, ½ mushrooms, then continue with the same layers. Firmly press down. Set aside
Reduce oven temperature to 375 F
In a small pot whisk together, milk, 1/3 cup parmesan cheese, tapioca flour, black pepper and balance of salt (1/2 tsp.) Cook over medium heat while stirring, until the sauce starts to thicken, about 3 – 5 minutes
Pour sauce over lasagna and sprinkle with remaining 1/3 cup of Parmesan cheese Bake for 35 - 40 minutes until the cheese is bubbling.
Cool for 15 minutes before slicing
Similar Recipes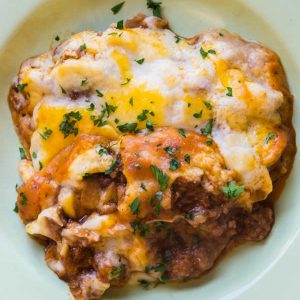 Gluten-Free Keto Lasagna
Typically lasagna is packed with carbs, and this is why many of us shy away from this delicious Italian dish. In this lasagna recipe, the layers are made up of succulent meat and vegetable sauce and a cheesy cauliflower cream sauce. This gluten-free keto lasagna is oozing with flavour and is packed with healthy nutrients. […] Read More
Prep Time
20 Minutes
Difficulty
Easy
Cook Time
90 Minutes
Serves
4 family style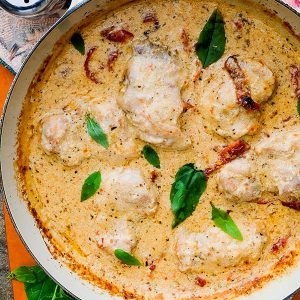 Chicken With Sundried Tomatoes in Cream Sauce
Creamiest Chicken With Sundried Tomatoes in the most flavourful cream sauce! Discover a simple way to cook gourmet chicken in a flavourful Asiago cream sauce. Stumbling on this amazing dish through my travels in northern Italy, I have decided to include it in my favourite dinner recipes. The tender chicken soaks up a mildly flavoured cheese […] Read More
Prep Time
10 Minutes
Difficulty
Easy
Cook Time
35 Minutes
Serves
4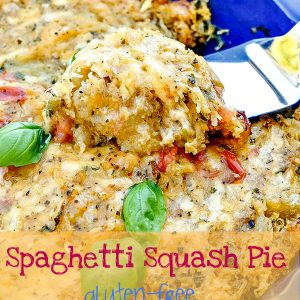 Gluten Free Spaghetti Squash Pie
This spaghetti squash pie is a tasty savoury vegetarian dish made with spaghetti squash, Italian herbs, fresh tomatoes and mozzarella cheese. This delicious squash is lower carb alternative to pasta or other squash. If you are following a paleo diet, this tasty gluten free spaghetti squash pie is for you! Serve as lunch with a […] Read More
Prep Time
10 Minutes
Difficulty
Easy
Cook Time
40 Minutes
Serves
6