Grain-Free Vegetarian Lasagna
Published on Mar 08, 2018
by
Kristina Stosek
Prep Time:

20 minutes
Cook Time:

65 minutes
Serves:

4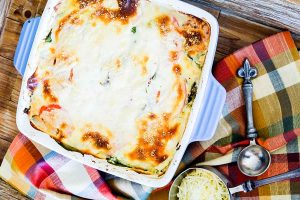 ​This post may contain affiliate links, please see our
privacy policy
for details
This grain-free vegetarian lasagna is gluten-free and keto-friendly. You will never miss the carbs in this low-carb vegetarian lasagna dish because it is creamy and delicious.
It doesn't get more Italian than lasagna.
When we think Italian food, we mean lasagna. After all, who doesn't love a lasagna oozing with cheese and creaminess that we all love!
Lasagna is one of the most popular Italian dishes these days in America. However, pizza is probably the only Italian dish we may choose over lasagna. And since we are on the subject of Italian food, check out our most popular gluten-free Italian dessert
Gluten Free Tiramisu Recipe, or the Gluten-Free Amaretto Cannoli Cake Recipe.
How is traditional lasagna different?
Traditional lasagna is a layered baked dish of pasta, rich meat and tomato sauce, and plenty of mozzarella cheese. This very satisfying pasta dish is perfect for the cooler weather.
the grain-free lasagna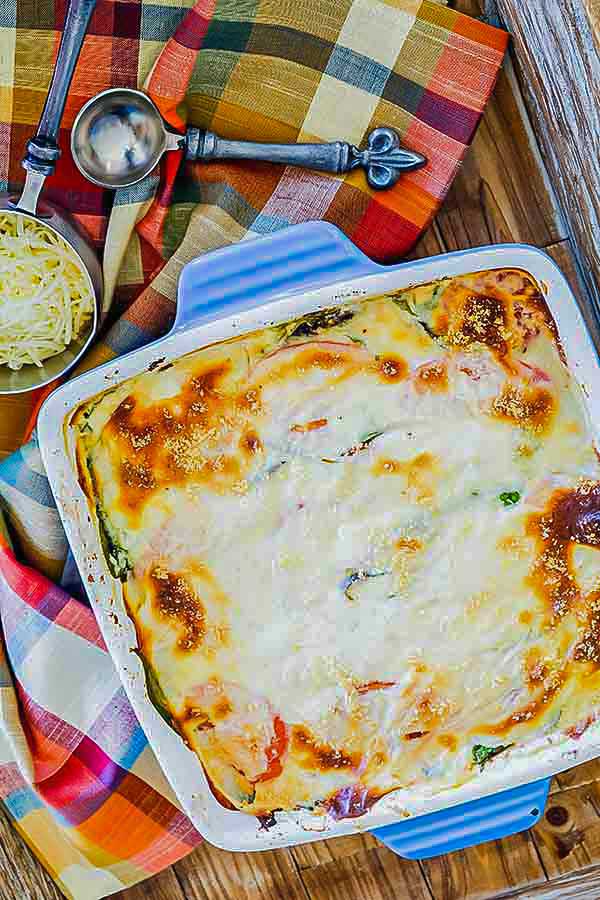 In this grain-free vegetarian lasagna version, the mozzarella cheese is replaced with a mix of ricotta cheese and parmesan cheese, keeping the Italian dish lower in calories.
The pasta is replaced with layers of thinly sliced vegetables keeping the lasagna low in carbs and keto-friendly.
The best part, this grain-free vegetarian lasagna has the same robust Italian flavour and will satisfy your craving for Italian food every time. You won't even miss the pasta!
grain-free vegetarian lasagna – the details
This vegetarian lasagna recipe contains layers of nutrient-dense vegetables such as eggplant, spinach, tomatoes and mushrooms.
Everything is baked in a light, creamy sauce seasoned with oregano, basil, garlic and nutmeg and topped with extra Parmesan cheese.
The grain-free lasagna is baked to perfection with a crispy topping of parmesan cheese that we all love.
Vegetables you can use in grain-free lasagna.
We have eggplant, spinach, mushrooms, and tomatoes in this recipe. Some other veggies you can use are thinly sliced zucchini, squash, carrots, bell peppers, chard, kale, and sautéed onions.
Having gluten-free healthy Italian food without the guilt of extra carbs and calories is a satisfying way to enjoy delicious hearty food. Enjoy!
If you love Italian food, check out our list of gluten-free Italian recipes.
Grain-Free Vegetarian Lasagna
Published on Mar 08, 2018
by
Kristina Stosek
Instructions
1.

Preheat oven to 400 F and line a large baking sheet with parchment paper

2.

Place sliced eggplant on the prepared baking sheet and sprinkle with salt. Roast for 30 minutes. Set aside

3.

While the eggplant is roasting, in a large bowl combine spinach, ricotta cheese, eggs, oregano, 1/3 cup Parmesan cheese, ½ teaspoon salt, garlic and nutmeg. Set aside

4.

Generously grease 10 x 10-inch baking dish with olive oil and line the bottom with roasted eggplant, following with ½ spinach mixture, ½ basil leaves, ½ tomatoes, ½ mushrooms, then continue with the same layers. Firmly press down. Set aside

5.

Reduce oven temperature to 375 F

6.

In a small pot whisk together, milk, 1/3 cup parmesan cheese, tapioca flour, black pepper and remaining salt (1/2 tsp.) Cook over medium heat while stirring, until the sauce starts to thicken, about 3 – 5 minutes

7.

Pour sauce over lasagna and sprinkle with remaining 1/3 cup of Parmesan cheese Bake for 35 - 40 minutes until the cheese is bubbling.

8.

Cool for 15 minutes before slicing
Leave a Comment
I have made it with coconut milk before, just as good!
Has this recipe been tried with a non-dairy milk?