Gluten-Free Amaretto Cannoli Cake Recipe
Published on Nov 18, 2021
by
Kristina Stosek
Prep Time:

30 minutes
Cook Time:

25 minutes
Serves:

8-10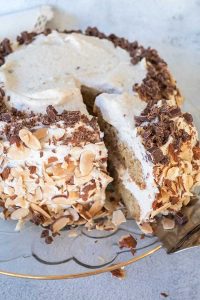 ​This post may contain affiliate links, please see our
privacy policy
for details
Italian-style Gluten-Free Amaretto Cannoli Cake, a delicious cannoli layer cake. Imagine a light crumb cake with light ricotta cheese filling, chocolate chunks, a hint of cinnamon, orange zest and lightly flavoured with amaretto liqueur.
The fluffy cake is covered with mascarpone cheese frosting, toasted almonds and chocolate. So much to love here! The perfect cake to enjoy any holiday.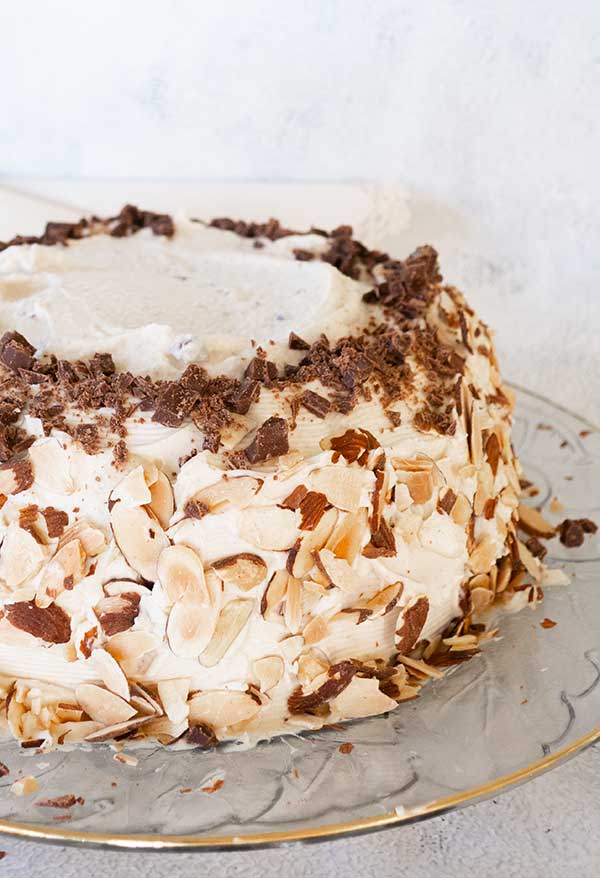 This cannoli cake is just a touch more delicious and special than any other layer cake. It's one I have been thinking about for a long time, and it turned out even better than I expected.
I wanted to create an Italian-style gluten-free cannoli layer cake that would be perfect for the upcoming holidays. So it had to be extra special.
This coming week, we celebrate US Thanksgiving, and gluten-free desserts such as pumpkin pie, crust-free apple pie, and gluten free chocolate pecan shortbread are always on top of the list. However, I would like to add another gluten-free dessert this year—the pretty gluten-free amaretto cannoli cake.
gluten free cannoli cake recipe overview
I adapted my gluten-free carrot cake without the carrots for the cake itself and changed up the flavour by adding coffee, orange zest and amaretto liqueur. It's a very simple cake using a gluten-free flour blend.
Before I get to the filling and frosting, I would like to talk about the Italian ricotta and mascarpone cheeses.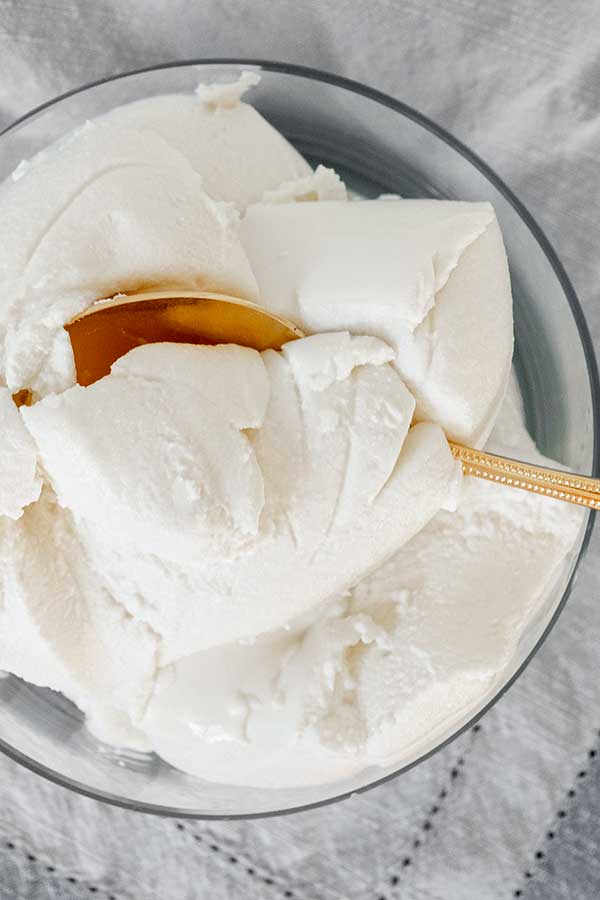 What Is Ricotta Cheese?
Ricotta cheese is an Italian whey cheese made from milk whey left over from producing other cheeses and can be made from cow, sheep, goat or Italian water buffalo milk whey. This cheese is typically used in cannoli recipes.
Is ricotta cheese gluten-free?
Yes, ricotta cheese is generally naturally gluten-free. However, always check labels and individual brands to be sure.
Should ricotta cheese be strained?
Depending on the brand, most tubs you get at the grocery store typically made from cow's milk should be strained. Draining off the liquid will result in creamier, thicker ricotta.
How to strain ricotta cheese?
Place a strainer lined with cheesecloth, or a large coffee filter or strong paper towels over a large bowl.
Spoon ricotta cheese on top and place something heavy on top of the cheese. I used a bowl filled with water.
Refrigerate for a minimum of 6 hours or overnight. Drain the liquid from the bowl. The cheese is now ready to use for the filling in the cannoli cake.
What is mascarpone cheese?
Mascarpone is a gluten-free silky smooth Italian double or triple cream cheese.
Can you substitute cream cheese for mascarpone cheese?
Yes, cream cheese makes a good substitute for mascarpone cheese. But you will have to add whipping cream and sour cream to get that smooth, silky consistency of mascarpone cheese.
To make 2 cups of mascarpone cheese using cream cheese, mix 1 1/2 cups cream cheese, 1/4 cup heavy whipping cream and 1/4 cup sour cream until silky smooth.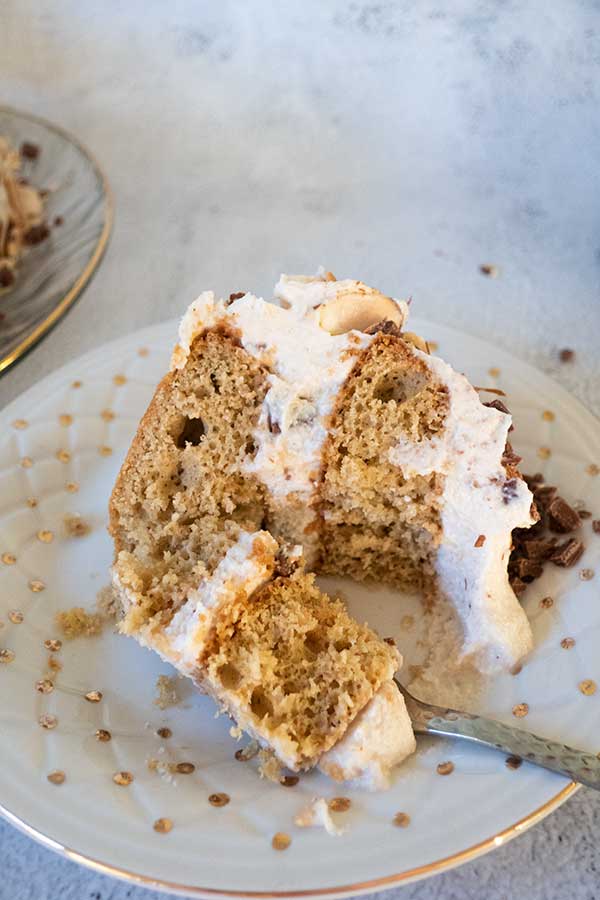 Do you have to use amaretto liqueur?
Amaretto is a sweet Italian liqueur that tastes rich and sweet, with a strong almond flavour, hint of vanilla and a subtly bitter finish and is generally considered gluten-free and safe for a gluten-free diet.
It's because the alcohol used is distilled, and apricot kernels, peach stones, and almonds are all gluten-free. I used Disaronno Amaretto.
If you don't like the flavour of Amaretto or want to make the cannoli cake without alcohol, substitute vanilla and almond extract for the liqueur. Or, try one of our other gluten free Italian desserts.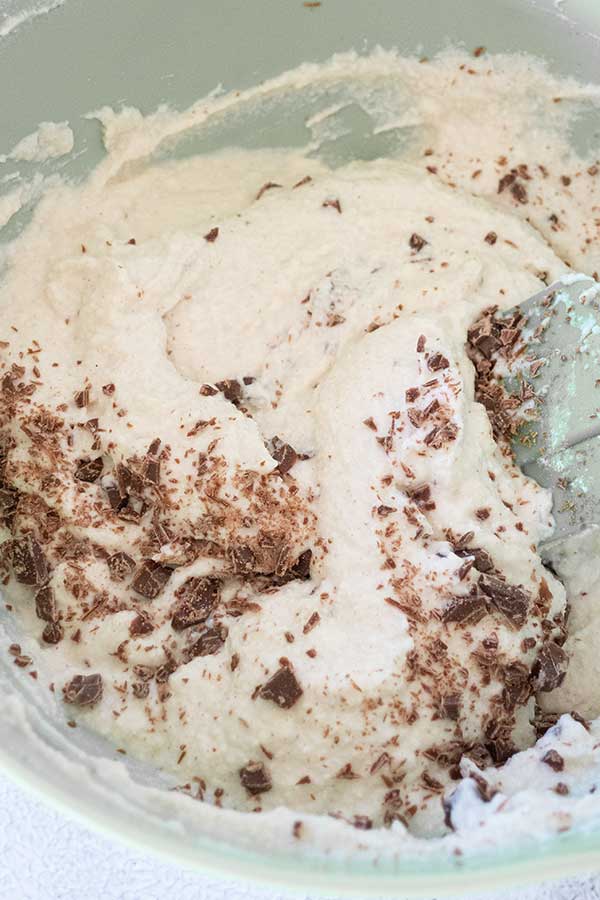 filling and frosting for cannoli cake
Both the filling and frosting are made with Italian cheese and take a couple of minutes to whip up.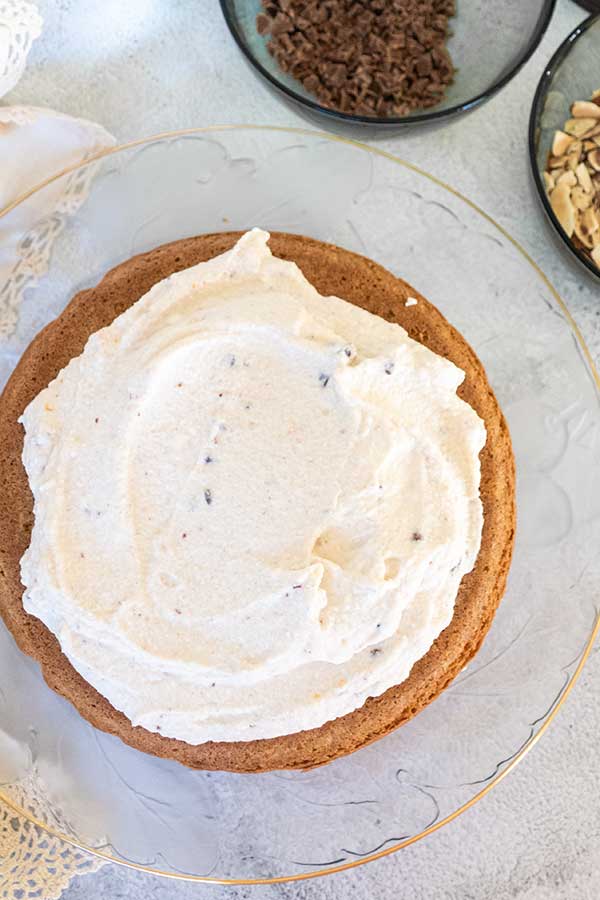 the filling for cannoli cake
The filling is a mixture of ricotta cheese, confectioners' sugar, cinnamon, amaretto liqueur and finely chopped chocolate or mini chocolate chips.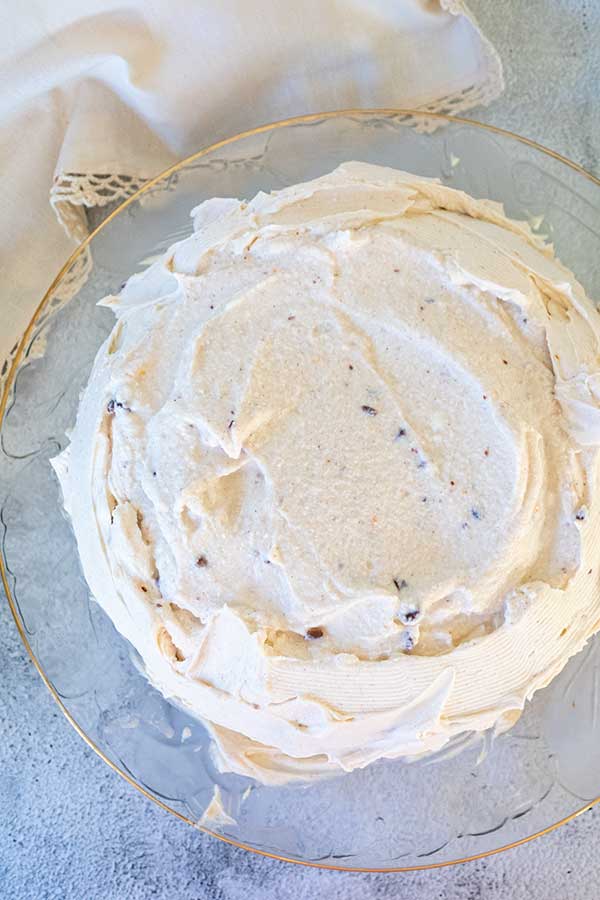 the frosting for gluten free cannoli cake
The frosting is made with mascarpone cheese, confectioners' sugar, milk, cinnamon, vanilla, amaretto and orange zest.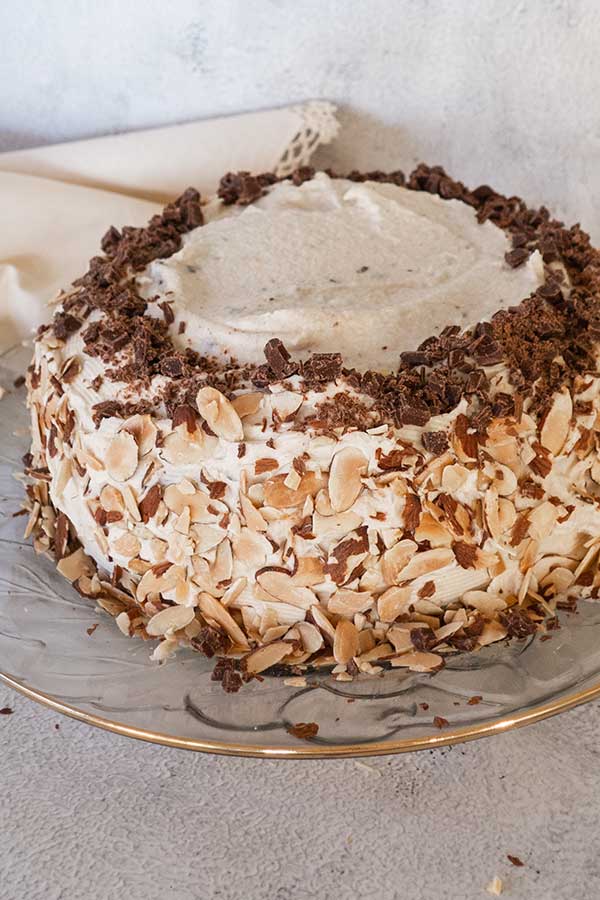 Lastly, the cannoli cake is decorated with sliced toasted almonds and chocolate. Not only is the cake fun to make and is pretty, but it's insanely good!
Let's Connect!
Be sure to FOLLOW US on FACEBOOK and PINTEREST.
Many thanks!
Kristina xx
Gluten-Free Amaretto Cannoli Cake Recipe
Published on Nov 18, 2021
by
Kristina Stosek
Instructions
1.

Preheat oven to 350 F and lightly spray 2 x (9-inch) round cake pans with cooking oil and line the bottom with a circle of parchment paper

2.

In a medium bowl, whisk together flour, baking powder, baking soda and salt

3.

Using a large bowl, beat together olive oil and sugar for 2 minutes. Add eggs, coffee, orange juice, orange zest and amaretto liqueur and beat for 30 seconds longer

4.

Add dry ingredients 1/3 at a time to the wet mixture. Mix just until all the ingredients are blended. Do not over mix

5.

Pour batter evenly into prepared pans and bake for 22 - 25 minutes until the cake passes the toothpick test. Set aside to cool

6.

7.

In a large bowl, combine the ricotta cheese, sugar and cinnamon. Stir in amaretto liquer and chocolate 

8.

9.

In another bowl, mix the mascarpone cheese, sugar, milk, amaretto liqueur, cinnamon and orange zest on medium speed until creamy (do not overmix). 

10.

11.

Place one cake layer on a serving plate and spread with 2 1/2 cups of filling. Top with the second cake layer. Spread remaining filling over top of the cake to within 1 inch of edges: Frost sides and top edge of the cake with frosting. 

12.

Press almonds into the sides of the cake. Sprinkle chocolate over the edges. Refrigerate for 2 hours or overnight before serving
Leave a Comment
I made this dessert for Thanksgiving and it was a huge hit, I will be making it for our New Years Eve party.
I made this cake on Christmas Eve, my Italian mother in-law said it was amazing, and so did my family. Thank you!
I was a bit hesitant making this dessert for the first time for Christmas, but it turned out soooo good! Your recipes are outstanding Kristina, can't wait to try some of your muffin recipes, they look delicious.