Shepherd's Pie Double Baked Potato
Published on Feb 20, 2023
by
Kristina Stosek
Prep Time:

15 minutes
Cook Time:

75 minutes
Serves:

8 potatoes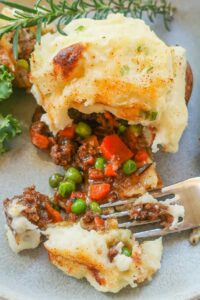 ​This post may contain affiliate links, please see our
privacy policy
for details
This Shepherd's Pie Double Baked Potato recipe is by far the best! The potato skin is filled with saucy meat and vegetable filling packed with exceptional flavor and topped with the fluffiest creamy potatoes.
This Shepherd's Pie served in a baked potato is a guest worthy dish.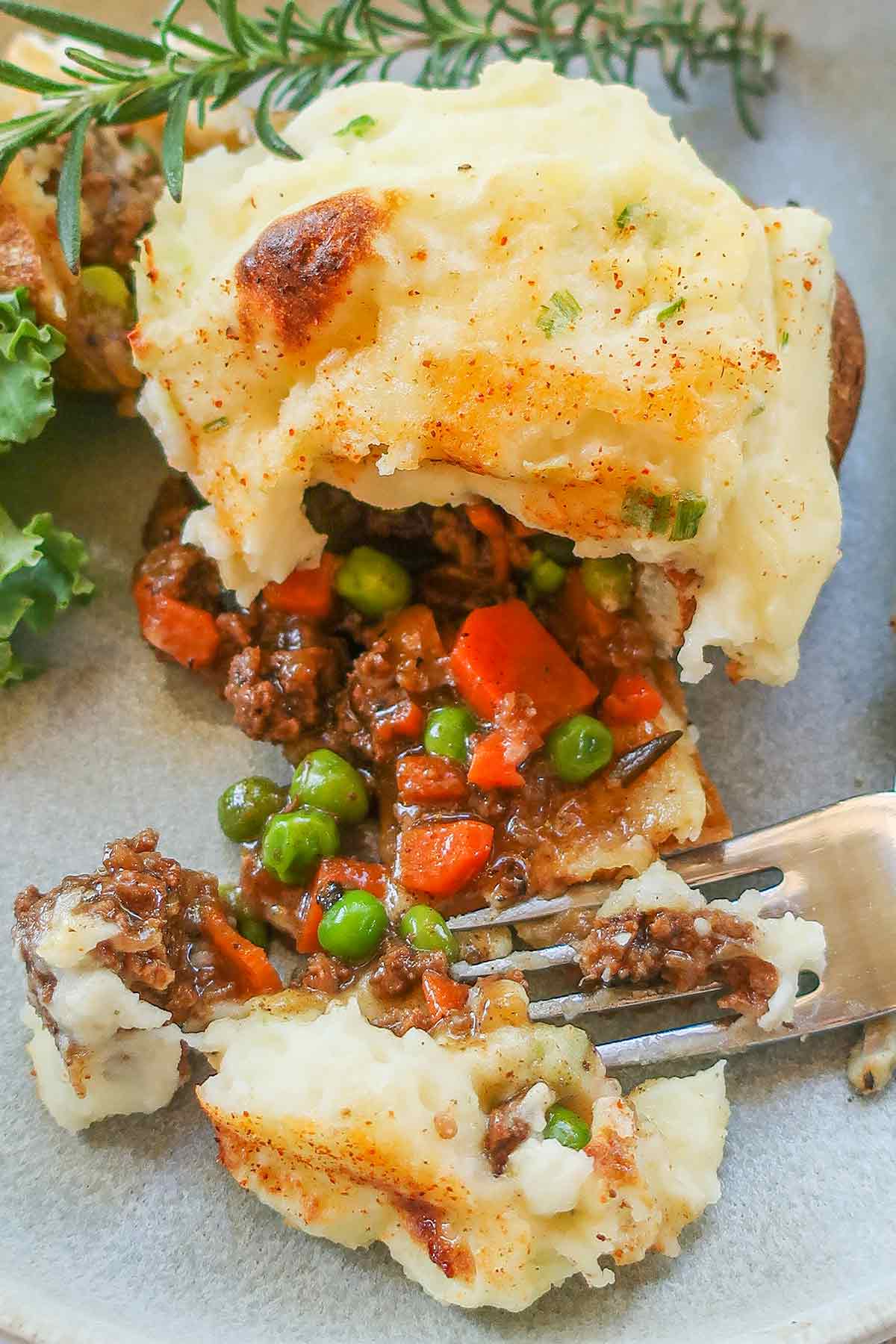 What is a double baked potato?
A double baked potato, also known as a twice-baked potato, is a type of potato dish typically made by baking a potato in an oven, then scooping out the interior of the cooked potato.
The potato flesh can be mixed with various ingredients before returning it to the potato's skin and baking it again.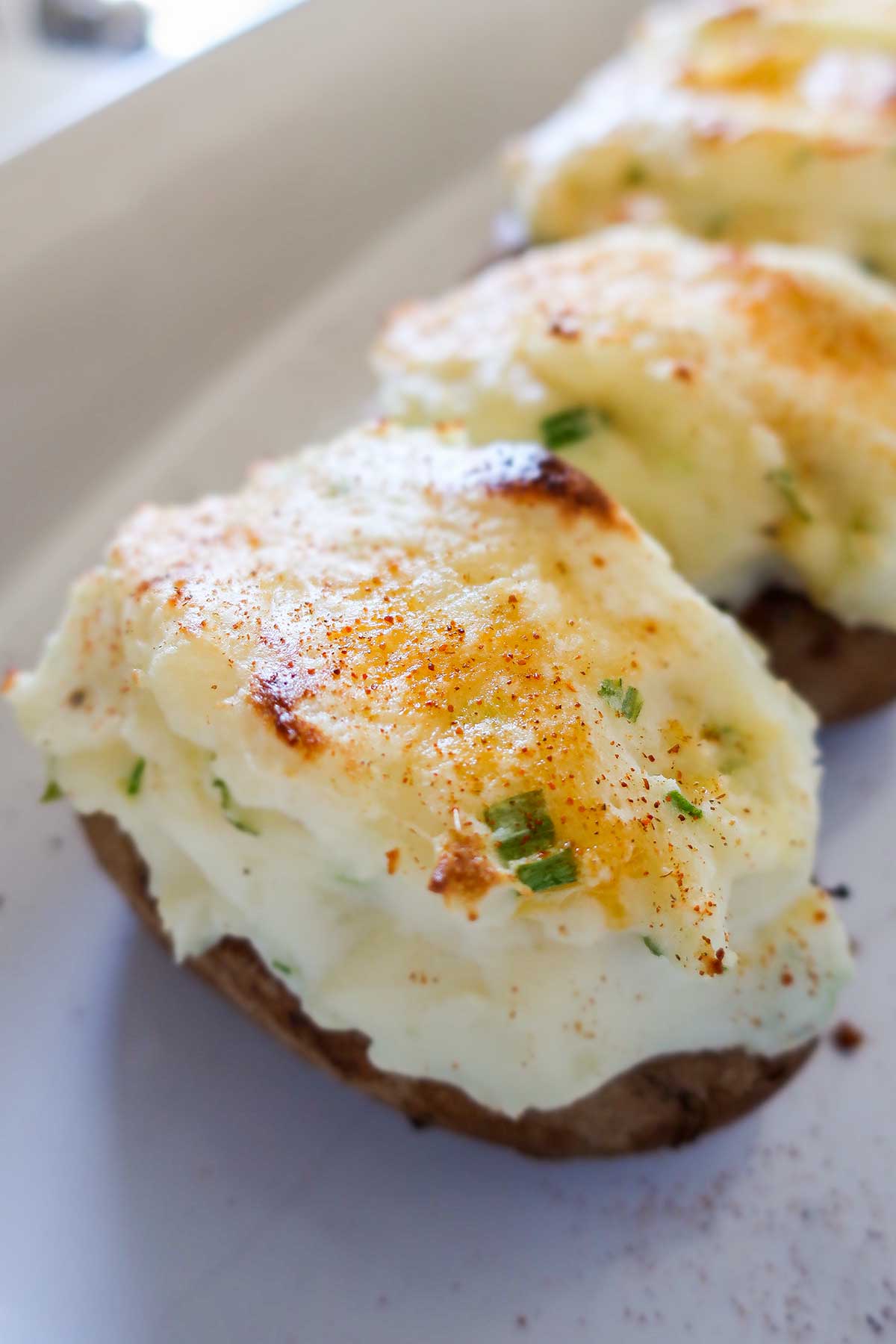 The Shepherd's pie double baked potato version?
A Shepherd's Pie Double Baked Potato is a twice-baked potato filled with a savory mixture of ground beef or lamb, onions, carrots, and peas cooked in a thick, rich sauce topped with a creamy mashed potato and baked until bubbling and golden brown.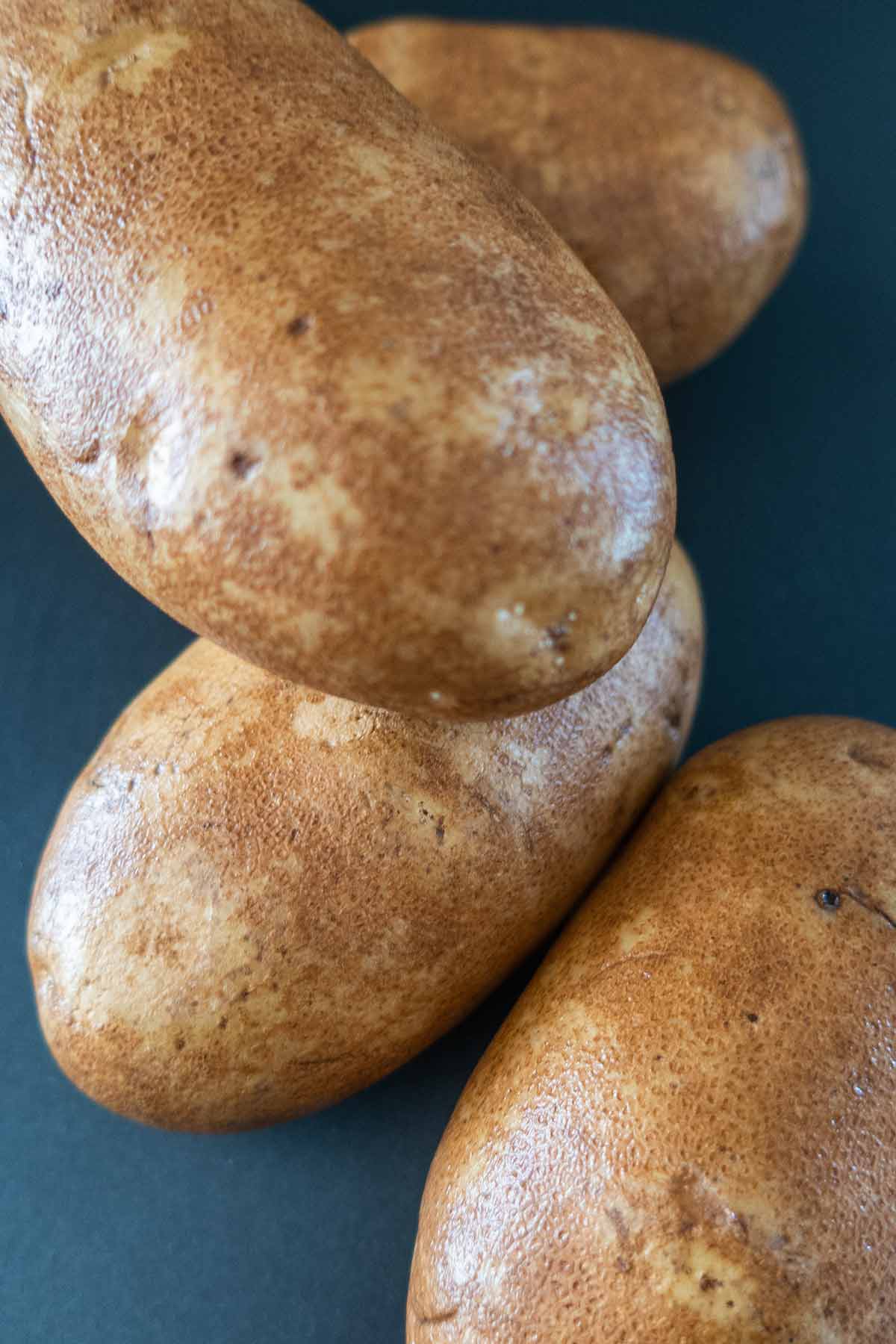 FAQs about a baked potato
Best potato for double baked potatoes: The ideal potato for baking is low in moisture with high starch content. This will allow a potato to bake up with a delightfully fluffy center and crispy skin. This is why russet potatoes are perfect for baking and the most commonly used.
Best temperature for baking a whole potato: The best temperature for baking a russet potato is 350 degrees Fahrenheit. This will ensure the potato is cooked evenly and has a crispy skin.
Should you pierce the potato before baking? Yes, you should. To do this, use a sharp knife, pierce each potato 2 to 3 times, and ensure the holes are evenly spaced so that the steam can escape evenly. This allows steam to escape leaving the flesh light and fluffy. And, by piercing them, you will prevent the potatoes from exploding in the oven. Yes, potatoes can sometimes explode in the oven.
Why shouldn't you wrap the potato in foil before baking? You should not wrap potatoes in foil if you make double-baked potatoes. Foil holds in moisture and steams the potatoes, resulting in a "boiled" taste and texture, and the skin will become soggy.
How do you know when the potato is baked? Depending on the potato size and oven temperature, check for potato doneness using a toothpick between 45 – 60 minutes into baking. The potato is done when the toothpick inserts easily in the middle of the potato. When the potato skin starts to wrinkle, the potato is overcooked
Can you store baked potato at room temperature? That's a big NO!Bacteria can grow on potatoes left out at room temperature for more than four hours, making them unsafe to eat.
Is double baked potato gluten free: The potato itself is naturally gluten free, packed with nutrients and fiber. Everything else you add, be sure to use gluten free ingredients. Some flavored cheese is not gluten free.
Shepherd's Pie Double Baked Potato Recipe Details
First, bake the potatoes.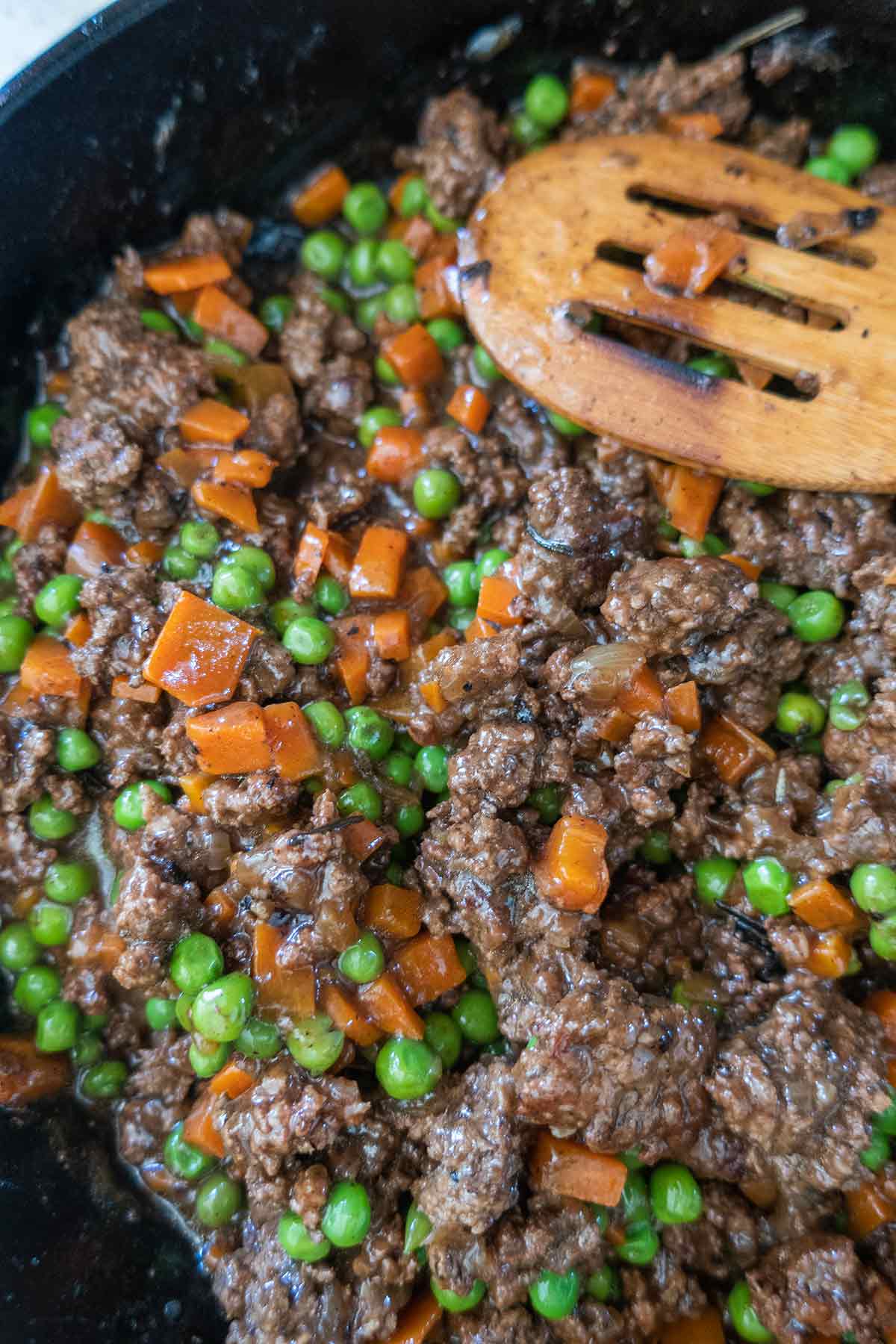 While the potato is baking, make the Shepherd's pie filling. Two things to keep in mind when making the filling. Brown the meat well because this adds rich flavor. And the onions and carrots should be finely chopped. You don't want large chunks of onions or carrots in the meat filling.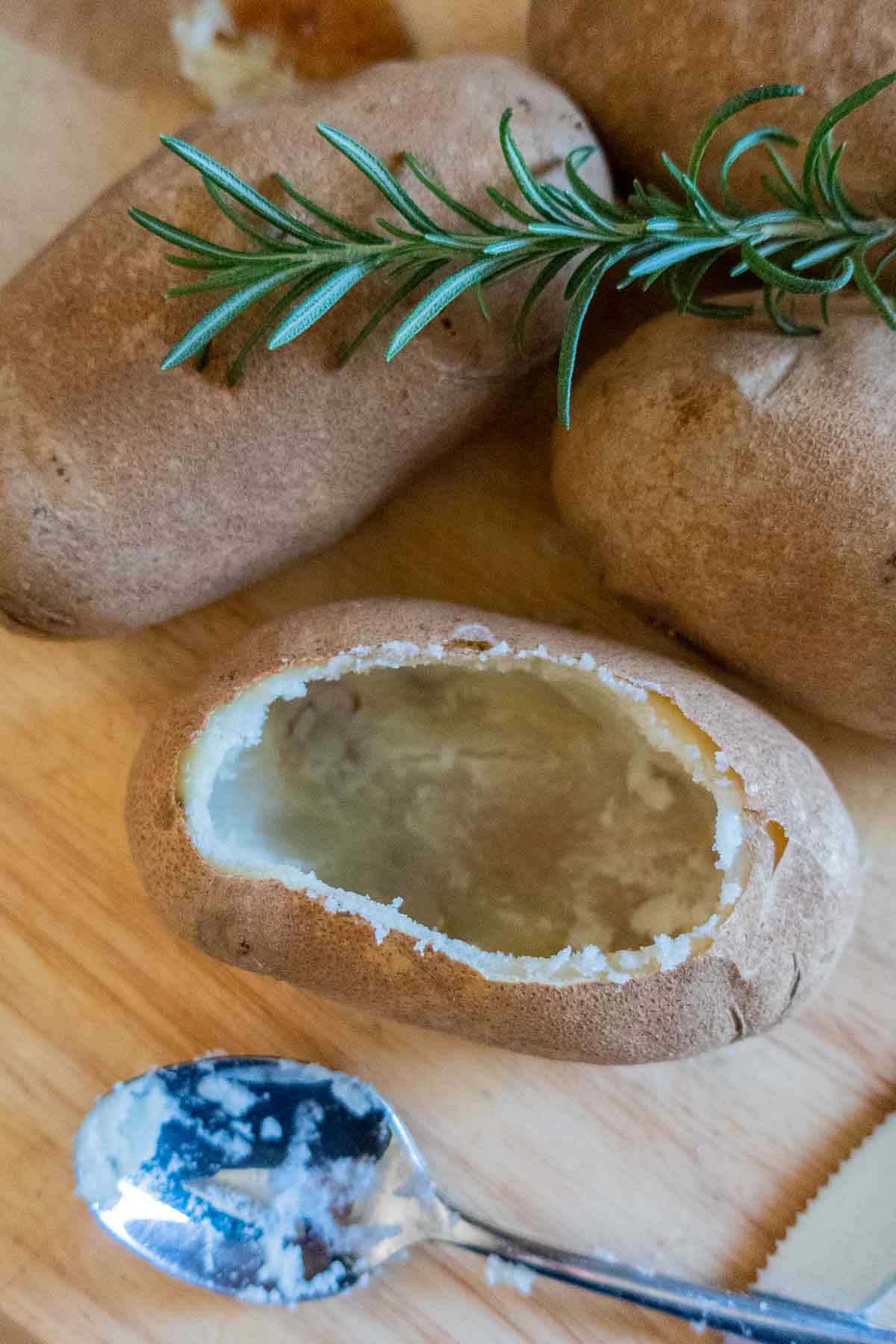 Prepare the potatoes for the filling by cutting the top of the baked potato and scooping out the flesh. Leave a thin layer of potato on the skin to keep a solid shell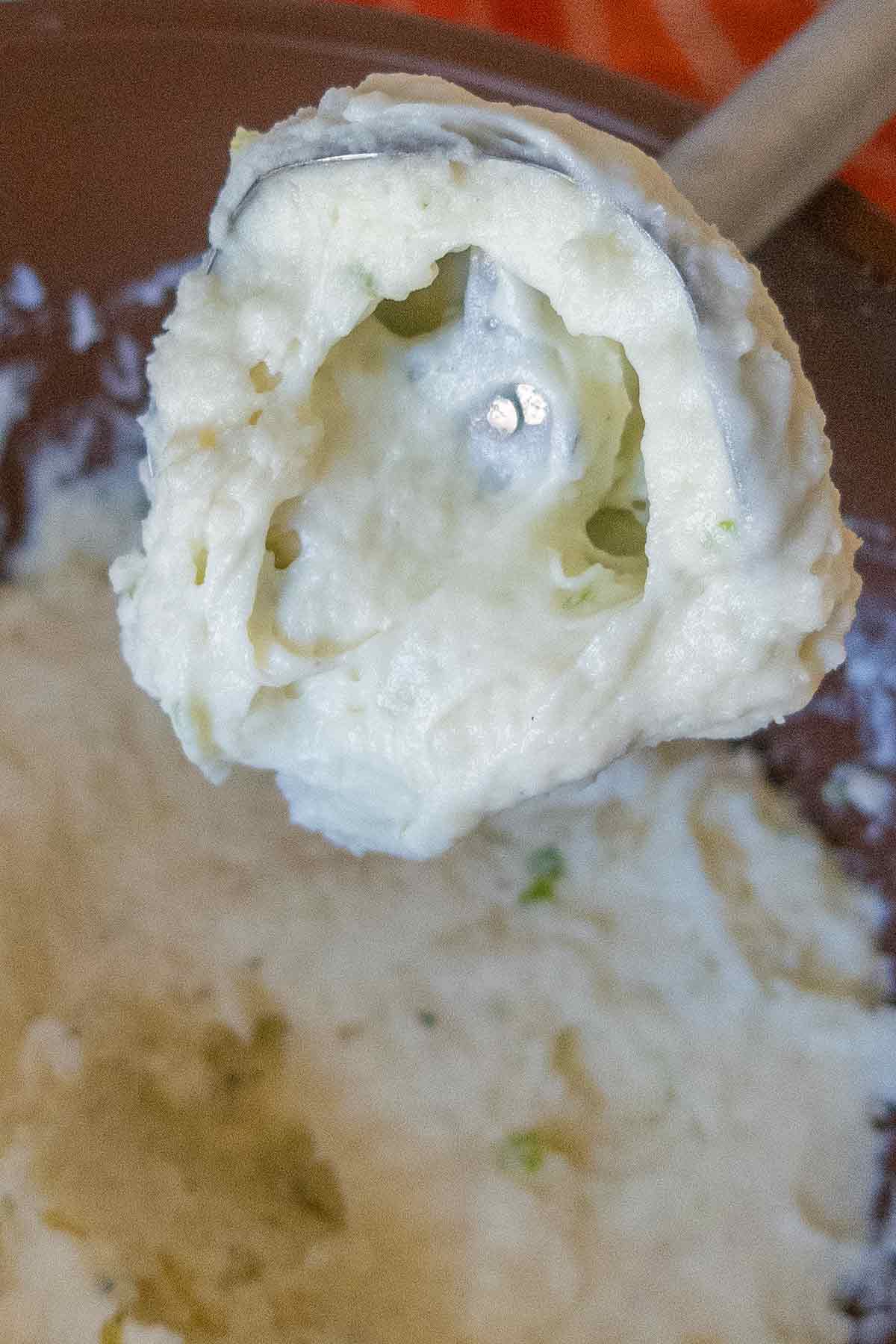 Mix the potato flesh with mix-ins and whip until creamy and fluffy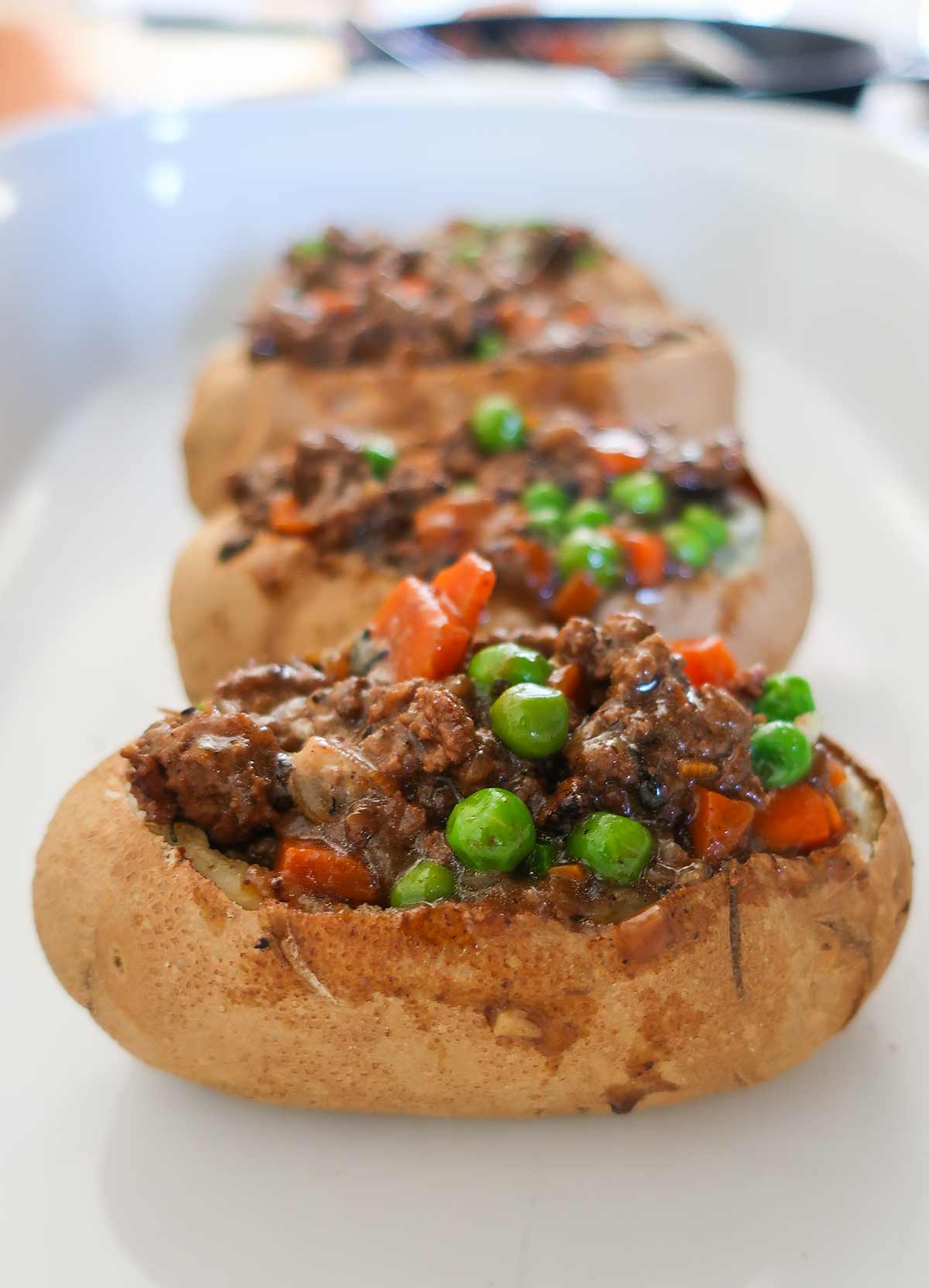 Fill the potato skins with Shepherd's pie mixture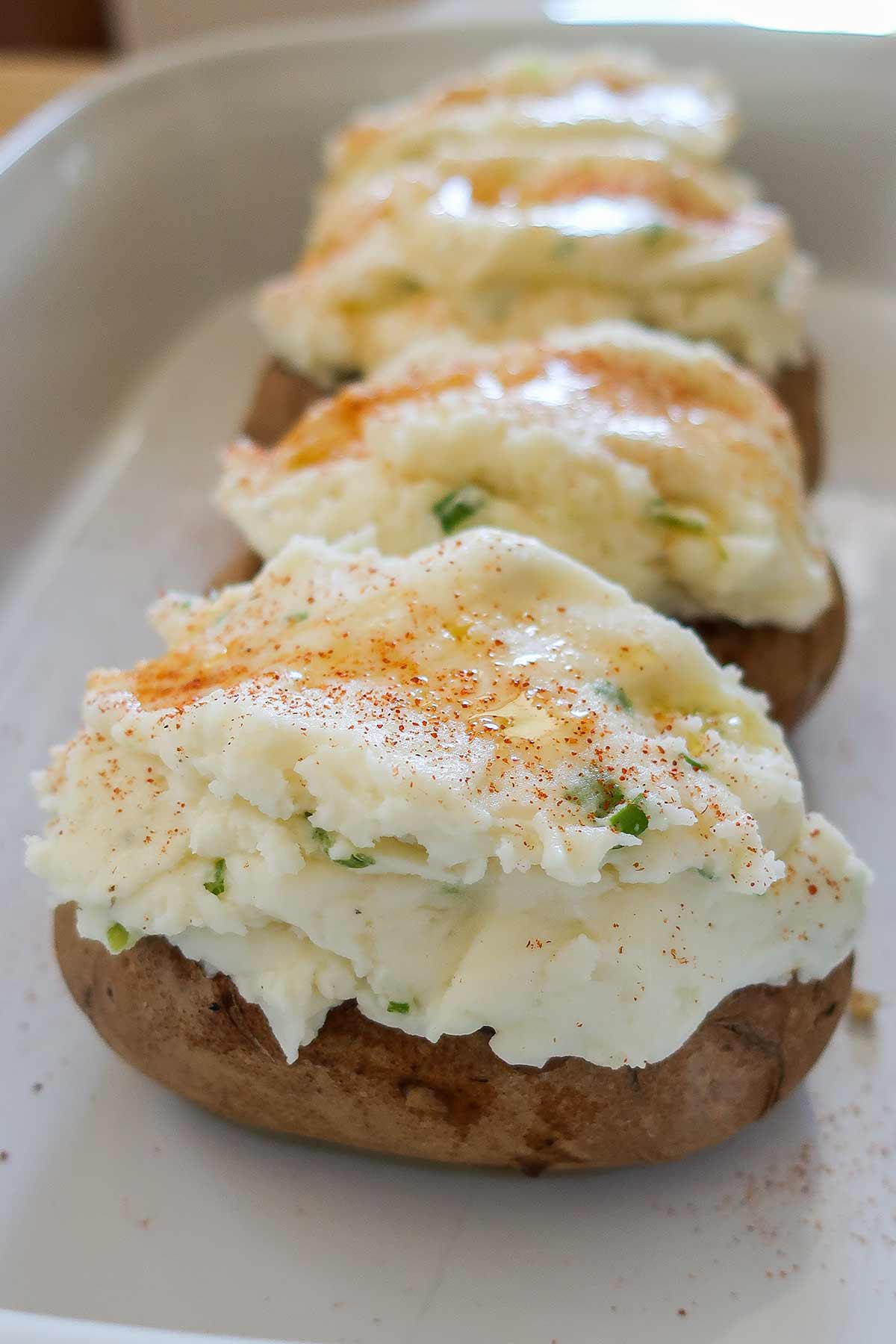 Generously top the stuffed potato skins with creamy potatoes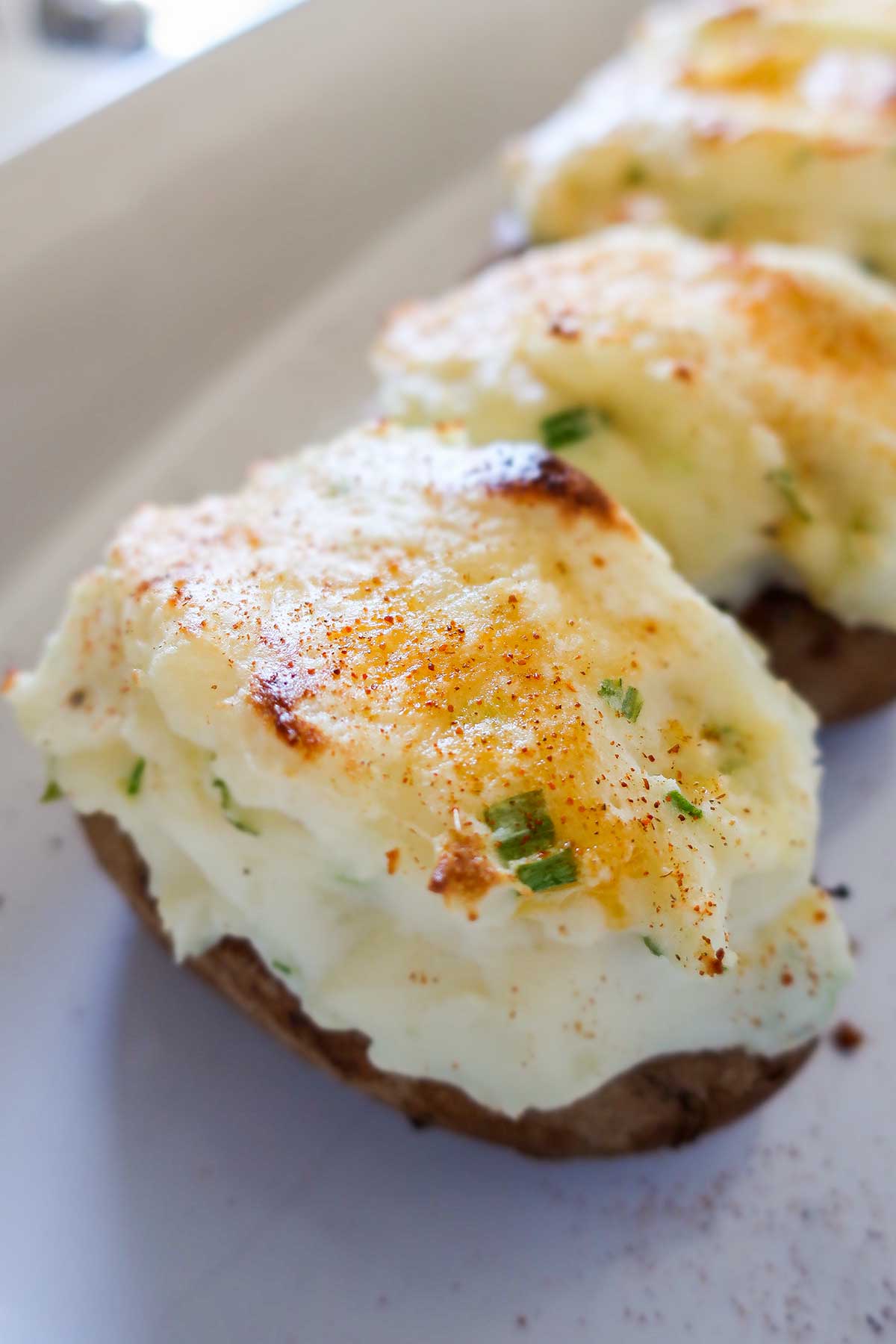 Bake until bubbly and golden brown. Turn the broiler on for 2 – 3 minutes for golden brown topping. Careful not to burn the potatoes
Add-ins for mashed potatoes
Once you scoop out the flesh and while still warm, first add butter. Then you can personalize the potatoes. Here are some of our favorites:
Cheese topping: to the potato flesh, add 1 cup of good melting cheese of choice, such as cheddar, smoked gouda, mozzarella, provolone, havarti, Swiss, Monterey jack or our favorite, gorgonzola cheese. Add an additional sprinkle of cheese on top.
Buttermilk and chives: replace milk with buttermilk and add half a cup of chopped chives and extra black pepper
Bacon and cream: replace butter and milk with cream and add 1 cup of chopped crispy bacon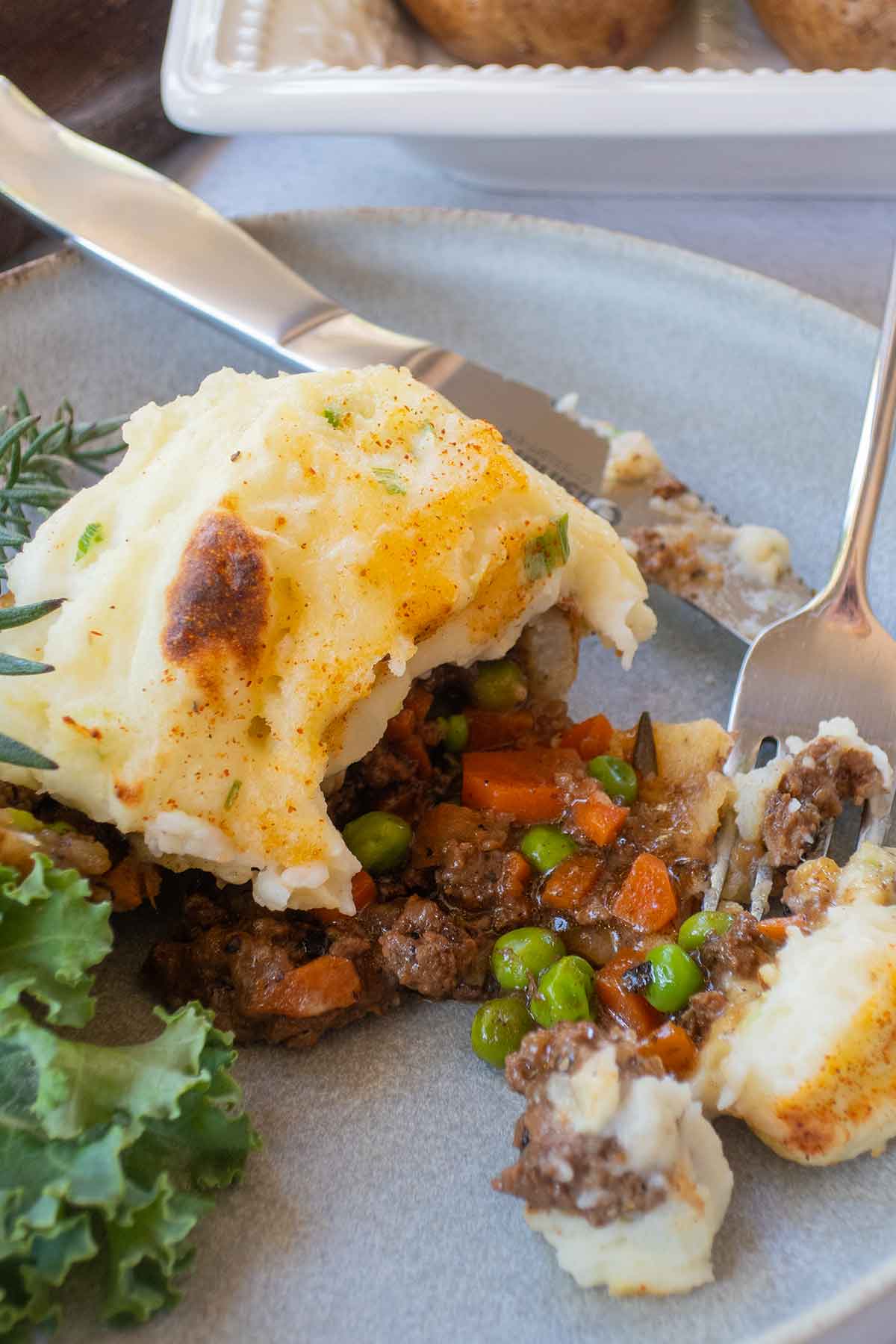 Serving suggestions
Shepherd's pie double baked potatoes go exceptionally well with following sides:
ENJOY!
Shepherd's Pie Double Baked Potato
Published on Feb 20, 2023
by
Kristina Stosek
Instructions
1.

2.

Pierce each potato 2 - 3 times with a sharp knife, and place them on the middle rack in the oven. Bake for 50 - 65 minutes, or until a toothpick inserts smoothly in the center of the potato. Set aside until cool enough to handle

3.

While the potatoes are baking, prepare the filling; preheat a large cast-iron skillet or equivalent until hot. Add the meat and onions, and while breaking up the meat, cook until browned. If your beef is extra lean, add a splash of olive oil to the pan before adding the meat. Add carrots, rosemary and 2 cups of water, and generously season with salt and pepper. Bring the sauce to a simmer and cook until most of the liquid evaporates. This should take about 20 - 30 minutes

4.

Then, whisk 1/2 cup of water with tapioca and add it with the peas to the meat mixture. Cook until the sauce thickens about 3 minutes. 

5.

PREPARE THE POTATOES; cut a thin slice off the top of each potato. Carefully scoop out most of the flesh, leaving a potato shell

6.

Place potato flesh in a bowl, add butter and mash. Add sour cream, milk, and green onions, and season with salt and pepper. Mash or whip until fluffy. Stuff potato shells with meat filling and spread the potato mixture over the top. Place on a rimmed baking sheet and sprinkle with paprika and a drizzle of olive oil or butter

7.

Bake in a preheated oven at 400 F for 10 - 15 minutes until heated. In the end, turn on the broiler and broil until the topping is golden brown, about 2 - 3 minutes