One Pan Chicken and Creamy Mushrooms Casserole
Published on Feb 22, 2020
by
Kristina Stosek
Prep Time:

15 minutes
Cook Time:

40 minutes
Serves:

4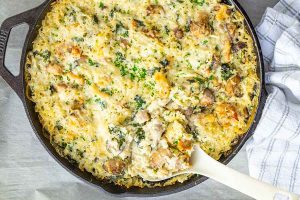 ​This post may contain affiliate links, please see our
privacy policy
for details
Chicken and Creamy Mushrooms Casserole made in one pan for a lazy night. This casserole is a feel good dish with chicken and mushrooms in a cream sauce, kale, rice, lemon zest and cheese. A simple, satisfying meal packed with flavour.
How to cook a casserole with rice and still keep it creamy?
When it comes to a baked casserole made with rice, there are some important things to know. First, you want the rice to be in a sauce, almost like a risotto, not dry and solid.
This is where the liquids come in. I used chicken broth and cream, but you can use whole milk. If you don't add enough liquids, the casserole becomes dry and sticky, not that flavourful.
The other thing is, don't add too much rice. This dish is about chicken, mushrooms and for something green, I added kale. The rice is used as a filler, not as the main attraction.
gluten-free mushroom casserole details,
To make this chicken and creamy mushroom casserole, first, you partially cook everything on the stove. Then, the casserole is baked with either gruyere or parmesan cheese.
For the mushrooms, I used small cremini mushrooms and kept them whole. This adds more texture to the casserole.
The kale is my way of adding something healthy and the lemon zest ties everything together. The entire meal is made and served usually in one pan from the stove to the oven to the table — super simple and minimal clean up.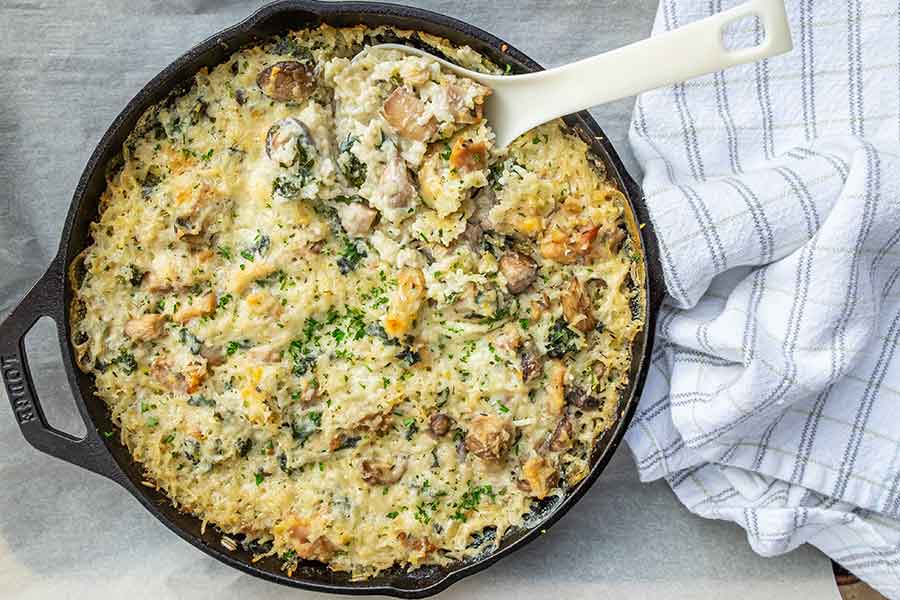 What to serve with rice casseroles?
Casseroles are always cooked in one pan and typically served in the same pan. This casserole has everything from meat to vegetables and a side all cooked together.
In this chicken and mushrooms casserole dish, the side would be considered rice, although some casseroles use pasta or potatoes. Since this dish has rice already the only thing to add would be a veggie side.
I would recommend a Simply Perfect Cabbage Crunch Salad or Broccoli Slaw with Citrus Dressing
One Pan Chicken and Creamy Mushrooms Casserole
Published on Feb 22, 2020
by
Kristina Stosek
Instructions
1.

Melt the oil/butter in a large oven-safe skillet over medium heat. Add onions and cook stirring often until soft. Stir in garlic, mushrooms and thyme and cook until the mushrooms are lightly browned. About 3 minutes

2.

Add rice and coat with the onion mushroom mixture. Stir in chicken broth, chicken, lemon zest and season with salt and pepper. Cook over medium heat until most of the broth has evaporated. About 20 minutes. You don't want to be stirring the rice too much, maybe a couple of times

3.

4.

Remove skillet from the stove and stir in kale, cream/milk and 3/4 cup of cheese. Sprinkle with remaining 1/4 cup of cheese

5.

Bake for 15 minutes. Serve immediately with fresh parsley