Simple Baked Italian Meatballs and Rice Casserole
Prep Time
15 Minutes
Difficulty
Easy
Cook Time
55 Minutes
Serves
4
Average Rating: 4.5 | Rated By: 7 users
This Italian Meatballs and Rice Casserole requires almost no effort. Shape the meatballs, briefly cook with tomatoes, onions and basil, pour over rice and cheese and bake. Finishing with a good sprinkle of cheese that melts right into the rice and the flavourful sauce.
The best part about this gluten-free Italian dinner, there is nothing to it! For big appetites, I like to add a green salad or warm gluten-free butter rolls.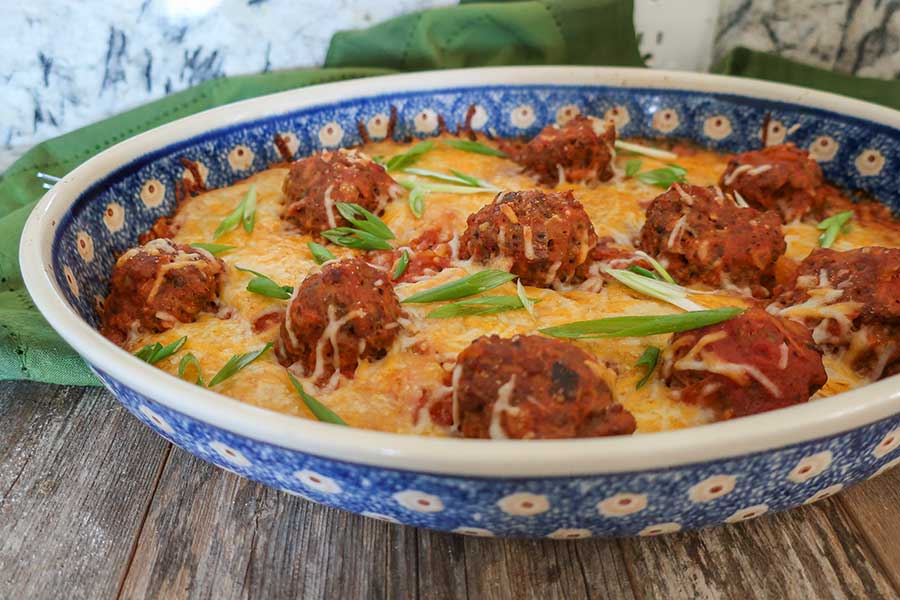 What is Italian Sausage Meat?
Italian sausage meat is typically added to pasta dishes. The sausage mixture is a combination of ground pork shoulder, fennel seeds, garlic, chilli pepper, salt and pepper. The meat comes in spicy or sweet (mild) flavour and is usually gluten-free.
We all have nights when we need a family meal that takes almost no effort. This Simple Baked Italian Meatballs and Rice Casserole is precisely that.
The meatballs are made with gluten-free sausage meat, finely grated carrots and chopped mushrooms. The veggies not only add healthiness but also keep the meatballs tender without adding bread crumbs.
make the meatballs
To make the meatballs and sauce is simple. First, briefly brown the meatballs, then set them aside. Using the same skillet, saute the onions, then add the meatballs, tomatoes, seasoning and broth.
Cook the meatballs for about 5 minutes. The meatballs are already seasoned, adding extra flavour to the sauce while they are simmering.
The casserole is layered in a baking dish with rice, cheese, meatballs and the sauce. Just before the Italian Meatballs and Rice Casserole is finished baking, add a good sprinkle of cheese and bake for a few more minutes until the cheese is melted. Done!
Italian food, especially freshly made meatballs, is a big hit in our home. In this gluten-free Italian dish, the rice has a texture almost like a risotto – saucy rice. The entire casserole is made simple, yet the flavours are outstanding.
If you love Italian food, you should check out my three favourite Gluten-Free Italian Recipes.
Let's Connect!
Be sure to FOLLOW US on FACEBOOK and PINTEREST.
Many thanks!
Kristina xx
Ingredients
1 lb. gluten-free Italian sausage meat (most stores have GF sausage meat, or you can get it from a butcher shop) I used spicy Italian, but you can get mild if you don't like spicy
1 medium carrot, finely grated
5 button mushrooms, grated or finely chopped
1 Tbsp. Extra virgin olive oil plus some to oil the casserole dish
1 small onion, chopped
1 3/4 cups GF beef or chicken broth
1 Tbsp. GF dried basil or oregano
1 tsp. Sweetener (maple syrup, agave, coconut sugar or sweetener of choice)
1 tsp. Sea salt
1 1/2 cups shredded cheese blend (cheddar and mozzarella work well)
*As an Amazon Associate and member of other affiliate programs, I earn from qualifying purchases. Please check out my sponsorship and disclosure policy page for more details
Instructions
In a medium bowl, mix sausage meat with carrots and mushrooms and shape into meatballs
In a large skillet, heat the olive oil over medium-high heat. Add the meatballs and brown on all sides, turning as needed, but don't disturb it too much. Transfer meatballs onto a plate and set aside
To the same skillet, add the onions and cook over medium heat until translucent. About 4 - 5 minutes. If needed, add a splash of olive oil. Add the meatballs, tomatoes, broth, basil, sweetener and salt. Cover and cook over medium heat for 5 minutes. This sauce is not thick. It is more like a broth for the rice to cook in 
Layer the bottom of the baking dish with rice and 1/2 cup of cheese. Add the meatballs with the sauce and cover with a lid or foil paper—Bake for 30 minutes. Remove the foil and top with remaining cheese. Continue baking for 5 - 10 more minutes until the cheese is melted. Serve immediately 
Similar Recipes
30-Minute One Pot Cheesy Chicken Taco Rice
30-Minute One Pot Cheesy Chicken Taco Rice is a must have recipe — the rich, full bodied flavours and cheesy rice with chicken is a deeply satisfying dish. I used basmati rice for this recipe because it has the best texture, but any long grain rice will work well in this one pot gluten-free chicken […] Read More
Prep Time
10 Minutes
Difficulty
Easy
Cook Time
20 Minutes
Serves
4-6
Chilli Lime Chicken With Chorizo Rice (Gluten-Free)
Chilli Lime Chicken with Chorizo Rice is a delicious hearty weeknight meal. One of my favourite gluten-free chicken dinners is one that uses only one skillet. Weeknights tend to be super busy, so the last thing you need is a complicated dinner. Keeping it simple when making weeknight meals is always appreciated, especially when the […] Read More
Prep Time
10 Minutes
Difficulty
Easy
Cook Time
35 Minutes
Serves
4
Homemade Gluten-Free Rice-A-Roni
This is a very flavorful gluten-free Rice-A-Roni dish made under 20 minutes. If you're like most people, you probably grew up eating Rice-A-Roni. It's a classic American dish that's easy to make and can be a side dish or a meal.  But if you're gluten-free, you may have thought you had to give up Rice-A-Roni […] Read More
Prep Time
5 Minutes
Difficulty
Beginner
Cook Time
15 Minutes
Serves
4