One Dish Chicken Bake with Marinara sauce
Published on Jul 25, 2020
by
Kristina Stosek
Prep Time:

10 minutes
Cook Time:

45 minutes
Serves:

4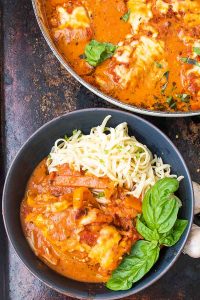 ​This post may contain affiliate links, please see our
privacy policy
for details
Easy One Dish Chicken Bake with Marinara Sauce topped with melted mozzarella cheese. This gluten-free Italian recipe is made entirely from scratch using only one pan. Fresh veggies simmered in the most flavourful tomato sauce, then topped with chicken and creamy mozzarella cheese.
The entire meal is ready under an hour using only one dish, making this chicken dinner an easy weeknight meal.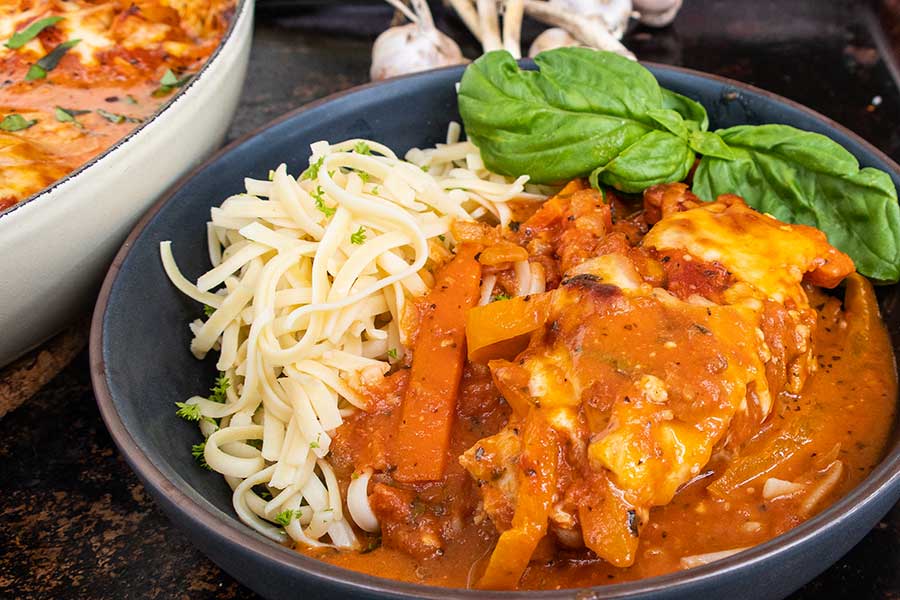 Easy marinara sauce from scratch!
First, you saute the onions with garlic. Then add the Italian spices such as basil, oregano, rosemary and bay leaf. If you like a bit of heat, add some hot chilli pepper flakes. Then come the veggies… I used carrots and orange bell peppers, but you can also use zucchini or mushrooms.
Then add crushed tomatoes, a little cream and salt. The reason I added a splash of cream is, so that the sauce has a bit of creaminess. The sauce is cooked in the same pan that you will bake the chicken in. If you want to simplify this recipe, you can also use gluten-free jarred marinara sauce.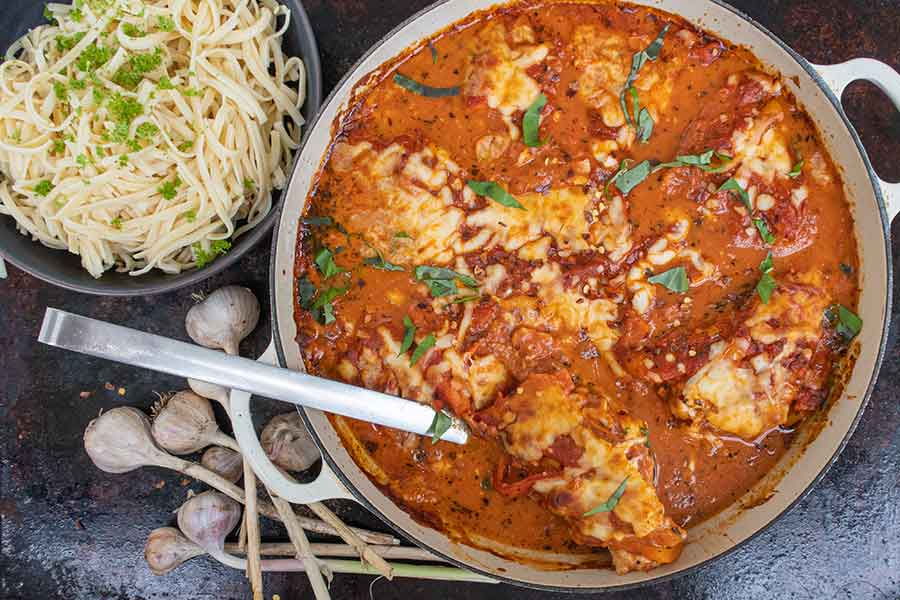 Details.
Now that the sauce is ready sprinkle some shredded mozzarella cheese over the top. Add the chicken pieces and spoon some of the sauce over top of the chicken. Finish the top layer with the remaining mozzarella cheese and bake for about twenty five minutes. Done!
I love this chicken dinner recipe, all of the ingredients are naturally gluten-free, so you don't have to search for special ingredients 🙂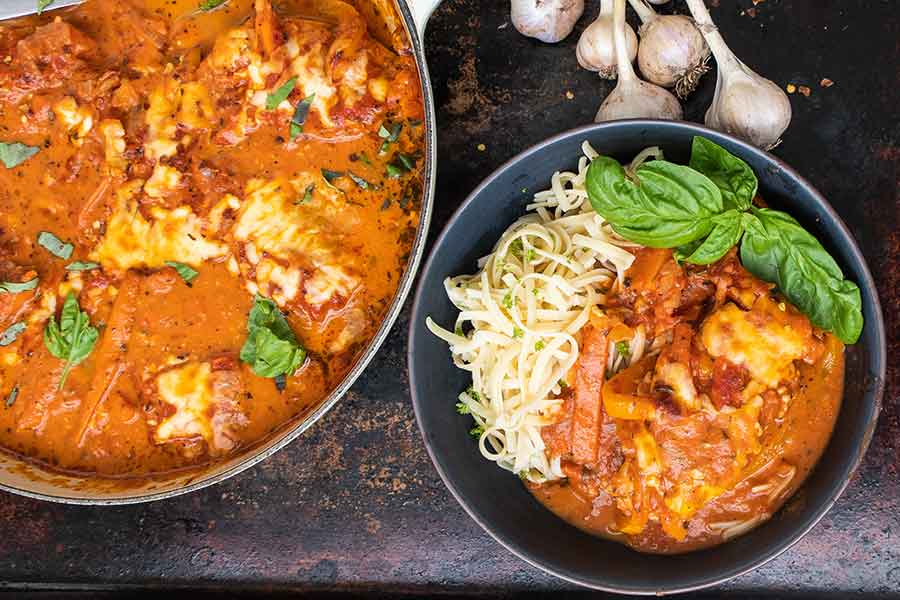 I like to serve this delicious chicken bake with marinara sauce with gluten-free pasta. However, you can add rice or these delicious simple potatoes with parsley and garlic. If you want to keep this chicken dinner low carb, serve it with cauliflower mash, or a light salad.
This gluten-free, one dish chicken bake with marinara sauce is an easy weeknight meal and is special enough to serve for company. The marinara sauce is so flavourful that it turns simple chicken into the most delicious Italian meal. I always say you can never have enough easy delicious chicken recipes!
One Dish Chicken Bake with Marinara sauce
Published on Jul 25, 2020
by
Kristina Stosek
Instructions
1.

Using a large oven-proof saucepan saute onions and garlic in olive oil until soft. About 4 - 5 minutes.

2.

Stir in basil, oregano, rosemary, bay leaf and hot chilli pepper flakes until combined. Add carrots, bell peppers, crushed tomatoes, cream and salt. Cover and simmer for 10 minutes. Stirring as needed. Remove from the heat

3.

Scatter 3/4 cup of mozzarella over the sauce and place the chicken over the top. Spoon some of the sauce over the chicken and sprinkle with remaining mozzarella cheese

4.

Bake in a preheated oven at 375 F for 25 - 30 minutes until the cheese has melted, and the chicken is cooked