Sheet Pan Spaghetti and Meatballs – Gluten Free
Published on Sep 20, 2021
by
Kristina Stosek
Prep Time:

15 minutes
Cook Time:

25 minutes
Serves:

4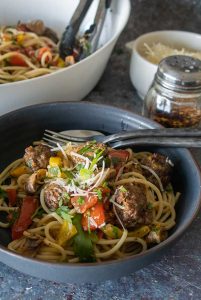 ​This post may contain affiliate links, please see our
privacy policy
for details
This Sheet Pan Spaghetti and Meatballs recipe is for busy weeknights when you have little time to throw a healthier pasta dinner together. Or when you want last minute comfort food. A perfect gluten-free pasta dish with meatballs for any day of the week.
Take classic spaghetti and meatballs and replace the tomato sauce with fresh veggies, olive oil, and Italian herbs. The meatballs with seasoned veggies are roasted together and then tossed with hot spaghetti and fresh parsley – so much flavour and a healthier way to enjoy pasta night.
Sheet pan spaghetti and meatballs is a good mix of fresh veggies, good olive oil, herbs, spices and delicious tender cheesy meatballs.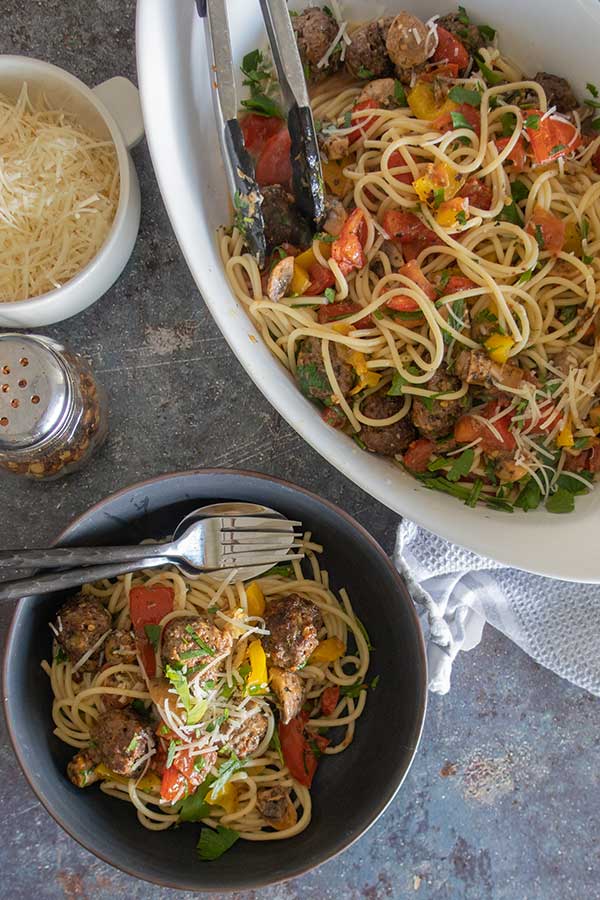 Sheet pan spaghetti and meatballs — recipe overview
This gluten free Italian dish is so simple that even novice cooks can master the recipe. Here are the simple steps to follow.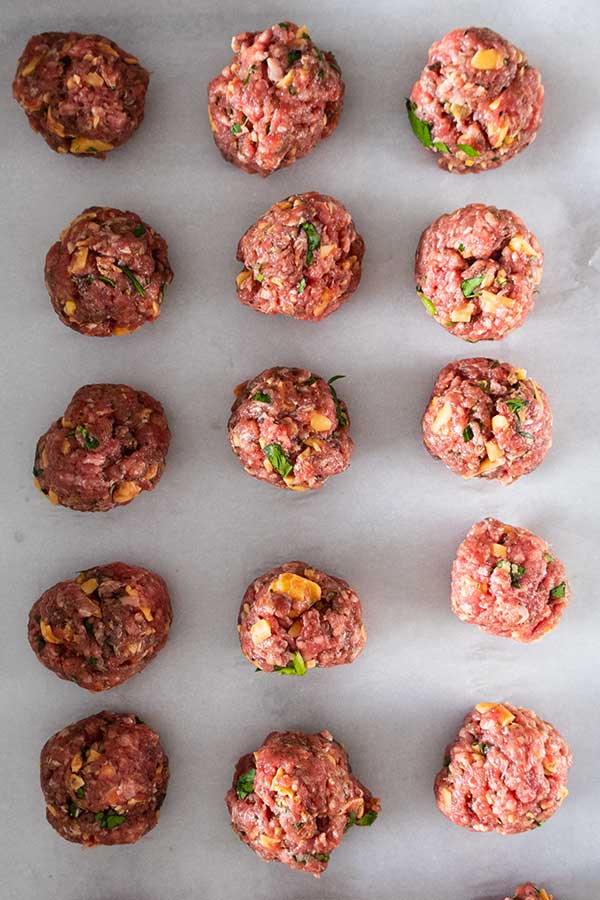 1) First make the gluten free meatballs
The grain-free meatballs take minutes to put together. Using a large bowl, mix ground beef, cheddar cheese, almond flour, herbs and spices, egg and a splash of water. Shape them into meatballs and bake for 10 minutes.
If you like meatball recipes, you may enjoy the Firecracker Rice Bowl with Sesame Meatballs or another easy weeknight meal you should check out is the Sweet and Sour Meatballs with Sesame Noodles.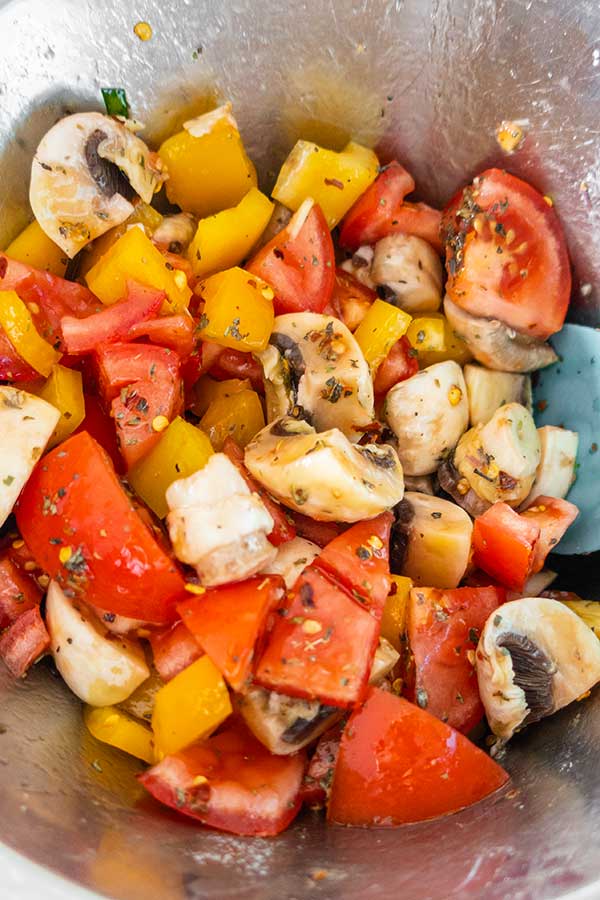 2) prepare the veggies
While the meatballs are baking, toss the fresh tomatoes, bell peppers, mushrooms, garlic with olive oil, herbs, and spices. This is where the flavour comes from.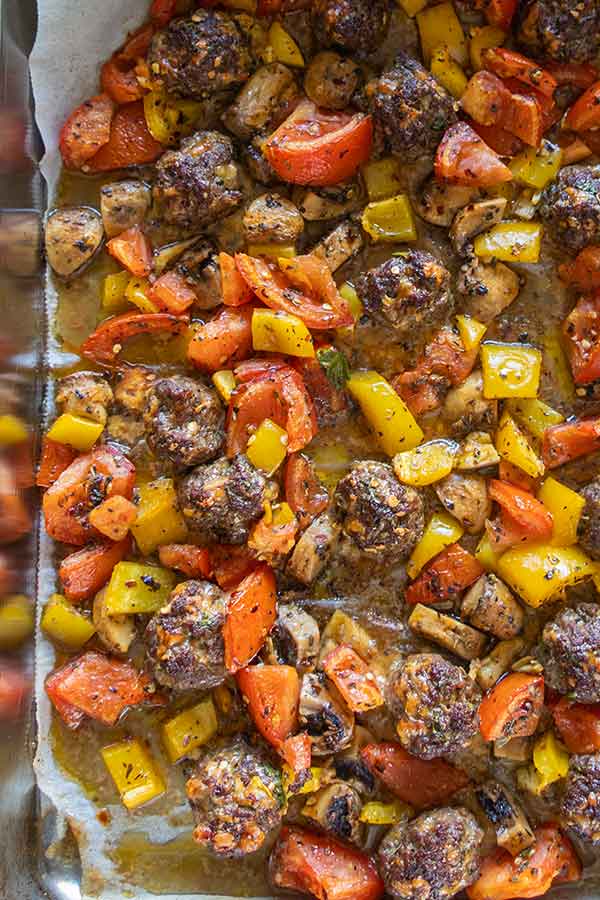 3) Scatter the seasoned veggies over partially cooked meatballs
Once the meatballs are partially baked, scatter the seasoned veggies with olive oil over the meatballs and continue baking until the veggies start to soften. The juices from the seasoned veggies are so flavourful. YUM!
4) Cook the pasta
While the veggies and meatballs are baking, cook the pasta. The pasta should be cooked al dente. After the pasta is finished cooking, drain the water and toss the hot pasta and fresh parsley with the meatballs and veggie mixture. The sheet pan spaghetti and meatballs dish oozes with Italian flavours, and the aroma of freshly cooked veggies, herbs and meatballs is unforgettable.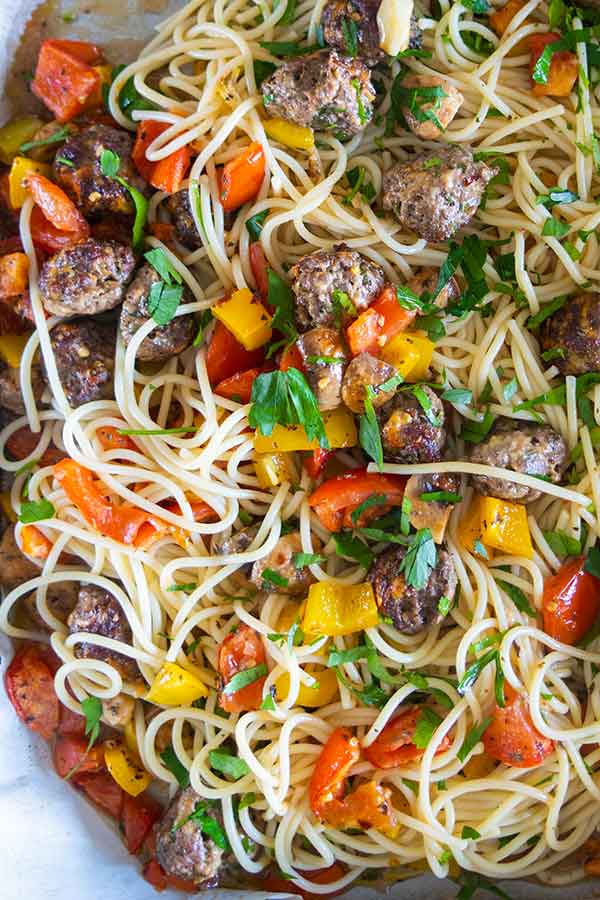 What gives this sheet pan pasta dish so much flavour?
The bright coloured healthy veggies, when roasted, become very tasty. However, it is the roasted garlic that adds truly amazing flavour.
When garlic is roasted, it adds depth to the juices and veggies, and the garlic itself becomes deliciously sweet. If you can't have garlic, use sliced shallots, yum!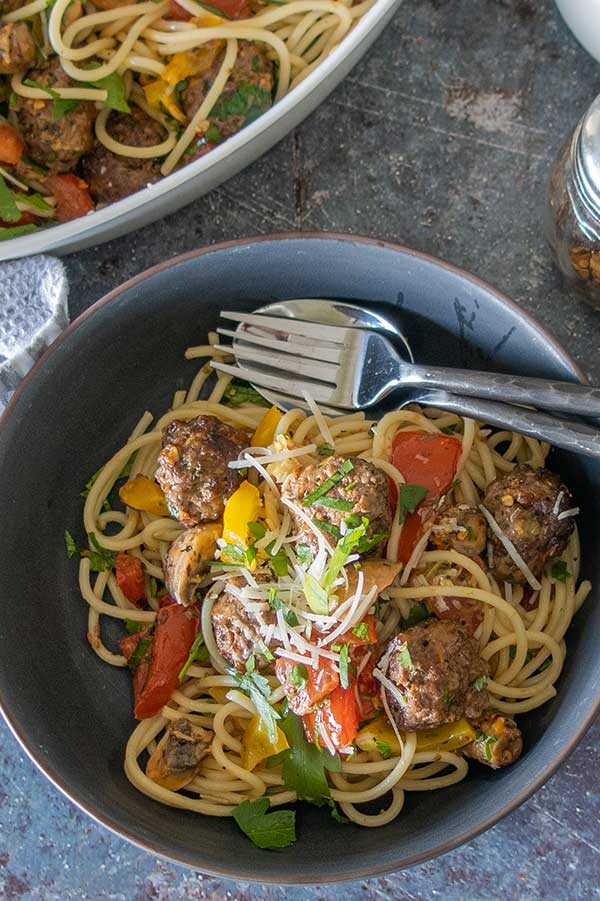 Why add almond flour to meatballs?
When the meatballs are baked, the protein in the meat makes them shrink, and as a result, the meatballs become tough and dry. Adding almond flour and moisture such as water or milk and eggs will help the meatballs be tender and moist.
What can I substitute for almond flour?
If you have a nut allergy, there are several replacements for almond flour. Gluten-free breadcrumbs, gluten-free quick oats, gluten-free bread, gluten-free unsweetened cereal or gluten-free savoury crackers. All these will lighten up the gluten-free meatballs and keep them moist.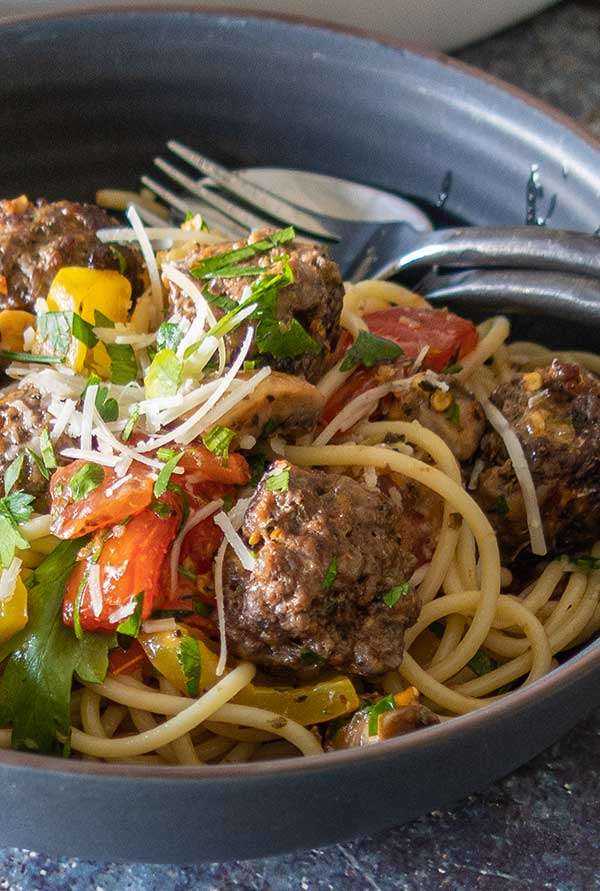 Make it low-carb.
If you follow the keto diet and are looking for a low carb option, I recommend serving this sheet pan Italian dish with zucchini noodles, spaghetti squash or keto noodles. These are my favourite keto noodles.
I hope you enjoy this gluten-free sheet pan spaghetti and meatballs dish. It's delicious, quick and easy to make, and you can add it to your list of healthier gluten-free pasta recipes.
Sheet Pan Spaghetti and Meatballs – Gluten Free
Published on Sep 20, 2021
by
Kristina Stosek
Instructions
1.

Preheat oven to 425 F and line a large rimmed baking sheet or baking pan with parchment paper

2.

In a large bowl, mix ground beef, almond flour, cheddar cheese, egg, parsley, 1 tsp. oregano, 1 tsp. basil, water, and season with salt and pepper

3.

Roll the meat mixture into balls and place on the baking sheet in a single layer so they are not touching. Bake for 10 minutes

4.

Mix tomatoes, bell peppers, mushrooms, garlic, 1 tsp. oregano, 1 tsp. basil, red pepper flakes, olive oil in a bowl. Season with salt and pepper.

5.

Scatter the veggies over the par-baked meatballs and continue baking 15 - 20 minutes longer, until the veggies soften

6.

Toss hot cooked pasta and parsley with the meatballs and veggies. Enjoy with a sprinkle of Parmesan cheese and fresh herbs of choice