Sweet and Sour Meatballs with Sesame Noodles
Published on Jun 10, 2020
by
Kristina Stosek
Prep Time:

15 minutes
Cook Time:

15 minutes
Serves:

4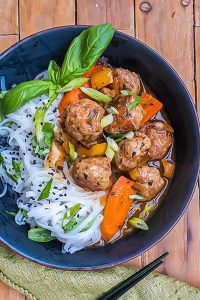 ​This post may contain affiliate links, please see our
privacy policy
for details
For an easy weeknight meal, this Gluten-Free Sweet and Sour Meatballs with Sesame Noodles is a delicious comfort dish for lazy nights at home. Combine rice noodles, fresh vegetables, pan-seared ginger chicken meatballs, and sweet and sour sauce, and you have a complete meal in a bowl.
The rice noodles are mildly flavoured with sesame oil, green onions, fresh basil and for an added crunch, some sesame seeds. What I love about this Asian-inspired meatball and noodle dish is that you can make it under 30 minutes.
I love sharing Asian-inspired recipes with you because they take minutes to whip up, and they are made with delicious sauces and fresh ingredients.
This gluten-free sweet and sour meatballs recipe is perfect for those nights when you are short on time to make a healthy and delicious meal for your family.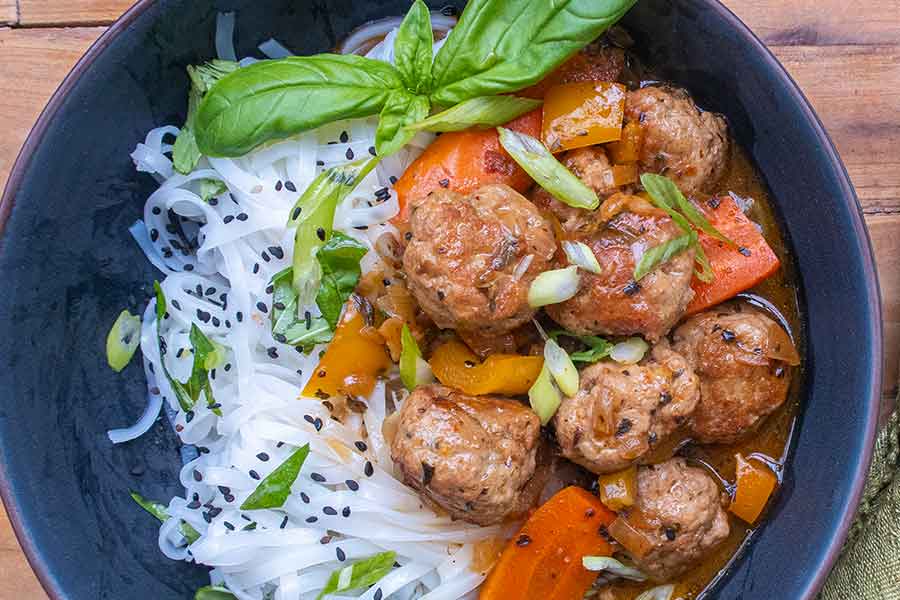 the sweet and sour sauce
The sauce is put together simply with ingredients you probably already have. Gluten-free tamari sauce, rice vinegar, arrowroot starch, honey, and for added heat, chili paste. Whisk everything in a bowl, and you are ready to cook the sauce.
How to make the meatballs?
The meatballs are made with lean ground chicken. The flavours come from fresh minced ginger, sliced green onions, garlic, honey and black pepper. Form the mixture into small meatballs and sear in some olive oil.
Once the meatballs are seared, set them aside.
To the same pan, add the shallots, bell peppers and carrots. However, you don't have to use the vegetables I used. Feel free to add vegetables you have available.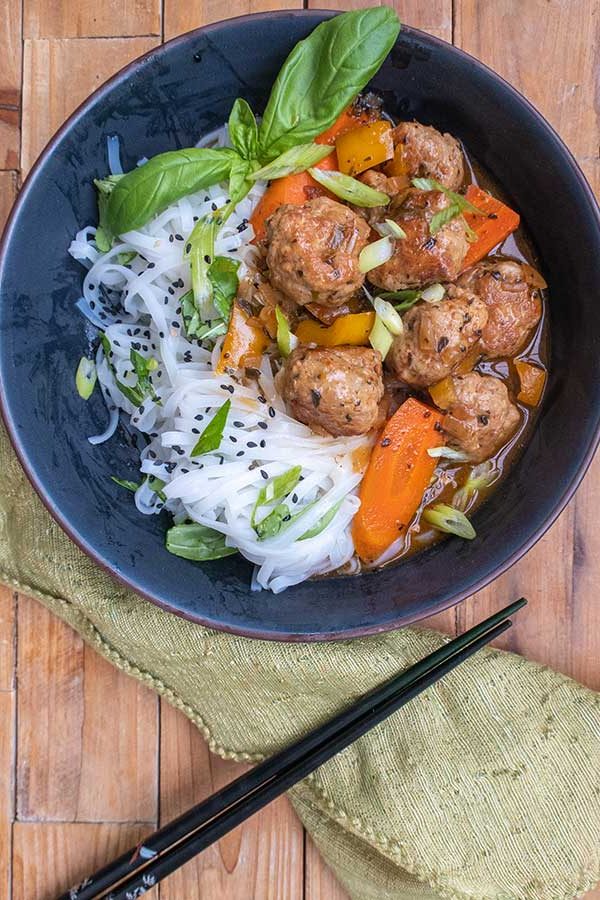 Briefly cook the veggies, then add the sauce and seared meatballs—cook for about ten more minutes. The sauce will thicken coating the meatballs and the veggies with a delicious sweet and sour flavour.
sesame rice noodles
To make the gluten-free rice noodles tasty, I tossed them with sesame oil, fresh basil, green onions and sesame seeds. The mildly flavoured noodles are made simply as not to overpower the meatballs and the sweet and sour sauce.
My favourite noodles for this Asian meatball recipe are the thick rice noodles often used for pad thai.
Are rice noodles gluten-free?
Rice noodles are made from rice starch, they are gluten-free and egg-free, and are available in all kinds of lengths and widths. The rice noodles are firm with a springy texture. This is especially seen in wider and thicker varieties.
These noodles are ideal for this recipe because they easily absorb the flavours of the sauce. The best part is, most of the Asian rice noodles do not have to be boiled. The noodles will soften in minutes when soaked in hot water.
The best way to serve the sweet and sour Meatballs?
Once the saucy meatballs are prepared, set them aside until dinner. Just before you are ready to serve dinner, make the noodles and reheat the meatballs.
When the noodles are done, spoon them into bowls, top with meatballs and spoon over the incredibly delicious thick sweet and sour sauce with veggies.
If you have any extra fresh basil, scatter it over the top and enjoy this flavourful saucy sweet and sour meatballs with sesame noodles meal.
Substitutions:
You can substitute gluten-free pasta, rice, spaghetti squash, and zucchini noodles for the rice noodles.For the honey, my first choice would be maple syrup, but you can use coconut sugar, brown sugar, or sweetener of choice.
For the rice vinegar, use fresh lemon juice or apple cider vinegar.
For the bell peppers and carrots, use any green vegetable you have on hand. My first choice would be snow peas, napa or green cabbage, zucchini or bok choy.
For the shallots, use 1/2 cup chopped onions and a garlic clove.
our 3 favourite meatball recipes
If you do make the Gluten-Free Sweet and Sour Meatballs with Sesame Noodles and would like to see the latest updates, don't forget my Facebook page for the latest updates.
Let's Connect!
Be sure to FOLLOW US on FACEBOOK and PINTEREST.
Many thanks!
Kristina xx
Sweet and Sour Meatballs with Sesame Noodles
Published on Jun 10, 2020
by
Kristina Stosek
Instructions
1.

Add the chicken, ginger, garlic, 1/4 cup green onions and 1 tablespoon honey to a bowl. Season with salt and pepper and mix to combine. Lightly oil your hands and roll the meat into about a tablespoon size balls.

2.

Heat a large skillet over medium-high heat and add olive oil. Add the meatballs and sear them on all sides. About 5 minutes. Remove them to a plate

3.

To the same skillet, add shallots, bell peppers, carrots and basil. Cook for about 3 minutes, stirring as needed.

4.

While the veggies are cooking, in a small bowl, whisk together 3/4 cup water, tamari sauce, rice vinegar, 2 tablespoons honey, 1 tablespoon arrowroot starch and chili sauce if using. Add to the skillet with the meatballs and cook over medium heat for 10 - 12 minutes. The sauce should be thick and the meatballs cooked through

5.

In the meantime, drain the noodles and toss with sesame oil, fresh basil, green onions and sesame seeds.

6.

Divide noodles into bowls, top with meatballs and spoon over the sauce.
Leave a Comment
Kristina
Hi Marian, I am so happy that you enjoyed this dish!
What a good recipe! I was a little worried about the heat from the sambal oelek, but when it was all done and spooned over the rice noodles, the heat and seasonings lent flavor to the bland noodles and put together, noodles and sauce balanced each other perfectly. I'll be making this again!