Gluten-Free Vegan Thai Meatballs
Prep Time
15 Minutes
Difficulty
Easy
Cook Time
25 Minutes
Serves
12 meatballs
Average Rating: 4.5 | Rated By: 14 users
Gluten-Free Vegan Thai Meatballs – even if you are following a plant-based diet you can indulge in these gluten-free meatballs because they are vegan! Meatballs without meat? Yes, it is absolutely possible. I wasn't sure if I should call them meatballs or just balls. But it seemed more appropriate to call them meatballs.
♥

If they are made without meat, then what is in the Thai meatballs?
Good question! I wanted to keep them moist and firm enough so that they don't fall apart without adding eggs. So the incredibly delicious meatballs are made with nutritionally packed black beans, oats and spices. Then I added a mildly spiced gluten-free red Thai sauce. The meatballs are smothered with the sauce making them exceptionally tasty. 
This vegan Thai dish is super versatile because it can be served as finger food for a crowd, for lunch with a light salad or for dinner as an entree with rice. Last time I served these meatballs no one could tell they were vegan they are that deceptively good!
Love Thai food? Then you must check out our gluten-free Thai recipes, they are easy to make and pack so much flavour! From simple soup recipes to delicious salmon recipes you will find a recipe that you will love!
Ingredients
MEATBALLS
1 1/4 cup certified gluten-free rolled oats
1 tsp. GF dried basil
1/2 tsp. GF ground cumin
1/2 tsp. Pure sea salt
2 garlic cloves, minced or 1/2 tsp. GF garlic powder
3 Tbsp. melted coconut oil
2 Tbsp. pure tomato paste
1 Tbsp. lime juice
2 tsp. minced ginger
1 tsp. GF red curry paste
2 cups cooked black beans, if using canned drain and rinse the beans
THAI SAUCE
1 1/2 cups coconut milk
1/2 cup GF vegetable stock
2 Tbsp. pure tomato paste
1 Tbsp. GF red curry paste
1 Tbsp. GF tamari sauce
1 Tbsp. fresh lime juice
1 tsp. GF dried basil
1 dried kaffir lime leaf (optional)
Pinch of hot chilli pepper (optional, depending on your taste for spicy food)
*As an Amazon Associate and member of other affiliate programs, I earn from qualifying purchases. Please check out my sponsorship and disclosure policy page for more details
Instructions
Preheat oven to 400 F and line a baking sheet with parchment paper
Place oats into a food processor bowl and blend to a powder Add basil, cumin and salt and blend to combine. Add garlic, coconut oil, tomato paste, ginger, lime juice and curry paste. Blend to combine
Add black beans and pulse about 5 times just enough for to form a thick mixture and leaving the beans at about half their size. Do not over mix or the meatballs will become hard
Roll the mixture into about 1-inch balls. I used an ice-cream scoop, then place them on the prepared baking sheet. Brush with remaining olive oil and bake for 20 minutes turning them over halfway through
SAUCE
While the meatballs are baking, in a large saucepan whisk together the sauce ingredients. Cook the sauce over medium-low heat for 5 minutes
Add the cooked meatballs and coat them with the sauce. Cook for 3 more minutes
Similar Recipes
Gluten-Free Asian Meatballs Recipe
Gluten-Free Asian Meatballs Recipe just like take out – made with lean chicken, water chestnuts, sesame oil, ginger, green onions, tamari and coriander and then smothered in an Asian-inspired tasty sauce.  So much goodness in these gluten-free meatballs. I especially love the crunchy texture of the chestnuts. And no eggs!     The easiest gluten-free […] Read More
Prep Time
15 Minutes
Difficulty
Easy
Cook Time
35 Minutes
Serves
24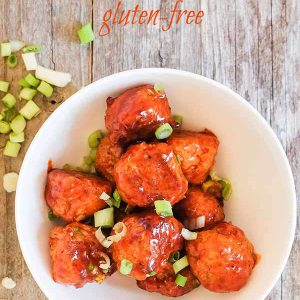 Gluten-Free Firecracker Chicken & Mozzarella Meatballs
Meatballs are always popular appetizers. These gluten-free firecracker chicken and mozzarella meatballs are tender, cheesy spiced up meatballs, making them a big hit at any party! This gluten-free meatball recipe requires very little work and you can make them a day in advance. This is why these firecracker chicken and mozzarella meatballs are so popular […] Read More
Prep Time
10 Minutes
Difficulty
Easy
Cook Time
15 Minutes
Serves
20
Meatballs Stuffed With Jalapeno And Mozzarella
You will love these turkey meatballs stuffed with jalapeno and mozzarella. They are tender and have a little kick to them, making them popular during sports events or entertaining. Meatballs make great appetizers at any party.   The jalapeno and mozzarella filling is what make these meatballs extra special.  Serve with or without the dipping […] Read More
Prep Time
20 Minutes
Difficulty
Moderate
Cook Time
40 Minutes
Serves
18