Sheet Pan Spanish Chicken Dinner
Published on May 27, 2018
by
Kristina Stosek
Prep Time:

15 minutes
Cook Time:

55 minutes
Serves:

4-6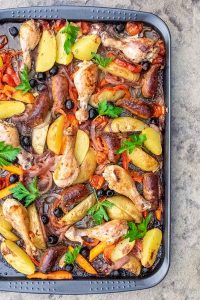 ​This post may contain affiliate links, please see our
privacy policy
for details
This Sheet Pan Spanish Chicken Dinner takes only minutes to whip up! Sheet pan dinners are simple with minimal clean up, boasting with an array of flavours. In this chicken dinner dish, the chicken and potatoes soak up the flavours from chorizo sausage, red onions, garlic, peppers, oregano and fresh lemon juice.
This stunning chicken recipe brings chicken dinner to another level of deliciousness!
Pros and cons of sheet pan dinners!
Do you ever get tired of cooking and then cleaning up, especially after a busy day? We all do, this is why sheet pan dinners are so popular!
The recipes are simple and easy to prepare, most of the time you scatter all the ingredients on a large rimmed baking sheet or a baking tray, season with herbs and spices and drizzle with olive oil. That's it, then just bake until the veggies are caramelized and the meat or fish is tender, juicy and flavourful.
For the cleanup, only one pan 🙂 I love sheet pan dinners and so does my family. When you cook everything in one pan all the flavours blend and infuse the veggies and or proteins. The juices in the pan are so good so make sure to drizzle them over everything just before serving.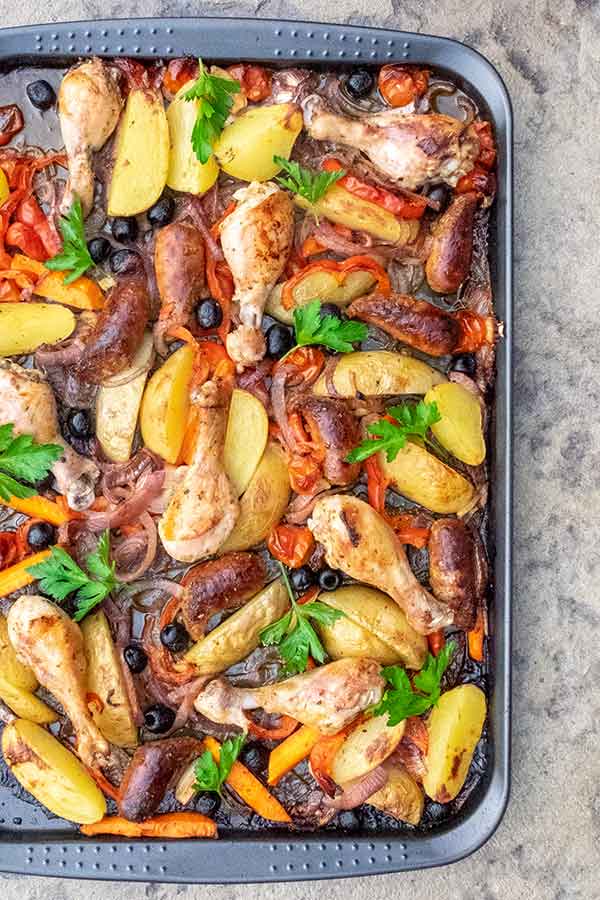 Another good point about sheet pan dinner is, you don't have to have a lot of meat. Use extra veggies instead, the meat will flavour everything beautifully, making sheet pan dinners more cost effective.
And lastly, you will spend very little time in the kitchen, leaving you time for more important things, like helping your kids with homework or sit down, put your feet up, and have a glass of wine 🙂 So there you have it for the pros.
Now, let us examine the cons. I can think of only two. One, not having a large enough pan to use, because sheet pan dinners work the best when you don't overcrowd them. The second, the dinner is so delicious that more often than not there will be no leftovers for the next day…oh NO 🙁
keep it simple tonight with sheet pan chicken dinner…
Tonight, keep it simple with this one-pan wonder and enjoy the extra time with your family!
Do you like one-skillet dinners? Check out these easy to prepare one-pan gluten-free recipes
Sheet Pan Spanish Chicken Dinner
Published on May 27, 2018
by
Kristina Stosek
Instructions
1.

2.

Season chicken with salt and pepper

3.

Place all ingredients on a large rimmed sheet pan and toss to coat. Do not overcrowd the pan for best results. Season with salt and pepper

4.

Bake for 30 minutes, then baste everything with juices from the pan and bake for about 25 - 30 more minutes until potatoes are tender and the chicken is cooked. The internal temperature of the chicken should read 165 F

5.