Gluten-Free Chicken Cordon Bleu Casserole
Prep Time
10 Minutes
Difficulty
Easy
Cook Time
50 Minutes
Serves
4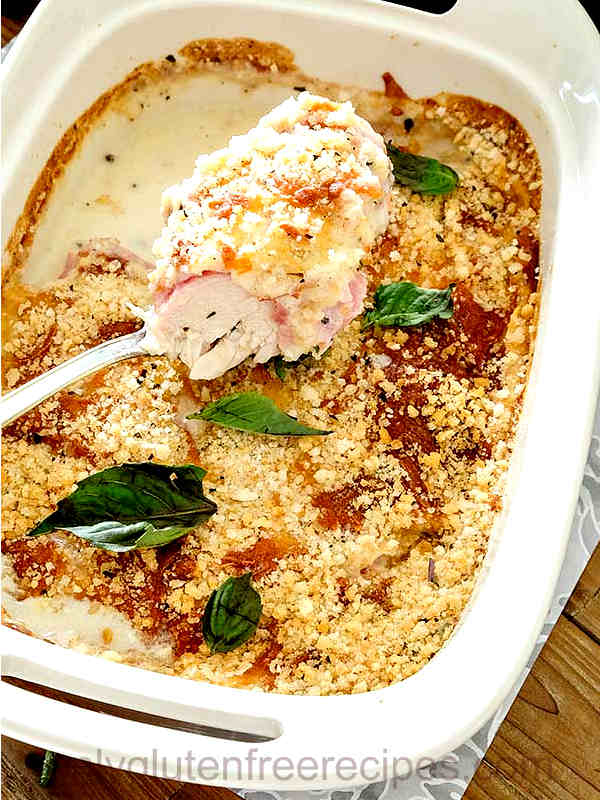 Average Rating: 5 | Rated By: 9 users
The easiest recipe for Gluten-Free Chicken Cordon Bleu because it is made into a casserole. This casserole is based on the classic French chicken cordon bleu recipe, but without gluten and for simplicity, it is made into a casserole.
To make this easier version of gluten-free chicken cordon bleu is simple. The tender chicken breast is layered with black forest ham, Swiss cheese and basil. Then, the casserole is baked in a creamy garlic sauce. The recipe is easy enough to appeal even for the novice cook.
What I love about this chicken cordon bleu recipe is, there is no frying of the chicken, making this dish healthier and lower in fats and calories.
Chicken cordon bleu goes exceptionally well with mashed potatoes, steamed veggies and a light green salad. Another recipe you may enjoy is the gluten-free chicken schnitzel bites. If you are following a plant based diet you will enjoy the gluten-free vegan schnitzel.
Ingredients
1 Tbsp. extra virgin olive oil
4 skinless boneless chicken breasts, cut into 1-inch thick strips
8 oz. gluten free Black Forest ham slices, roughly chopped
1 cup cream
1 ¼ cups grated Swiss cheese, divided
1 Tbsp. gluten free Dijon mustard
2 tsp. GF dried basil, divided
1 tsp. GF garlic powder, divided
½ tsp. sea salt
½ tsp. GF ground black pepper
½ cup gluten free bread crumbs
*As an Amazon Associate and member of other affiliate programs, I earn from qualifying purchases. Please check out my sponsorship and disclosure policy page for more details
Instructions
Preheat oven to 375 F and brush 8x10-inch casserole dish with olive oil
Season chicken with salt. Place half the chicken slices on the bottom of the casserole dish, then layer with half the ham. Repeat the layers ending with ham
In a medium size saucepan whisk together cream, 1 cup of cheese, Dijon mustard, 1 tsp. basil, ½ tsp. garlic, ¼ tsp. and black pepper. Cook over medium heat until the sauce starts to thicken. Pour sauce over the casserole and sprinkle with remaining cheese
Combine bread crumbs with ½ tsp. basil, ½ tsp. garlic powder and ¼ tsp. black pepper and sprinkle over top of the casserole. Bake for 45 minutes
Similar Recipes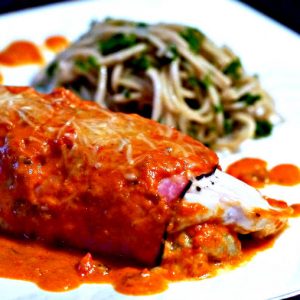 Chicken Stuffed With Artichoke In Tomato Basil Sauce
Thinking Italian? Try this chicken breast stuffed with artichoke filling, wrapped with ham and cooked in fresh tomato basil sauce. Next time you want to impress your family and friends make this impressive chicken dish. Serve with pasta, rice or steamed vegetables Read More
Prep Time
15 Minutes
Difficulty
Intermediate
Cook Time
30 Minutes
Serves
4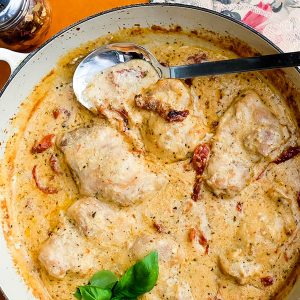 Chicken With Sundried Tomatoes in Cream Sauce
Discover a simple way to cook gourmet chicken in a flavourful Asiago cream sauce. Stumbling on this amazing dish through my travels in northern Italy, I have decided to include it in my favourite dinner recipes. The tender chicken soaks up a mildly flavoured cheese sauce infused with sundried tomatoes, and seasoned with Italian herbs, […] Read More
Prep Time
10 Minutes
Difficulty
Easy
Cook Time
35 Minutes
Serves
4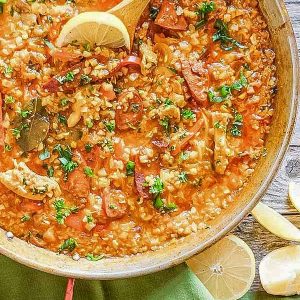 Chicken and Chorizo Cauliflower Paella
This chicken and chorizo cauliflower paella is an easy weeknight meal made in one skillet. Spain is famous for its paella dish which is typically made with rice, vegetables, chicken, chorizo and or seafood. In this recipe, I substituted cauliflower for the rice, making this a low carb meal. For protein, I used chicken and chorizo sausage, […] Read More
Prep Time
15 Minutes
Difficulty
Easy
Cook Time
30 Minutes
Serves
4