Gluten-Free Chicken Cordon Bleu Casserole
Published on May 26, 2017
by
Kristina Stosek
Prep Time:

10 minutes
Cook Time:

50 minutes
Serves:

4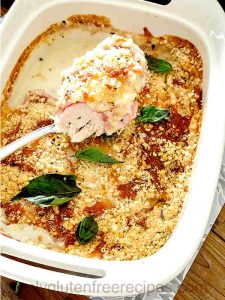 ​This post may contain affiliate links, please see our
privacy policy
for details
Gluten-Free Chicken Cordon Bleu Casserole made with everything we love! Layers of Black forest ham, Swish cheese, cream, and a crispy bread crumb topping. This gluten-free casserole recipe is simple to put together, even for novice cooks.
This chicken cordon bleu casserole is based on the classic French chicken cordon bleu recipe. However, I made it into a casserole to keep this gluten-free dish simple.
Recipe notes for chicken cordon bleu casserole,
You will love how easy this casserole dish recipe is. First, you layer the dish with chicken and black forest ham. Then, repeat the layers ending with ham.
next,
Make the cheesy cream sauce. The sauce is seasoned with basil, garlic and a true classic for chicken cordon bleu, the Swiss cheese. The rich sauce is then poured over the layers of chicken and ham with an extra sprinkle of cheese. The sauce keeps everything saucy, cheesy and delicious.
It's all about the crispy topping!
The casserole is topped with seasoned gluten-free bread crumbs to give this chicken cordon bleu the perfect finish. This gluten-free version of the French-inspired dish is about tender chicken and ham baked in a rich cheesy sauce and the crisp topping. YUM!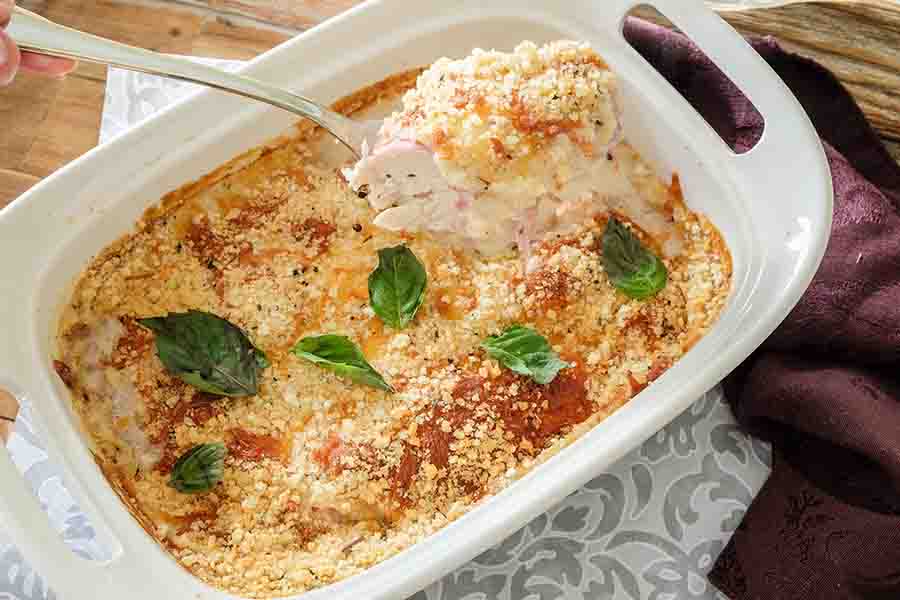 A healthier version of Chicken Cordon Bleu!
I love this gluten-free chicken cordon bleu recipe because there is no frying of the chicken that you would typically do when making the classic French dish. This makes the casserole healthier and lower in fats and calories.
Chicken cordon bleu goes exceptionally well with mashed potatoes, steamed veggies and a light green salad. Another recipe you may enjoy is the gluten-free chicken schnitzel bites. If you are following a plant-based diet, you will love the gluten-free, vegan schnitzel.
Gluten-Free Chicken Cordon Bleu Casserole
Published on May 26, 2017
by
Kristina Stosek
Instructions
1.

Preheat oven to 375 F and brush 8x10-inch casserole dish with olive oil

2.

Season chicken with salt. Place half the chicken slices on the bottom of the casserole dish, then layer with half ham. Repeat the layers ending with ham

3.

In a medium size saucepan whisk together cream, 1 cup of cheese, Dijon mustard, 1 tsp. basil, ½ tsp. garlic powder, and ¼ tsp. black pepper. Cook over medium heat until the sauce starts to thicken. Pour sauce over the chicken and sprinkle with remaining cheese

4.

Combine bread crumbs with ½ tsp. basil, ½ tsp. garlic powder and ¼ tsp. black pepper and sprinkle over top of the casserole. Bake for 45 minutes, until the top is golden and crispy
Leave a Comment
Making this for some friends who just had a baby!
Kristina
I am so happy to hear that you enjoyed this dish. Thank you!
This was so yummy and easy to make. My family and friends loved it!!