Instant Pot Beef And Vegetable Soup With Gluten-Free Mini Dumplings
Prep Time
20 Minutes
Difficulty
Easy
Cook Time
50 Minutes
Serves
6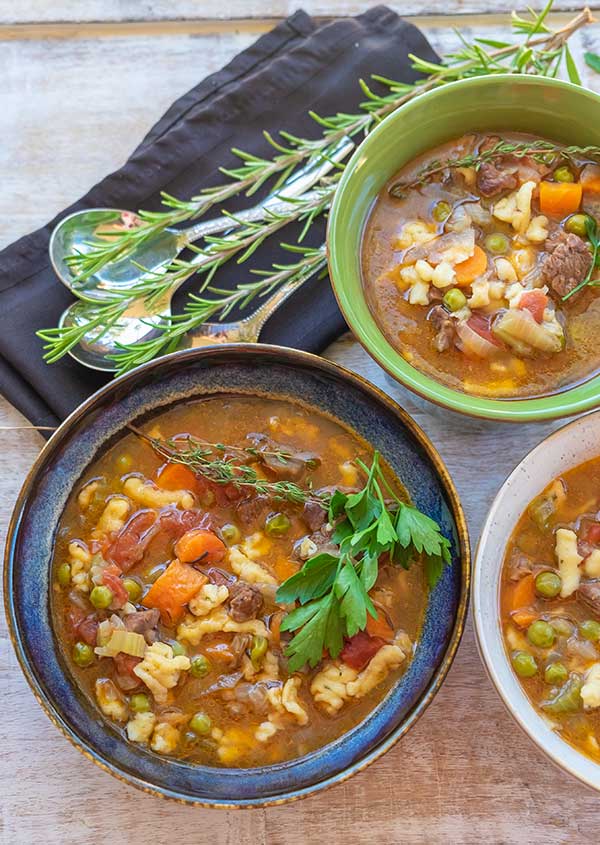 Be the first to rate this recipe.
Healthy, hearty Instant Pot Beef And Vegetable Soup with Gluten-Free Mini Dumplings. When the cold weather rolls around, it is all about warm and cozy, satisfying meals. 
This beef and vegetable soup has a thick, rich broth, and every bite is filled with veggies, tender meat and gluten-free mini dumplings. 
Using Instant pot makes weeknight meals stress free and easy, such as this delicious soup. This beef and vegetable soup recipe is easy with simple to make gluten-free mini dumplings. 
the veggies,
This beef soup recipe includes plenty of carrots, celery, mushrooms, tomatoes and healthy peas. And the beef is so tender it will melt in your mouth. 
the flavour,
To flavour the beefy soup, I used thyme, bay leaves, rosemary and garlic. But to make this instant pot beef and vegetable soup extra special, I added gluten-free mini dumplings made with chives and parsley.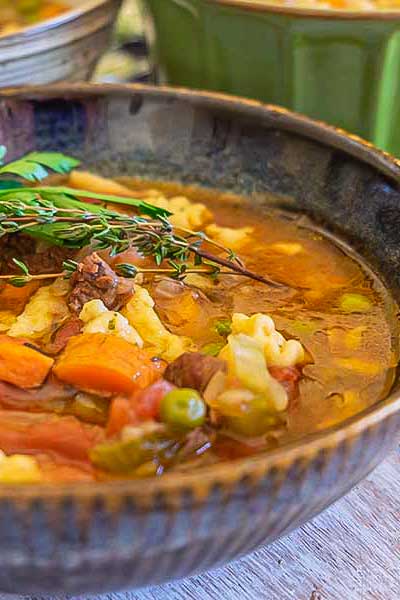 the soup tastes like beef and barley soup,
This soup reminds me of beef and barley soup, except without the barley, a grain that is not gluten-free. So, I replaced the barley with mini dumplings. I can't tell you how delicious this soup is. 
with instant pot cook the meat first,
When it comes to instant pot beef recipes, they are super easy to make. But it is essential to cook the meat first before you add the vegetables. The reason for this is, the meat takes longer to cook, and the last thing you want is mushy falling apart veggies. 
In this recipe, the meat is tender, and the veggies are full of flavour and have a perfect texture.
The best part, you add the mini dumplings at the end, and they take only one minute to cook.
 I hope you will try this instant pot beef and vegetable soup with the gluten-free mini dumplings because it is too good not to, honestly!
 If you try this recipe, please leave me a comment. I always love to hear from you. 
If you would like to add freshly baked bread, try one of these gluten-free bread recipes or our popular gluten-free cheesy garlic rolls.
Ingredients
1 1/2 lb. beef stew meat, cut into small cubes (about 3/4-inch)
3 Tbsp. Extra virgin olive oil, divided
1/2 tsp. GF ground black pepper
2 medium onions, diced
1 garlic, smashed
14 oz. diced tomatoes (2 large fresh tomatoes, or canned)
5 cups water
2 GF bay leaves
1 tsp. GF dried thyme
1/2 tsp. GF dried rosemary
2 tsp. Himalayan salt
3 carrots, diced
2 stalks celery, diced
1 cup sliced button mushrooms (do not slice them too thin, about 1/2-inch thick)
1 cup fresh or frozen peas
GLUTEN-FREE MINI DUMPLINGS
1/3 cup Gluten-Free all-purpose flour
1 Tbsp. Potato flour (not potato starch)
1/4 tsp. Himalayan salt
1/8 tsp. Xanthan gum (use 1/4 tsp. If your blend does not include it)
1 extra-large egg, whisked
1 Tbsp. Chopped fresh chives
1 Tbsp. Chopped fresh parsley plus some for serving
*As an Amazon Associate and member of other affiliate programs, I earn from qualifying purchases. Please check out my sponsorship and disclosure policy page for more details
Instructions
Using the sauté function on your instant pot, heat 1 tablespoons of olive oil. Once heated, add the beef and season with pepper, do not stir for 3 minutes, allowing the beef to sear well on one side. Stir and cook for 1 more minute. Transfer beef on a plate
Add remaining 2 tablespoons of olive oil, onions and garlic. Cook for 3 - 4 minutes until the onions start to brown. Stirring frequently. Return beef to the pot with tomatoes, water, bay leaves, thyme, rosemary and salt. Cook on high pressure for 35 minutes
In the meantime, make the dumplings. Using a small bowl whisk together flours, salt and xanthan gum. Add egg, chives and parsley and mix until you form a ball of dough. If the dough is still crumbly, add a little water, a teaspoon at a time until you form a firm ball. If the dough is too sticky add a little flour. It all depends on the flour blend you are using. I used gluten-free better batter blend. Cover with plastic wrap and place in the freezer for 15 minutes, not any longer. Remove the dough from the freezer and using the large holes on a box grater, grate the dough. (You can do this ahead of time, place the dumplings on a tray and refrigerate until ready to use)
After 40 minutes of cooking the beef, use the quick release function and release the steam. Remove the lid and stir in the vegetables. Close the lid and cook on high pressure for 4 minutes. After 4 minutes, use the quick release function, remove the lid and add the dumplings. Close the lid and cook on high pressure for 1 minute. Right after, use the quick release function and release the steam. At this point, you can keep the soup on warm function until ready to serve. Serve with fresh parsley.
Similar Recipes
African Beef Stew Recipe
This slow-cooked African Beef Stew is just the perfect hearty, cozy dinner to make when you are craving comfort food. Healthy ingredients such as garlic, ginger, tomatoes, cabbage, carrots and the two basics stew beef and potatoes make this African beef stew the most satisfying meal. the ethnic spices for African stew For the flavour, […] Read More
Prep Time
15 Minutes
Difficulty
Easy
Cook Time
140 Minutes
Serves
4 - 6
Authentic Hungarian Goulash (Gluten-Free)
This is truly an Authentic Hungarian Goulash dish…slowly simmered beef with vegetables, lightly flavoured delicious tomato broth and a little spiciness. This is comfort food at it's best! grandma's Hungarian goulash recipe Growing up in eastern Europe, in our home, Hungarian goulash was a weekly meal. Whether this hearty dish was served as a soup […] Read More
Prep Time
15 Minutes
Difficulty
Easy
Cook Time
120 Minutes
Serves
6
Beef Bourguignonne ~ Naturally Gluten Free
Beef bourguignonne is a hearty French beef stew cooked in rich red wine sauce. This French stew is slowly cooked for a few hours which is what makes the sauce incredibly tasty. Serve this delicious beef dish with boiled potatoes or over gluten free pasta. Read More
Prep Time
15 Minutes
Difficulty
Easy
Cook Time
240 Minutes
Serves
6