30 Minute Gluten-Free Beef Ramen Noodles
Published on May 25, 2020
by
Kristina Stosek
Prep Time:

10 minutes
Cook Time:

20 minutes
Serves:

4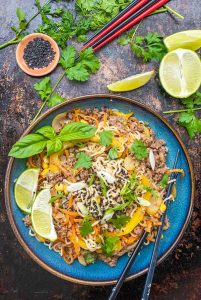 ​This post may contain affiliate links, please see our
privacy policy
for details
Simple 30 Minute Gluten-Free Beef Ramen Noodles. This gluten-free Asian inspired noodle dish is just the thing for when you crave take out food but are short on time. The beefy noodles are seasoned with mildly spicy ginger sauce and mixed with julienned carrots, peppers and corn.
This noodle dish is quick and simple to make, with incredibly tasty flavours throughout.
I wanted to keep things simple during these trying times and what is more satisfying and economical than a tasty noodle dish. To keep things gluten-free, I used gluten-free ramen noodles. However, if you can't find gluten-free ramen, you can easily substitute it for Asian gluten-free rice noodles. These noodles are available in most supermarkets.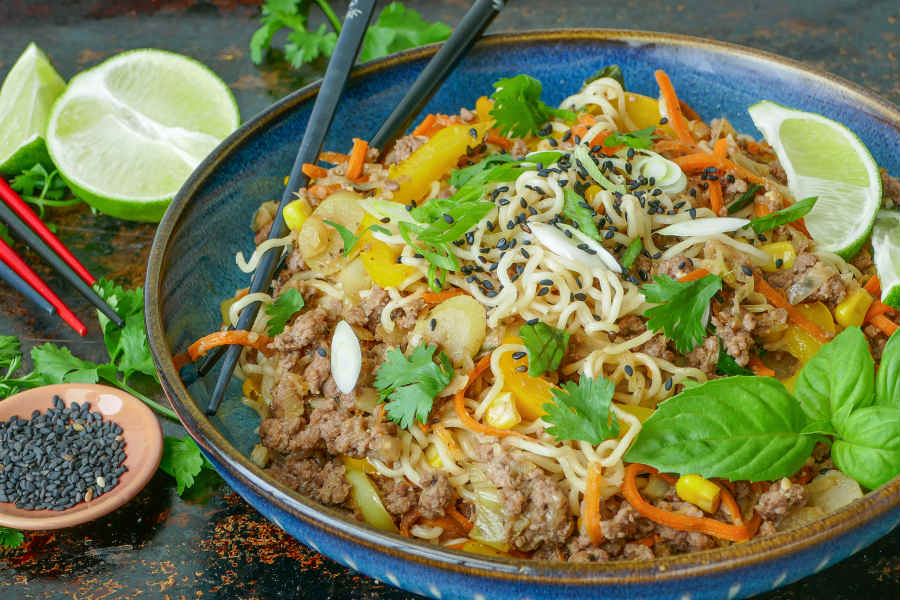 ♥

For the recipe!

This noodle dish is a 30 minute meal, so you know it is quick and easy to put together. I used lean ground beef because this is what I had on hand, but feel free to use chicken, turkey or pork, moving on… first, you saute the leeks in some sesame oil. If you don't have sesame oil, you can use olive oil.

Once the leeks start to brown, add the meat, garlic, ginger and dried basil. Cook the meat until it starts to brown. Now you add the flavours that make this noodle dish so delicious.

I used gluten-free low sodium Tamari sauce, rice vinegar, miso paste, fish sauce, chilli paste, and a touch of sweetener to balance the saltiness. I used maple syrup since I do not use refined sugar, but you can use honey or a sweetener of choice.

Next, add the carrots, bell peppers and corn and cook the beef mixture until the peppers start to soften, This takes less than ten minutes.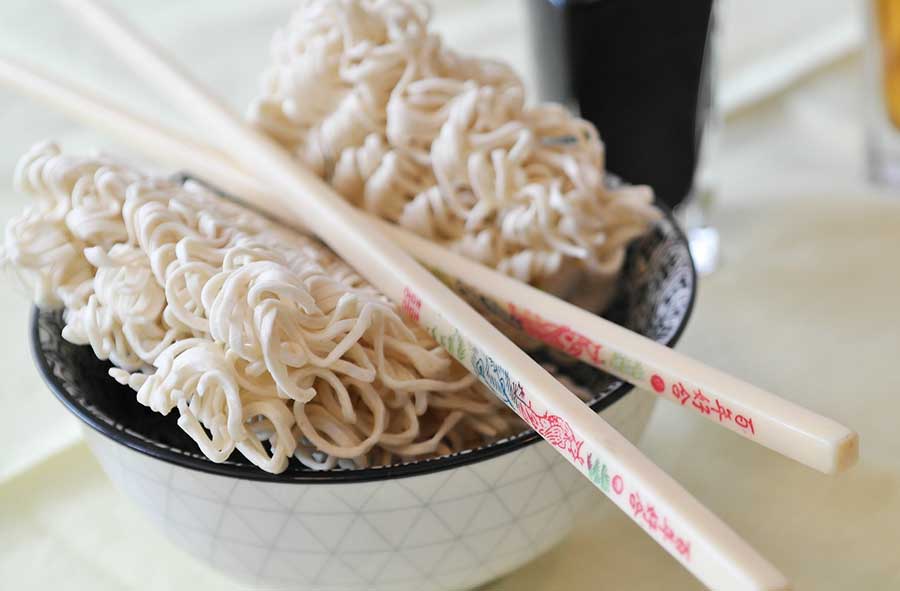 While the beef is cooking, prepare the ramen noodles according to package instructions leaving them al dente. Once you toss the noodles with the hot meat mixture, they will cook for another minute, so you do not want to overcook them, or they will become mushy.
At this point, I have added some fresh basil to give this noodle dish a fresh, tasty flavour.
To serve, place noodles in a bowl and top with sesame seeds, green onions, fresh herbs and a squeeze of fresh lime juice. The toppings are optional, but if you have them, they will make this gluten-free beef ramen noodles extra delicious.
♥

Gluten-free, vegan faux-beef ramen noodles option.

I often get asked to convert some of my recipes to a vegan version. To make this noodle dish vegan, substitute chopped mushrooms and chopped extra-firm tofu for the beef. For the recipe, follow the same steps as if you would be using beef. The noodles turn out just as delicious.

Ramen noodles are probably one of my favourite quick and easy meals to prepare. If you are looking for some inspirations, check out these gluten-free ramen recipes!
30 Minute Gluten-Free Beef Ramen Noodles
Published on May 25, 2020
by
Kristina Stosek
Instructions
1.

Heat the oil in a large skillet or a wok over medium heat. Add leeks and cook until they start to brown. About five minutes

2.

Add beef, garlic, ginger and dried basil—Cook over medium-high heat browning all over and breaking up the beef.

3.

Add tamari sauce, miso paste, rice vinegar, fish sauce, sweetener, chilli paste, carrots, bell pepper, corn and 1 cup of water. Bring the sauce to boil over medium heat and cook until the peppers start to soften—about 10 minutes.

4.

While the sauce is cooking, cook the noodles as per package directions until they become al dente. This usually takes 2 - 3 minutes. Careful not overcook them.

5.

Drain the noodles, keeping about a 1/4 cup of the cooking water. Immediately add the hot noodles with the cooking water and fresh basil to the beef mixture and gently toss to coat the noodles

6.

Divide the noodles between bowls and add toppings